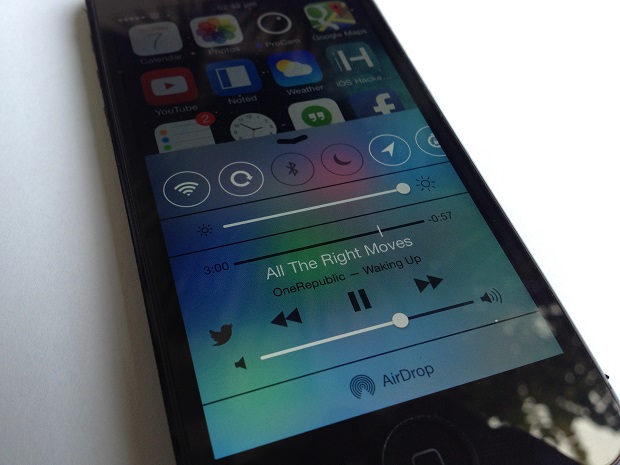 Over the past few weeks many new Cydia tweaks have been released that remind us how dull life was before the release of evasi0n7 jailbreak. Continuing the trend several useful iOS 7 tweaks got unleashed in Cydia recently, which includes SkipLock, No Switcher Icons, CCHide, AlwaysClear and CCNowPlaying. We have explained about what these tweaks do below.
SkipLock
SkipLock is one of those tweaks that although are small but have a huge impact on the usage experience. This simple tweak disables the lockscreen, which means users can directly get to the homescreen after pressing the lock or home buttons. It removes the requirement to perform 'Slide to Unlock' gesture. SkipLock only skips the lockscreen when there are no notifications. Also, if the device is passcode or TouchID protected it doesn't work as well. SkipLock is available for free.
No Switcher Icons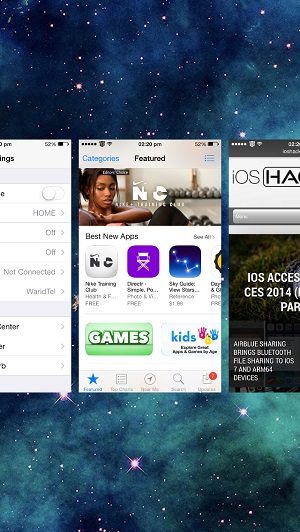 No Switcher Icons tweak has only one function and that is it removes the icons from the app switcher screen. Notice that there are no icon in the screenshot above. Usually they appear on the bottom side of the app's preview tab. It is a great tweak for minimalistic UI enthusiasts. Its a free tweak.
CCHide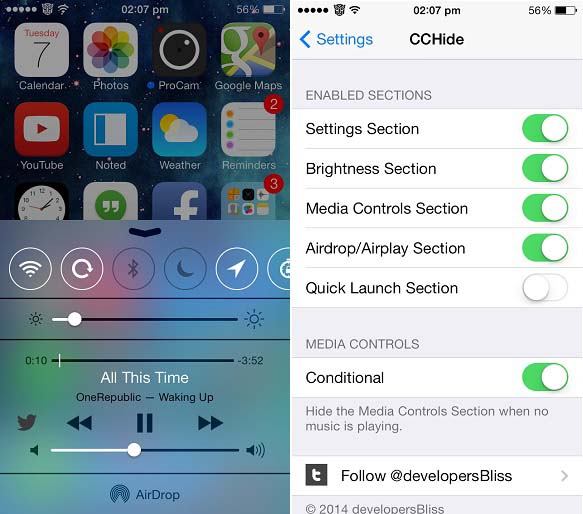 CCHide is one of my favorite tweaks for Control Center. It allows users to hide the sections of Control Center they don't use. Users get the ability to hide the settings, brightness, media control, AirDrop/AirPlay and Quick Launch Sections. A handy feature of this tweak enables users to hide the media controls section when there's no music playing. When you play a music the media control section comes back automatically. CCHide tweak can be downloaded from Cydia for free.
AlwaysClear
On iOS 7's Notification Center the AlwaysClear tweak gives instant access to the 'Clear' button. Normally users have to tap twice to clear a notification. This tweak makes the process a little quicker and less annoying. AlwaysClear is free and support iOS 7 and ARM64 devices.
CCNowPlaying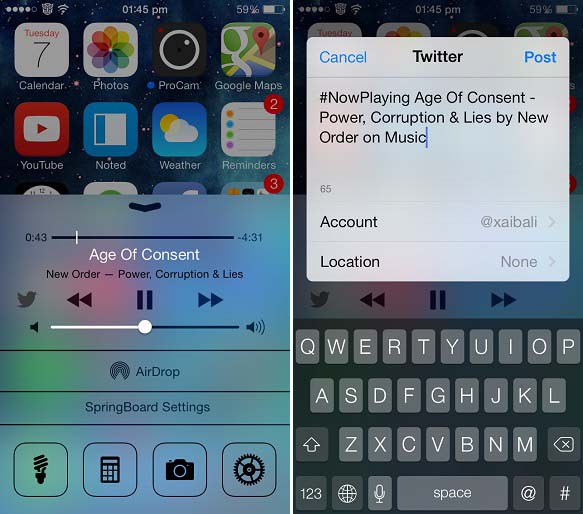 For Twitter users who like to share the current playing music with their followers CCNowPlaying tweak adds a neat looking Twitter button on the ControlCenter. When listening to music all a user has to do is tap on the 'Tweet' button and then hit 'Post'. Users can make amends to pre-written tweak as well as change account and location from the pop up before sending. CCNowPlaying is also free.
More roundups like this