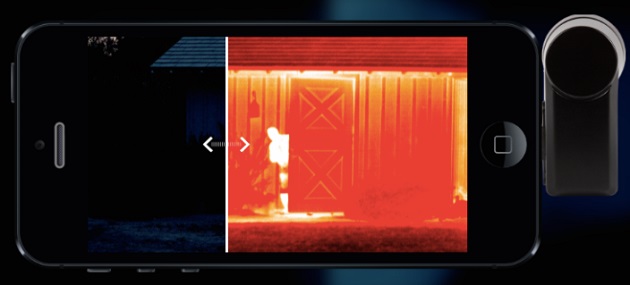 There are many accessories available on the market that extend the capabilities of iPhone's camera however most of them focus on making the photo and video quality better. Now a new gadget that connects with the device through its lightning port turns the iPhone into a thermographic camera. The device that is called Seek Thermal adds the ability to detect heat and energy enabling users to see stuff in darkness. This helps users in not only identifying surfaces but also living things. Seek Thermal consists of a microbolometer made up of vandium oxide, and a chalcogenide lens, which make the magic happen.
The accessory allows iPhone's camera to detect infrared light from the scene and use the data acquired through them to create an image that shows what cannot be seen from the naked eye. It features more than 32,000 thermal pixels to create the image that appears on the iPhone's screen.
So what are the real life uses of such an accessory you might be wondering. Well some of the examples Seek Thermal can be helpful in include safety and security as you can scan a dark parking area or some other place to see if there's anything suspicious going on there before heading in or you can scan your yard to see where your pet is in the night. There are many other uses of this device ranging from home improvement, boating and even cooking. One of the best things about this device is it is very portable and can be attached or removed from the iPhone very quickly.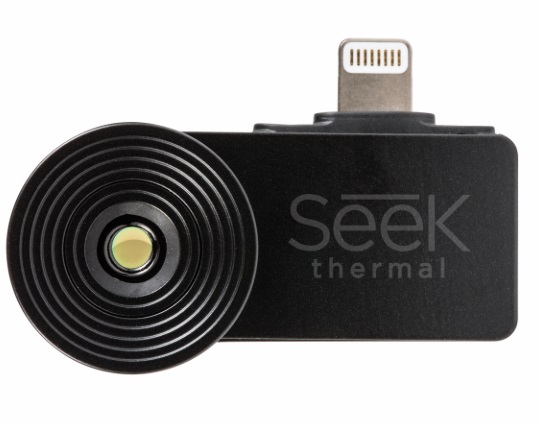 Seek Thermal is available in the market for $199. It works on all devices that feature a lightning port, which makes it compatible with the newly released iPhone 6 models as well. It is also compatible with iPads. You can order one for yourself right now from Seek Thermal's official website here.
Disclosure: iOSHacker may receive a commission if you purchase products through our affiliate links. For more visit our privacy policy page.