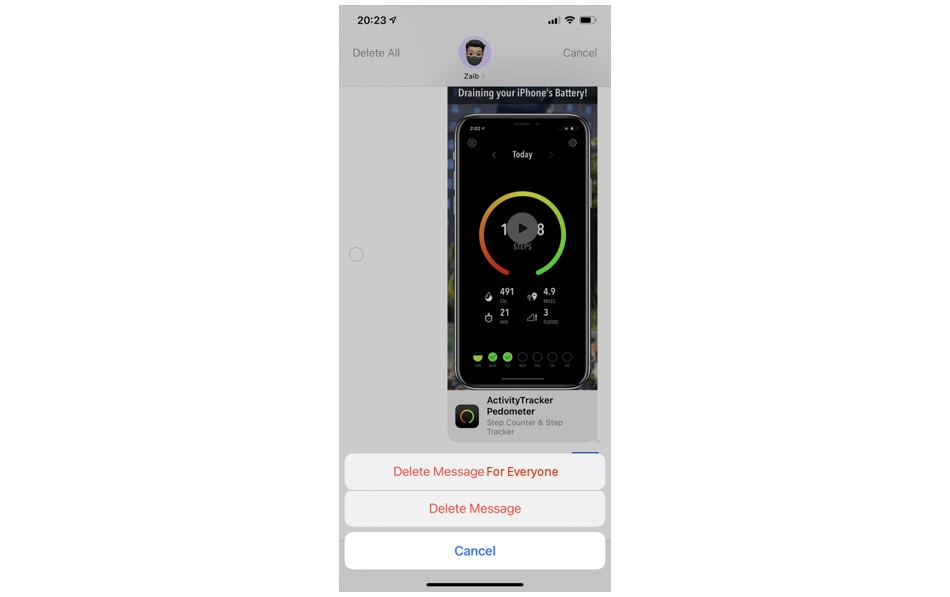 In 2020 there are a lot of things to be sad about, however not being able to delete an accidentally sent Message or Photo in iMessage should not be one of them.
Most messaging and social apps out there, which includes popular apps like WhatsApp, Snapchat etc allow users to delete sent messages. When a user deletes a message they are given option to delete it from their own device as well as from other user's device. Same is true for Group chats, where you can delete a sent message or media from the devices of all group participants.
If you delete a message from other user's devices, then the message will disappear from receiving person's device regardless of if they have seen the message or not.
The ability to delete sent messages and media can be very useful for a number of reasons. Not only can you delete a message that has typos but more importantly you can delete a message that was accidentally sent to the wrong person. You may even want to delete a hurtful or insulting message that you sent in an angry mood.
Even more useful is the ability to delete sent photos and videos from receiver's device because more often than not we end up mistakenly sending a wrong photo from our Messages app's image picker to a person. If the accidentally sent photo or video is embarrassing or compromising, then it can have negative impact on user's life and relationships. Having the ability to quickly remove an accidentally sent photo can prove to be quite useful in these instances.
Apple has already announced iOS 14 and has introduced a bunch of useful features for the Messages app. Apple has paid a lot of attention to the Messages app over the past few years and has added useful and innovative features to the app. However now it is about time that the company also gives users the ability to delete their accidentally sent messages and photos to give them a safer and more private messaging experience.
Do you miss the ability to delete sent messages and media to your friends or worse sending them to strangers when using the Messages app? Share your thoughts in the comments below.
Also read: iOS 14 Lets You Pin Conversations At The Top In Messages App
Disclosure: iOSHacker may receive a commission if you purchase products through our affiliate links. For more visit our privacy policy page.