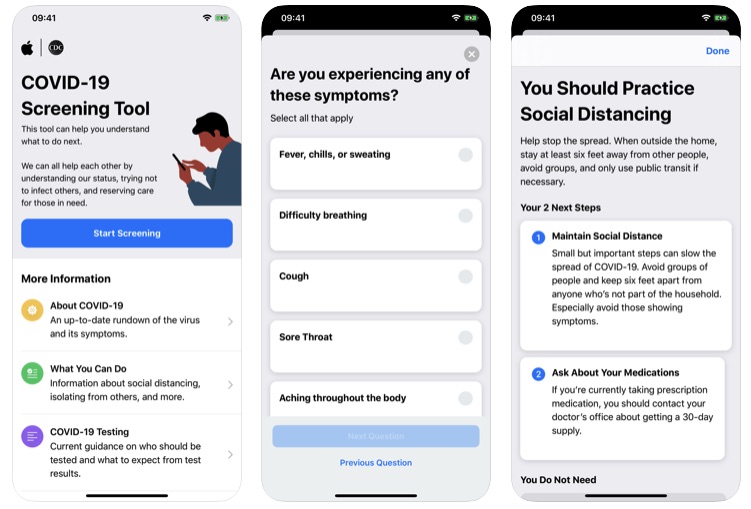 Apple has released a COVID-19 Screening Tool that is available as an online website and iOS application. The iOS app has been released in the App Store and can be downloaded on any iPhone, iPad or iPod touch free of cost. Apple says COVID-19 Screening Tool is based on CDC guidance and is designed to help people stay informed, and take proper steps to protect their health.
Both the website and Apple COVID-19 app ask users a series of questions about recent exposure, symptoms and risk factor. A user can use the tool either for themselves or a loved one. After answering the questions the tool gives users recommendations on next steps. This includes information on social distancing, self-isolating, how to monitor symptoms, whether they should get tested or not at this time and when they should contact a medical provider, reads the press release.
Other features that are available to users include resources to help people about the COVID-19 disease, frequently asked questions regarding COVID-19 and best practices outlined by CDC such as washing hands, monitoring symptoms and disinfecting surfaces.
When you launch Apple's screening tool  you are asked whether you are using the tool for yourself or someone else. Then you are asked to call 911 if you have specific symptoms. If you say no to those symptoms, then you are asked about your age, if you are experiencing any of the listed symptoms and have any conditions, whether you have travelled anywhere in the past 14 days, whether you live in an area that has widespread outbreak of COVID-19 and more. At the end the tool gives recommendations based on the answered questions.
Apple also notes that users can also ask Siri about questions related to the Coronavirus disease. Apple is also sending travelers landing in the US iPhone notifications reminding them to stay at home and monitor their health.