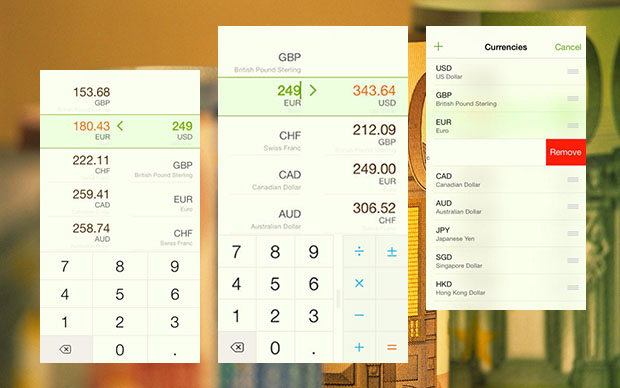 If you are a passionate traveller or someone who has to deal in different currencies on regular basis then a currency converter is a must have app for you. If you don't have a favorite app already or are looking for a simple app that could do the job for you then look no further than Banca app for iPhone. This simple and easy to use currency recently got redesigned for iOS 7 after which it has become even more attractive complete with its minimalistic design and features.
Banca for iPhone features a wide range of currencies and provides instant conversion in chosen currencies. Users can select more than one secondary currencies and get instant results simultaneously. The app works in the background to refresh the currency rates to provide you with accurate results. It also works offline in which case it displays the currency rates that were recorded when it was last connected to the Internet.
On top of currency conversion the app is also equipped with built-in calculator capable of performing basic operations. A built-in calculator in a currency converter is a nice touch since naturally you will need to add, subtract or divide during conversions.
If you want to make sure the currency relevant to you is supported by the app before buying it a complete list is available here for your convenience. The app is capable of running in multiple languages and remembers the action you performed when you closed the app, which is very convenient since you don't have to select relevant currencies every time you start the app.
Banca for iPhone and iPod touch is available in the App Store for $1.99. It requires iOS 7 or later.
Disclosure: iOSHacker may receive a commission if you purchase products through our affiliate links. For more visit our privacy policy page.