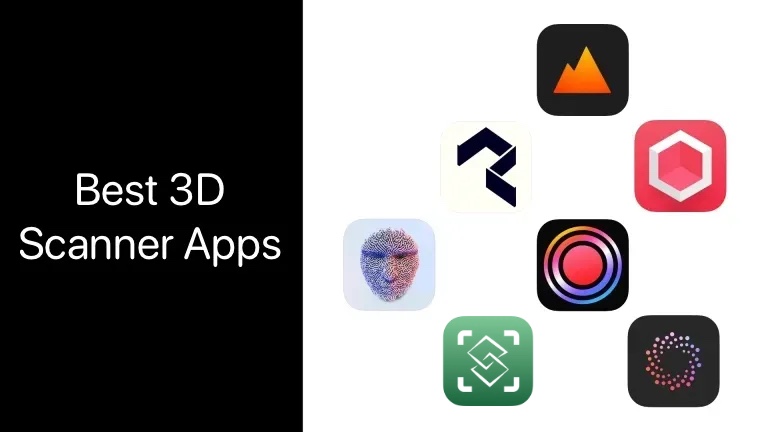 How about turning your smartphone into a portable 3D scanner? Sounds too good to be true, doesn't it?
Well, it is very much possible with the latest smartphones packed with innovative depth sensors.
In this post we have featured the best 3D Scanner apps that work with iPhone and iPad's LiDAR scanner. These apps let you scan your surroundings in 3D and create amazing photos, floor plans and models, which can be exported and shared with the world!
By using the easiest and most affordable 3D scanning technology, photogrammetry, these Free 3D Scanner Apps create 3D models from 2D images. You don't need to install any other hardware to run the software, which is a bonus.
Using 3D scanning, one can analyze objects or the surrounding environment and collect information about their appearance. 3D scanning devices create 3D models based on these data, which can then be used for further processing. You can utilize the designs in various ways, including 3D printing, animation, CNC machining, and more.
These apps require a LiDAR Scanner in order to work properly. Here are iPhone and iPad models that are equipped with LiDAR Scanner.
iPhone 12 Pro
iPhone 12 Pro Max
iPhone 13 Pro
iPhone 13 Pro Max
iPhone 14 Pro
iPhone 14 Pro Max
iPad Pro 12.9-inch 6th generation
iPad Pro 12.9-inch 5th generation
iPad Pro 12.9-inch 4th generation
iPad Pro 11-inch 4th generation
iPad Pro 11-inch 3rd generation
iPad Pro 11-inch 2nd generation
Best 3D Scanner Apps For iPhone And iPad Users
The following are the Best 3D Scanner Apps you can download for your iPhone or iPad.
1. SureScan 3D Scanner App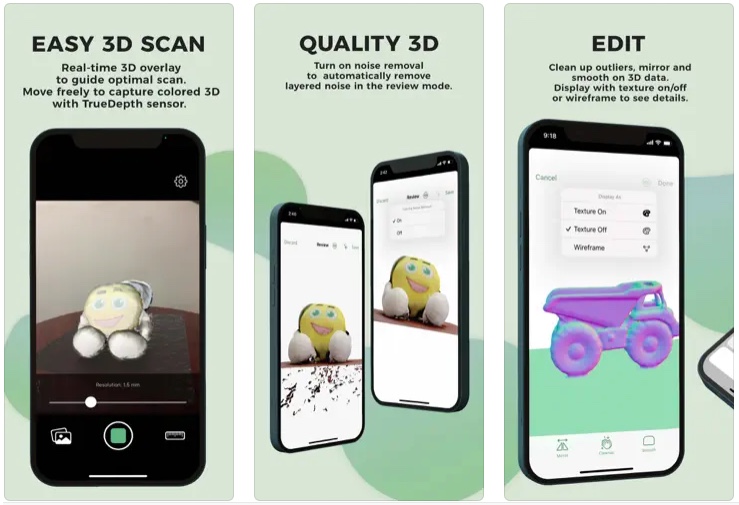 First on our list of best 3D Scanner apps is SureScan 3D Scanner app. This app is an easy to use 3D scanner app that works with the TrueDepth sensor. The best thing about this app is that it is not limited to iPhones that feature LiDAR sensor, as it takes advantage of iPhone's TrueDepth front camera, which is found on all Face ID enabled devices.
The main purpose of this app is to allow users to scan small to medium sized objects and take high quality 3D mesh data that can be used for 3D printing. The app is easy to use thanks to its no lost-track feature. Its noise removal feature allows users to automatically remove layered noise in the review mode so users get cleaner scans.
You can download SureScan 3D Scanner app from the App Store where it is available as a free download.
Download SureScan 3D Scanner, 3D App from the App Store for free!
2. KIRI Engine – 3D Scanner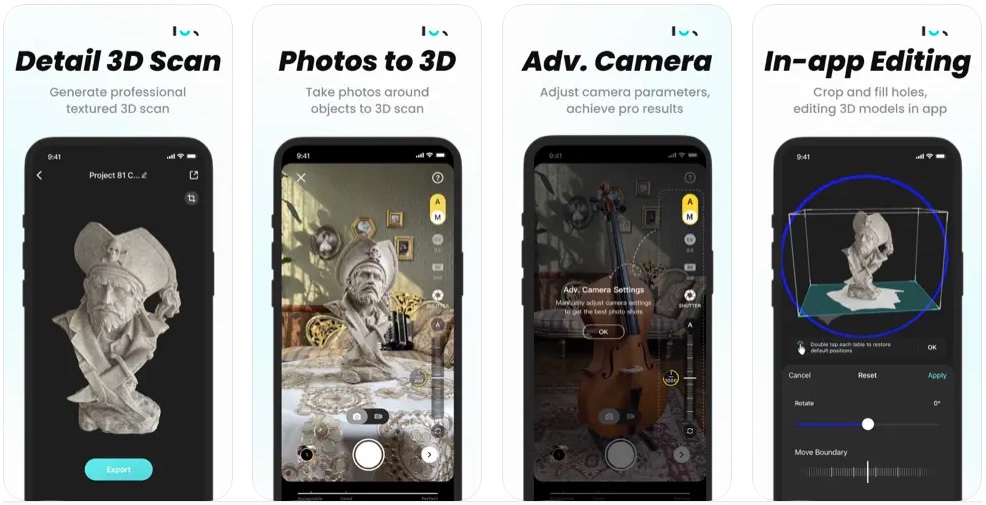 Next up on our list of best 3D scanning apps is KIRI Engine – 3D Scanner for iPhone and iPad. This powerful app allows users to create 3D model and mesh with colors. To start all you have to do is take 20 or more photos of photogrammetry-compatible object, and the app will create a 3D model for you in no time.
The RoomScan feature of the KIRI Engine app, which is only available on iPhones with LiDAR lets you capture room layouts and measurements with ease. After capturing the room layouts you can export this information and use it however you like.
Neural Radiance Fields (NeRF) feature, which is coming to the app soon offers Camera Pose feature, that exports videos with camera position information. This sort of data is great for nerfstudio. The best thing about KIRI Engine is that it is the only app that will have this feature on non-LiDAR iPhones and Android devices.
You can download KIRI Engine app from the App Store for free.
3. Polycam – LiDAR & 3D Scanner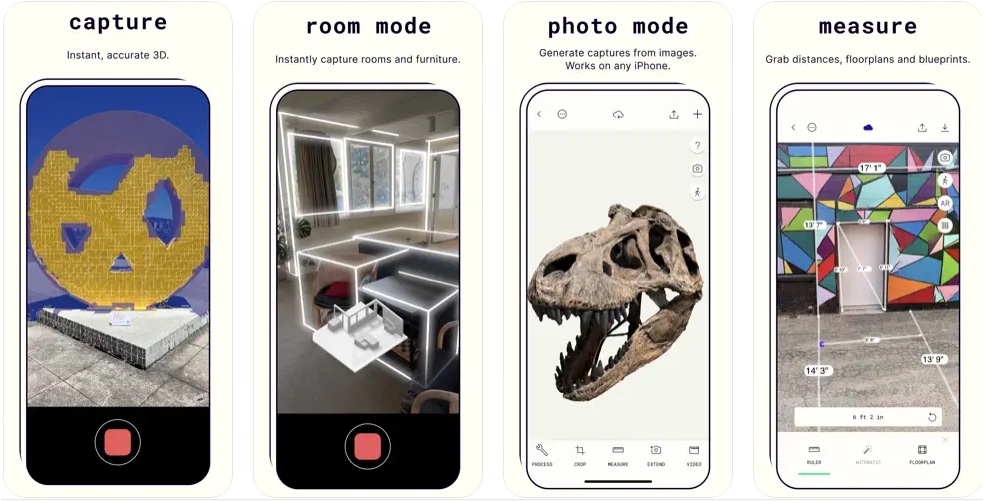 Polycam is the most popular 3D capture application for iPhone and iPad! With the LiDAR sensor, you can quickly scan spaces with an iPhone or iPad, and create high-quality 3D models from photos. You can edit 3D captures directly on the device, and export them in a wide variety of file formats. Explore captures from around the globe on Poly World and share your captures with Polycam Web and the Polycam community!
You can capture seamlessly with the Photo Mode, take photos and convert them into 3D models with the help of photogrammetry. Plus, this 3D Scanner app iOS ideally scans detailed objects and scenes.
Using this App, you can create 3D assets for use in a variety of computer graphics programs.
Download Polycam – LiDAR & 3D Scanner from the App Store now!
4. Scaniverse – 3D Scanner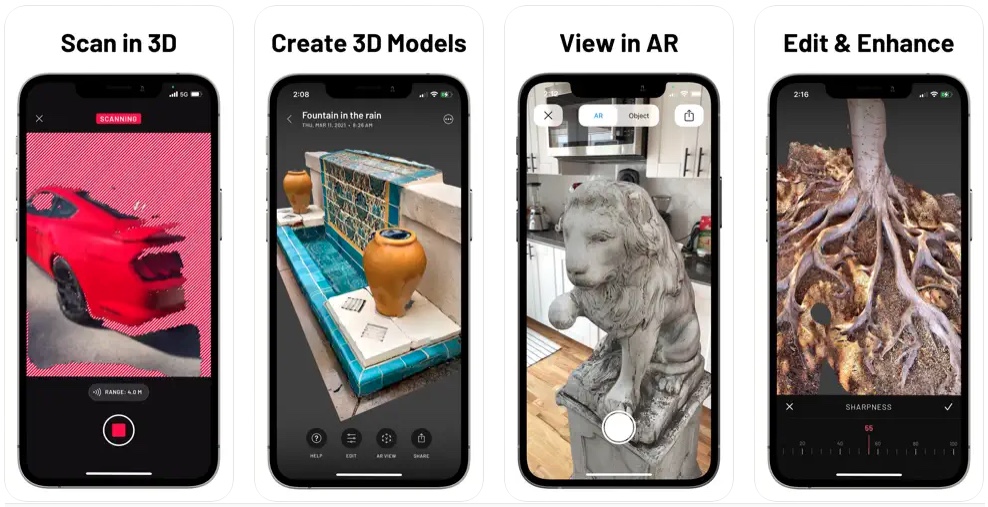 Scaniverse is a 3D scanning app that works on any updated model of iPhone or iPad, even if it doesn't have LiDAR. With Scaniverse, you can accurately reconstruct objects, rooms, buildings, and even outdoor environments using photogrammetry. For devices equipped with LiDAR, Scaniverse utilizes it to provide significantly enhanced accuracy.
You can share your scans on Scaniverse for viewing in 3D or AR on any device with a web browser. Make videos that can be shared on social media or export models in the most popular 3D formats, including OBJ, FBX, USDZ, and LAS.
With Scaniverse, you can create metrically accurate models that can be imported into 3D modeling applications like Blender and Maya, as well as game engines like Unity and Unreal Engine. You can capture any object quickly as a 3D reference with Scaniverse to enhance your workflow.
Download Scaniverse – 3D Scanner from the App Store now!
5. Heges 3D Scanner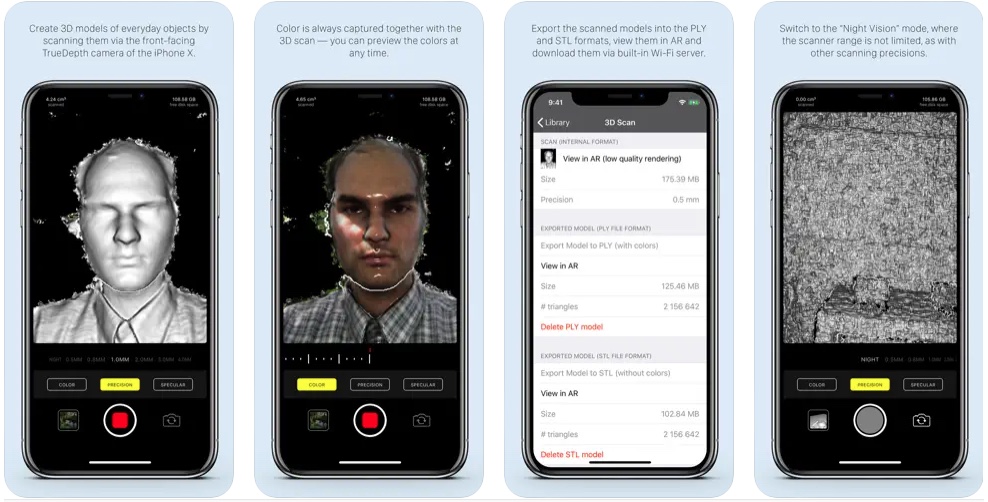 Use the 3D camera (FaceID or LiDAR) on your iPhone to create 3D scans! Create STL, PLY, OBJ, and GLB (GLTF) models from scans, and share them.
With the TrueDepth selfie camera (FaceID) or LiDAR sensor on the rear, create 3D models of everyday objects.
In pitch-black environments, you can even scan using Heges as a night vision camera!
The app also allows users to edit scans to create ready-to-use images for architecture, design, archeology, and more. The program can also automatically generate blueprints and floor plans with exact measurements.
Moreover, the App allows you to select the scanning precision – the higher the precision, the shorter the scanner range.
Download Heges 3D Scanner from the App Store now!
6. Metascan – 3D Scanner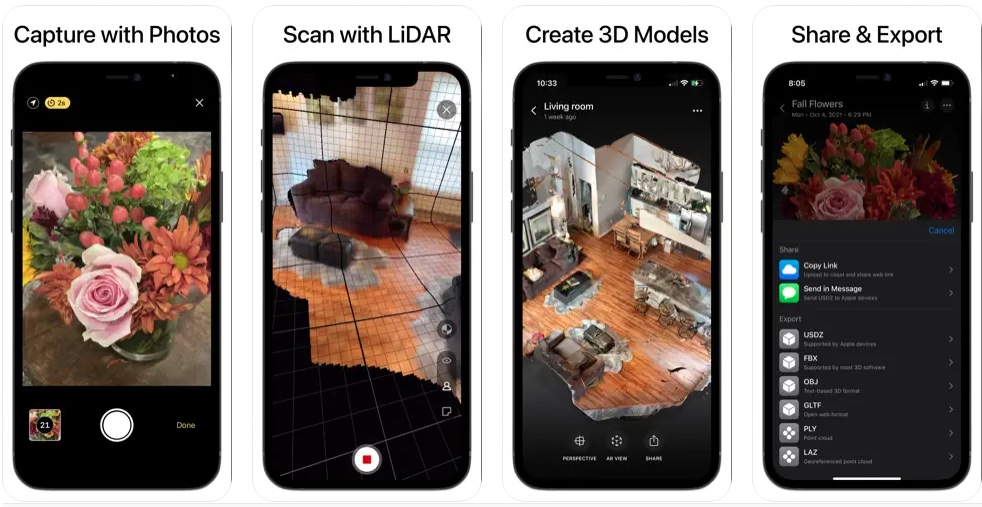 A powerful 3D capture tool, Metascan is a one-stop solution. LiDAR allows you to capture spaces quickly and easily, and create 3D models of them based on photos.
Edit your scans, then share them online, via Messages, or in VR. Utilize the measure tool to get scale-accurate measurements, or create a video scan that you can export.
You can use LiDAR in real-time to create realistic models of spaces, or you can use a photo to scan objects in stunning detail.
The App allows you to rotate and crop your 3D scans as easily as editing a photo. Plus, you can sort and organize your scans into folders.
Download Metascan – 3D Scanner from the App Store now!
7. Record3D — 3D Videos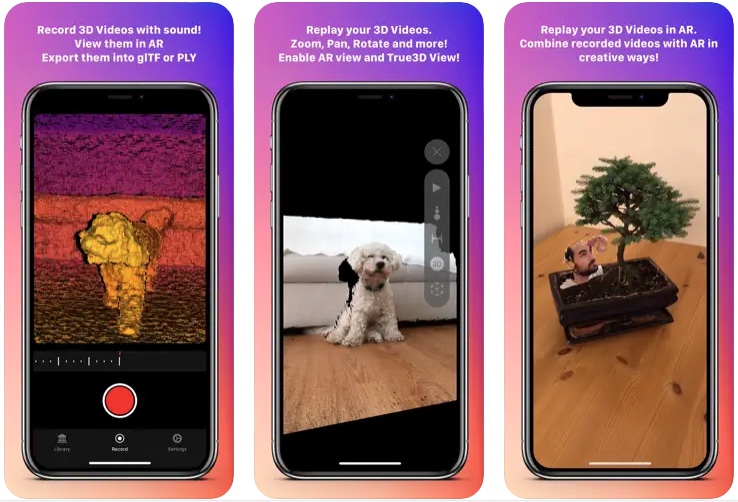 With the True3D effect, you can turn your iPhone or iPad into a window to see what lies behind your screen, and where your 3D videos are. You can turn on True3D by clicking on the "3D" button in the vertical toolbar.
Using the selfie FaceID camera or the LiDAR sensor, you can create your 3D videos! These files can be exported into FBX, GLTF, sequences of PLYs, OBJs, or Alembic files. Plus, you can export the videos into RGBD MP4 files using WebRTC Wi-Fi streaming.
Are you a developer or a digital artist? Then you're in luck. By using a USB cable, you can stream RGBD video to your computer from your device. The only thing you need to do is install the C++ or Python libraries. Since C++ and Python libraries are open source, privacy should not be an issue (as you can easily verify).
Download Record3D — 3D Videos from the App Store now!
8. LiDAR Scanner 3D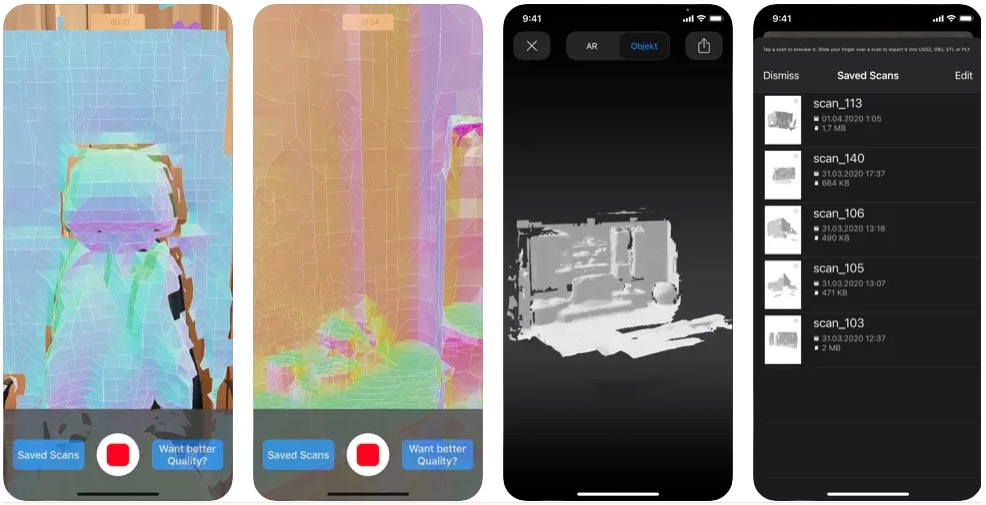 Designed exclusively for Apple iPads and iPhones, LiDAR Scanner 3D aims to capture professional-quality images with no fuss. Simply load up the app and follow the on-screen instructions to explore your chosen subject.
LiDAR is one of the best 3D Scanner Apps for iPad and iPhone users. Especially, it is an ideal choice for hobbyists, 3D printers, e-commerce applications, and creating 3D selfies and avatars. The app is particularly suited to capturing full-body scans and busts, as well as individual objects such as shoes, toys, furniture, and more.
With LiDAR Scanner 3D, making 3D models and exporting them into several formats (USDZ, OBJ, STL, PLY, DXF, and LAS) is seamlessly easy.
Download LiDAR Scanner 3D from the App Store now!
To Sum up,
As mentioned before, due to Apple's TrueDepth camera system and lidar technology, developers have been able to create 3D scanner apps for iOS devices. Using these features, scanning apps can produce detailed maps of objects of any size and shape, whether they are small with fine details or large and spacious.
So, keeping your needs in mind, install any of the iPhone 3D Scanner apps we have mentioned in the list!
What would you like to scan? Let us know in the comments below.