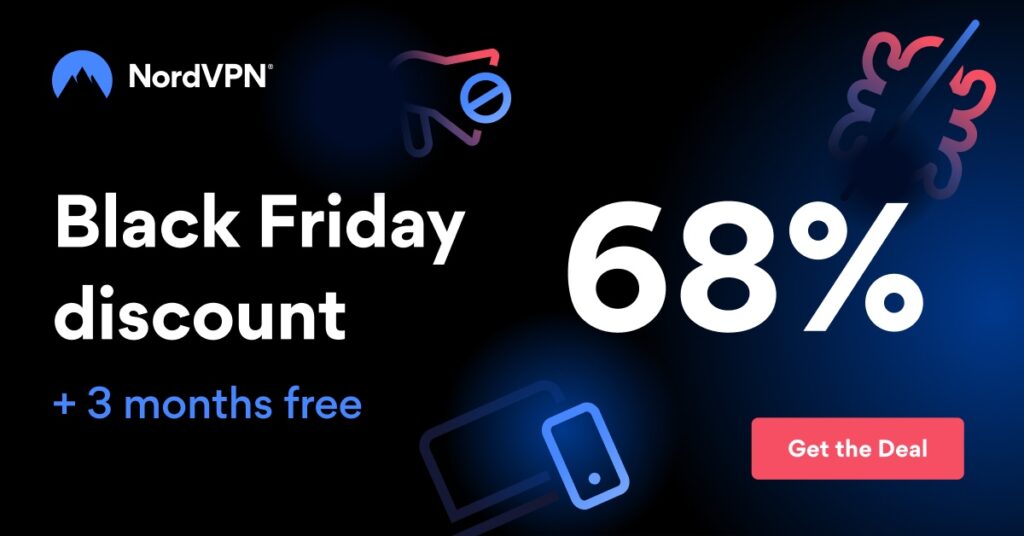 If you are looking to get a NordVPN subscription at a discounted rate, then now is the perfect time to do so as they are running a nice 64% discounted offer and 3 months of free subscription on top of that.
The NordVPN Black Friday offer is live now and it is being offered on 1-year and 2-year plans. This means you can get the 2-year subscription at $5.99 per month. If you opt for 1-year subscription, then you will end up paying $6.79. These rates are much lower than the $14.29 you normally pay per month.
VPN service NordVPN is the flagship product of cybersecurity company Nord Security. The service provides users with free and safe access to the internet.
Technological innovation allows you to get the fastest VPN with state-of-the-art features, including:
Meshnet
It's a feature of NordVPN that allows you to access devices over encrypted private tunnels. Sounds a bit like a VPN, doesn't it? That's exactly right! With Meshnet, you don't have to connect to a VPN server, but you can connect directly to other devices anywhere in the world.
Next-generation encryption
With years of commitment and diligence, NordVPN has built a reputation for ensuring your online privacy and security.
The most reliable VPN for security and privacy is NordVPN, a service whose encryption technology is virtually unbreakable. CNET, PCMag, and BestVPN have praised the service for its next-generation encryption.
Threat Protection
Threat Protection is a security solution aimed at defending you from everyday cyber threats, like malware and trackers. It scans your files before you download them, determines whether they contain threats, and blocks them before they cause harm to your computer.
With CyberSec, NordVPN for Mac has offered additional security for years. Your digital security has taken a giant leap forward with the upgraded Threat Protection feature. The program keeps your browsing safe and smooth by blocking trackers and intrusive ads, identifying malware-ridden files, and preventing you from landing on malicious sites.
DNS Leak Protection
NordVPN for iPhone only uses DNS servers operated by NordVPN when you connect to the service. As long as you are connected to the same VPN server, all DNS queries travel over the encrypted tunnel and are resolved on that server.
As a result, there is no risk of your confidential information being exposed or spied on by third parties.
Why Do You Need Nordvpn
VPN stands for Virtual Private Network. An internet VPN protects you from unauthorized access and provides privacy when you communicate over the Internet.
Due to its inherent insecure nature, the internet poses a serious security risk.
Every application you use, such as email, web, messaging, Facebook, etc., is built on top of the Internet Protocol (IP). Some standards have been developed, but not all internet applications are secure. The majority of apps still transmit data without any security or privacy protection.
Using the internet leaves any individual susceptible to criminals who steal their banking and credit card information, governments who monitor their citizens, and other users who spy on them for a variety of nefarious purposes.
Over the open internet, NordVPN creates a private tunnel. Every single packet you send is encrypted and encapsulated within this private channel, so even if intercepted, they cannot be decoded.
Hence, VPNs are powerful and effective tools to protect yourself and your data.
To an end user there are many other benefits of a VPN that go beyond privacy and reduced security risks. Using a VPN like NordVPN you can browse content that is restricted in your country.
For example while being in the US, you can watch Netflix shows that are available in the UK only by changing your computer's location to the UK. In addition to that you can get access to blocked websites that are not available in your region!
Is It Worth Having Nordvpn Subscription?
Without a doubt. If you browse the internet, you definitely need NordVPN. In addition to encrypting internet traffic and improving privacy online, NordVPN allows you to access more content. In addition, people are more vulnerable to cyber threats than they realize. On public Wi-Fi, when browsing websites without HTTPS, or when using apps with insecure access, a VPN adds an extra layer of security.
The great news is that you can avail of NordVPN's Black Friday deal and save up to 68% plus, get 3 months free.
Not only just that but if you don't feel satisfied with the service there is an option for a 30-day money-back guarantee!
Are you ready to avail of NordVPN Discount so you can maximize your digital privacy? Let us know in the comments section.
Disclosure: iOSHacker may receive a commission if you purchase products through our affiliate links. For more visit our privacy policy page.