In today's visually-driven digital age, a picture might be worth a thousand words, but sometimes those images could use a few actual words too! Whether you're capturing a stunning sunset, snapping a memorable selfie, or sharing a hilarious meme, there are moments when adding text to your photos takes your storytelling to a whole new level.
Lucky for us, the App Store is teeming with a treasure trove of apps designed to turn your iPhone and iPad into powerful tools for creative expression.
So, if you're ready to take your photo editing game up a notch, we've got you covered with our guide to the "best apps to add text to photos on iPhone and iPad." Say goodbye to dull captions and hello to a world of artistic possibilities, as we dive into the most user-friendly, feature-packed, and downright fun apps to help your pictures do the talking!
Even though these third-party apps to add text to photos provide more features, you can also use iOS's built-in photo editor to add text to photos from the Photos app.
Best Apps To Add Text To Photos
Here are the best apps to add text to photos for iPhone and iPad. You can take advantage of these apps to add text to images right on your iOS device.
1. Phonto – Text on Photos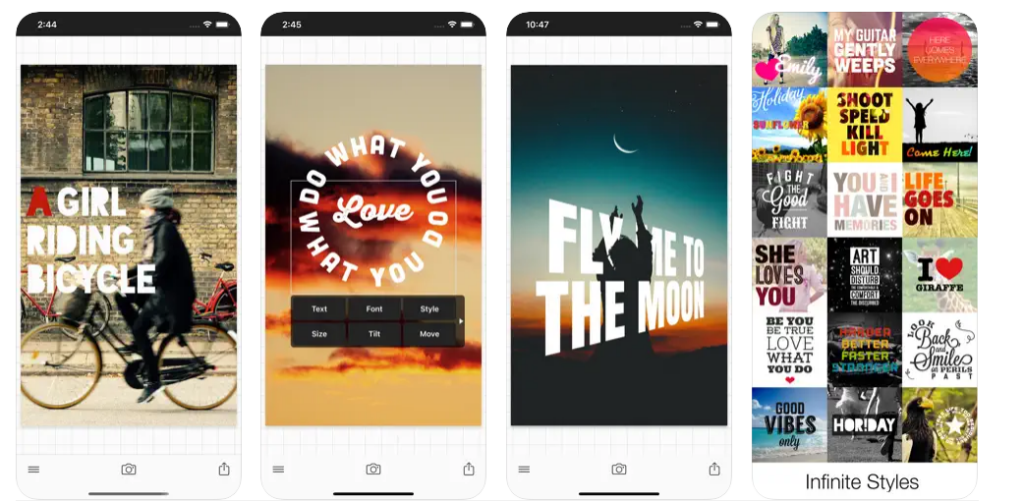 Do you love adding text to your pictures to make them more interesting and engaging? If so, you've got to check out Phonto – the ultimate tool for text customization on your images!
With Phonto, the options are practically endless. You get access to a whopping 400+ fonts right off the bat, and if that's not enough, you can even install additional fonts to suit your style. Fonts are just the beginning, though. You can tweak the text size, color, gradient, stroke, shadow, and even its background. Talk about creative freedom!
You can rotate text, adjust kerning and line spacing, or go wild with curved and perspective text to really make your message pop. Plus, if you make a mistake or change your mind, you can erase parts of the text without any hassle.
And the exciting part? Phonto doesn't limit you to pictures – you can add text to plain images too! So whether you're creating cool graphics or just adding captions to your photos, Phonto's got you covered. Give it a whirl and watch your images come to life with beautiful text in no time.
Install Phonto – Text on Photos from the App Store now!
2. Text Art: Typography & Word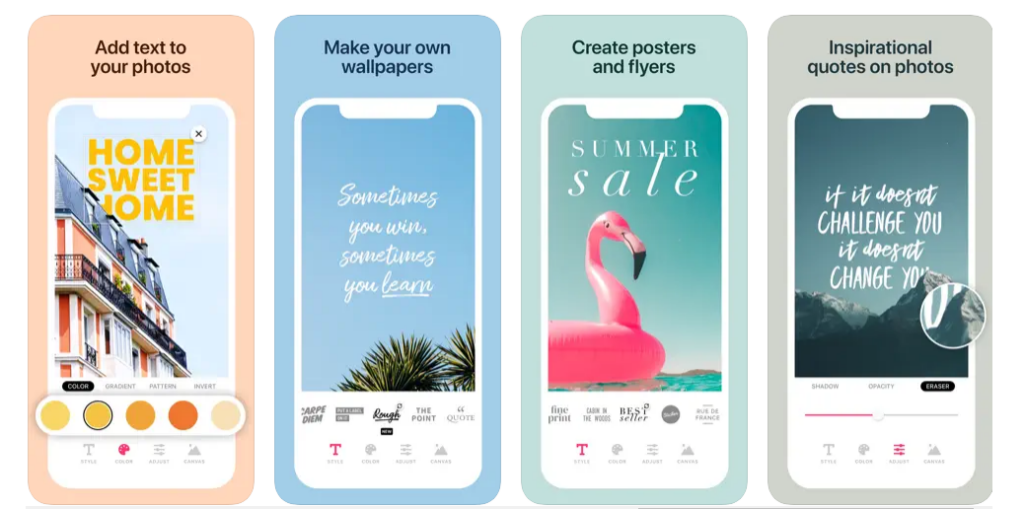 Are you tired of struggling with graphic design tools that make the simplest tasks feel like a daunting challenge? Say hello to Text Art – your one-stop solution for creating stunning posts, flyers, and posters with ease!
Picture this: you've got a great photo that deserves to be the center of attention. With Text Art, all it takes is a few taps. Choose your photo, craft a captivating caption, and explore an array of designer text styles that will transform your creation into a visual masterpiece. The best part? Each text style generates a fresh and unique design, just for you. No templates, no repetitive layouts – only original, eye-catching graphics that are uniquely yours.
Whether you're an influencer looking to jazz up your social media game or a business owner in need of professional flyers, Text Art has got your back. And here's the cherry on top: if you plan to print your artworks, Text Art ensures they come out in the highest possible resolution, so they look just as fantastic on paper as they do on your screen.
Install Text Art: Typography & Word from the App Store now!
3. Art Word: Add Text to Photos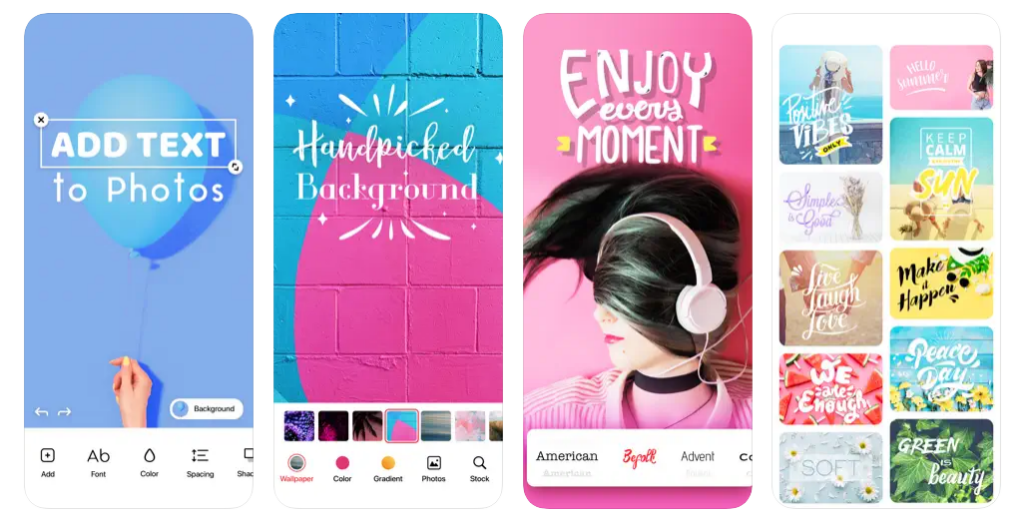 Imagine having the power to turn your snapshots into funny memes, motivating visuals, heartfelt greetings, or even fabulous birthday cards. ArtWord is your creative playground, and it's super easy to use. This app lets you add text to photos on your iPhone and create text overlays.
All you need to do is pick a typography style and add your own meaningful or funny text with the font of your dreams on your preferred background. Got an eye for photography? You can snap new pics on the spot, or dive into your existing gallery or the app's wallpaper collection to kickstart your creative journey.
ArtWord gives you a treasure trove of photo effects and filters to play with. Adjust colors, brightness, contrast, saturation, and even give your pics that dreamy blur. Still not enough? Elevate your image with stamps handpicked by our talented designers. Ribbons, banners, photo decorations, and an array of frames await your artistic touch.
Install Art Word: Add Text to Photos from the App Store now!
4. Word Swag – Cool Fonts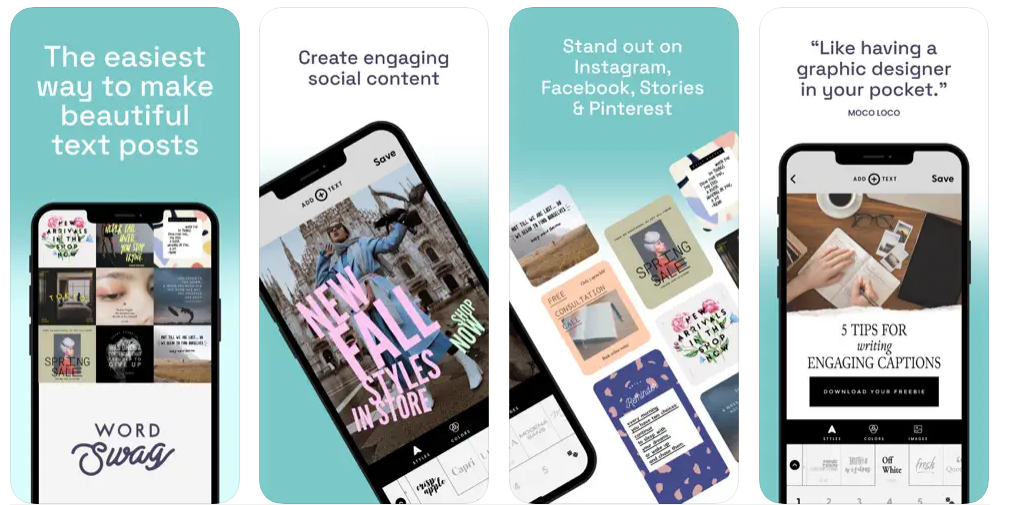 Do you ever wish you could create stunning text layouts in just a tap? Well, Word Swag has got your back. This incredible app boasts the exclusive Typomatic™ type engine, making it super easy to craft amazing type layouts that would normally take you minutes, or even hours, in other apps.
Say goodbye to writer's block, thanks to its thousands of captions to inspire your creativity. And speaking of creativity, you'll love the on-trend frames and layouts, as well as the gold foil, stamped, and watercolor text effects that can make your posts pop.
Want a stunning background to complement your text? No worries. Word Swag offers a whopping 1.3 million completely free backgrounds from Pixabay. And let's not forget the 22 image filters that are engineered to make your text look amazing.
Install Word Swag – Cool Fonts from the App Store now!
5. Add Text On Photos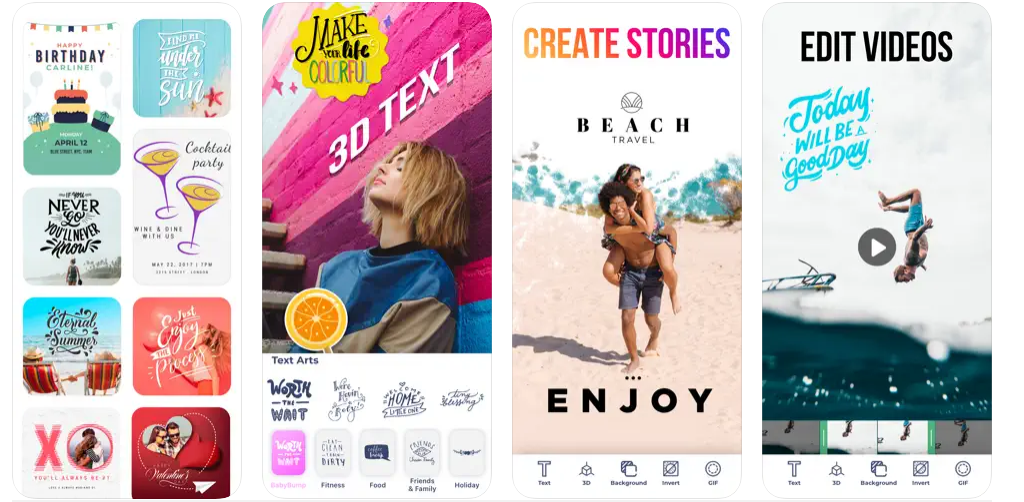 Imagine adding real-time text and eye-catching filters directly to your camera. This iPhone text to photos app is like having a virtual canvas for your imagination. Within seconds, you can sprinkle your shots with witty captions, inspiring quotes, or anything that comes to mind, and then effortlessly share your masterpiece with friends.
But it doesn't stop there. This nifty tool lets you take control of your camera's look with custom typography. You get to choose from a vast array of artistic fonts that can turn your photos into stunning works of art. It's all about making your images not just visually appealing, but engaging.
And speaking of visuals, why settle for ordinary when you can turn your photos into extraordinary with real-time filters? Vintage, artistic, funny – you name it! With just a single tap, you can transform a plain photo into something captivating, making your friends wonder how you did it.
Plus, the app developers have made it user-friendly too. Rotate text with simple gestures, add multiple lines of text for layered creativity, and with just one tap, you can share your creations on platforms like Facebook, Twitter, Flickr, Tumblr, and more.
You can download the Add Text On Photos app from the App Store for free here!
6. PicsType: Add Text to Photos
With PicsType, you can effortlessly transform ordinary pictures into memorable keepsakes. In just seconds, you can add your favorite quotes, captions, or text to your photos, making them pop and stand out in the crowded world of social media. Plus, you can share your creations with a single tap on Instagram, Facebook, Twitter, or even through email with this one of the best apps to add text to photos!
PicsType offers an array of text styles that will leave you inspired, and you can even manually tweak the text color and style to match your unique vision.
Not only does PicsType give you the power to enhance your text game, but it also boasts an impressive collection of magical filters and blur effects to take your photos to the next level. Your followers won't be able to resist hitting that like button!
And the best part? You can instantly snap photos within the app or choose images from your library. No more switching between apps to get that perfect shot. PicsType simplifies your creative process and lets you focus on what matters – your art.
Install PicsType: Add Text to Photos from the App Store now!
To Conclude
In the ever-evolving world of visual storytelling, the power to seamlessly blend text with your photos is now at your fingertips, thanks to these incredible apps to create posts with text on iPhone and iPad. From adding witty captions to crafting inspirational quotes, these tools open up a world of creative possibilities for everyone. Whether you're a social media aficionado, a budding blogger, or simply someone who loves to personalize your memories, these iPad text to photos app have got you covered.
So, let your imagination run wild, and watch your photos transform into captivating stories. In this digital age, it's not just about capturing moments, but about giving them a voice. With these apps in your arsenal, your photos will not only speak volumes but sing in harmony with your unique style.
Say it loud, say it proud – your photos have stories to tell, and now they have the perfect words to do so.