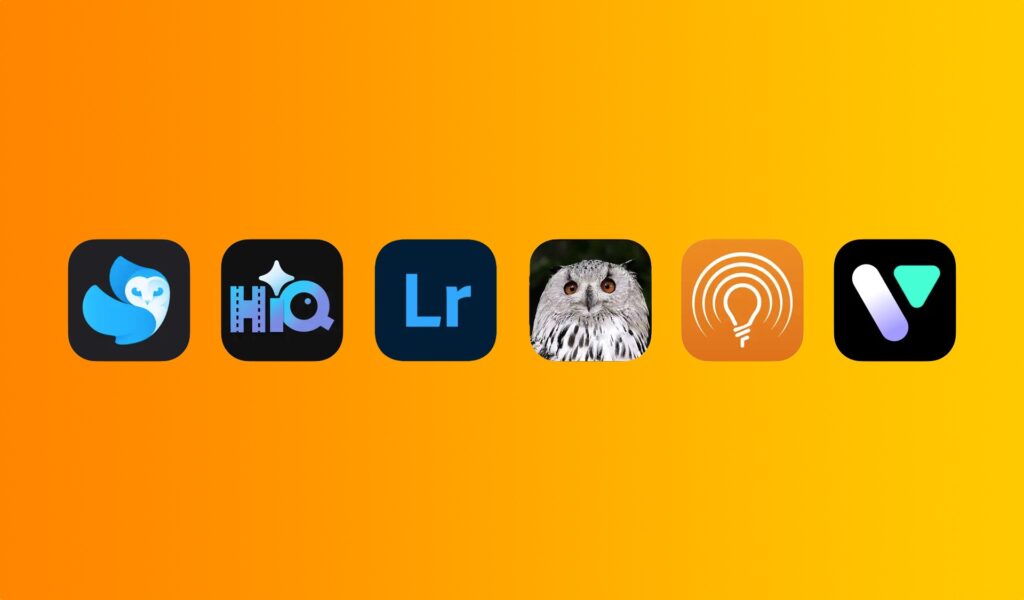 In this roundup, you will find the best apps to make videos clearer on iPhone. With these AI-powered apps, you can improve the quality of your videos and make them better looking.
If you've ever found yourself deep in the rabbit hole of vlogs or endlessly scrolling through TikTok, you know the power of a crystal-clear video. In a world where pixels reign supreme and every frame matters, the quest for video clarity is real.
Whether you're documenting your daily adventures, sharing your culinary masterpieces, or showcasing your dance moves for the world to see, the clarity of your iPhone videos can make or break the viewing experience.
Fortunately, the App Store is a treasure trove of apps to make videos clear on iPhone waiting to elevate your video quality game. In this article, we will tell you how you can transform your iPhone into a cinematic powerhouse, buckle up!
Best Apps to Enhance Videos on iPhone
Get ready to elevate your video quality with some fantastic AI video enhancer apps and leave your audience wondering if you've got a professional film crew hidden in your pocket. Let's turn those blurry moments into pixels of perfection!
1. Radiant: AI Photo&Video Editor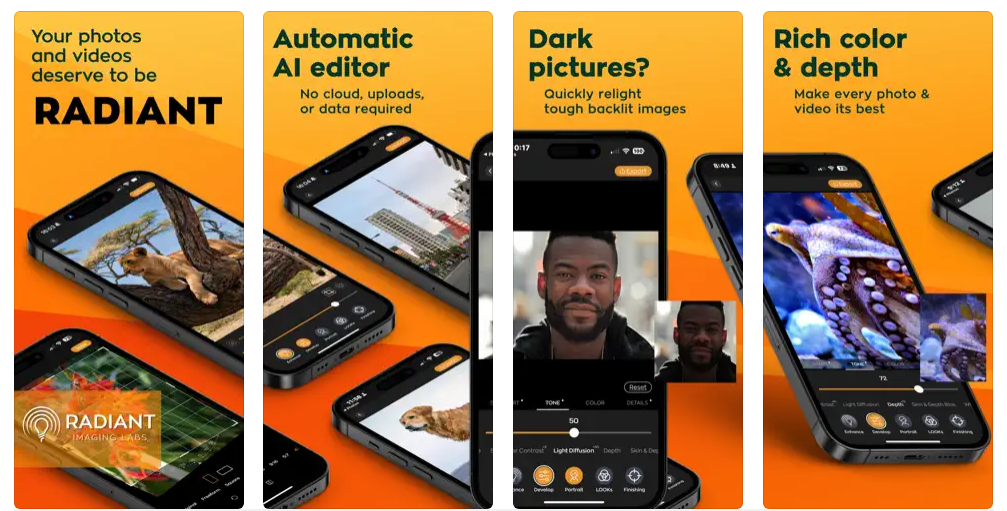 Gone are the days of struggling with complex editing software. Radiant AI Photo&Video Editor works its magic at the speed of thought, automatically transforming your photos and videos into visual masterpieces. Just open your images or videos and let Radiant Photo do the heavy lifting – balancing exposure, adding depth, and unveiling lifelike details, all in a matter of seconds.
With AI scene detection as your trusty sidekick, you can fine-tune every detail manually. It's the perfect blend of automation and customization, ensuring your unique style shines through. Radiant Photo elevates your video content by automatically enhancing color, contrast, and tone. It even tackles tricky issues like harsh backlighting, leaving you with nothing but video perfection.
And for all you portrait enthusiasts out there, Radiant Photo is your new best friend. Face detection makes achieving simple, beautiful, and accurate results a breeze. This isn't about faking it – it's about optimizing and bringing out the natural beauty in every shot.
Install Radiant: AI Photo&Video Editor from the App Store now!
2. Sharpen Video: Enhance Quality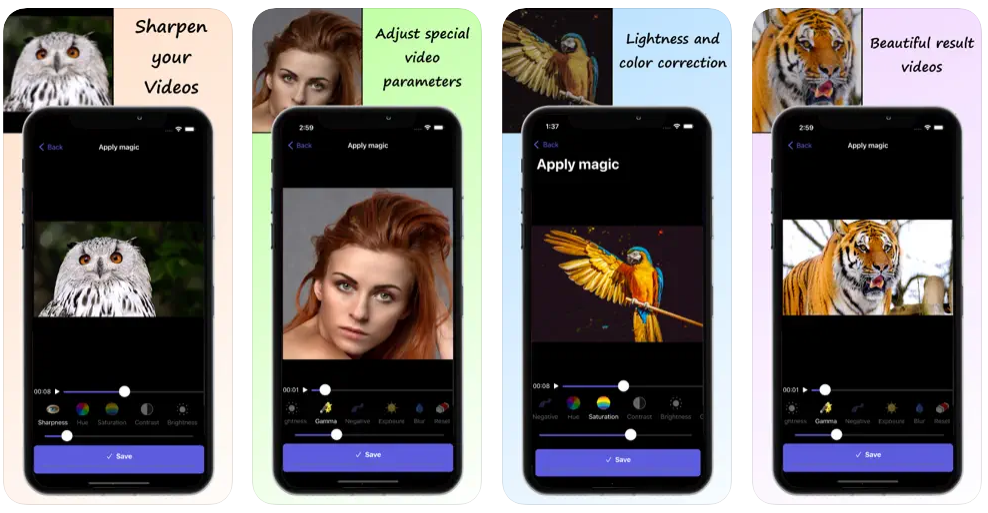 Say goodbye to dull and blurry videos with Sharpen Video: Enhance Quality! This video editor is like a magic wand for your videos, allowing you to improve video quality on iPhone with AI and easily enhance their quality to bring out stunning details.
Whether it's adjusting sharpness, saturation, exposure, or any other parameter, you're in control of making your videos look their absolute best.
What makes Sharpen Video stand out are its two smart sharpening filters that work like digital wizards, preserving the original high quality of your videos while giving them that extra sharpness. Sharpen Video keeps it intact, ensuring your videos maintain their visual integrity.
The user-friendly interface lets you zoom in for a closer look at the enhanced details, and with fast performance, you'll be saving and sharing your improved videos in no time. Plus, you can choose between different sharpening algorithms tailored to various video types, making this editor versatile and effective.
Don't just settle for ordinary videos; make them extraordinary with Sharpen Video. Save your enhanced results, share them with friends on your favorite social apps, and relive the moments with crystal-clear quality.
Whether it's mp4, mov, flv, or more, Sharpen Video supports all common video formats, making it your go-to tool for video enhancement.
Install Sharpen Video: Enhance Quality from the App Store now!
3. AI Video Enhancer – HiQuality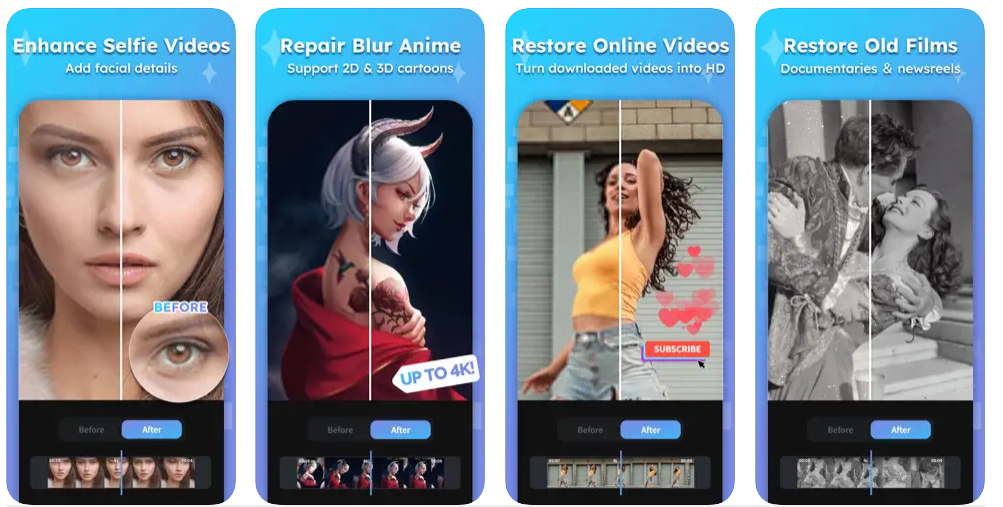 Step into the future of video enhancement with HiQuality, the most professional video quality enhancer in the market. Say goodbye to pixelated videos and hello to crystal-clear resolution with just one tap.
Whether you're looking to boost your selfies, breathe life into anime and cartoons, or restore the charm of old black-and-white films, HiQuality has got you covered.
Transform your selfie videos with enhanced quality and intricate facial details like never before. HiQuality effortlessly restores video clarity, making every pixel count. Dive into the world of anime with 2D and 3D cartoon enhancement, pushing the resolution to a stunning 4K.
HiQuality is also your go-to for reviving old films and documentaries. The app supports black and white clips, and the resolution after repair can reach an impressive 4K. It's not just about enhancement; it's about bringing your videos to life with the latest AI algorithms.
Install AI Video Enhancer – HiQuality from the App Store now!
4. Lightroom Photo & Video Editor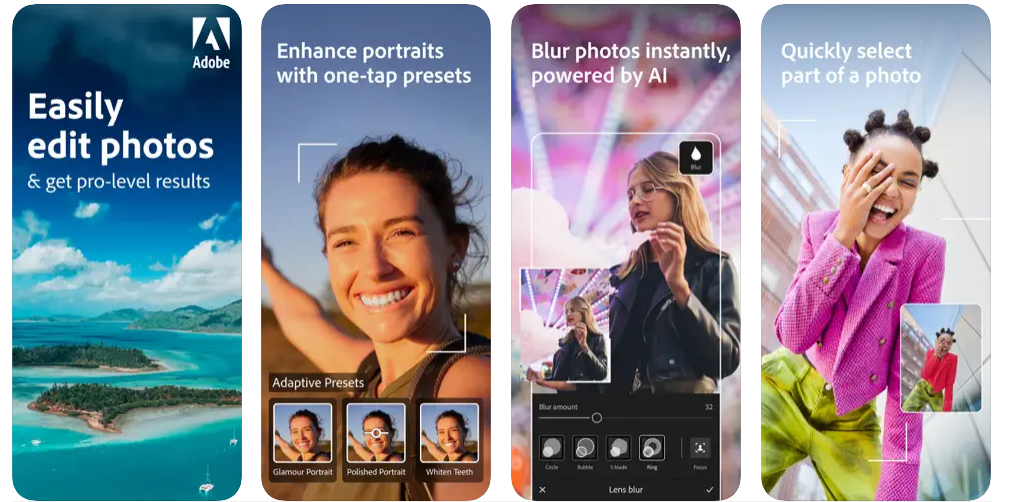 Lightroom's editing app is a treasure trove for photography enthusiasts, providing easy-to-use tools for object removal, background fine-tuning, and preset filters that breathe life into your visual creations. Access your iCloud photos instantly, and let the magic begin.
Presets are the name of the game – choose from 200+ exclusive Premium Presets crafted by professional photographers or craft your own for a consistent and polished look across your collection.
The photo editor lets you dive deep into editing with precision sliders, color mixers, and grading tools, ensuring your photos radiate with the perfect balance of contrast, exposure, and vibrancy.
Unlock the full potential of your phone's camera with unique controls like exposure, timer, and instant presets. The video and reel maker feature elevates your storytelling game, allowing you to create, edit, and replay your creative process with before-and-after videos.
Trim, retouch, and apply video effects with precision sliders, ensuring your videos match the high standards set by your photos.
Install Lightroom Photo & Video Editor from the App Store now!
5. Lightleap by Lightricks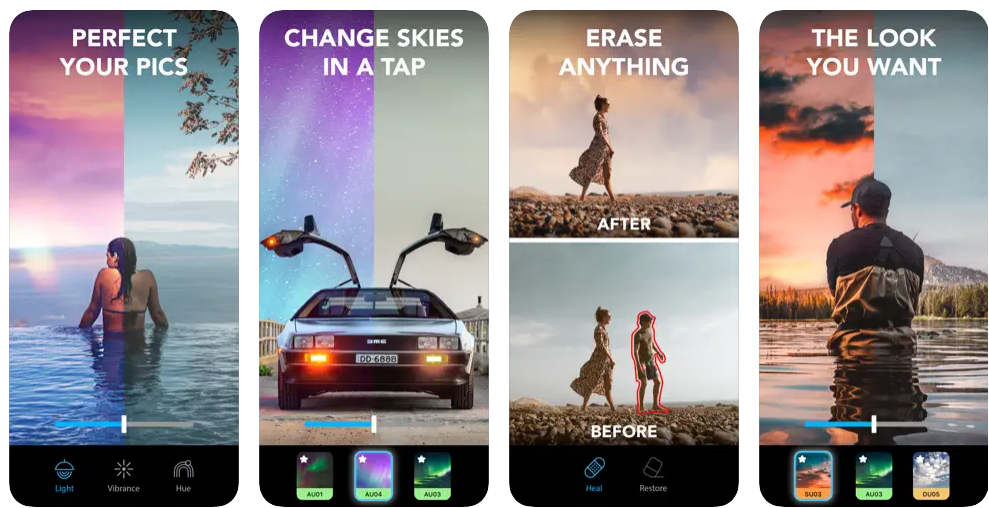 Created by Lightricks, the award-winning app developer behind Pixaloop, Videoleap, and Photofox, Lightleap is part of the Enlight Creativity Suite. The app helps you unleash your creativity in every photo, so your images can inspire the world.
If you are tired of capturing moments only to find the photo falls short of your expectations, Lightleap is here to empower you, yes, YOU, to be the photo editing maestro you never knew you could be.
Say goodbye to those blurry backgrounds, wonky lighting, and scenes that just need that extra oomph. Lightleap lets you channel your inner artist with a range of filters, effects, and retouching tools that make professional-level photo editing a breeze.
No need for a crash course in complicated software – Lightleap brings the magic right to your fingertips, transforming your photos in mere moments.
Imagine effortlessly creating images that rival those on Instagram, inspiring envy and admiration from your followers.
The Lightleap app, crafted by the genius minds at Lightricks, is your secret weapon in the quest for photographic perfection. And it's not just an app – it's part of the Enlight Creativity Suite, standing alongside Pixaloop, Videoleap, and Photofox.
Install Lightleap by Lightricks from the App Store now!
6. Vmake: AI Photo & Video Editor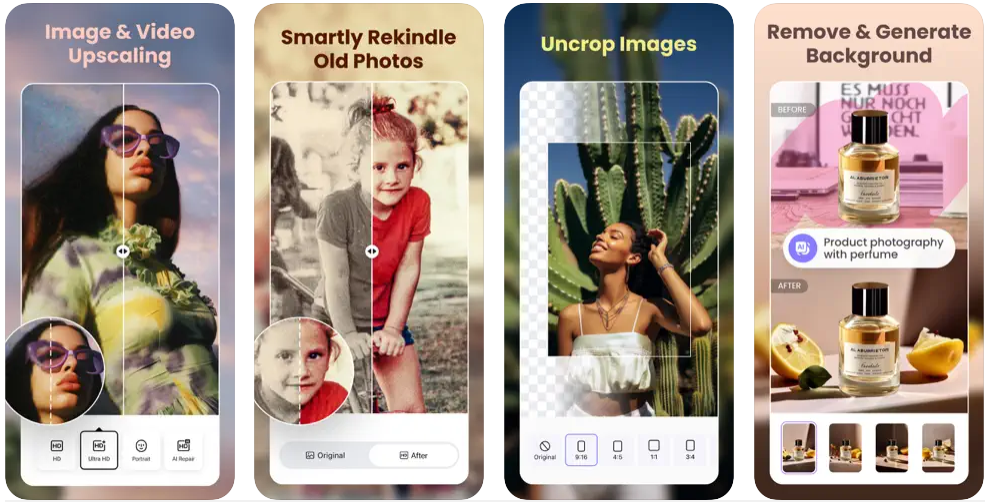 Whether you're a social media enthusiast, a product promoter, or an individual influencer, Vmake caters to your content creation needs. It's an all-in-one solution that simplifies the editing process from start to finish. Just drop in your pictures, choose a template, and voila—an attention-grabbing, soundtrack-backed video is ready for export across multiple platforms, perfectly sized for your audience's enjoyment!
Among the standout features is the ability to seamlessly remove backgrounds or generate custom backgrounds using an AI generator. You can also swap out elements, erase unwanted objects, and sharpen videos on your iPhone for a polished finish. Vmake's extensive template library allows you to create eye-catching videos with ease, and the AI Writer helps you craft compelling captions effortlessly.
Vmake offers advanced features like 3D photo transformations, AI makeup styles for photo and video retouching, and the ability to remove watermarks for a truly professional look. Spice up your content with dynamic stickers, fonts, and hot music tracks from our extensive library.
Install Vmake: AI Photo & Video Editor from the App Store now!
To Conclude
In a world where every pixel counts, turning your fuzzy footage into a crystal-clear masterpiece is no longer a pipe dream—it's a tap away on your iPhone! Armed with the right apps, you're not just enhancing videos; you're sculpting memories.
So, bid farewell to the days of squinting at blurry clips and say hello to a visually stunning showcase of your life. Whether you're capturing a breathtaking sunset or a hilarious family moment, these AI video sharpen apps are your passport to a sharper, more vibrant video experience. Unleash the clarity, embrace the details, and let your iPhone redefine the way you relive your favorite moments.
Disclosure: iOSHacker may receive a commission if you purchase products through our affiliate links. For more visit our privacy policy page.