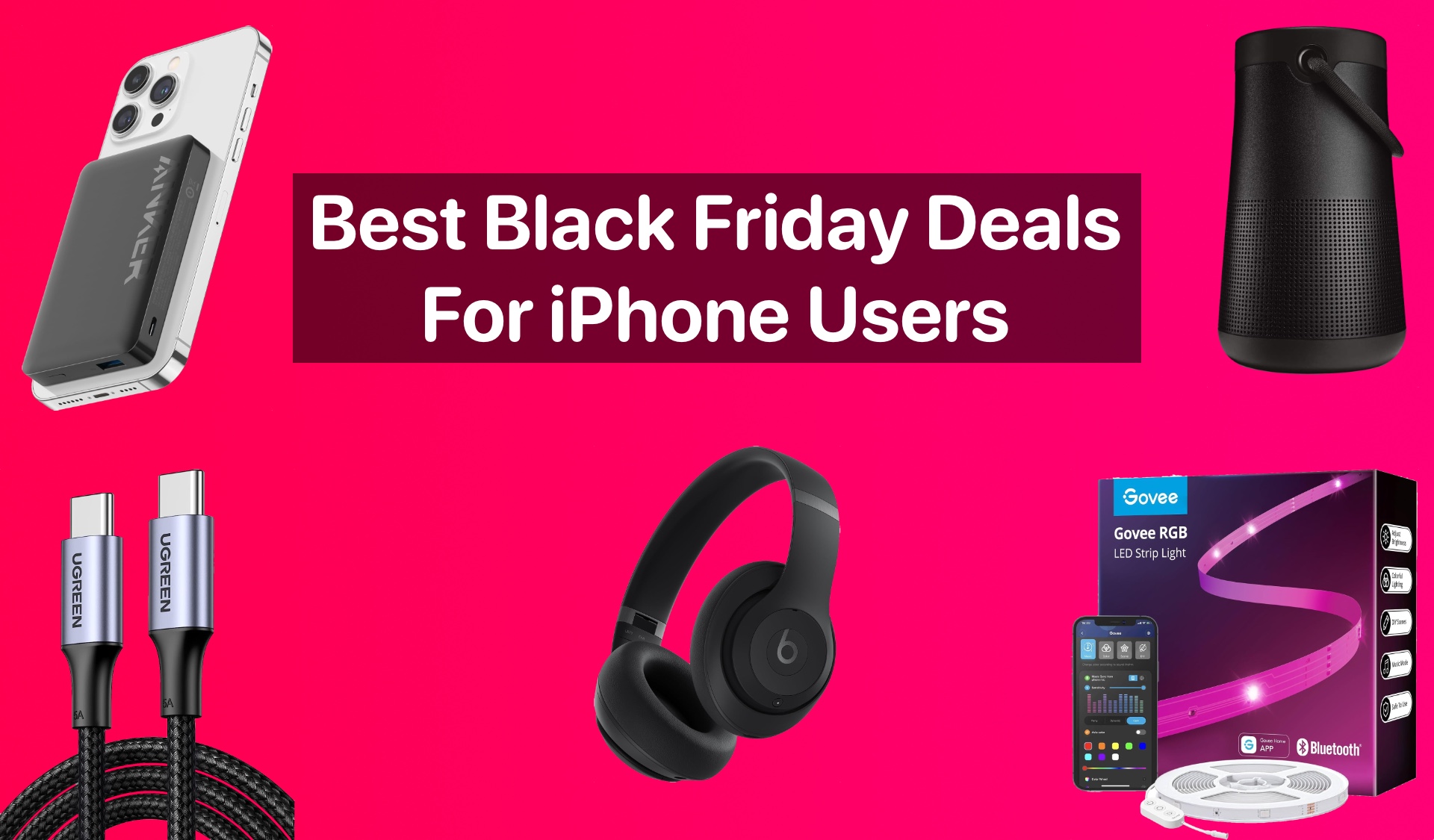 In this buying guide, we have featured some of the best Black Friday deals for iPhone users. No matter if you own the latest iPhone 15, or an iPhone 14 or iPhone 13, these amazing iPhone accessories are a must-have, especially at these low prices.
Brace yourselves, tech enthusiasts and iPhone fans, because the most electrifying shopping extravaganza of the year is just around the corner! As Black Friday approaches, the air buzzes with excitement and the promise of jaw-dropping deals.
If you're as tethered to your iPhone as we are, you're in for a treat! We've scoured the digital landscape to curate the ultimate list of the Best Black Friday Deals on iPhone Accessories.
Looking for more amazing Black Friday deals? Then check our roundup of best Black Friday 2023 deals for Tech Lovers.
Best Black Friday Deals for iPhone Accessories
Get ready to snag the hottest accessories at prices that will make your wallet dance happily. It's time to deck out your beloved device in style, and we've got the inside scoop on the deals that will have you saying, "Siri, add to cart!"
Also read: Best Black Friday 2023 Deals for Mac Users
1. Bose SoundLink Revolve+ (Series II) Bluetooth Speaker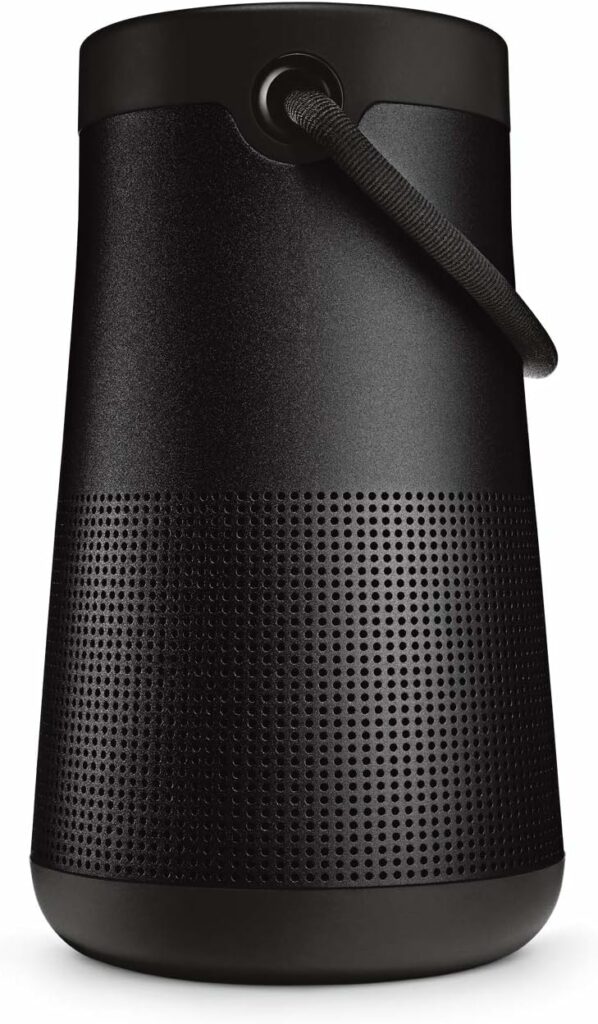 The Bose SoundLink Revolve+ (Series II) Bluetooth Speaker is a powerhouse designed to immerse you in 360-degree sound, providing consistent and uniform coverage for an exceptional audio experience.
This upgraded version, the Revolve+ II, takes it up a notch by playing louder and more profound, boasting an extended battery life compared to its predecessor, the SoundLink Revolve II.
Equipped with an IP55 rating, this speaker is dust- and water-resistant, making it your ideal companion for poolside fun without worrying about splashes.
Its portable design is made even more convenient with a flexible fabric handle, allowing you to grab and go wherever the music takes you. Taking calls and accessing your device's default voice assistant is a breeze directly from the speaker.
With all these features and the Black Friday deal in play, the Bose SoundLink Revolve+ (Series II) Bluetooth Speaker is a steal you don't want to miss!
Buy Bose SoundLink Revolve+ (Series II) Bluetooth Speaker for $329.00 $229.00 here.
2. Beats Studio Pro – Wireless Bluetooth Noise Cancelling Headphones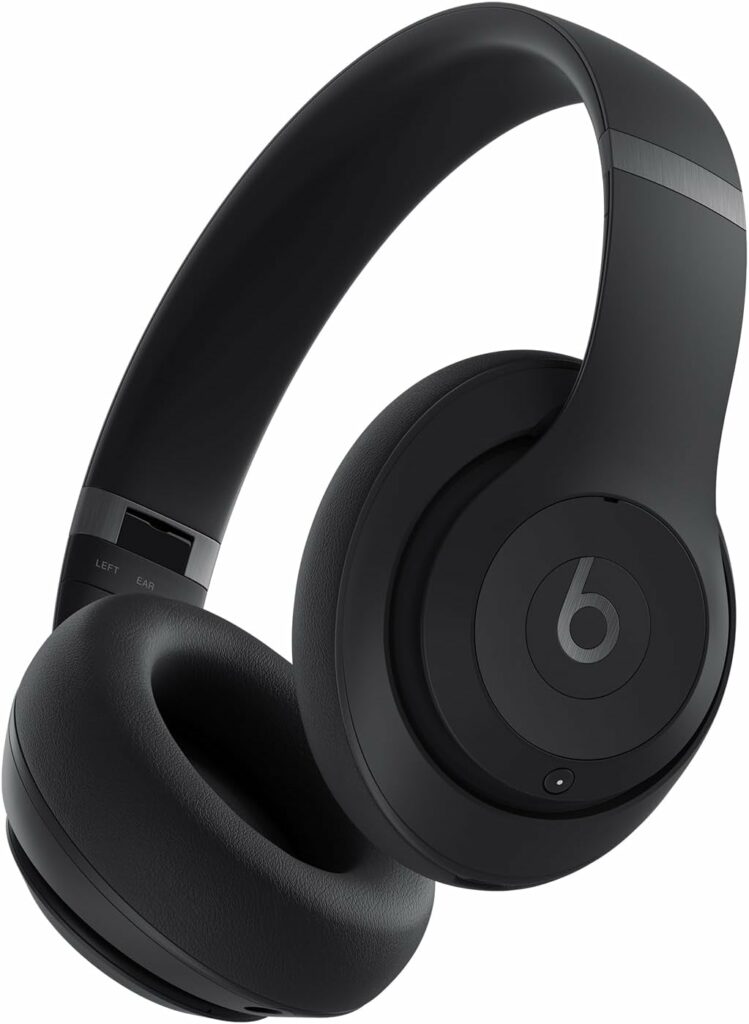 Snagging the Beats Studio Pro this Black Friday means immersing yourself in a world of unparalleled audio quality and convenience. They're not just headphones; they're an auditory experience.
Powered by Beats' custom acoustic platform, these Bluetooth headphones on black Friday provide rich, immersive sound for music and calls alike.
The USB-C connectivity ensures lossless audio and three distinct sound profiles cater to your preferences. Including fully adaptive Active Noise Cancelling (ANC) and Transparency mode gives you control over what you hear.
With up to 40 hours of total battery life and a 10-minute Fast Fuel charge for an extra 4 hours, these headphones keep the music going.
The Beats headphones black Friday offer seamless compatibility with native features, and its wireless Class 1 Bluetooth ensures an extended range with minimal dropouts. Hurry now and grab this one of the best iPhone headphone deals on black Friday.
Buy Beats Studio Pro – Wireless Bluetooth Noise Cancelling Headphones for $349 $169.95 here.
3. Anker Magnetic Power Bank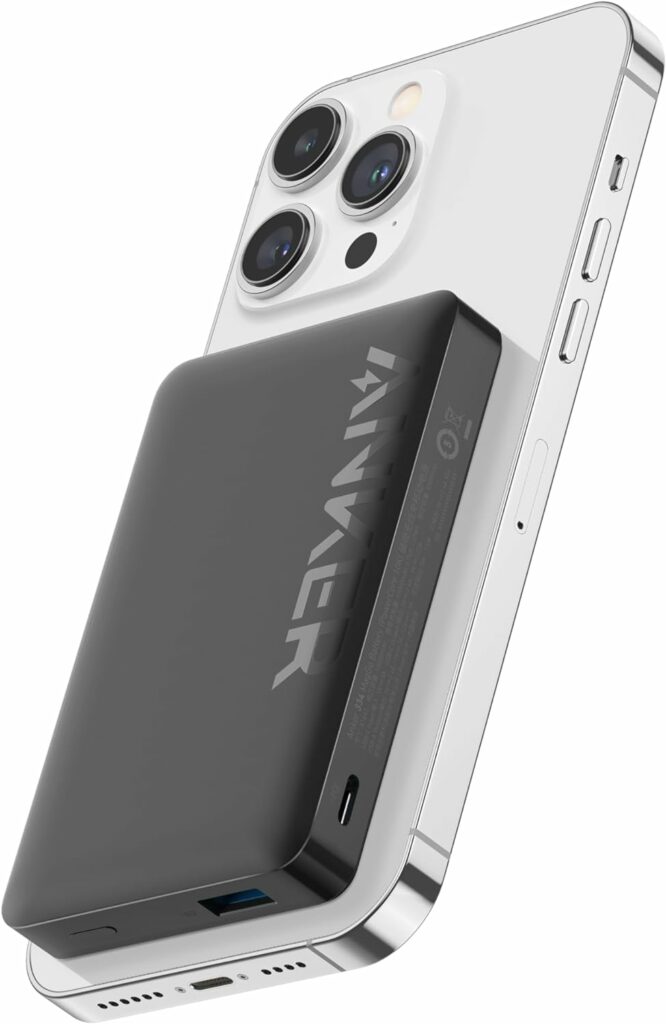 If you're looking for a Black Friday steal, the Anker Magnetic Power Bank is a game-changer you won't want to miss. It boasts 7.5W wireless charging, and here's the kicker – it comes with a whopping 10N magnetic force, surpassing even the original MagSafe charger.
Imagine the convenience of seamlessly slipping this compact gem into your pockets or bags, measuring just 4.2 × 2.7 × 0.72 inches.
The Anker 334 Magnetic Battery isn't just about charging your iPhone; it's about doing it efficiently. And here's the icing on the cake: simultaneous charging. Say goodbye to the waiting game; you can juice your iPhone and recharge the Anker 334 simultaneously.
Black Friday iPhone 15 accessories deals come and go, but the Anker Magnetic Power Bank is the steal that keeps on giving – power, convenience, and unmatched efficiency.
Buy Anker Magnetic Power Bank for $44.99 $31.49 here.
4. Anker Foldable 3-in-1 Wireless Charging Station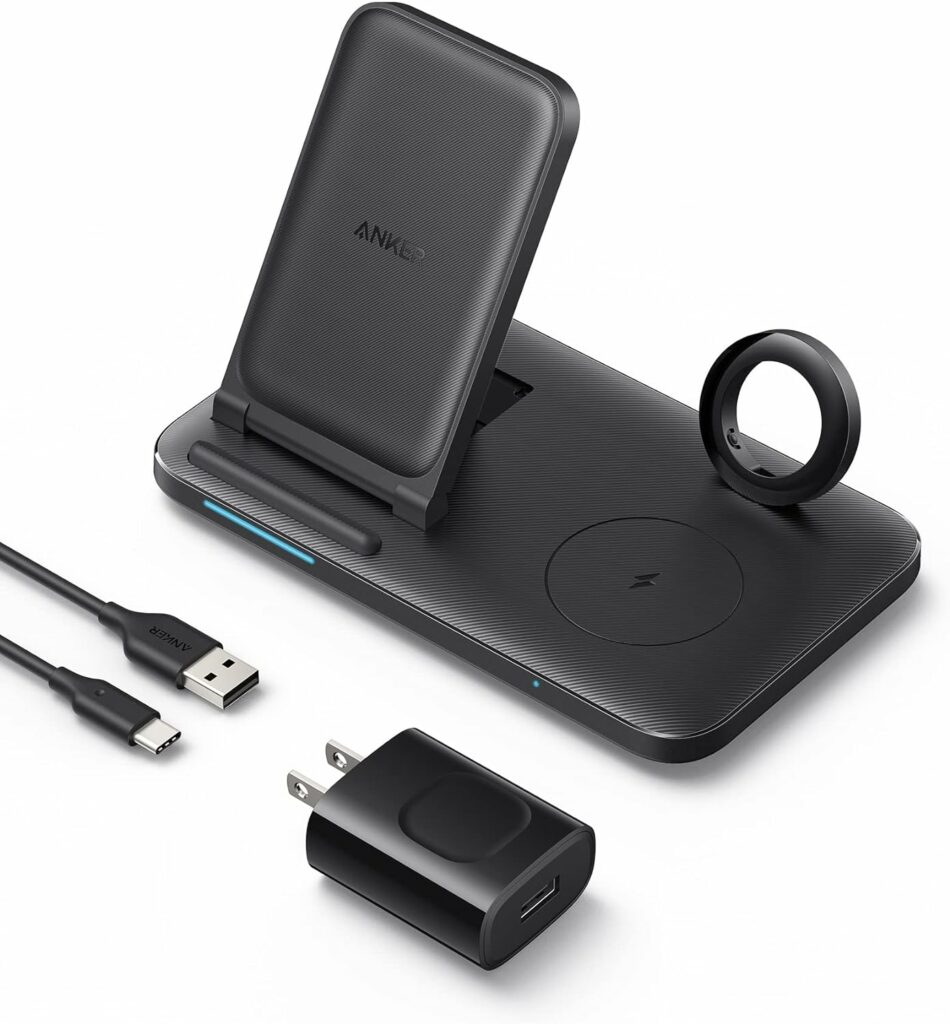 The Anker Foldable 3-in-1 Wireless Charging Station is your ultimate charging solution, and snagging it on Black Friday is a game-changer. Imagine bidding farewell to the cable clutter as this powerhouse simultaneously juices your phone, earbuds, and Apple Watch-compatible devices. It's not just practical; it's a sleek addition to your tech setup.
Are you tired of missing out on videos or FaceTime calls while charging? Adjust the surface angle to 54° or 60° for an optimized viewing experience. Plus, it's travel-friendly with its foldable design, ensuring your devices stay powered up on the go.
This charging station is a jack-of-all-trades, seamlessly working with iPhones, 10W max phones, AirPods, and Apple Watch Series 1-6. And hey, there's a little extra touch for your iPhone Pro or Pro Max – use the included rubber mat to elevate your device for the fastest charging experience.
With Anker's wireless charging station black Friday deal, you're not just getting a charger but a charging revolution that brings order to your charging chaos.
Buy Anker Foldable 3-in-1 Wireless Charging Station for $25.99 $16.99 here.
5. Apple 35W Dual USB-C Port Compact Power Adapter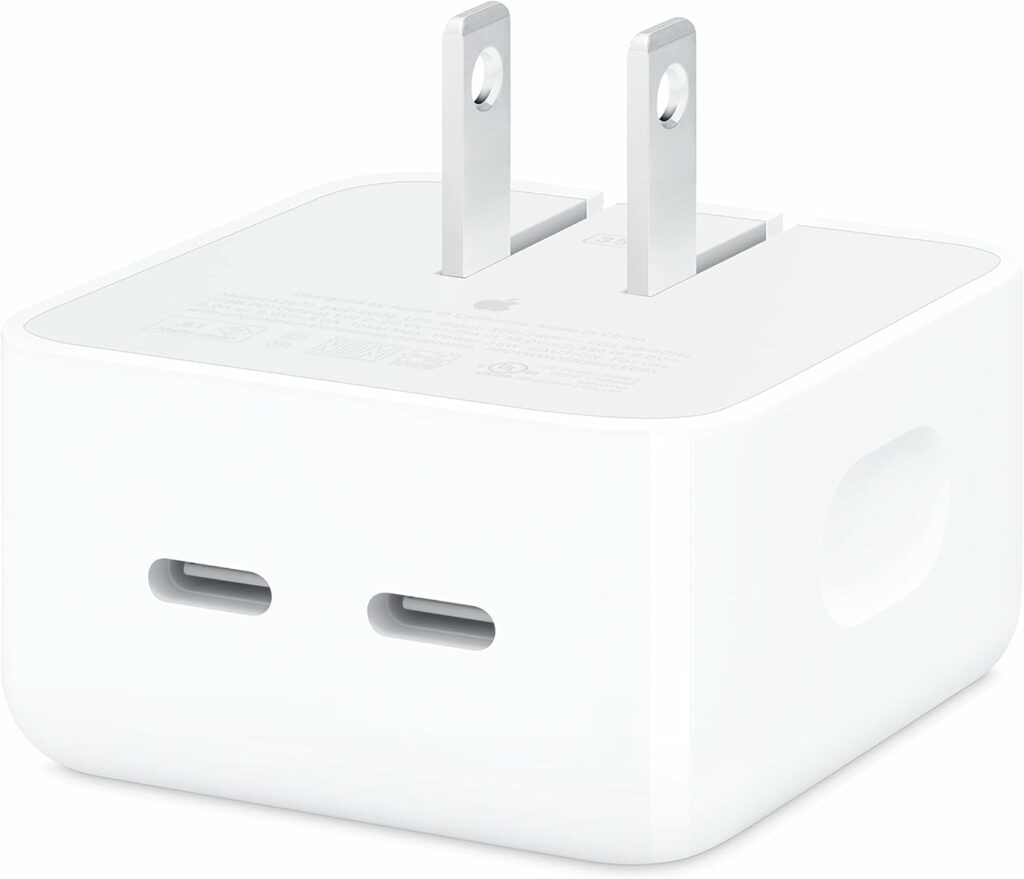 If you're hunting for the ultimate Black Friday steal, look no further than the Apple 35W Dual USB-C Port Compact Power Adapter.
This little powerhouse lets you charge two devices simultaneously, making it a game-changer for multitaskers. Whether you're working from home, moving, or just need a quick power-up, this adapter has your back.
The compact design and foldable prongs make it a breeze to toss in your bag, ensuring you're always prepared for a power emergency.
Plus, it's not just for your MacBook Air – it plays nice with your iPhone, iPad, Apple Watch, and AirPods. Don't miss out on snagging this versatile charger at a Black Friday deal – your devices will thank you!
Buy Apple 35W Dual USB-C Port Compact Power Adapter for $59.00 $43.99 here.
6. Govee 100ft LED Strip Lights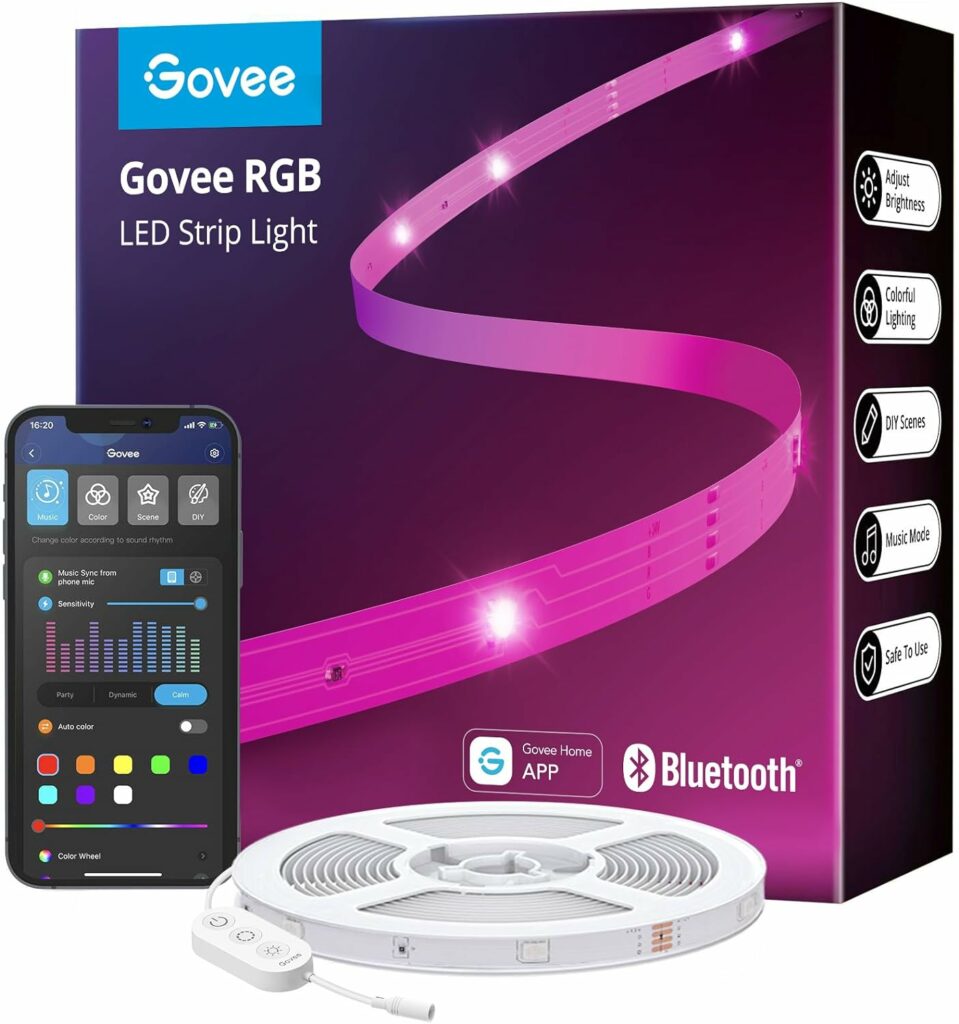 The Govee 100ft LED Strip Lights are a must-grab on Black Friday for anyone looking to elevate their home decor game. Picture this: 100 feet of vibrant, customizable LED goodness ready to transform your living space into a dynamic canvas of colors.
Whether it's your bedroom, kitchen, stairs, or dining room, these lights provide more coverage than your average LED strip, giving you endless design possibilities.
What sets these lights apart is the Govee Home app, putting the power of customization at your fingertips. Imagine syncing your LED lights to your favorite music, creating a festive ambiance perfect for Christmas decorations.
These lights cater to every mood with dynamic modes for lively gatherings and calm modes for more relaxed settings.
Buy Govee 100ft LED Strip Lights for $24.99 $14.99 here.
7. OtterBox Commuter Series Case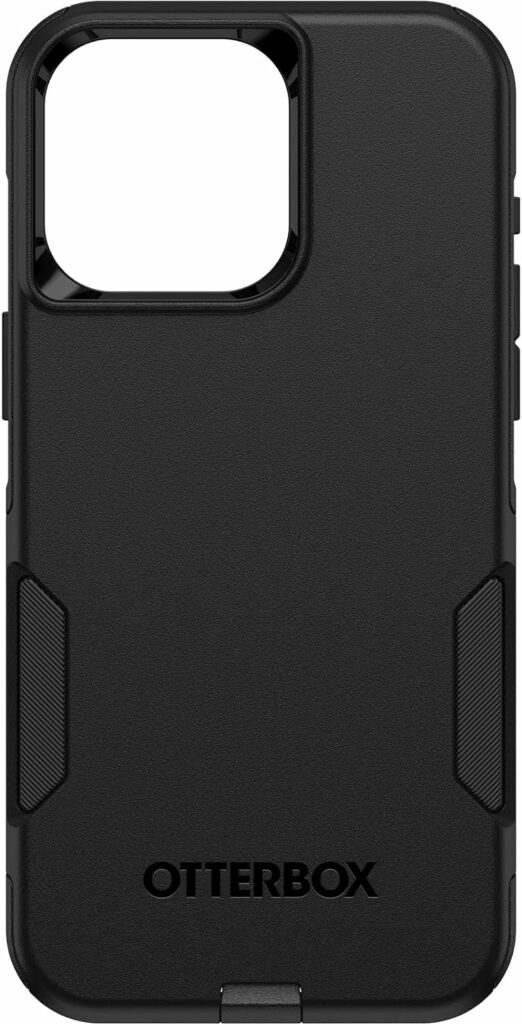 Score big this Black Friday with the OtterBox iPhone 15 Pro MAX Commuter Series Case, the ultimate armor for your device. This sleek and slim case is your go-to for daily adventures, combining durability with a pocket-friendly design.
The Commuter Series is DROP+ certified, enduring three times as many drops as the military standard. Plus, it plays nice with your wireless charging habits, supporting both Qi charging and MagSafe, minus the extra magnets in the case.
Crafted from 35% recycled plastic, this case doesn't just protect; it's also environmentally conscious. With a rugged outer shell and an internal rubber cover, it's ready for anything life throws your way.
So, why wait? Grab the OtterBox Commuter Series Case this Black Friday and give your iPhone the defense it deserves while keeping your style intact.
Buy the OtterBox Commuter Series Case for $39.95 $23.99 here.
8. OtterBox Symmetry Series Clear Case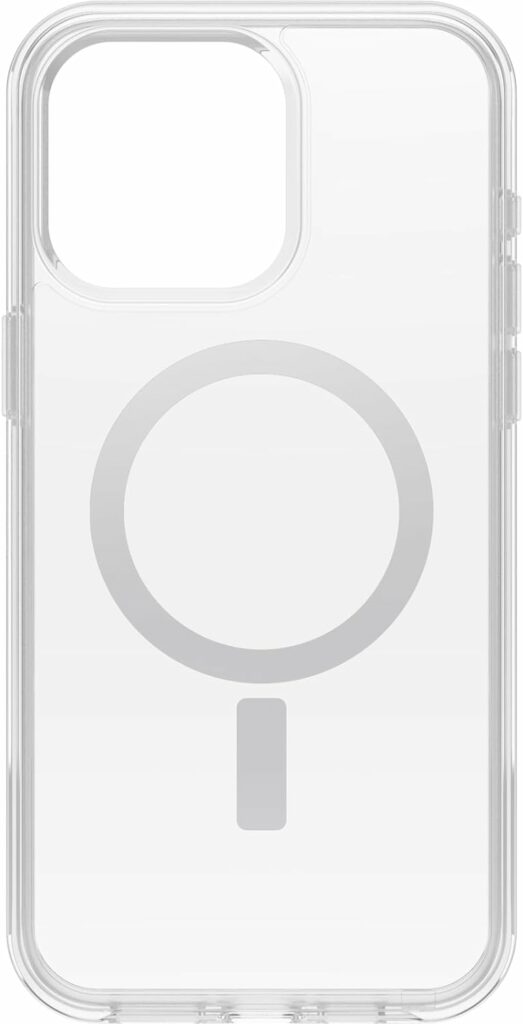 The OtterBox Symmetry Series Clear iPhone 15 Pro Max case black Friday is your go-to accessory, ensuring you make the most of your brand-new iPhone. With its crystal-clear design, you can flaunt your device's sleek aesthetics while enjoying seamless compatibility with MagSafe charging and accessories.
The Stay Clear formula keeps your case transparent, and the one-piece design makes installation a breeze. This case is tough, meeting military drop standards and providing durable protection against bumps and fumbles. The ultra-sleek and stylish design doesn't compromise functionality, allowing easy access to all your phone's features.
Plus, it's an eco-friendly choice with over 50% recycled plastic. Grab the OtterBox Symmetry Series Clear Case this Black Friday to safeguard your iPhone in style, ensuring it stays protected while you show it off!
Buy OtterBox Symmetry Series Clear Case for $49.95 $29.97 here.
9. JBL Live Pro TWS 2 Earbuds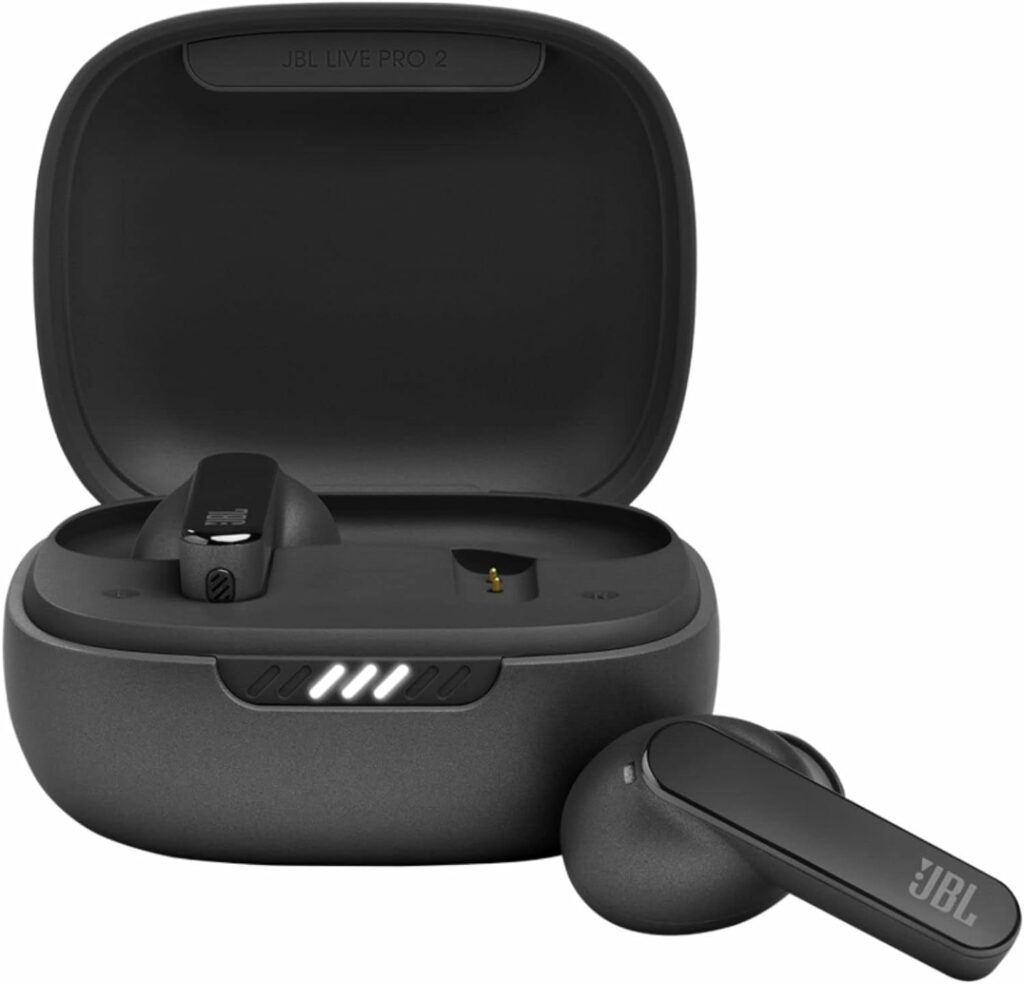 Picture this: you're in the middle of your favorite song, and the beats are so crisp it's like you're at a live concert. That's the magic of the JBL Live Pro TWS 2 Earbuds, and here's why grabbing them on Black Friday is a no-brainer.
With 11mm dynamic drivers delivering JBL Signature Sound, your music and calls are crystal clear—no more settling for less. The 40-hour playback, including 10 hours in the earbuds and an extra 30 in the case, means you'll never be caught with dead earbuds.
These earbuds have six beamforming microphones, creating a noise-free zone for your calls. With VoiceAware, you control how much of your voice you hear, ensuring your conversations are as personal as you want them to be. Plus, the Oval TubesTM and oval silicon tips provide superior comfort, enhance bass, and isolate sound.
Buy JBL Live Pro TWS 2 Earbuds for $149.95 $74.95 here.
10. UGREEN 100W 2-Pack USB C to USB C Cable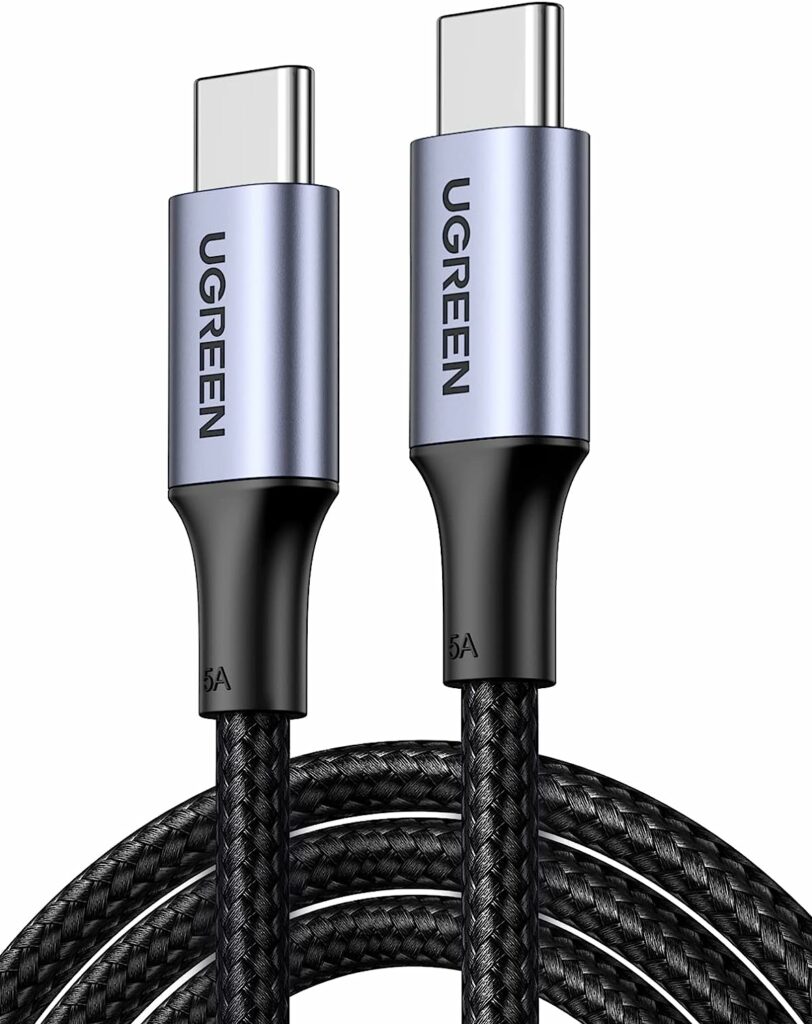 If you're on the lookout for Black Friday deals, the UGREEN 100W 2-Pack USB C to USB C Cable is a game-changer! Thanks to its PD3.0 and QC3.0 support, this USB-C cable black Friday packs a punch with a max 100W output when paired with a charger of equal or higher capacity.
The built-in E-marker smart chip ensures that the right amount of current is delivered, minimizing heat and boosting efficiency by 80%, with a whopping 90% increase in charging stability compared to standard 60W cables.
The aluminum housing, nylon braiding, and 250d fiber core make it virtually indestructible against over 10,000 bends or turns.
Plus, with transfer speeds of up to 480Mbps, you can zip through file transfers in the blink of an eye. Don't miss out on this fantastic deal to supercharge your charging game and keep your devices at full throttle!
Buy UGREEN 100W 2-Pack USB C to USB C Cable for $19.99 $13.99 here.
Happy Shopping!
As we wrap up our guide to the Best iPhone accessories black Friday deals, it's clear that this year's bargains are nothing short of sensational. From stylish iPhone 15 black Friday cases to cutting-edge gadgets, the savings are as impressive as the products themselves.
So, whether you're gearing up to gift the ultimate tech treat or just treating yourself, these deals are your golden ticket to elevating your iPhone experience without breaking the bank.
Disclosure: iOSHacker may receive a commission if you purchase products through our affiliate links. For more visit our privacy policy page.