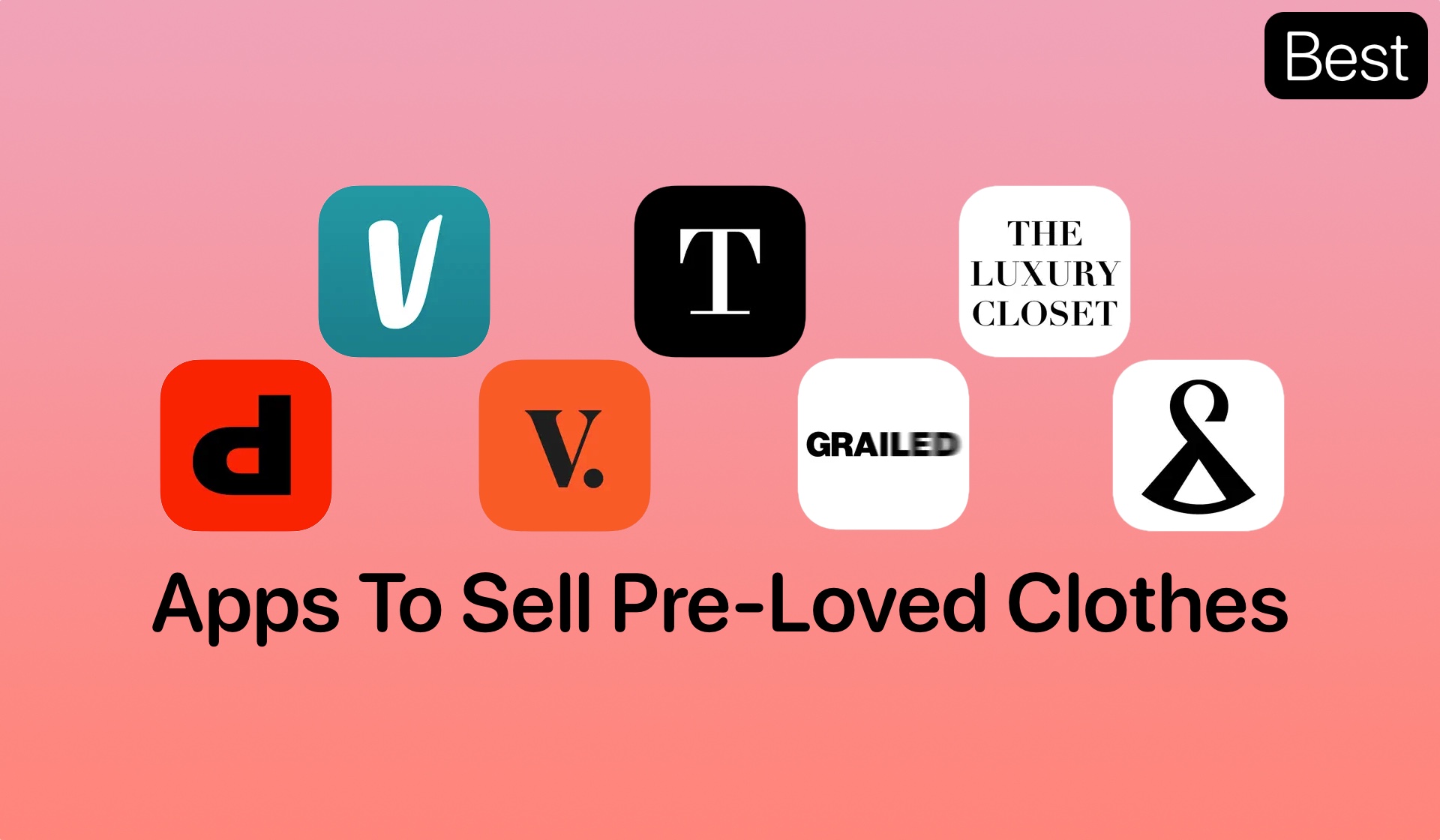 In this article, we discuss the best apps to sell pre-loved clothing treasures, because let's face it, your fashion gems deserve a second chance to shine. Say goodbye to that overflowing closet and hello to a pocket full of cash.
Are you someone who can't resist the thrill of hunting for hidden gems in thrift stores? Is your closet bursting at the seams with too many clothes?
Yes, for most (me) there's no such thing as too many clothes. But, if you're anything like me, you've probably got a treasure trove of pre-loved clothing just sitting there, collecting dust.
It's time to turn those neglected gems into cold, hard cash!
Selling your pre-loved clothes is not only a fantastic way to declutter your wardrobe but also an opportunity to make some extra dough.
So, are you ready to turn your love for thrifting into a side hustle?
Turn Your Closet into Cash:
The Top Thrift Store Apps
Whether you're a passionate vintage lover, a savvy trendsetter, or simply in need of some quick money, these apps to sell clothes are tailor-made for you.
So, grab your favorite thrift store finds, dust off those vintage treasures, and let's dive into the world of the best apps to sell pre-loved clothes.
Get ready to rock that fashion-forward look and transform your wardrobe into moolah in no time.
1. Vinted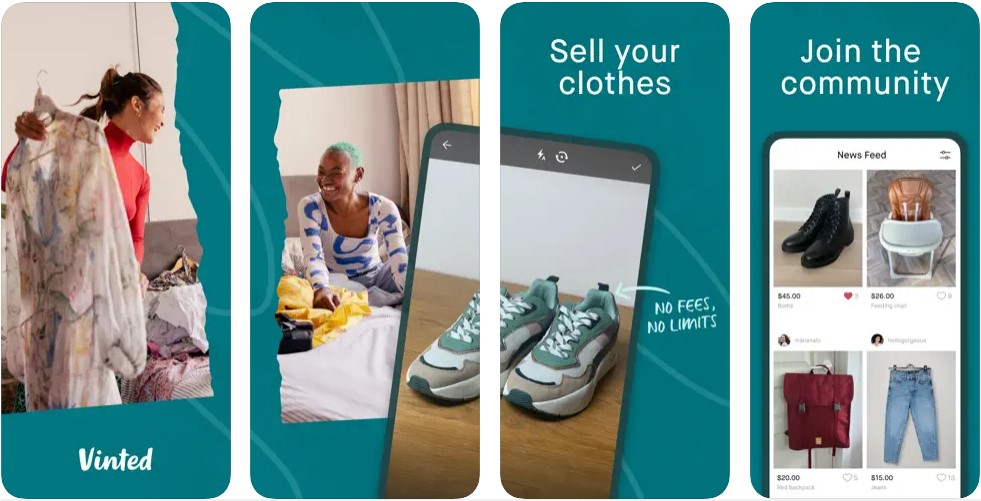 When it comes to selling on Vinted, simplicity is key.
Just snap some photos of your item, write a description, set your price, and you're good to go! You'll receive notifications about favorites or purchases, and all the information you need will be right at your fingertips.
There are absolutely no selling fees, meaning every penny you earn is yours to keep. Plus, shipping is a breeze with Vinted. You can easily download pre-paid shipping labels and track your packages, all within the app itself.
And rest assured, Vinted takes your security seriously. Their integrated payment system allows you to send your funds directly to your bank, ensuring a secure and seamless transaction.
But Vinted isn't just an app to sell things locally—it's also a fantastic place to shop smarter.
Discover unique and high-quality items from various categories, ranging from vintage clothing to second-hand homeware, pet accessories, kids' toys, and even great-value books.
Download the Vinted app to sell pre-loved clothes now.
2. Depop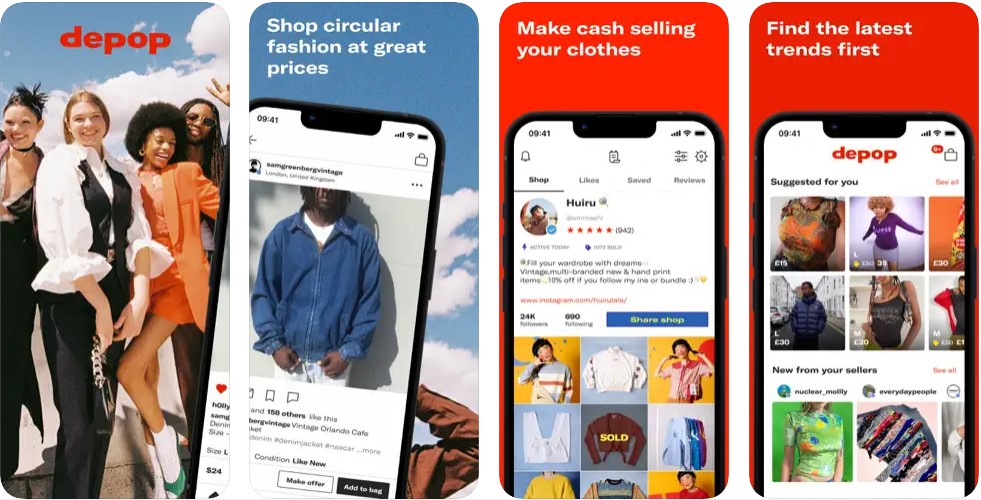 Depop is not just your average app to sell clothes. It's a vibrant and creative fashion community where you can buy, sell, and discover unique styles that speak to your individuality.
On Depop, you have access to an incredible range of clothing options from a diverse community of sellers. Whether you're into vintage, streetwear, or something in between, you'll find sellers who bring fashion to life, offering you a curated selection of stylish pieces to choose from.
The thrifting app not only sells but keeps you in the loop with the latest trends and provides endless styling inspiration.
Now, let's talk about selling on Depop.
Listing your items is a breeze—simply snap a photo or record a video, write a short description, and you're good to go. Once your sale is confirmed, managing your payments is hassle-free, and you can easily restock and resell.
Download the Depop app to sell pre-loved clothes now.
3. Vestiaire Collective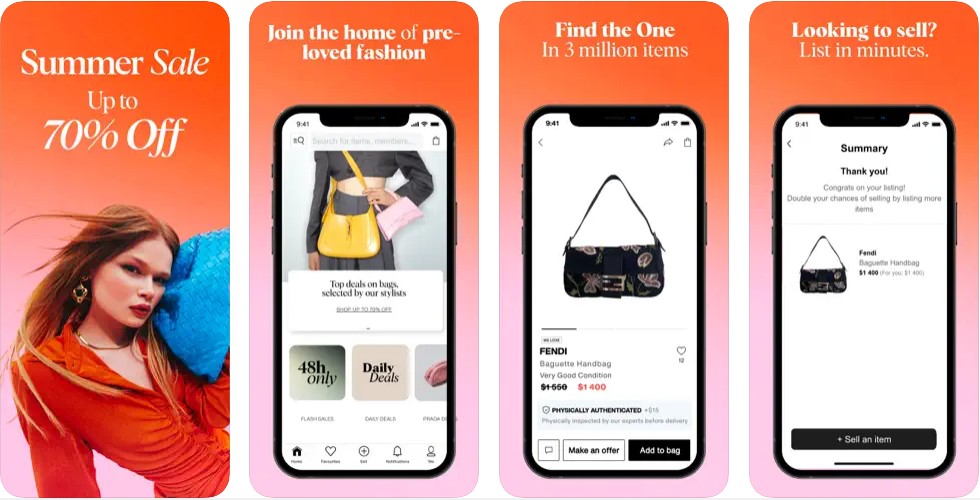 Whether you're selling a Louis Vuitton bag, a Gucci dress, or unique vintage pieces like Rolex watches and Hermès handbags, Vestiaire Collective is the go-to platform.
Experience the convenience, reliability, and financial rewards that come with being a seller on Vestiaire Collective.
Just submit your item for sale using the straightforward online seller form. Once it's sold, you'll be provided with a pre-paid shipping label, making the process hassle-free. After your item passes quality control, you'll receive payment directly into your bank account.
It's a designer fashion revolution that promotes sustainability and positive change in the industry, going beyond being just another app to sell used clothes.
Stay connected with the fashion community, make offers and negotiate prices, create your wishlist, follow members whose style you admire, and engage in buying and selling designer items in this fashion-loving ecosystem.
By joining the fashion activist community, you're not only embracing a new way of shopping but also sharing your unique style with like-minded individuals.
Download the Vestiaire app to sell pre-loved clothes Collective now.
4. Tradesy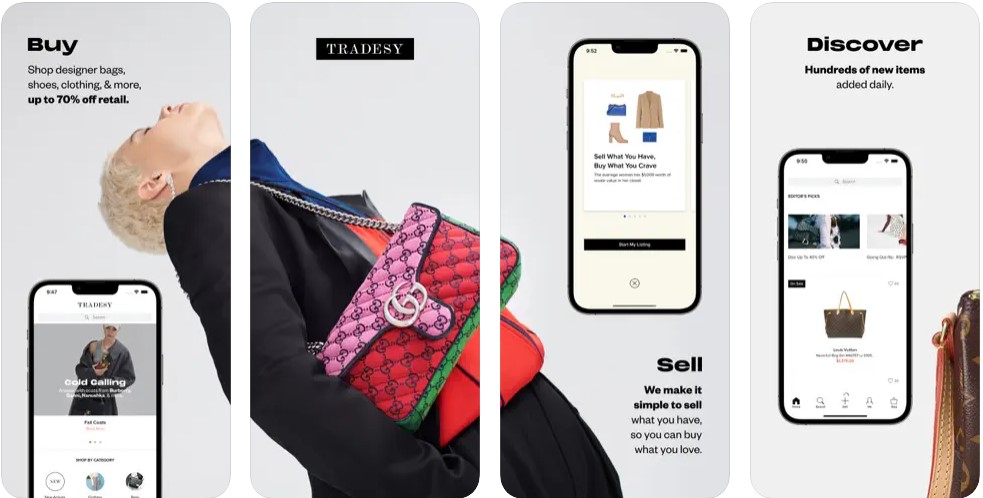 Tradesy is your gateway to accessing the best designer deals and creating your own resale listings in a matter of minutes. How convenient is that?
The ultimate peer-to-peer app to sell used luxury, designer, and vintage fashion, with Tradesy, your dreams of a stunning wardrobe can become a reality.
One of the coolest things about Tradesy is that it's not just about selling what you have; it's about buying what you love. Your personal style journey is important, and they've made it safe, simple, and fun to recirculate your pre-owned clothing and accessories.
By doing so, you not only score top brands at incredible discounts but also reduce waste and build an authentic designer wardrobe that truly reflects your unique taste.
Now let's get down to business. Listing your items on Tradesy is a breeze. With the app, you can snap some pictures, write a catchy description, set your price, and voila!
And here's the icing on the cake – you get to keep over 80% of your sale price. That's more money in your pocket.
Download the Tradesy app to sell pre-loved clothes now.
5. The Luxury Closet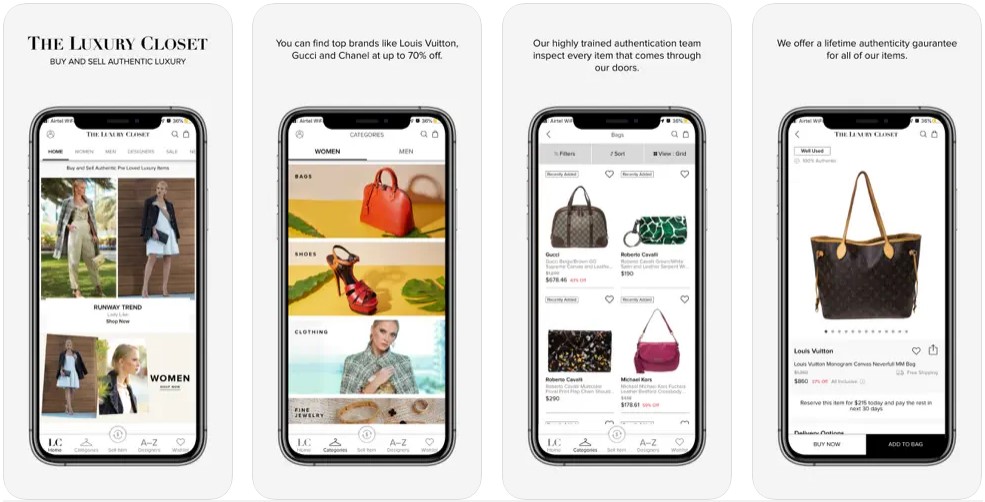 As the name suggests, The Luxury Closet is a second-hand selling app for those with a penchant for luxury fashion. With its emphasis on quality and authenticity, you can trust that your items will find the right buyer and fetch a fair price.
Whether you're looking to purge your stylish wardrobes or have had a change of heart about a spontaneous purchase, they accept a range of luxury items across various categories.
With benefits like VIP concierge service, attractive payments, low commissions, easy payout, scheduled pick-ups, and professional photoshoots, you can trust that your selling experience will be top-notch.
Plus, sellers can enjoy up to 90% off on popular styles, making it an attractive platform for those looking to make a profit.
Not only that, but The Luxury Closet offers speedy delivery, ensuring that your orders are shipped within just 2 days. And when your items arrive, you can expect state-of-the-art packaging that will leave your buyers delighted.
Download The Luxury Closet app to sell pre-loved clothes now.
6. Curtsy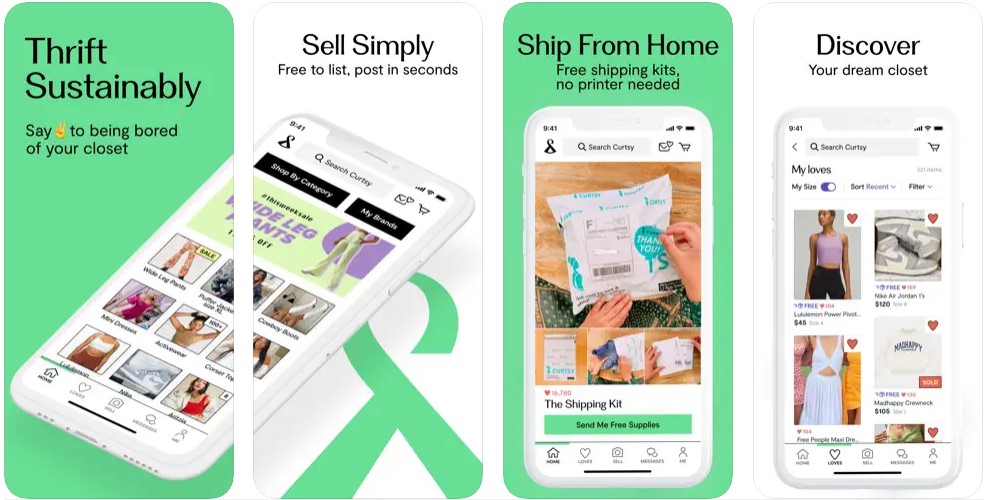 Curtsy is a user-friendly app that primarily targets college students and young women. The thrift store app's unique feature is that it lets you rent out your items, providing an additional way to make money from your wardrobe.
With Curtsy, you can post your items in just 30 seconds, saving you valuable time and effort. Plus, they offer instant payouts, ensuring you get your money fast and without any hassle.
What's even better is that Curtsy has low seller fees, allowing you to maximize your profits.
But Curtsy isn't just for sellers; it's also a dream come true for fashion lovers who enjoy shopping. With thousands of items available for free shipping, you can shop to your heart's content without worrying about additional costs.
Download the Curtsy app to sell pre-loved clothes now.
7. Grailed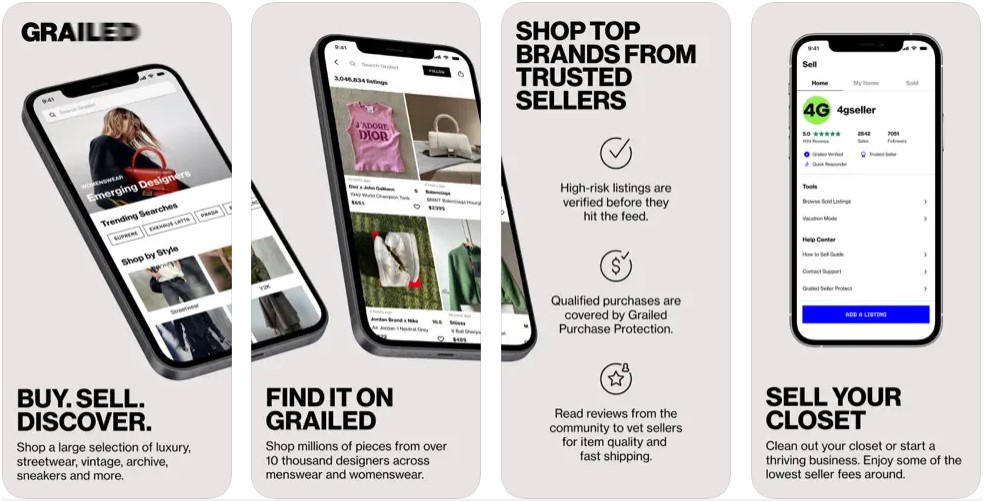 Grailed is not just your ordinary platform; it's a personal style haven where you can buy, sell, and discover unique fashion pieces.
Considered one of the best apps to sell stuff, it is an ideal choice for selling men's clothes and accessories.
Boasting over 10 million style enthusiasts, you'll join a global community of fashion-forward individuals. With low seller fees and direct exposure to a vibrant community of buyers, you can confidently rotate your wardrobe and profit from your style.
And speaking of style, Grailed offers an array of options to cater to different aesthetics from vintage designer pieces, denim, band tees, and leather jackets to luxury brands.
Whether you're into streetwear, designer labels, or vintage finds, this app has a dedicated audience that appreciates high-quality fashion.
Download the Grailed app to sell pre-loved clothes now.
From Vintage to Viable
Why should we let those hidden treasures sit untouched in our closets when they have the power to make us some serious cash?
Maybe you're dreaming of that designer handbag, planning a vacation, or simply looking to boost your savings. By parting ways with items you no longer wear, you're not only enriching someone else's style but also padding your wallet.
So, my fashion-forward friends, let's embrace the power of selling pre-loved clothes through these incredible thrift store apps.
Remember, your pre-loved clothing treasures deserve to be shared with the world, and you deserve the financial rewards that come with it.
Disclosure: iOSHacker may receive a commission if you purchase products through our affiliate links. For more visit our privacy policy page.