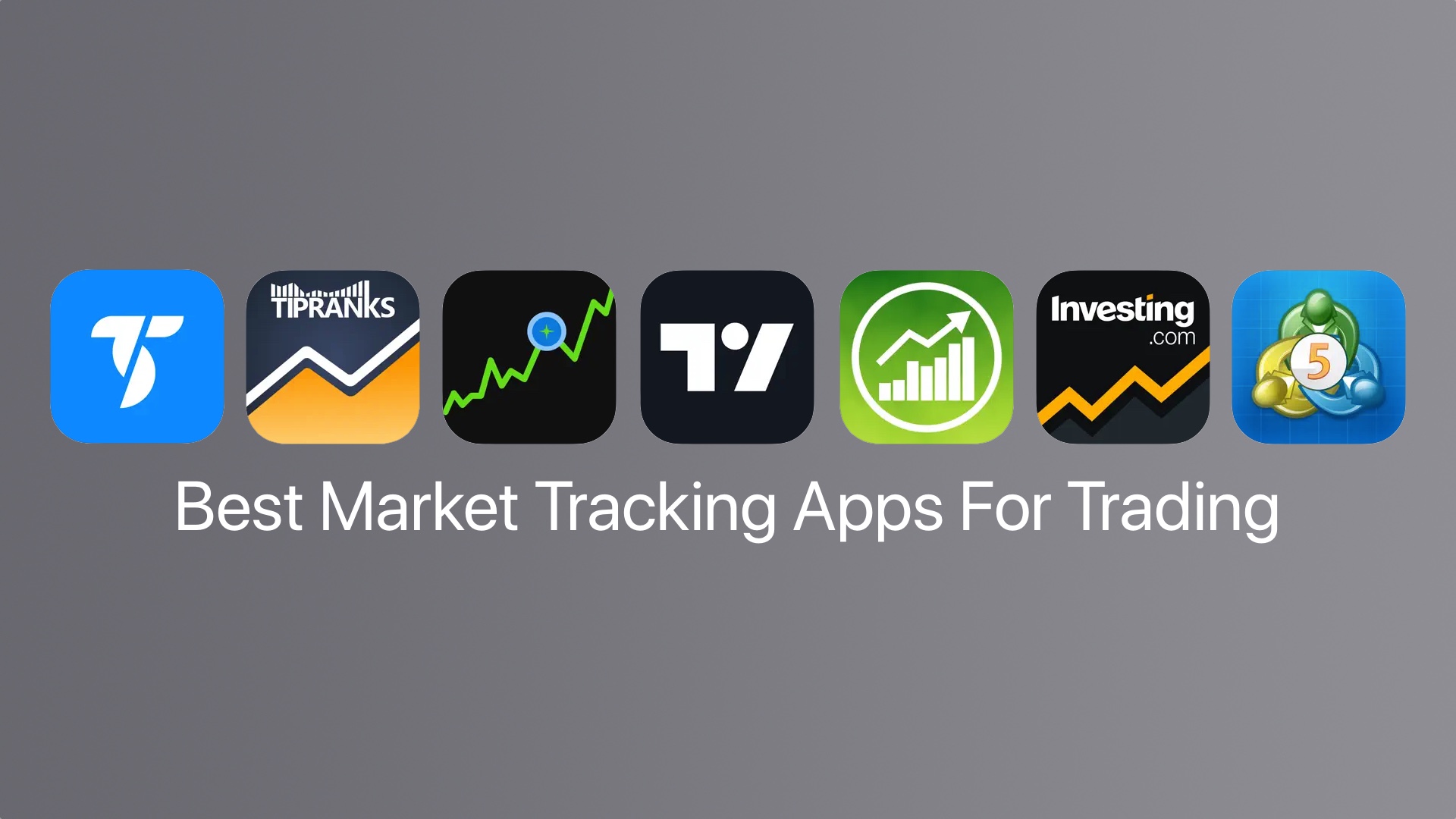 In this post, we have highlighted some of the best market-tracking apps for traders. These apps give you real-time access to markets and allow you to track stocks that you might be interesting in buying.
In the fast-paced world of trading, staying on top of the markets is like trying to catch a speeding bullet with your bare hands. But fear not, fellow traders, because in this digital age, we've got a secret weapon right in the palm of our hands: our iPhones and iPads! Whether you're a seasoned pro or just dipping your toes into the world of financial markets, the right apps can make all the difference.
So, if you're ready to take control of your investments and make informed decisions with just a few taps, join us on a journey to discover the best free stock tracking apps on your trusty Apple devices. From real-time quotes to customizable watchlists, and even advanced charting tools, we've got you covered.
Let's dive into the world of trading and harness the power of technology to maximize your gains!
Best Market Tracking Apps For Trading
Here are the best market tracking apps for trading that you can download on your iPhone and iPad for 2024.
1. TradingView: Track All Markets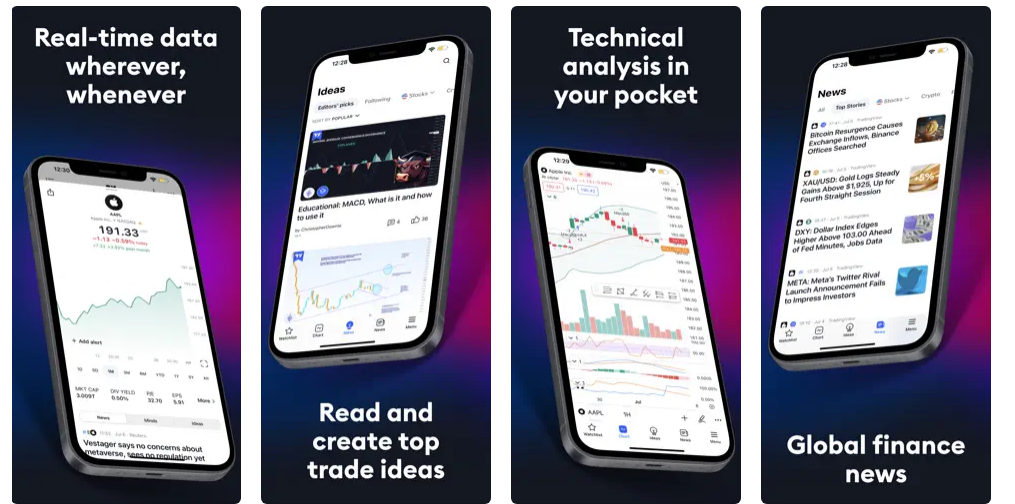 If you're into trading, you've probably heard of TradingView. It's where the world charts, chats, and trades the markets, and more than 50 million traders and investors swear by it. The reason? Well, it's like a trader's secret weapon, and the best part is, that you can get started for free!
Imagine having the power of super charts at your fingertips. These charts work like a charm on any device and are often hailed as outperforming many desktop trading platforms. Whether you're into stocks, currencies, cryptocurrencies, futures, or CFDs, TradingView has got you covered. Plus, they offer a range of drawing tools, like Gann Fans and Elliott Waves, and a bunch of technical indicators to help you make sense of price action.
TradingView lets you build highly customizable watchlists to keep an eye on your favorite stocks and currency pairs. Real-time price updates? Check. Being the first to know what's happening in the markets, no matter where you are? Double-check!
Install TradingView: Track All Markets from the App Store today!
2. MetaTrader 5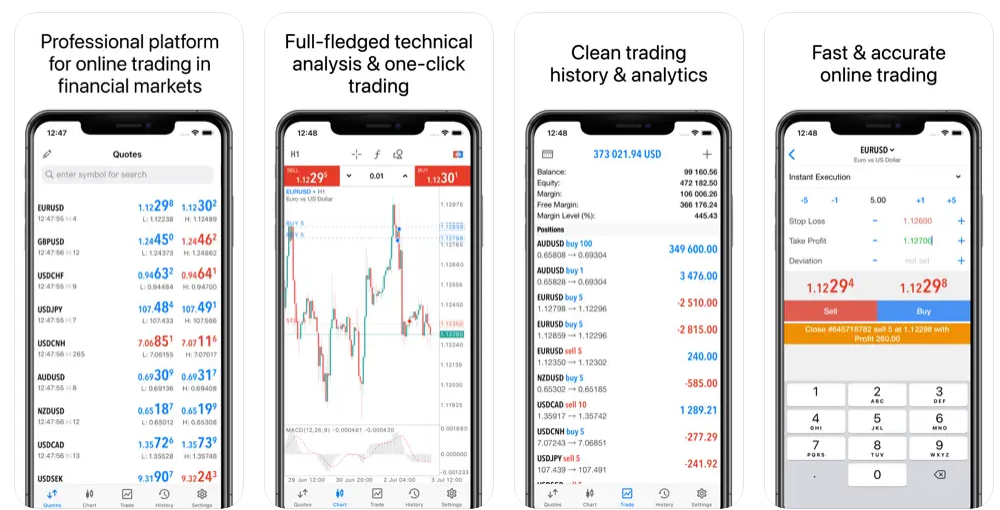 If you're diving into the world of trading, MetaTrader 5 is your perfect sidekick, right there on your iPhone or iPad. It's like having a full-fledged trading desk in your pocket.
With this mobile platform, you can stay in the loop with real-time quotes on various financial instruments. No more waiting around; it's all at your fingertips. And don't worry, this best stock tracking app for beginners got all the trade orders you need, including pending orders, so you're always in control.
Feeling ambitious? Dive into the depth of the market with Level 2 insights and execute trades in various ways. Plus, you can always review your complete trading history to learn from your moves. The app developers have cranked up the functionality to the max. The high-performance charts are customizable with a color scheme that suits your style. Adjust graphical objects and indicators, and even keep an eye on four charts at once with the MetaTrader 5 for iPad.
Install MetaTrader 5 from the App Store today!
3. Investing.com: Stock Market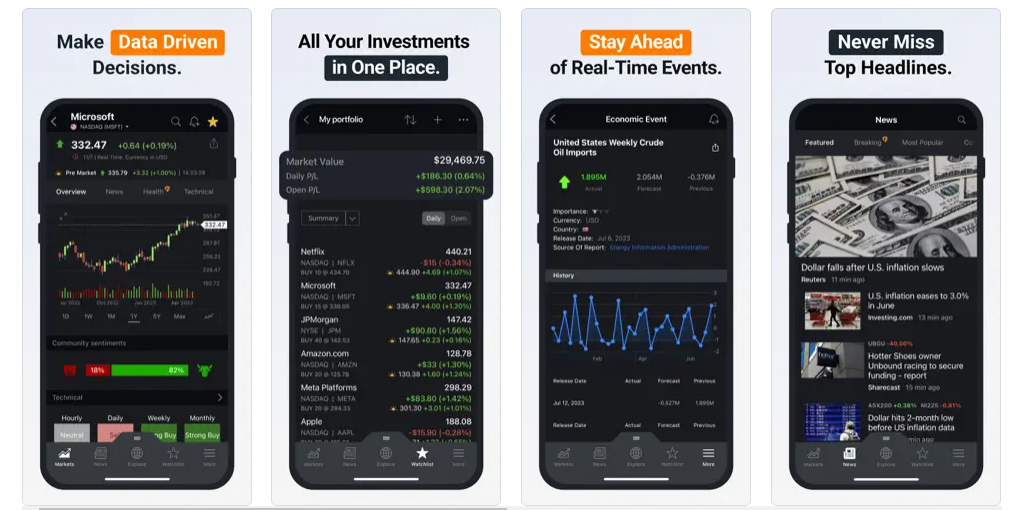 When it comes to the world of trading and investing, Investing.com is your go-to platform. This free app to track markets offers an extensive set of financial tools that cater to a diverse range of global and local financial instruments, making it your one-stop shop for all things finance.
Personalize your experience by adding your favorite financial instruments and holdings to your portfolio. Craft your customized watchlist to keep tabs on stock quotes, currencies, commodities, indices, ETFs, and bonds. Everything syncs seamlessly with your Investing.com account, allowing you to access your Watchlist and Holdings Portfolio 24/7.
But that's not all; this stock market tracker app has got your news needs covered too. Access breaking news, videos, updates, and in-depth analyses on global financial markets, as well as the latest in technology, politics, and business. Plus, you can quickly access all the top-notch tools like the Economic Calendar, Earnings Calendar, Technical Summary, Currency Converter, Market Quotes, advanced charts, and more.
Install Investing.com: Stock Market from the App Store today!
4. Stock Master: Investing Stocks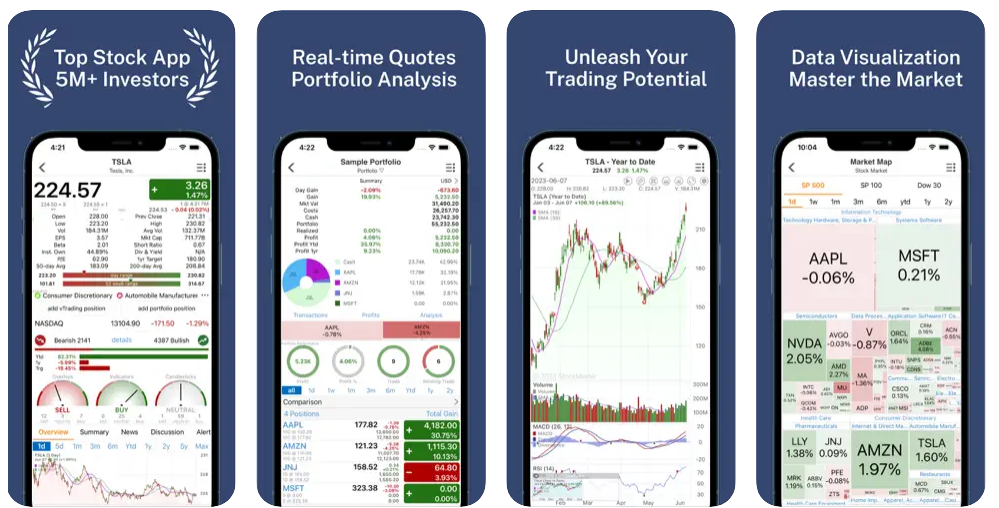 With Stock Master, you get the lowdown on real-time stock quotes, pre-market and after-hours prices, market capitalization, and all the essential details like open, high, low, previous close, volume, P/E ratios, EPS tracking, and the latest Yahoo finance news.
Set up personalized stock alerts and let the best free stock tracking app do the heavy lifting. It'll keep an eagle eye on stock movements and shoot you push notifications when your triggers are hit.
Managing your investments is a breeze with Stock Master. Create and handle multiple Watchlists, including Dow Jones Components, S&P 500 Components, 401(K) Popular ETFs, and Penny Stocks. You can track and analyze your portfolios, see open and closed positions, and even export your data in various formats like Text, CSV, PDF, and Excel. So, with Stock Master in your pocket, you'll always be ahead of the game in the dynamic world of stocks.
Install Stock Master: Investing Stocks from the App Store today!
5. TradeStation – Trade & Invest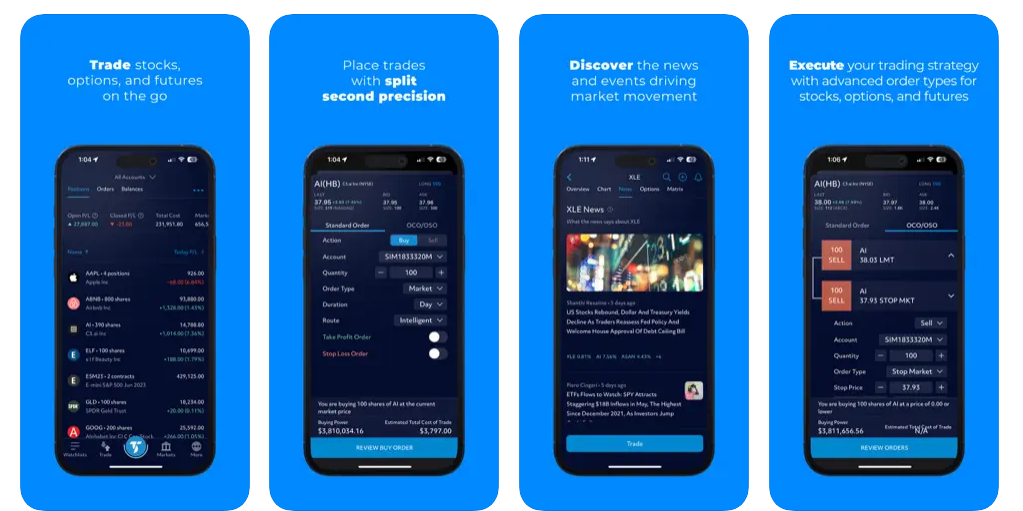 TradeStation, backed by more than four decades of industry expertise, brings you a seamless and data-driven real-time stock tracker app that puts the power to trade stocks, ETFs, options, futures, and cryptocurrencies right in the palm of your hand.
With real-time streaming quotes and alerts, you'll stay on top of price and volume swings across various asset classes. Dive deep into the markets with candlestick or OHLC charts, boasting dozens of indicators and drawing objects, all customizable to your preferences.
Test your trading strategies in a simulated environment before going live. And for the crypto enthusiasts, TradeStation allows you to buy, sell, and trade cryptocurrencies across multiple markets. So, whether you're a seasoned pro or just starting your trading journey, TradeStation has got you covered.
Install TradeStation – Trade & Invest from the App Store now!
6. TipRanks Stock Market Analysis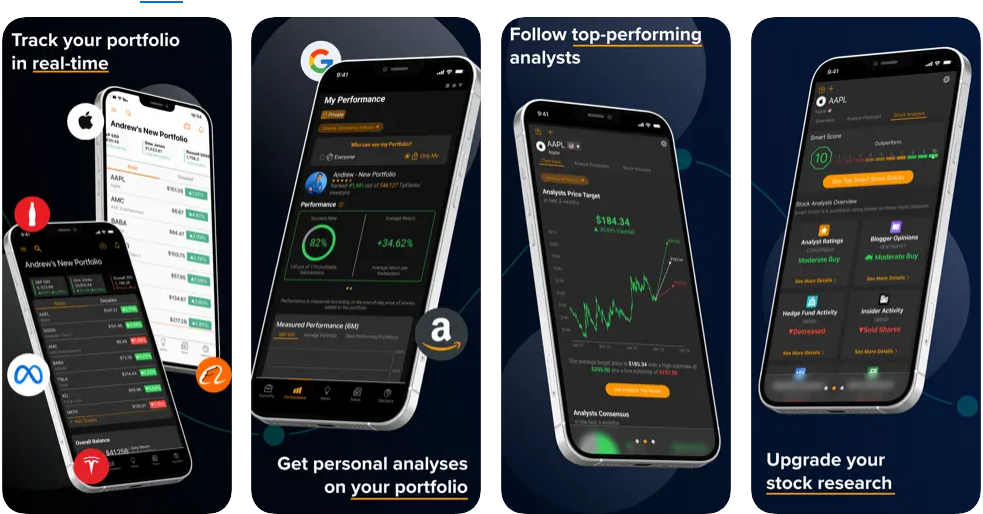 With TipRanks, you get access to a treasure trove of finance and stock market resources. Dive into market trends and expert opinions, backed by data-driven scores that consider crucial market factors. Stay well-informed with real-time quotes, futures, charts, and data for your favorite stocks and indices.
Keep a vigilant eye on your Watchlist stocks, and get the latest news and research updates, all in one convenient place. The free app to track markets also offers stock alerts, stock trackers, signals, and tips on stocks to buy, ensuring you're never out of the loop.
TipRanks caters to both beginners and seasoned investors, providing the tools you need to seize investment opportunities and trade like a pro. Elevate your stock market game with TipRanks – where financial success meets simplicity.
Install TipRanks Stock Market Analysis from the App Store now!
7. Stocks Signal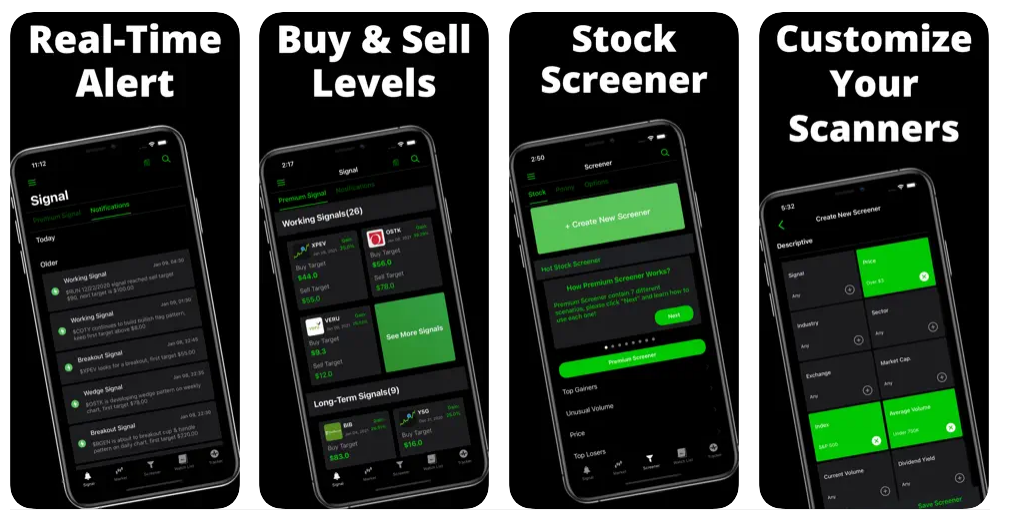 Are you a swing trader or a day trader? If so, the Stocks Signal app is your perfect sidekick for navigating the stock market. It's like having a financial advisor in your pocket, offering the best stock signals every trading day.
With this best stock trading app for 2024, you get access to stock signals, free stock news, and real-time stock market quotes from major exchanges like Nasdaq, NYSE, and AMEX. It's your one-stop shop for informed trading decisions. Before you invest in a stock, you can delve into stock signals, statistical information, free charts, stock analysis, and an earnings calendar. These features will not only enhance your stock trading skills but also provide valuable insights into the stock market.
The beauty of this app is that you can analyze any stock, anytime, and anywhere. The stock analysis is generated using a technical analysis algorithm developed by professional swing traders. It's like having an expert by your side, helping you identify short-term momentum before making investment decisions.
Install Stocks Signal from the App Store now!
Happy trading!
The iPhone and iPad have become powerful allies for traders, offering a host of remarkable apps that provide real-time data, sophisticated analysis, and seamless trading experiences. From seasoned professionals to newcomers just starting their trading journey, these best apps to track stocks cater to all.
So, whether you're keeping an eye on stocks, forex, cryptocurrencies, or commodities, the best apps to track markets are your golden ticket to staying ahead of the curve. It's time to embrace the future of trading and let these apps be your trusted companion on the path to financial success.
May your investments always be in the green!
Disclosure: iOSHacker may receive a commission if you purchase products through our affiliate links. For more visit our privacy policy page.