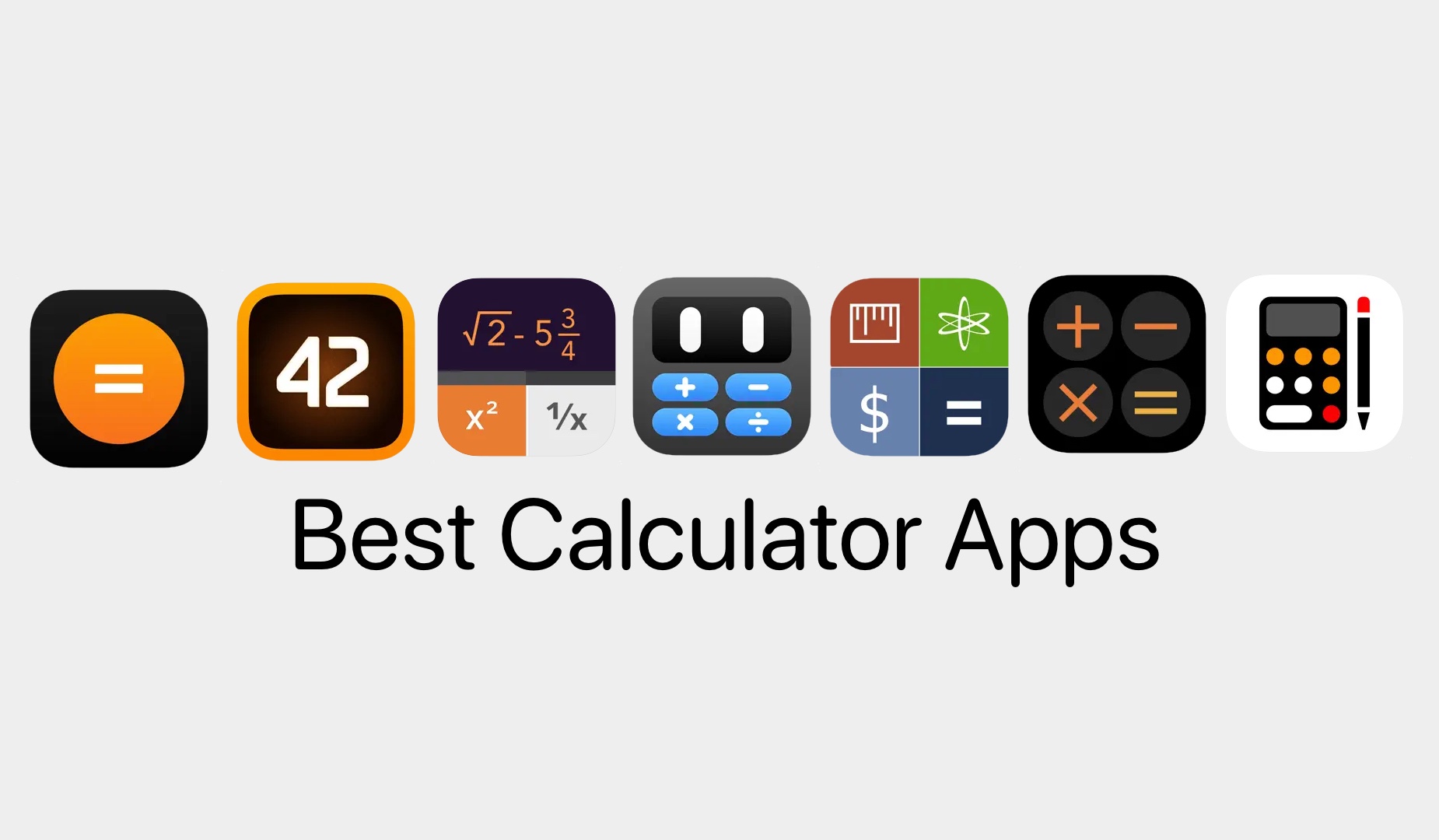 Here are some of the best calculator apps for iPhone and iPad that you can download in 2023 and boost your iOS device's ability to perform complex calculations.
The calculator simplifies our daily lives by solving complex numerical problems instantly. There is a basic stock Calculator app available on iPhones, however, same cannot be said about the iPad.
The good news is there are plenty of amazing calculator apps for iPhone and iPad that you can download on your device. These third-party calculator apps allow you to perform complex calculations efficiently on your device without requiring you to pay a single dollar.
Best Calculator Apps for iPhone And iPad in 2023
Apple's basic calculator app lacks advanced features, and it is even not available for iPads. Hence, if you own an iPhone, iPad, or other iOS device, you can download any of the following best calculator apps with history and many other useful features.
1. Calcularium App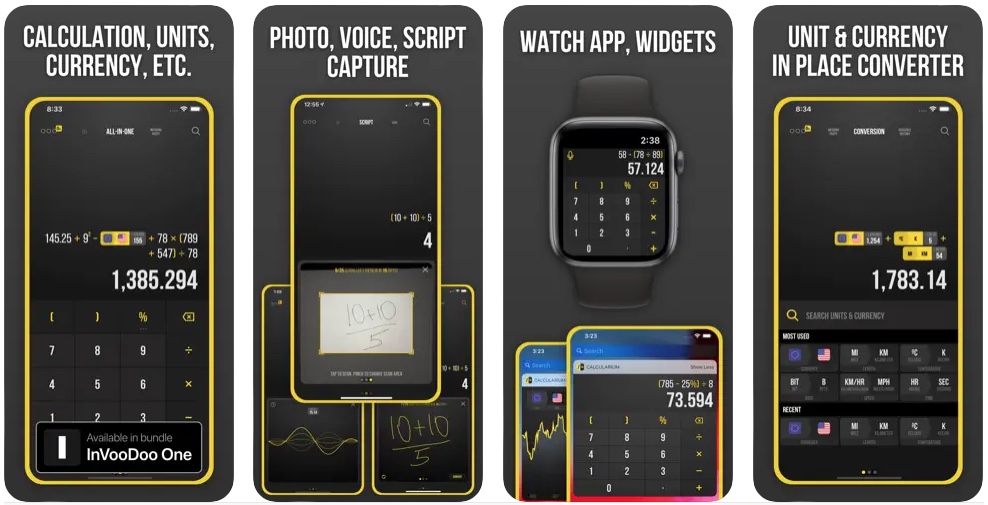 First on our list of best calculator apps for iPhone and iPad is Calcularium. Unlike the stock Calculator app on iOS, Calcularium is packed with advanced features that make it great for all kinds of users. With Calcularium you get features like Script and Photo input modes, which allow you to take a picture of an equation instead of typing it.
A key feature of the Calcularium app is Reactive Calculations, which updates the calculations as you make new inputs. The app also supports multi-level sub-calculations with no limits, the ability for users to see the calculation history, which is both editable and reusable, built-in scientific functions, advanced search and more.
That's not it, you also get functions and reusable expressions with this app along with constants and reusable numbers.
With Calcularium app you can also perform reversible conversions between over 350 units and 160+ currencies, which makes it a multi-purpose tool for iOS users. The app also lets you take advantage of Siri and take voice-controlled actions.
Calcularium offers dedicated apps for iPhone, iPad, Apple Watch and even iMessage. You can download it from the App Store, where it is available as a free download.
2. PCalc Lite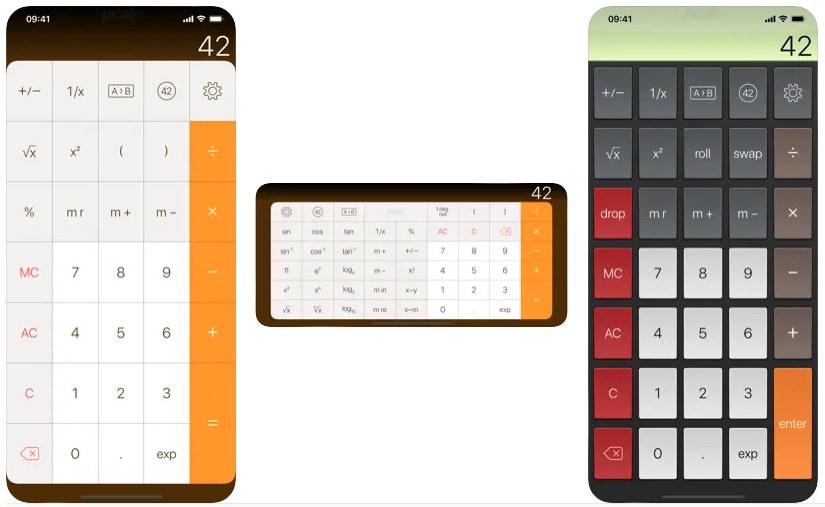 Featuring a rich set of features, PCalc is an excellent choice for scientists, engineers, students, programmers, or anyone looking for a powerful calculator. In addition to its RPN mode and multi-line display, PCalc Lite comes with paper tape, multiple undo, and redos on various lines. It also supports hexadecimal, octal, and binary calculations. Taking a taste of our popular scientific calculator for free, PCalc Lite does not compromise functionality.
The full version allows you to set many more parameters, add a paper tape, and calculate in engineering and scientific notation. PCalc Lite now allows you to purchase extra features directly from the software. You can buy them separately or all together.
Install PCalc Lite from the App Store today
3. Calcbot 2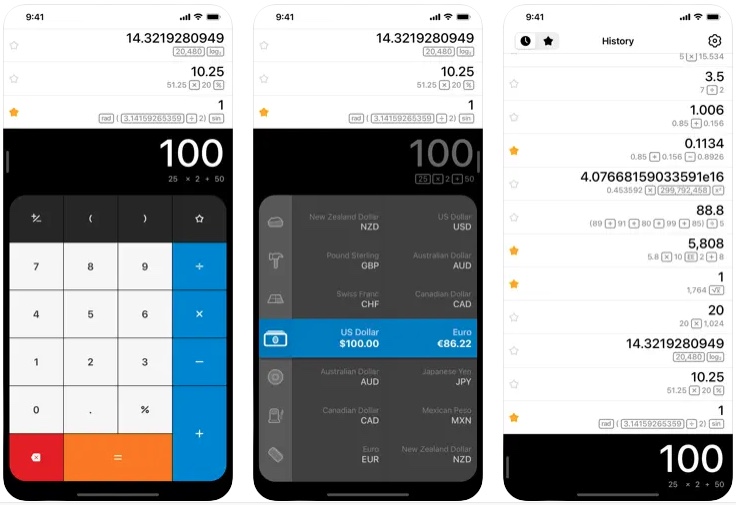 The Calcbot calculator is an intuitive unit converter and calculator for the masses. Plus, one of the top-notch scientific calculator apps for iPhone.
There's a lot you can do with Calcbot 2, including many things you might not think you need from a calculator. There are several themes to choose from, and in addition to regular calculations, it also offers common scientific functions.
While most people will likely find the free features sufficient, the $2 in-app purchase unlocks some neat extras. This includes conversions for 500 units across various categories, auto-updating currency rates, and a history tape that allows you to refer back to previous calculations.
Using Calcbot's original expression view, you'll always see what you put in, so you won't forget anything you typed.
Obtain access to standard scientific functions by rotating your device into landscape mode.
You can access scientific constants such as Pi, Atomic Mass, or add your own*.
All in all, when calculating, you will experience beautiful custom animations and sound effects that will give you positive feedback and an enjoyable experience.
Install Calcbot 2 from the App Store today
4. Calculator +

One more freebie on the list, this time an award-winning calculator! With Calculator+, you'll discover why it's hailed as the best calculator app on the App Store! The app can be upgraded to activate handwriting calculators, linear equation solvers, base converters, and much more! Choosing this one will spare you from seeing useless applications!
Calculator+ offers everything you need in a calculator in a simple and intuitive interface. This calculator has a clean, eye-catching aesthetic, which makes it visually appealing.
Handwriting, advanced editing, fractions, percentages, and many scientific functions are among its features. In-app purchases allow users to access more advanced features. The app is also compatible with Apple Watches.
Install Calculator + from the App Store today
5. The Best Calculator – Calc Pro
With Calc Pro, you will receive a comprehensive set of tools, including 10 advanced calculators and 10 financial worksheets, that will help you make the most of every day.
With the ultimate mobile calculator now available on your iPhone and iPhone Pro, you can do more with your phone! Calc Pro's unmatched power, accuracy, and advanced features have satisfied millions of users worldwide.
Thousands of students and professionals worldwide rely on Calc Pro. There is no other app that can replace your pocket calculator like this one. In Calc Pro, you will find ten powerful calculators, ten financial worksheets, and eight statistical worksheets. Calc Pro simplifies even the most complex calculations, whether you're checking currency rates or converting simple cooking measurements. Try Calc Pro today to discover the power of advanced calculations!
Install The Best Calculator – Calc Pro from the App Store today
6. Kalkyl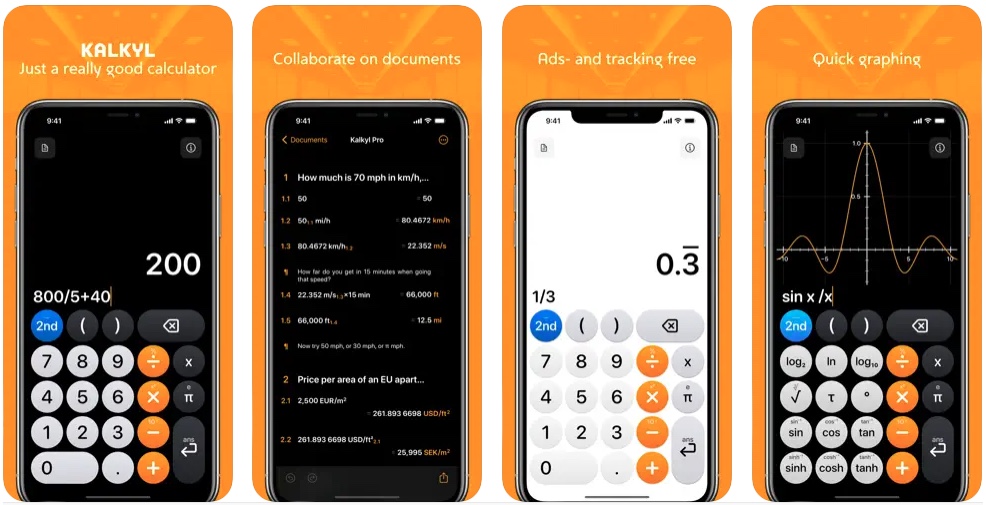 There is no doubt that this is one of the most user-friendly and comprehensive calculator apps available on the market that will make your life much easier. In addition to having all of the features of the default iOS calculator, if you want to upgrade to the pro version, you can pay $4.99 a year to get two customizable app icons, currency conversion, and much more.
Moreover, it also contains graphs and haptic touch functionality on compatible devices with support for these features. Additionally, you can undo your actions by shaking your device, as well as redo them if necessary. There is built-in dynamic type support available throughout the app and the calculator looks so good that you will probably prefer it over the default calculator on your iPhone.
Install Kalkyl from the App Store today
7. Calculator 3.0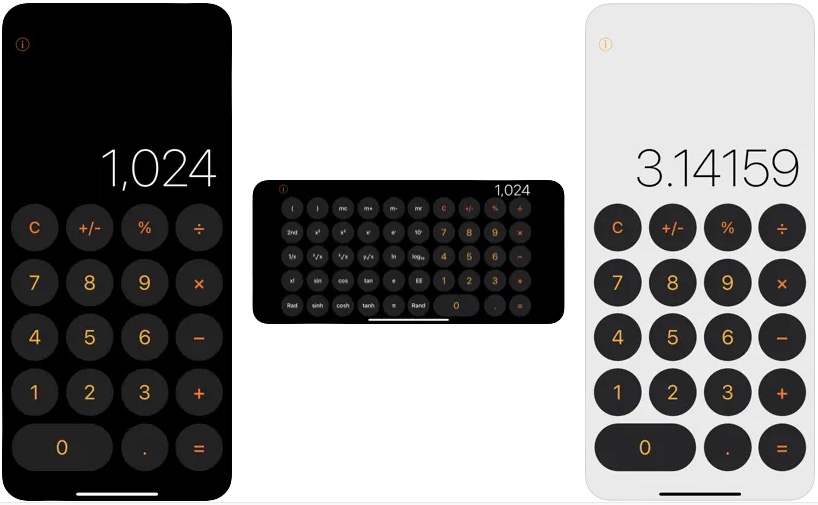 There are over 80 different themes available in this calculator app. The calculator is perfect for quick calculations on a daily basis and lets you switch easily between addition and subtraction.
The interface is easy to use due to the big buttons and the attractive design. It's perfect for balancing books and helping kids do their homework and is an excellent companion to other math apps.
Wondering what else this app offers?
An easy-to-use bubble dark interface with a scientific calculator
Support for multitasking on iPad (landscape and portrait modes)
Haptic feedback when pressing buttons
Use gesture controls to switch between light mode and dark mode, and to clear the displayed number, swipe left.
A 3D Touch icon allows you to copy the last number (for iPhone 6s and later)
Bolder and bigger font size
"Push and Drop" support for iPad, which is ideal for multitasking on your iPad
Install Calculator 3.0 from the App Store today
8. DayCalc – Note Calculator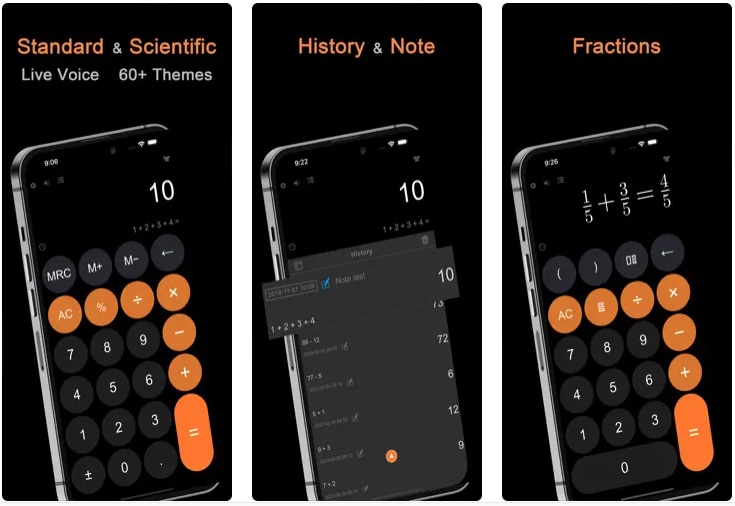 The DayCalc calculator and unit converter is a user-friendly and beautifully packaged calculator and unit converter that covers standard, scientific, and fractional calculations. The best calculator for your iPad, iPhone, and Apple Watch.
Some of the significant features of this app include:
Automatically adjust the height of the history list, regardless of how long the calculation process takes
Calculation history can be locked, and being locked prevents it from being modified or deleted
Compatibility with watchOS 4 and later
Support spotlight search on iOS 9 and later
Provide dark mode support
All of these features combined make it one of the best calculator apps with recent calculations.
Install DayCalc – Note Calculator from the App Store today
Let the Calculations Begin
This was our list of the best calculator apps in 2023. There is likely to be an app on this list that will fulfill your needs perfectly. Should you not find any calculator apps that suit you, you can browse the App Store for plenty of options. However, you do not need to purchase the premium versions; the free versions will also work just fine.
So which is your go-to calculator app? Let us know in the comments below.