Calculating numbers is an integral part of our life and we do it daily for calculating bills, discounts and what not. Calculator is so important that it comes built-in on iPhone, iPod touch as well as any other digital device we own. However it is missing on the iPad, which is not only inconvenient but also pretty stupid. But our today's post is going to help you find a good calculator app to fill this gap. These apps include various types of calculators ranging from simple arithmetic to full equation solvers.
Checkout our selection below and do let us know about your favourite calculator app you use on your iPad.
MyScript Calculator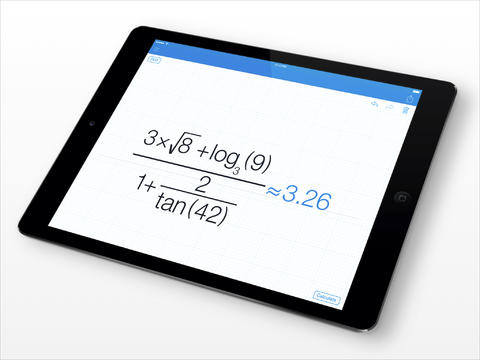 This is a really fun app that lets you perform mathematical operations using your natural handwriting. Simply write an expression using your finger or stylus and it will instantly convert it into digital form showing you the results in real time. MyScript Calculator supports almost all the standard and scientific operators. You can use it in both portrait and landscape modes.
MyScript is available for free on the App Store and is also compatible with iPhone and iPod touch.
Calculator!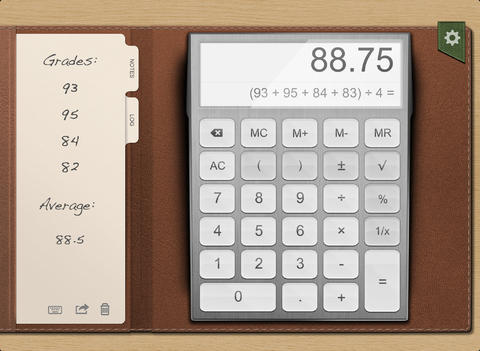 This is a simple calculator app for iPad that comes with both standard and scientific modes. The good thing about this app is that it allows you to take notes in the sidebar making it easier for you to do calculations by just tapping the notes and adding those expressions to calculate results. Calculator! gives you full liberty to customize the look of background leather by selecting the RGB combination of your own choice. You can also view the history of your calculations and reuse them for new results. This app calculates with accuracy up to 75 significant figures.
You can download the Calculator! app from App Store for $0.99. The app is also compatible with iPhone and iPod touch. If you want to try before buying then you can download the free version from here.
PCalc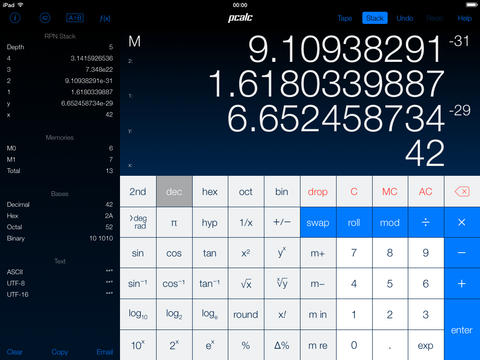 PCalc is a feature rich and powerful calculator app for your iPad. Besides standard and scientific mode it also features RPN mode that gives you quick access to the stack and optional multiple-line display. You can choose from variety of different button sets and themes for the app. The app supports both portrait and landscape view. You can undo and redo multiple times by simply swiping right and left on the screen. Additionally it also include option to do quick unit conversations.
Just like Calculator! PCalc is also compatible with iPhone and iPod touch. Paid version is available at App Store for $9.99. However you can try the free version before buying the paid one. Get the free version from here.
Tydlig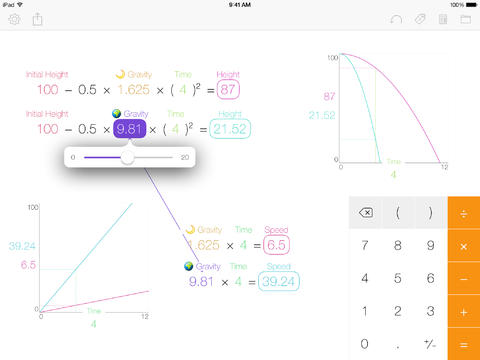 Andreas Karlsson, the developer of the Tydlig calculator app for iPad claims to reimagine the way we use calculators. It features a canvas along with a traditional calculator buttons at the bottom right corner. Write the expressions on canvas to perform the calculations. Just change the numbers using slider directly from canvas and it will show the changing results in real time. The app stores your whole history and you can access and reuse it at any time.
This is also very useful app for those who want to understand the working of graphs. The real-time graphing feature of the app allows you to see the graphical changes as you change through the values.
Tydlig also supports external bluetooth keyboards for quick entry. You can download Tydlig from App Store for $2.99.
WolframAlpha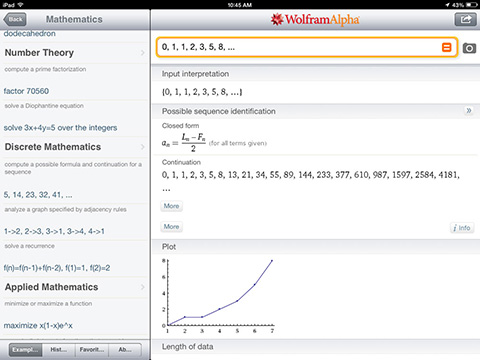 The last app in our round up is not a calculator but it is a 'computational knowledge engine'. It is an answer engine that fetches answers to your queries ranging from biology to computer science. However we can use it to calculate simple as well as complex calculations involving differential and integration functions. The best thing about WolframAlpha is that it shows you step by step calculation for solving the whole equation to reach to a particular answer.
WolframAlpha is also compatible with iPhone and iPod touch. It costs you $2.99 and you can get it from App Store.