Today several new tweaks were released in Cydia that change the way how different sections of iOS work and how you interact with them. To let you know about these new releases we have created a short round up of hacks that were made available in Cydia. This round up includes CopyNote, CustomizeLS, foldergestures and SLgestures. All of these tweaks are compatible with iOS 7.1.x and can be downloaded for free.
CopyNote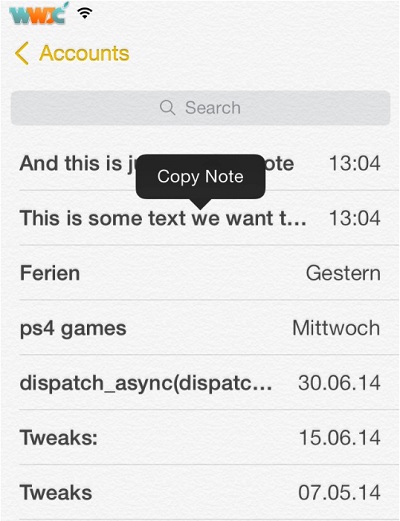 CopyNote is a tweak for the stock Notes app. It is a simple hack that adds the ability for users to copy the entire content of a note without even opening it. In order to copy a note to clipboard all you have to do is tap and hold on the note, this will make the menu bar appear on your screen. Just tap on the 'Copy Note' button and you are good to go. You can paste this note anywhere you want. It is available for free.
CustomizeLS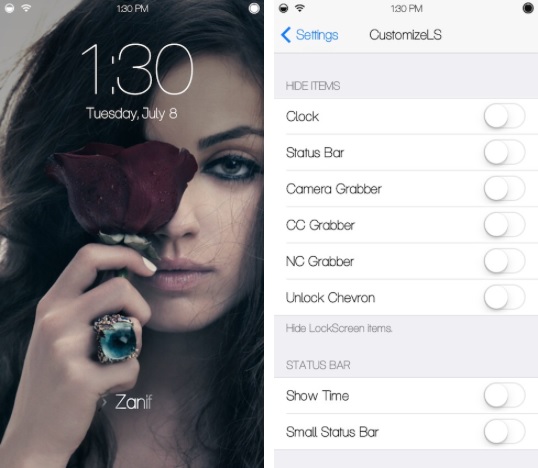 CustomizeLS as its name suggests is a tweak that enables users to customize the look and feel of their lockscreen. It brings some basic features that are certainly not new but it is sill good to have them all at one place. With this tweak you can hide certain items from the lockscreen such as clock, status bar, camera grabber, CC grabber, NC grabber, and unlock Chevron, You can also make the status bar smaller to match it with the size of the status bar on the homescreen and change the 'slide to unlock' text. CustomizeLS is available for free.
foldergestures
foldergestures tweak makes it easier for you to exit a folder by simply tapping on its background. Normally you have to tap on the background of your homescreen to exit a folder, something you can't do by tapping on the folder background area. After installing this tweak you can exit folder by tapping anywhere on your screen except app icons. foldergestures is available for free.
SLgestures
Similar to foldergestures, the SLgestures tweak allows users to dismiss the spotlight by tapping anywhere on the spotlight table. You can get this tweak for free as well.