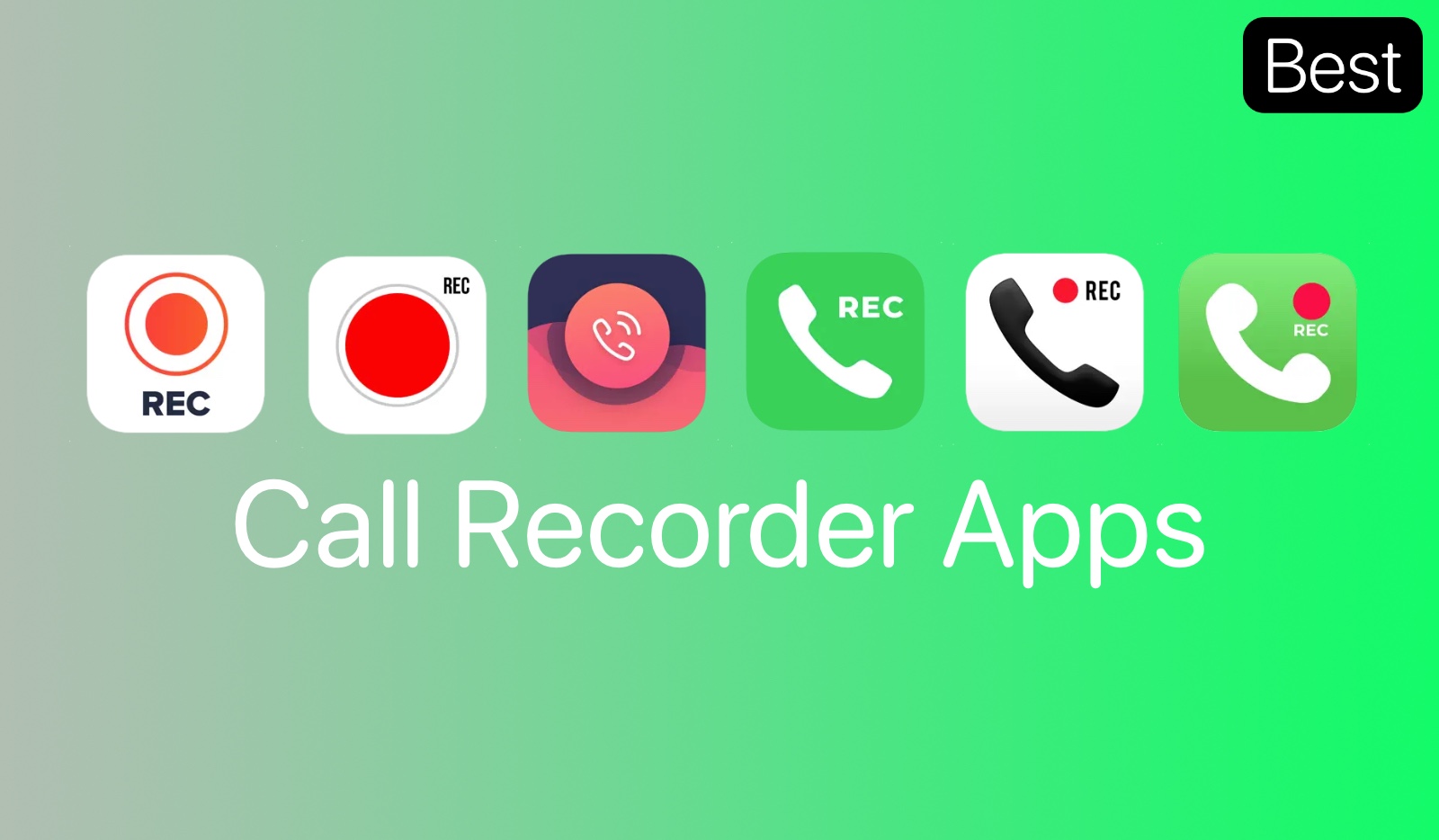 In this article you will find the best call recording apps for iPhone in 2023. These apps allow you to record phone calls on your iPhone and store conversations on your device.
In certain situations, you might find it helpful to keep a record of your conversations in order to refer to them later, such as during an important discussion with colleagues or a brainstorming session with your business partner.
However, Apple does not include a call recording app with its iPhones since recorders are illegal in many countries. You can, however, record voice calls on your iPhone with apps available on the App Store. Most of them, however, claim to accomplish the same thing, so choosing one might be challenging.
We have rounded up the best call recording apps, so you won't have to worry about it.
Best Free Call Recorder for iPhone
Recording calls with a quality iPhone app must include editing, saving, and sharing tools that help users improve the quality of their recordings. Considering these attributes, here are the best tools for free call recording on iPhone.
1. RecMyCalls – Call Recorder App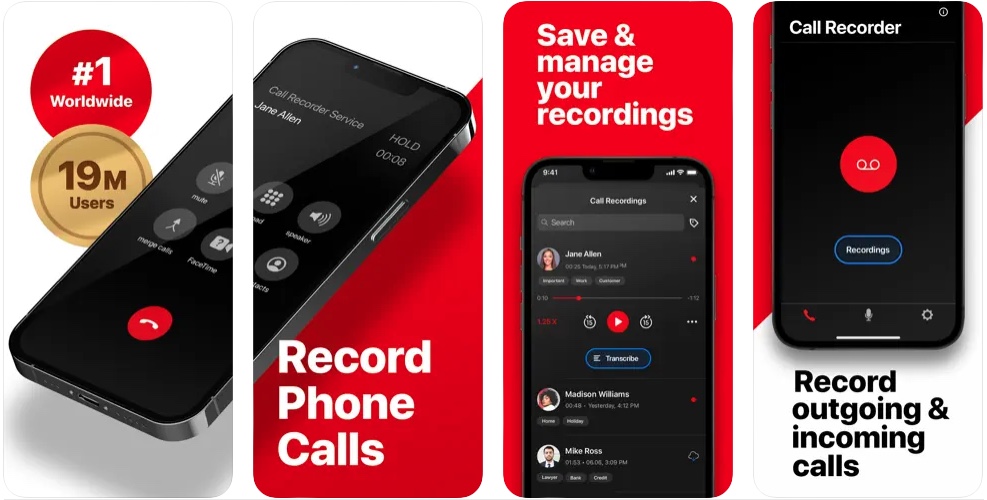 Do you need a simple way to record incoming and outgoing phone calls? With RecMyCalls' Call Recorder, you can record audio and voice anytime and anywhere. Just don't forget to mention to your callers that they're being recorded. Otherwise, you might have to deal with some awkward silences!
The process of recording incoming and outgoing calls has never been so easy! With just a few taps, you can record any call and access it anywhere, at any time! An audible signal alerts you when the recording begins.
All the features you need to record and manage call recordings are available with RecMyCalls. It records conversations using your carrier's conference calling feature. You can, however, contact your carrier to see if conference calling is available on your account if you cannot merge calls.
Install RecMyCalls – Call Recorder App from the App Store now for free here.
2. Call Recorder iCall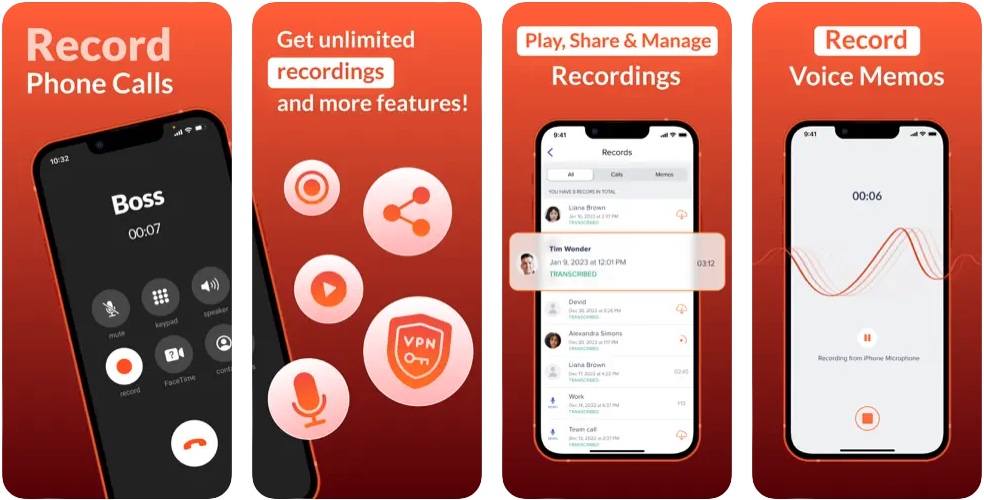 iPhone users can purchase in-app purchases from the iCall app to record incoming and outgoing calls. If you record a call, you can save it and access it whenever you need it. This app is ideal for teachers and business people to store important information.
Activate this iPhone call recording app free, press the "Record" button, and continue your conversation.
You may come up with an excellent idea while discussing business with colleagues or business partners. You can also listen to your loved ones' sweet nothings later on. But make sure you don't accidentally record your embarrassing karaoke singing – that's a conversation no one wants to hear!
Install Call Recorder iCall for from the App Store here.
3. Acr call recorder – for iPhone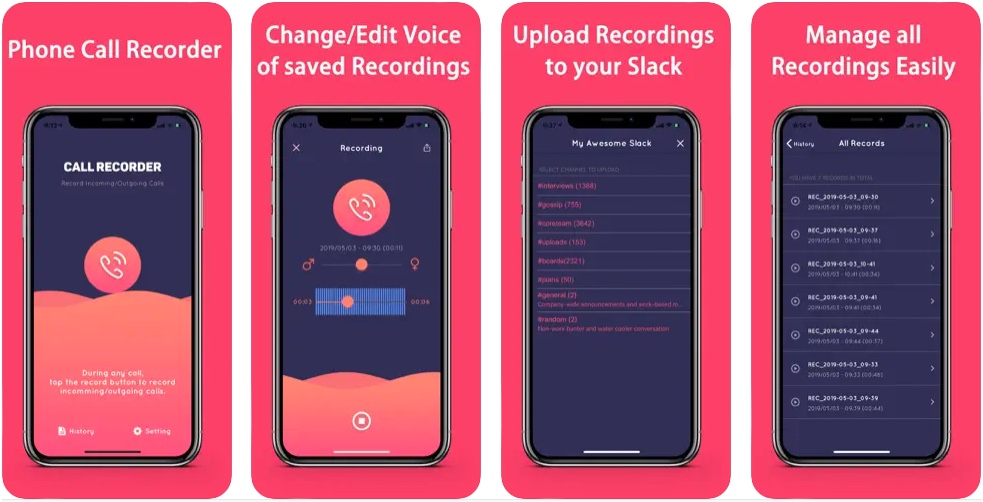 In the App Store, this is one of the easiest-to-use call recorders you can find. The call recording market has been growing for over four months, but few users are familiar with how to use call recording applications. This automatic call recorder iPhone app offers a new user interface so anybody can record their incoming or outgoing phone calls easily.
The call recorder version of this application has many access numbers compared to some other similar applications. In many countries, the new access numbers improve the quality of phone recordings.
All in all, this version of the Acr call recorder has many useful features that make it the most advanced phone recorder available on App Store.
Install Acr call recorder from the App Store now for free here.
4. Call Recorder ™ Record Phone

Check out this iPhone call recorder app if you're looking for a free call recorder. A limited number of recording sessions are available for free in the app. Joining the app with your friends will increase the limit. Both incoming and outgoing calls can be recorded in the app, and it supports both domestic and international calls. Keeping your calls private is one of the benefits of this app, as it does not save your calls on third-party servers.
You can make a three-way call with no time limit and no extra charges from your mobile carrier using VoIP. In order to use the VoIP feature, you must have a working internet connection. A big upside of this app, however, is that it allows you to record calls without having a SIM card.
Install Call Recorder ™ Record Phone App from the App Store for free here.
5. Call Recorder for iPhone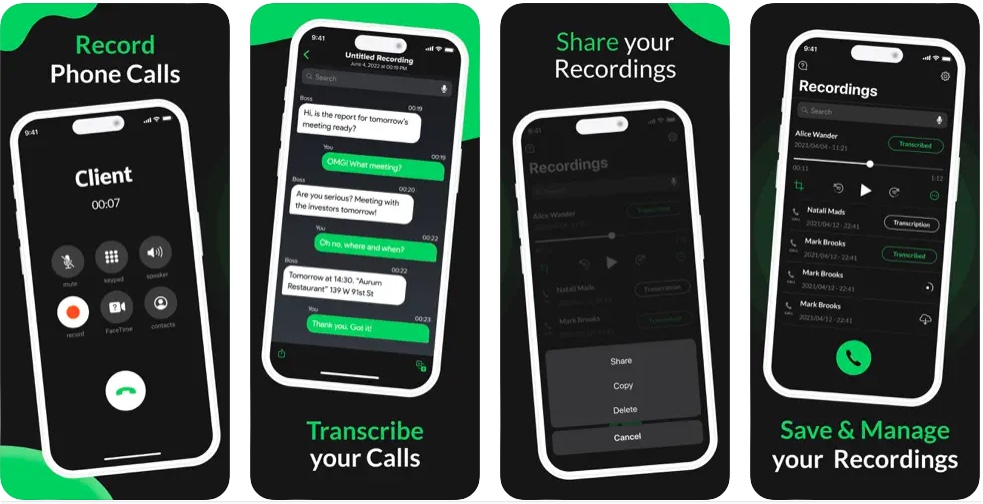 Ever lost a phone number, an address, a date, or other business information during a telephone call? During a phone call, you will be able to remember important details thanks to Call Recorder for iPhone. You can use the program to record both personal and business calls.
A key advantage of the application is the ability to save important data.
Recordings can be accessed and listened to at any time and place, and phone calls can be shared between colleagues and friends. In addition, Call Recorder for iPhone doesn't restrict the ability to record incoming or outgoing calls. Using the app, you can automatically translate information into multiple languages and convert any voice to text in high quality. Hence, Call Recorder for iPhone appears to be a must-have for journalists, students, hiring managers, and businesspeople alike.
Install Call Recorder for iPhone from the App Store for free here.
6. Call Recorder App ◉ACR MyCalls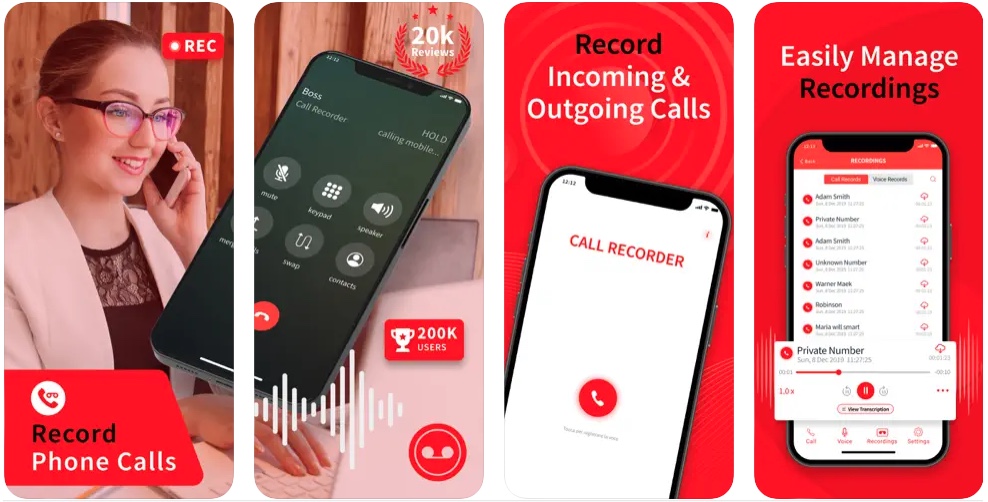 The Call Recorder App records your calls in just a few taps! Your important conversations can be stored, accessed, managed, and shared anywhere!
Your iPhone can easily record both incoming and outgoing phone conversations with this Call Recorder app.
With this iPhone recording app, you can record both incoming and outgoing phone calls with one click. You can also access your recordings from anywhere at any time.
The app offers top-notch sound quality in your recordings and allows you to edit, save, and share them on various social networking apps!
Install Call Recorder App ◉ACR MyCalls from the App Store for free now.
All in All
A list of the call recorder apps for iPhone in 2023 can be helpful, but it all depends on the preferences of the user. Each of the applications listed above records calls and voice memos in high-quality and lets you store the files both online and offline.
So, install in any one and record your call with a few taps!