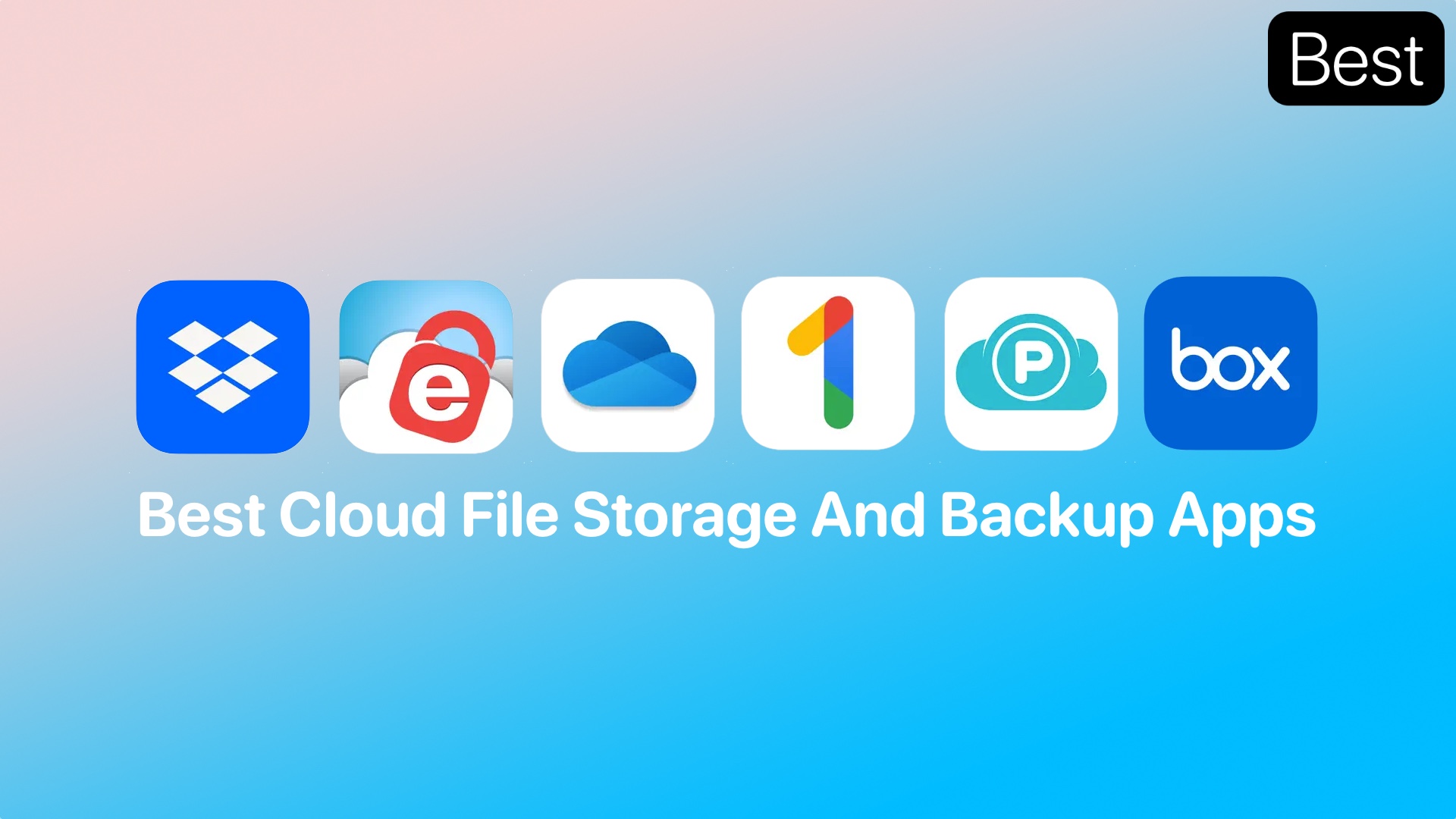 In this article we have listed the best free cloud storage apps for iPhone and iPad. These backup apps enable users to store their photos, videos, documents, and more online and access them across various different devices.
Are you running out of space on your phone? Is your computer hard drive as slow as molasses going uphill? The good news is that there are alternatives to mindlessly upgrading your iCloud Storage because you might not be able to afford it.
Nevertheless, there are so many cloud storage apps available today. When choosing, how do you decide? It's not just about price and gigabytes determining which is best for you. Sure, it's about features, but it goes deeper than just a data connection.
Regardless of whether you're a newbie to cloud storage or have been storing stuff for years, you can find iPhone backup apps that are right for you in this article.
Free Cloud Storage Apps iPhone
A cloud storage service is handy for storing personal information away from your device, keeping it lighter and faster. Images, videos, and app data, among others, fall into this category. You can access, retrieve, and share data stored on the cloud from anywhere in the world, even without a phone.
Even though Apple offers iCloud, combining it with another cloud storage app from the App Store means you can have even more space on the cloud.
So here are the best free cloud storage apps for iPhone.
1. Google One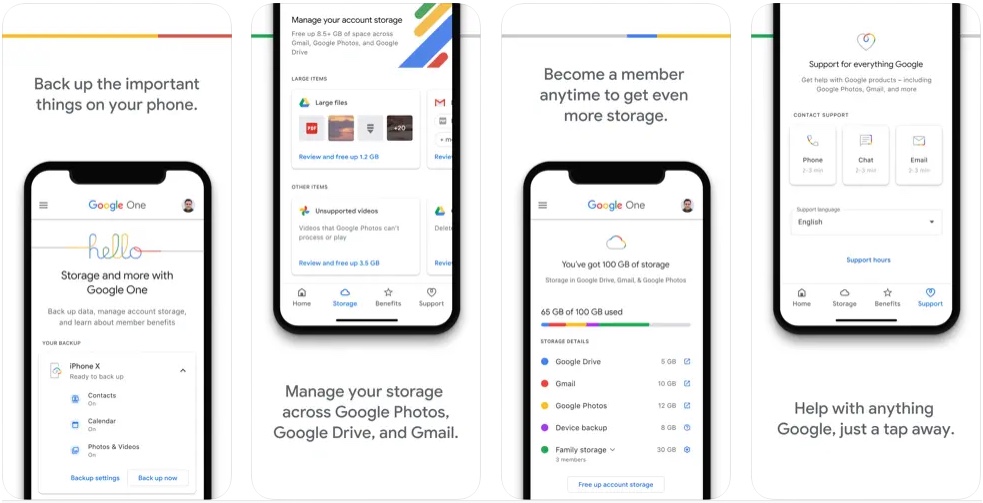 You can manage your Google account storage and back up your phone with the Google One app.
Your Google account comes with 15 GB of storage to back up your important phone data, such as photos, contacts, and messages. Cloud storage ensures that the stuff you care about is safe, even if your phone is damaged, lost, or upgraded. With the storage manager, you can see your storage across Google Drive, Gmail, and Google Photos and easily free up space within the app.
You can get even more with a Google One membership:
With this best cloud storage for iPhone photos, you can store your memories, projects, and digital files for as long as you need. However, make your choice according to your needs.
VPNs offer extra security for your phone, encrypting your online activities and protecting your personal information
Get exclusive access to Google experts for help with all Google products and services.
You can share your storage with up to five additional people. As a result, each person gets more storage from your plan but cannot access each other's files.
Install Google One from the App Store now
2. Microsoft OneDrive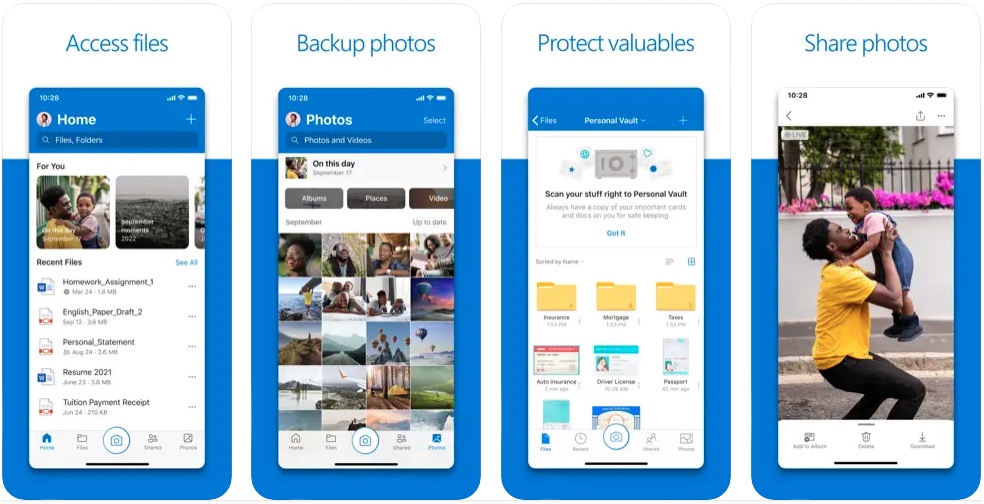 OneDrive backs up, protects, syncs, and makes your files and photos accessible across all devices. The OneDrive app lets you share photos, videos, and files from OneDrive with friends and family. This app allows you to automatically back up photos and videos on your phone. If you subscribe to Microsoft 365, you'll get up to 1 TB of cloud storage for free.
As you sleep, you can back up your photos seamlessly with Bedtime Backup. You can view pictures and videos using your phone, computer, or web browser. You can also access files from any device, anytime, anywhere. You can share files with anyone, even if they don't have a Microsoft account. You can also control who can view, edit and comment on the files you share.
Install Microsoft OneDrive from the App Store now
3. Dropbox: Cloud Files Storage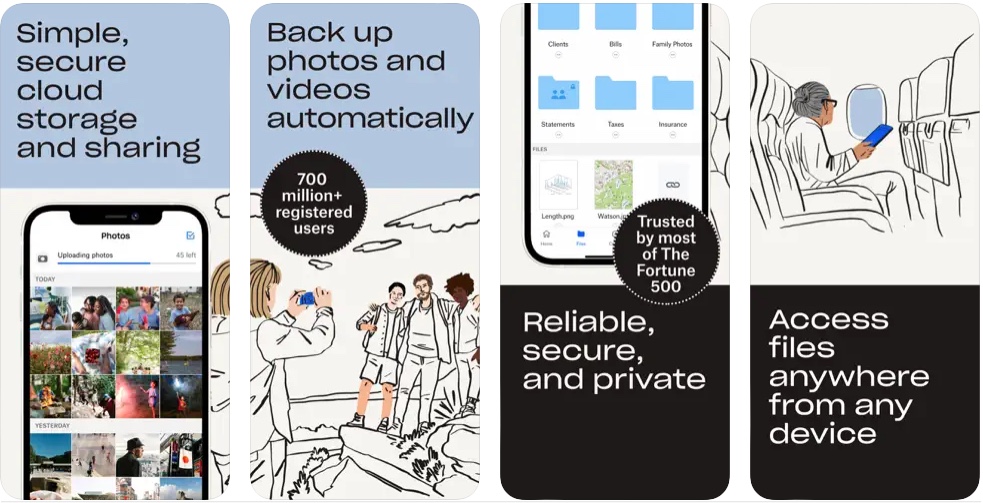 Dropbox is a cloud storage service that offers tools for storing and organizing files. With a sleek user interface and easy-to-use functionality, this app is a pleasure to use.
However, it is necessary to create a Dropbox account to get started. You can choose between two plans: 2TB or 3TB, which are billed either monthly or annually. Furthermore, each of these falls under a different purpose preference.
A remarkable feature of Dropbox is its ability to scan documents into PDFs or PNGs using your phone's camera and store them easily online.
Additionally, you can organize your files into folders using this one of the top-rated iPhone cloud storage apps. By sharing links to specific folders and files and inviting friends to them, you can decide what portion of your files others can see. Using this, you can virtually view photo albums.
Your iPhone camera roll also allows you to upload photos and videos. A search icon at the top will enable you to find folders and files quickly.
Install Dropbox: Cloud Files Storage from the App Store now
4. Box: The Content Cloud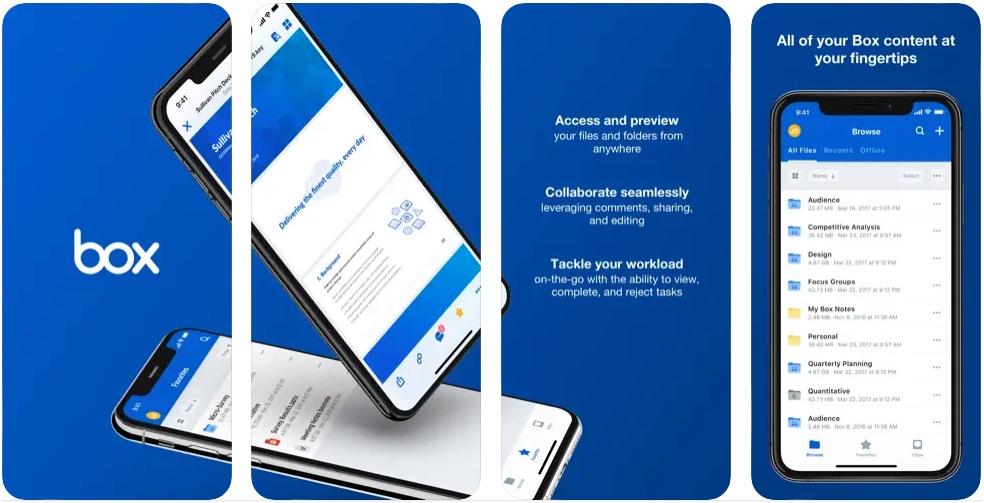 The content you own. Terms that work for you. You can seamlessly and securely create, access, share, and capture your projects on the content cloud.
Manage your content with a free 10 GB cloud storage account, whether you're collaborating with colleagues or scanning and protecting documents.
You can securely access all your content with Box, find what you're looking for, review and comment without switching between apps, scan, record, and upload content seamlessly, handle to-dos and capture ideas with audio recording and note-taking, and share pictures, videos, presentations, and more.
Install Box: The Content Cloud from the App Store now
5. pCloud – Cloud Storage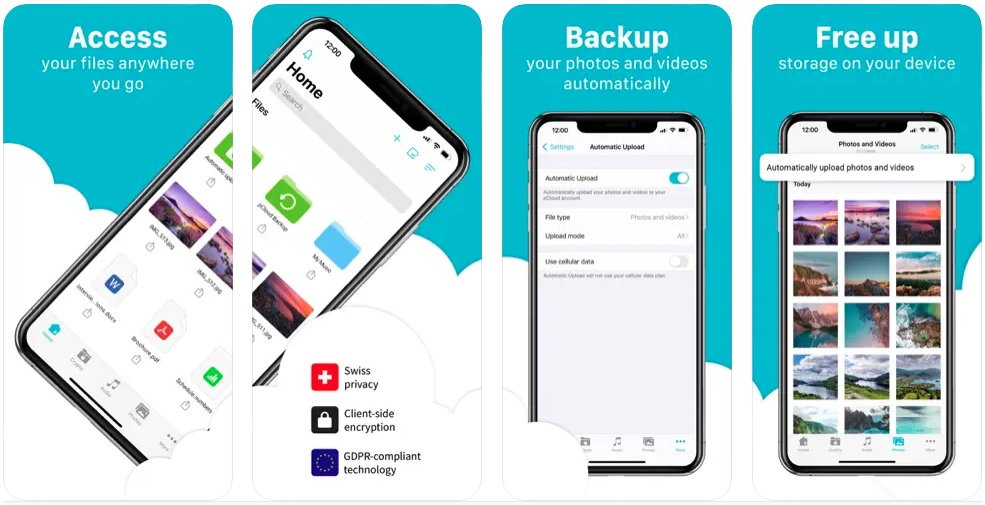 The pCloud secure cloud storage service keeps your photos, videos, and documents safe. Streamline your file management across all your devices. Take advantage of free storage for up to 10 GB and automatic backups that free up space on your device. Take a look at photo albums, watch HD videos, and listen to your own playlists at any time, anywhere. You can send large files to anyone, even if they don't have a pCloud account. You can sync all your devices immediately with every change you make to your files.
In addition to automatic file uploads, the iPhone app also provides file versioning for easy data recovery. The free plan offers 15 days of file versioning, while the paid plan offers 30 days. Additionally, you can play your music from the cloud through this app.
Install pCloud – Cloud Storage from the App Store now
6. IDrive Online Backup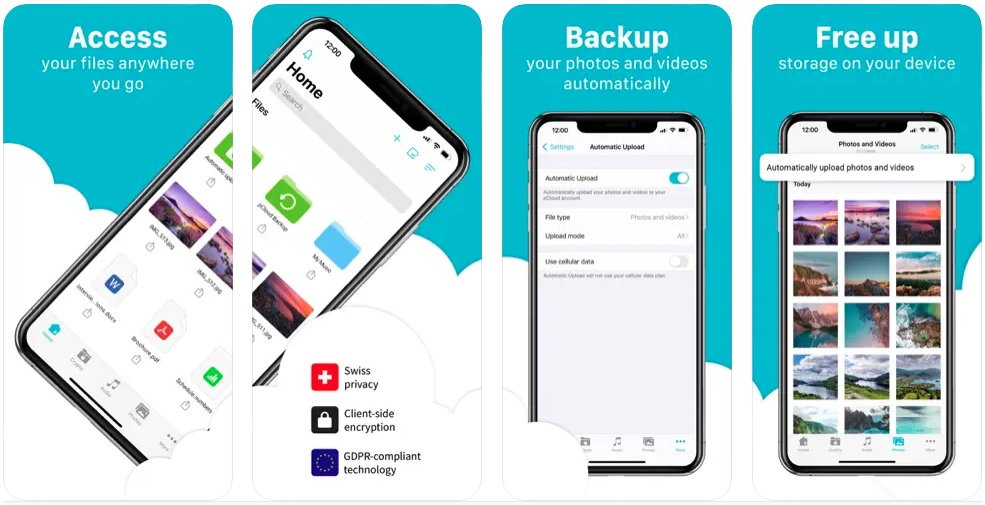 IDrive is an end-to-end encrypted cloud storage service that allows users to back up and archive their systems and files. You can use the service on any platform, including iPhones and iPads. Using this software, you can back up all of your device's data, including contacts, photos, videos, and calendar events. It has the same functionality as iCloud and other market-leading cloud storage services for iOS.
Due to its cross-compatibility and web app, IDrive lets you sync files while on the go, making it much better than iCloud, which is not particularly great outside of the iOS environment. Furthermore, this service allows you to securely share files and collaborate with others.
The IDrive app allows you to back up your iPhone as you go or schedule backups to occur automatically. Additionally, it has a point-in-time recovery feature to ensure that your data is recovered if a ransomware attack happens. You can securely transfer and store your files using 256-bit AES encryption, and as mentioned, you can create private keys (E2EE) completely privately.
Install IDrive Online Backup from the App Store now
To Conclude
iCloud is a free service that allows iPhone users to back up everything on their devices through a simple process.
However, all the Best Cloud Storage apps for iPhone mentioned in this article are secure cloud storage services that you can use to back up your iPhone and access your data across multiple devices. Several offer end-to-end encryption, and some even allow you to decide whether or not you want anyone else to have access to your cloud storage.
So, download any of the above-mentioned online backup apps for iPhone that suit your preferences.
However, it is important to consider each provider's security features, such as two-factor authentication and data recovery options. Make sure to read the terms and conditions carefully before making your decision. Additionally, research the company and check customer reviews to ensure you choose a reliable provider.
Was this article helpful? Let us know in the comments section.