In this article, we will help you sort through the best free dating apps for iPhone for your companionship needs.
You can find a summer fling or something more meaningful using the right dating apps, depending on what kind of companionship you're looking for. Having said that, some dating apps aim simply to connect you with people who are like-minded, regardless of whether you're looking for romance.
It is convenient and popular to meet people through the best dating apps for iPhone. Video chats and similar tools help you to get to know someone remotely before you decide whether or not to meet up in person. It's not just swiping anymore: the latest dating apps offer so much more than just chatting on the app.
In most cases, the highest-rated dating apps are meant to help you find romance. Some have even broadened their mission to focus on helping you forge relationships of any kind, including friendships.
Therefore, we have listed apps that offer features beyond swipes to make online dating a much better experience.
Best Dating Apps For iPhone in 2023
Here are the best dating apps for iPhone that you should download in 2023. All of these apps are available as a free download, while almost all of them offer in-app purchases for premium features.
1. Tinder – Dating New People
Among the various best dating apps for relationships, Tinder may be one of the most well-known. A short profile and photos allow you to make snap judgments about potential partners.
Creating a simple profile with a bit of information about yourself and a few photos, and throwing yourself into the pool of other users near you, in your desired age range, is what the app is all about.
You can see singles in your area through the app. Swipe right on someone's profile if you like their photo; if you don't like it, swipe left. You can send messages and set up something if you both swipe right.
Continuing to innovate, Tinder has added a video feature that lets you make in-app video calls without sharing your personal information. Noonlight features a Safety Center that includes a panic button if you feel unsafe on a date. In addition, it can run background checks using public records data. You can even invite your friends to help you pick a partner through a "swipe party" feature.
Install Tinder – Dating New People from the App Store for free!
2. Bumble – Dating. Friends. Bizz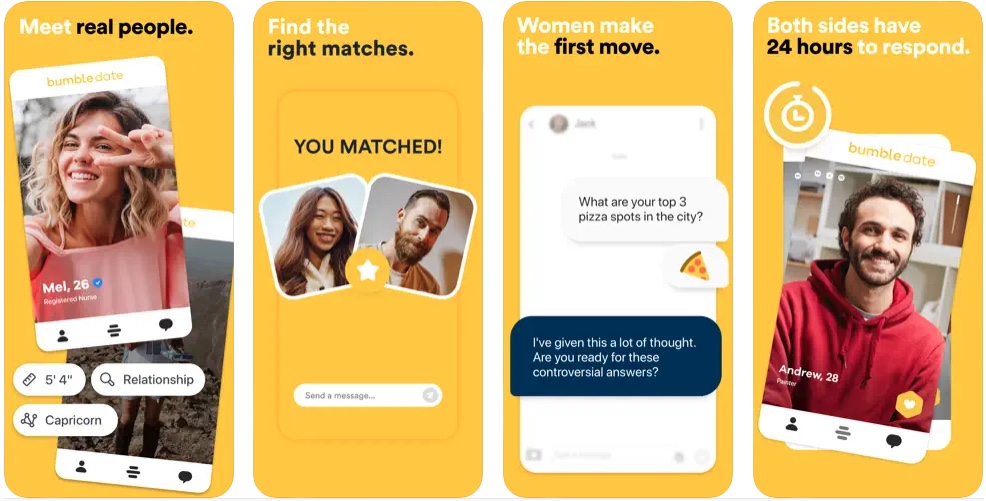 There has never been an easier way to make new connections. Bumble has introduced unprecedented standards for respectful behavior to lift the stigma associated with online dating. Millions of people use Bumble every day to build valuable relationships.
Providing an app that fosters more than romantic connections, Bumble is at the forefront of matchmaking technology. Through this industry-leading app, users can swipe through potential connections in three different modes.
Bumble Date puts the onus on women to initiate contact. With Bumble, you can develop meaningful relationships respectfully and in a positive way, instead of relying on archaic dating rules.
Having friends makes life better. Bumble BFF makes meeting new friends easy, whether you're a newcomer to a city or looking to expand your circle.
Now we're in business. Using Bumble Bizz, you can network, find mentors, and explore new career opportunities.
A social networking platform that combines dating, friendship, and career-building, Bumble is the first app of its kind.
Install Bumble – Dating. Friends. Bizz from the App Store for free!
3. happn — Dating app
Featuring over 100 million users, Happn is a dating app that lets you connect with everyone you have crossed paths with; the people destiny decided you should meet. Take a look at the profiles that catch your eye, make a crush, and most importantly, meet up!
Your app displays the profile of a happn user when you cross paths with them.
Has someone caught your attention? Secretly view their profile. No one will know anything about you unless they are also interested in you. Interested in getting noticed? Use FlashNotes to let them know. This allows you to send a message even before you crush. Once they like you, it's a crush!
The happn app is absolutely free to install and use. You can subscribe to Premium if you want more features. By doing that, you will be able to see who likes you or you will be able to send plenty of FlashNotes to your favorite people and get their attention.
happn works by the reciprocity principle: you will never be notified by someone you aren't interested in. Confidentiality is of the utmost importance in happn: your location is never displayed to other members. Only the places you have crossed paths with them are shown.
Install happn dating app from the App Store for free!
4. Badoo – Dating. Chat. Friends
In a society that profits from our self-doubt, Badoo is the place where you can be yourself, unapologetic. An authentic, unfiltered conversation is Badoo's way of combating the ambiguity that surrounds modern dating. Being honest about who you are and what you want is the key to real connection, according to the developers of the app.
Take the first step on your dating journey by downloading Badoo! Become a part of the biggest dating platform in the world, trusted by millions of people.
Being yourself is the key. You should be clear about your search and who you are looking for on Badoo. The Badoo social network lets you find a partner, chat with people and make friends in your area.
To ensure the best dating experience, the app has strict usage guidelines and an extensive safety list to prevent any inappropriate behavior.
Install Badoo – Dating. Chat. Friends from the App Store for free!
5. Hinge: Dating & Relationships
As opposed to swipe-driven apps like Tinder, the dating app Hinge emphasizes relationships and interesting conversations. The service's stated goal is to get you to delete the app entirely – presumably because you've found love instead of because you're done with it.
Hinge disapproves of swipes that encourage you to fill out a more detailed profile with pictures and stories. In response, users can choose to like and comment on something on the profile, which initiates a mutual conversation. The app allows you to check out updated recommendations as well as people who have liked your profile each day.
The Standouts feature highlights people who are more like you, along with topics that Hinge thinks will spark a conversation with your potential match. Additionally, there is a premium tier that boosts your profile in searches, but we don't think you need to pay to use the app.
Install Hinge: Dating & Relationships from the App Store for free!
6. OkCupid: Dating, Love & More
You can find a match based on who you are and what you are passionate about with this popular online dating app for singles. Whether you are single, looking for a partner, or both, OkCupid has something for everyone.
OkCupid shows who you are beyond your photo, so you can have successful dates with meaningful connections. Get to know new people and find love based on who you are, because you deserve it.
Unlike other online dating apps, OkCupid offers a unique experience. With this free dating app, you can meet singles, chat, or have a deep conversation through its exclusive messaging system. Don't worry about relationships you aren't interested in; focus on the connections and relationships you are. When you're ready, schedule a date – whether you'd like a local date, a virtual date, or anything in between!
With OkCupid, you can connect and chat with singles near you, then you can get to know each other through video chats, calls, and more.
Install OkCupid: Dating, Love & More from the App Store for free
All Set to Date?
The most effective way to end your lonely days is to use a dating app for sure. However, there are a few things you should be aware of including its security terms and trustworthiness. You can also find a lot of dating apps in the AppStore that can disappoint you as well.
You can try the above-mentioned apps. All these best dating apps 2023 are almost free from the issues related to eligibility, protection, verification, and reliance.