Best free meditation apps provide powerful tools for combating stress anytime, including relaxation techniques, breathing techniques, and soothing sounds. The following are the top meditation apps you can download in 2023. Read on to find out!
Life in the twenty-first century is frantic, and we often don't have time to get organized and harmonize our minds. Though we know that everyday routine and monotony can lead to greater mental fatigue than physical exhaustion.
In that case, a bit of relaxation and meditation won't hurt.
Guided breathing exercises, complete guided meditation with binaural beats to assist in getting you into the right state of mind more quickly, or a quiet sound that can help you turn your attention inward by blocking out distractions – ALL OF THIS CAN BE ACHIEVED WITH JUST A CLICK.
You can use meditation apps wherever you are, whether on an airplane, during your commute, or in a hotel room. Simply plug your headphones in and let it all sink in.
Best Meditation Apps For iPhone
The following mindfulness apps on iOS can offer you moments of peace and relaxation during times of daily stress.
1. Headspace: Mindful Meditation
Make mindfulness a daily habit and be kind to your mind with Headspace – everyday mindfulness, and meditation app. Learn how to relax, deal with stress, relax your body, and find your focus.
You can access guided meditations, courses, and mindfulness exercises on topics like stress, anxiety, worry, building resilience, and more. Take advantage of hundreds of meditations led by world-class experts from all walks of life and learn mindfulness. With personalized recommendations based on what you like and how you feel, you will get guided meditations and soothing breathwork every day.
Whether you are a novice or an expert, Headspace makes meditation easy for everyone.
If you have a busy schedule, try short, 3-minute mindfulness meditation sessions, or you can choose longer meditation sessions whenever you want.
Install Headspace: Mindful Meditation from the App store today!
2. 7Mind Meditation & Sleep
Unlike other best meditation apps for iPhone, 7Mind delivers beyond what's expected. Boost your confidence, feel empowered, and make self-care a priority with expert-guided meditations that will fit perfectly into your day.
You can train your brain to think more positively with 7Mind in addition to learning how to meditate on a regular basis. The techniques in this App will help you reduce moments of stress, anxiety, and frustration, as well as increase moments of joy, gratitude, and happiness over time.
Through breathing exercises, affirmations, and visualizations, all guided meditations are designed to boost confidence and self-worth. Also, the coaching dialogue will help you stay motivated and guided throughout your journey!
Install 7Mind Meditation & Sleep from the App store today!
3. Calm
Calm is one of the most popular and best meditation apps 2023. Meditation, Sleep Stories, music, and more can help you become a happier, healthier you.
Everyone can benefit from Calm, regardless of whether they are a novice to meditation or a seasoned pro. You can also use it if you need a mental break, soothing sounds, or a peaceful night's sleep. Depending on your schedule, you can choose from guided meditations that last 3 to 25 minutes.
In addition to a new Daily Calm each day, this best meditation app for sleep contains Sleep Stories narrated by well-known voices like Matthew McConaughey, music from top artists including Keith Urban and Disney, short videos with mindful movement and gentle stretching for every body type, Masterclasses taught by world-renowned mindfulness experts, nature sounds and soundscapes for meditation and sleep, breathing exercises for relaxation, and much more.
With over 100 million users worldwide, the app positively impacts more and more people each day. Enjoy the app today and take a moment to prioritize yourself.
Install Calm from the App store today!
4. Mindfulness-Mindful Meditation
This meditation app can help you reduce stress at work and home, gradually eliminate anxiety, improve sleep, help you concentrate, improve your health, and reach happiness in all areas of your life through meditation exercises.
Adapt the app to your mood and discover the most effective exercises and therapies for meditation and relaxation
Learn some tips to concentrate at work, or studies, while maintaining your health at the same time.
Get your emotions under control, overcome anxiety and stress, and maintain a positive attitude by engaging in exercises, techniques, and sessions designed to keep you relaxed and positive.
Install Mindfulness-Mindful Meditation from the App Store today!
5. Sway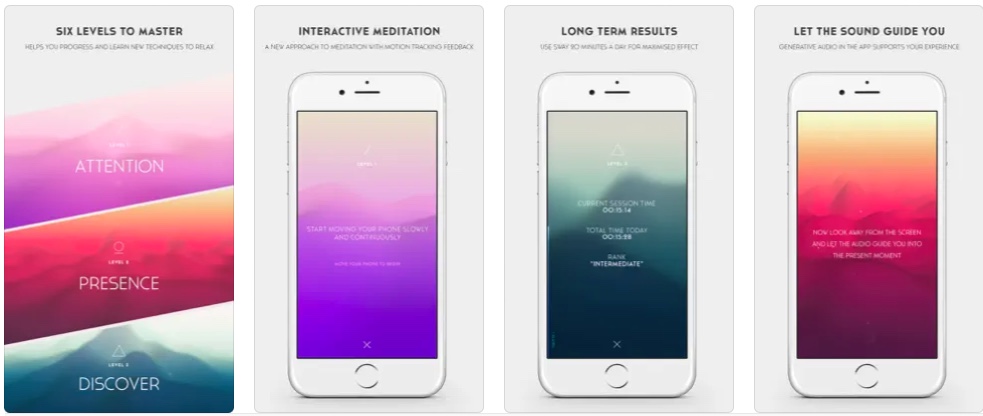 The Sway app allows users to engage in interactive meditation. Using your phone, you can track your movements and receive feedback to improve your attention and focus.
Throughout six comprehensive levels, you will gain new skills for being mindful in everyday life circumstances and subtly practicing mindfulness wherever you are.
With Sway, you can simply move your phone around while sitting down or lying in bed. You can also sway your body while waiting for the bus, or even stroll around the office slowly to find focus in everyday life.
Sway encourages you to find your own, most effective, and subtle way to practice mindfulness, no matter what situation you find yourself in.
Install Sway from the App store today! The app costs $2.99.
6. Breathwrk: Breathing Exercises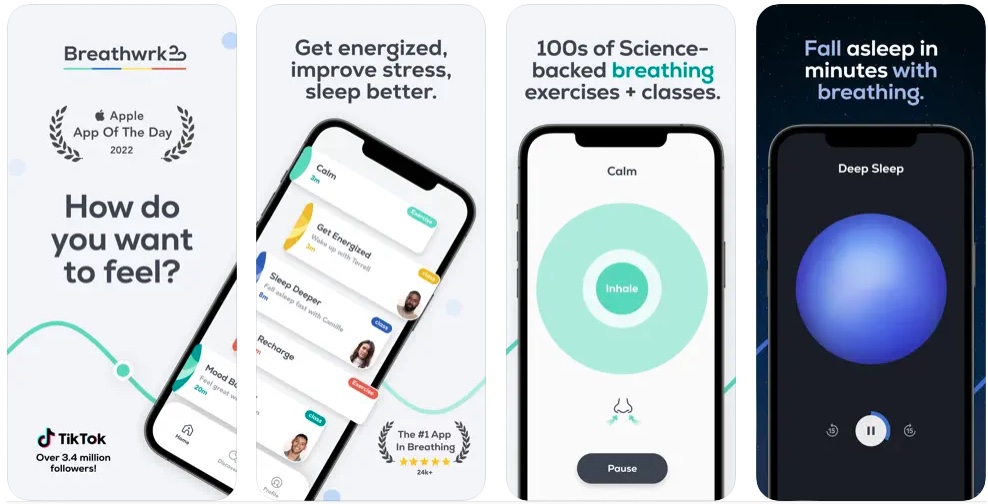 A healthy, well-functioning mind and body begins with the way you breathe. Power your mind and body with Breathwrk. It's the #1 breathing app that's changing lives. Get in on millions of people's breath-based strategies for waking up, falling asleep, calming anxiety, boosting physical performance, and more!
Using Breathwrk, you can eliminate stress & anxiety, increase energy & focus, improve endurance, and fall asleep fast. It takes only 60 seconds for you to feel the benefits of Breathwrk's powerful breathing exercises and classes.
Become proficient in the same breathing techniques used by psychotherapists, Olympic athletes, sleep doctors, navy seals, yogis, neuroscientists, and breath experts!
In addition to making breathing fun and easy, Breathwrk also helps build positive habits. Personalized sounds, visuals, haptics, and breath coaches give you a full sensory experience. Using Breathwrk's recommended programs, you can create reminders, track streaks, and build your practice.
Install Breathwrk: Breathing Exercises from the App store today!
7. Balance: Meditation & Sleep
You can count on Balance as your meditation coach. During each meditation, you will answer questions about your experience, goals, and preferences. Based on a library of thousands of audio files, Balance creates a daily meditation that's just right for you. Personalized and effective meditations become even more effective as you share more over time.
Designed for your goals and needs, Balance's daily meditations teach fundamental meditation skills that can be applied in any situation. As you practice mindfulness, you'll discover how to gain more focus among distractions, and how to find deep relaxation when you're stressed.
Sleep Meditations, Sleep Sounds, and Wind Down use bilateral stimulation and controlled breathing techniques to help you relax before bed and get better sleep. In addition, you will be introduced to Immersive Meditations, which incorporate vibrations, sound effects, and coaching guidance.
Install Balance: Meditation & Sleep from the App store today!
Ready, Set, Unwind, Relax
People with insomnia may benefit from white noise and sleep sounds such as ceiling fans running in the background or raindrops outside their windows.
However, it's worth mentioning here that the above-mentioned apps with calm music techniques and ambient noises aren't guaranteed of long-term success, but they can have significant short-term effects.
It is crucial that you follow the right guidance in order to make your meditation routine effective.
Have you ever tried meditation before? Let us know in the comments section.