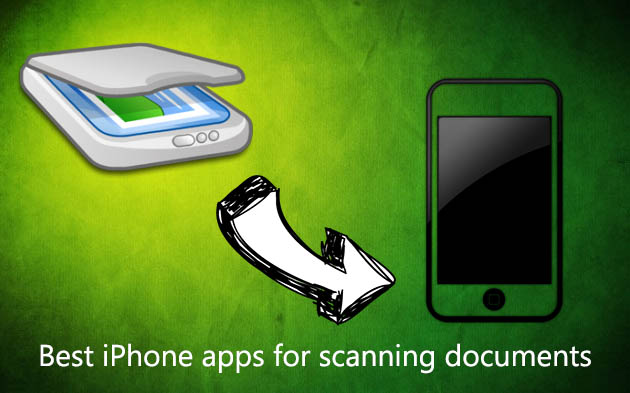 Over the past few years iPhone's footprint on our digital lives has become even stronger and now it is being utilized in our daily lives in ways that were unimaginable just a few years ago. One of the things you can use your iPhone, iPad or iPod touch for but don't do is scanning documents. Nowadays all models of iOS devices are equipped with decent cameras, which are not only capable of taking breathtaking photos but they can also take high resolution scans of documents, businesss cards and receipts. Also, with their built-in LED flash you don't have to worry about lighting conditions either. In this post we are going to tell you about the best and free apps for scanning documents available in the App Store for iPhone and iPad.
Genius Scan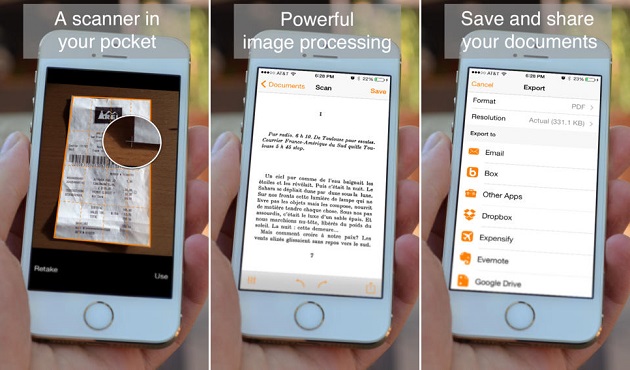 Genius Scan just like every other app in this roundup turns your pocket device into an on-the-go scanner. It packs some really powerful features such as smart page detection, image enhancement and perspective correction that allow you to take perfect scans from your iOS device. In addition to scanning capabilities Genius Scan also has some great management features that enable users to store their scans on their iPhone and export them in different formats and resolutions. The app also allows users to export scans in several popular applications that includes Dropbox, Evernote, Drive and more. Genius Scan app is available in the App Store for free. You can make the app even more powerful by purchasing the in-app bundle for $6.99.
Doc Scan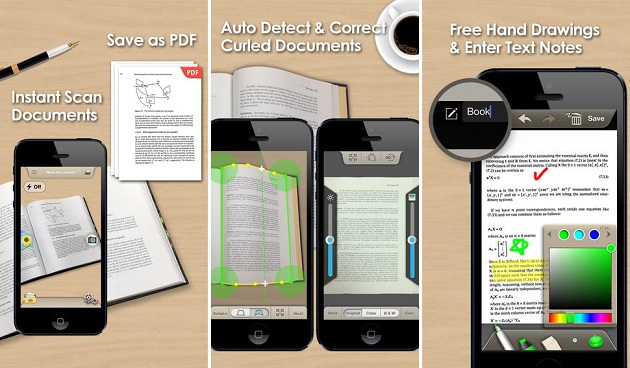 What makes Doc Scan app better than its competitors is its ability to scan documents, books, receipts or any other form of paper that is curled. The app is capable of producing a sharp and clear scan no matter how curled the paper is with its image enhancement technology. In addition to documents you can also scan whiteboards, coupons, posters and more in just a few taps. Another unique feature of this app is that it enables users to draw or annotate on their documents, which makes it super handy. The app features great management features in addition to ability to print via AirPrint, share documents to different apps and services and more. All of these features make it a top scanning app for iOS users. Doc Scan is free to use however you can add more features to the app by purchasing in-app items starting from $0.99.
Scanner Mini
The Scanner Mini app for iPhone and iPad will scan anything you can think of including bills, receipts, reports, whiteboards, newspapers and of course documents. The best thing about this app is that it is super easy to use and saves user a lot of time by making things simpler. It features Smart Image processing that takes perfect scans that look like they have been taken from a proper scanner. Notable features include passcode protection, universal support, iCloud sync and more. You can download Scanner Mini app for free, you can add more features to the app by downloading in-app purchases starting from $0.99.
InstaPDF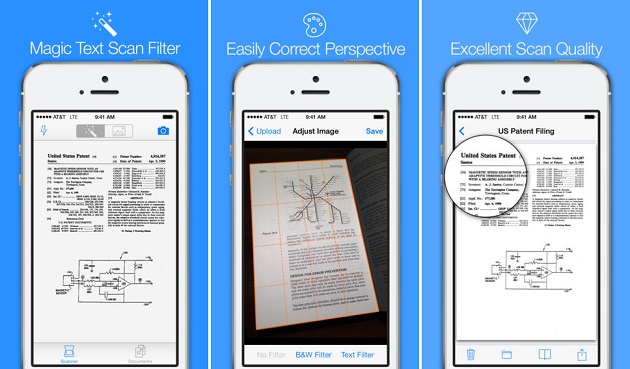 InstaPDF app for iPhone has some super handy features that make it a must have and one of the best scanning apps for iPhone. The app has the instant sync feature that uploads the document to the cloud so you can access it from other devices using the dedicated web app, OS X app as well as using a private URL. It features the 'Magic Text Scan Filter' that allows users to scan multiple pages and documents and convert them to PDF in just a few seconds. InstaPDF is available in the App Store for free.
EverNote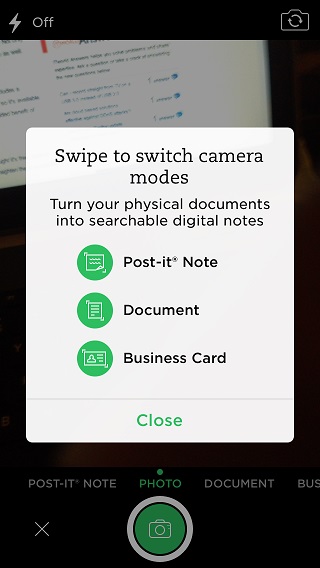 EverNote is one of our favorite productivity apps and it never seizes to amaze us. Do you know that you can scan documents, business cards or any other kind of paper with this app? All you have to do is tap on the 'Camera' button from the main screen and you are good to go. You can slide on the screen in order to switch to different modes that include normal Photo mode, Document mode and the Business Card mode. It provides a perfect scanning solution to iOS users who already use EverNote and don't want to have a separate app just for scanning purposes. You can download EverNote app for free using the link below.