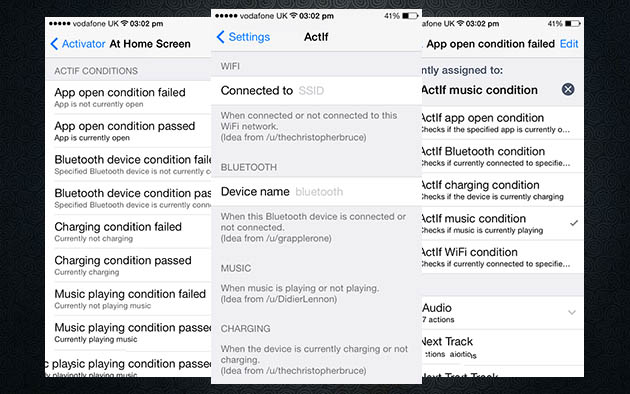 Activator is already a great tweak that allows users to perform tons of actions conveniently. We are such big fans of this amazing tweak that we didn't even realize that it was missing an important feature. A new tweak called Actif adds that missing ingredient to Activator making this hack even more powerful. What ActIf does is it adds the ability for users to add If statements to Activator actions. For those of you are not familiar with 'If statements', in computer programming If statements are used to make the program do stuff if one or more conditions are satisfied.
In terms of Activator actions ActIf enables users to trigger an Activator event when a certain condition is met or do something else if the condition is not met. For example, you can set the volume up button on your iPhone to play the next song in a playlist if music is currently playing. If the music is not playing then the volume up button will work normally allowing user to increase the volume of the device.
There are several if conditions that are supported by ActIf right now that include:
If your device is connected to a specific WiFi network.
If music is playing.
If the device is plugged in for charging.
If a specific app is running.
If device is connected to a specific Bluetooth device.
ActIf can be configured from the Settings app and integrates directly with the Activator preference bundle making it easier for users to set up actions.
In order to set up ActIf actions you have to first select an event from Activator settings and then apply an action to it. ActIf is very easy to use and once you get hold of it you will be able to do some really useful stuff with this tweak.
You can download it from Cydia for free from the BigBoss repo. You will need Activator tweak as well, which is also available for free.
Disclosure: iOSHacker may receive a commission if you purchase products through our affiliate links. For more visit our privacy policy page.