There are many expense tracker apps for iPhone and iPad that not only allow you to track your money but they also help you in making better financial decisions. Knowing where your money is going can go a long way in recalibrating your expenses and avoid spending money on unnecessary things.
If recent global events have taught us anything, it is to keep money saved for bad times. That being said, it is important to track expenses so that you don't overspend on anything. Financial experts always advise us to keep our money under control for good reasons. But the question is, how to do it?
Well, the answer is to get one of the best daily expenses app. A personal expense tracker app is a good idea to manage your personal finances. So, if you want to get the advantage of a great expense tracker, then keep on reading to find out which one is good for you.
Best Expense Tracker Apps for 2021
All of these apps offer easy expense and income entry, aesthetically pleasing graphs with breakdown of where you are making your expenses, create budgets and more.
1. Money Manager Expense & Budget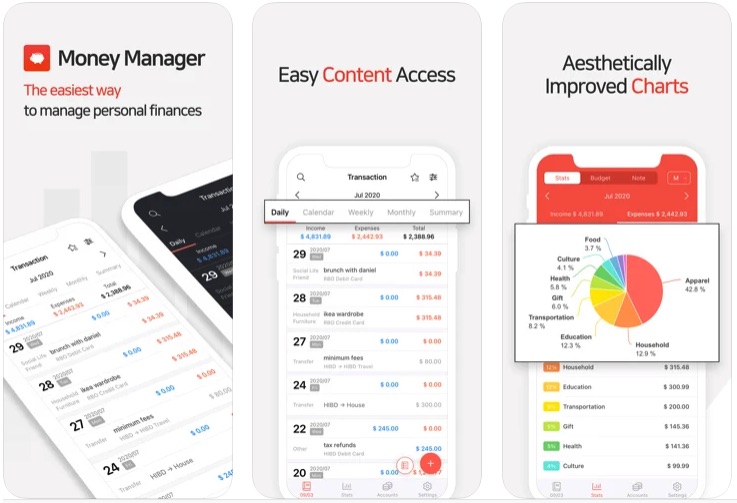 If you are looking for personal account management, this app is just for you. This Budget Planner app 2021 makes complex household account management a simple task. It is easy to use this app with its default settings. But when you get used to it, its customized settings can easily be adjusted according to your needs. In this app, you can enter and view data quickly and easily. Moreover, you can keep your expenses organized in main and subcategories. Its double-entry bookkeeping feature makes your account management efficient.
You can also manage and your Credit Card and Debit Card spending within this app by automatically keeping a record of your expenses. Worried about forgetting the payment date? Enter the future payment date and connect it to your debit card. In this personal expense tracker app, you can organize expenses and keep the recipient. Using iCloud, iTunes, and email, you can backup and restore all your data stored in this app. Another benefit of using this app is that it supports multiple currency accounts.
You can download this best Expense Tracker app for iPhone from the App Store for free. Download Money Manager Expense & Budget.
2. Monefy: Money Tracker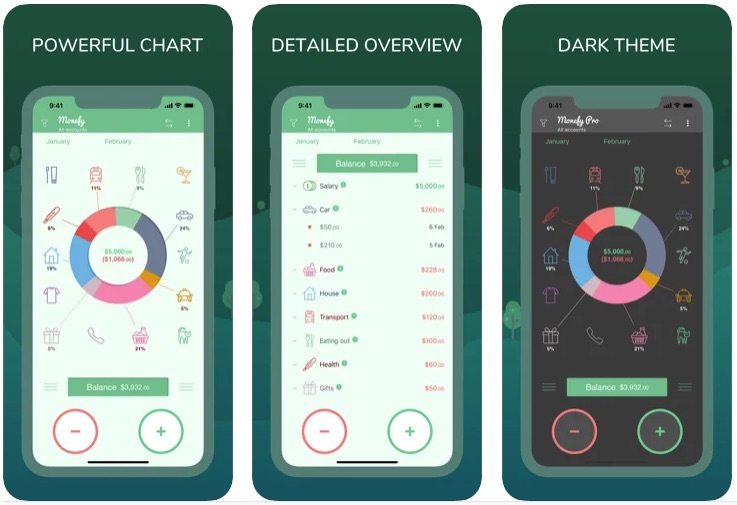 Obsessed with tracking your expenses? Enter each expense and Monefy will do the rest of the job.
With this free budget app for iPhone, you can track whatever each transaction is. Be it buying a cup of coffee or using a taxi. You simply have to enter the expense amount. And when you need to synchronize the data across your devices, it is done super quickly using Dropbox or Google Drive.
Your budget planner app 2021 has a user-friendly interface. You can quickly review your spending on a chart or see the record list for a detailed view. Want to add multiple currencies? That's too easy to do. If you don't like the default settings, customize your expense categories as you want.
Keeping track of your recurring records has never been too easy. And if you want to keep multiple accounts and access them on different devices, that is all you get on your expense manager app.
You can download Monefy: Money Tracker for iPhone or iPad from the App Store for free.
3. Money Flow – Spending Tracker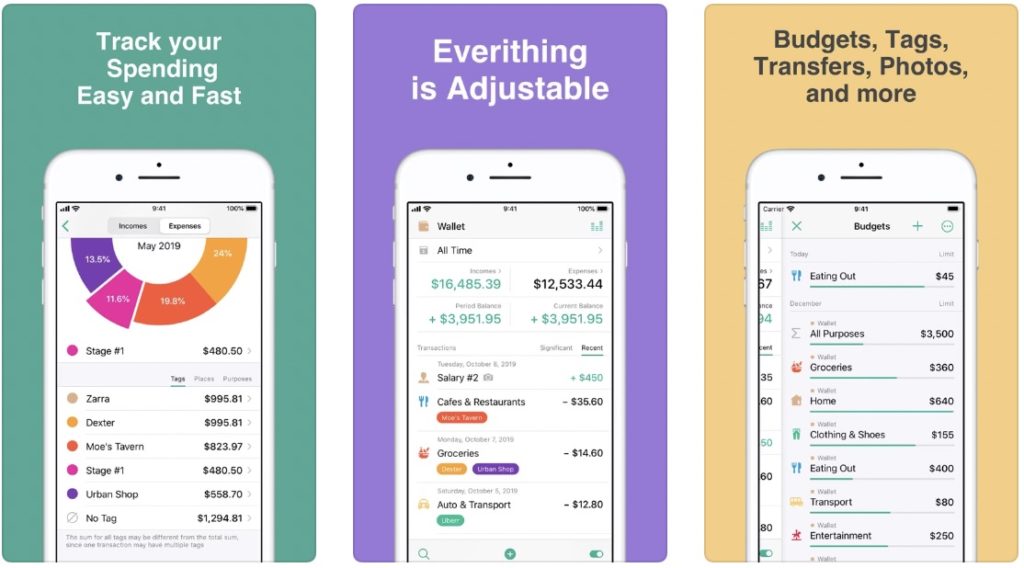 Looking for a budget planner app 2021 to track your income and spending? Money Flow is all you need!
Now adding transactions has become at your fingertips. With the help of customizable categories and accounts, you can pick the colors and icons for your convenience to view. Its flexible budget settings and recurring transaction help your track your expenses whenever you want.
This free expense tracker comes with a built-in currency converter and calculator. So, you don't have to worry about calculating anything manually. Moreover, this app has over 170 currencies and exchange rates available. The app is secured by Touch ID and Face ID. Its geotagging feature helps you tag your store's locations wherever you go for shopping. 
You can download this best expense tracker for iPhone from the App Store for free. Download Money Flow – Spending Tracker.
4. Coinkeeper: Money Manager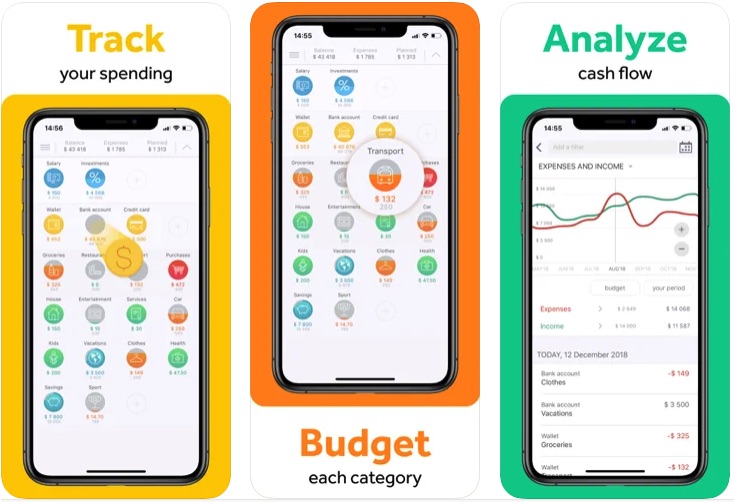 CoinKeeper can rightly be called one of the best Budget Planner apps in 2021. The reason is you finally know where you are spending your money. As well as you can also plan your income and expenses. Say, you can increase your wealth using CoinKeeper!
With its coin interface, you can set monthly budgets and plan your finances in a much better way. That means you can see your accounts, expenses, and balance on one screen. Also, sync your data on multiple devices.
This personal expense manager helps you add transactions faster than other apps. The tutorial and HelpCenter is a big help for new users. The app takes the responsibility of managing your debts and reminds you about the recurring payments. You can export your monthly data to a CSV file and view it comprehensively. Another plus? It is all currencies supported!
5. Expenses OK – Expenses Tracker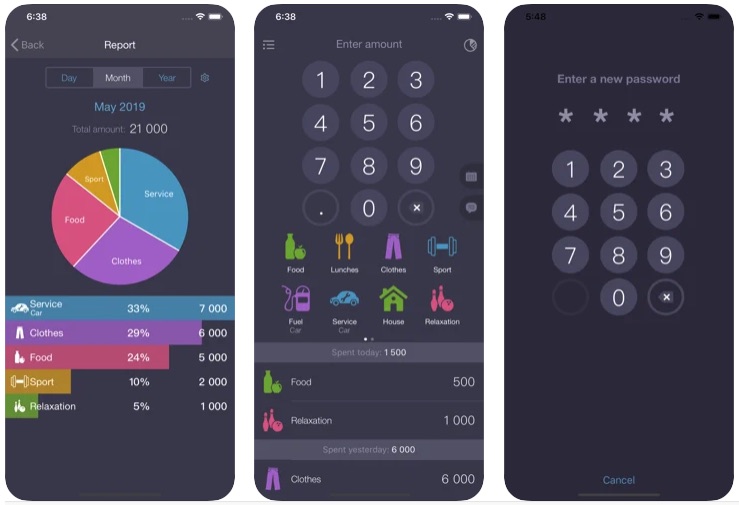 This free budget app for iPhone is the fastest way to track your spending. The handy widget and subcategories keep your expense tracking easy and clear. With the help of a pie diagram, you can exactly see the percentage of your income and spending.
You can lock the app through Face ID or Touch ID. The backup is easy and quick with the help of iCloud. Export your data to a CSV file and have a closer look at your finances. 
You can download Expense OK – expenses tracker app from the App Store for $0.99.
Now that you know how to keep track of your expenses, you don't have to worry about where your money goes. So, in order to be on top of your expenses, get hands-on with one or more of these apps.
Which app did you find most useful? Share with us in the comments below.
For more useful iPhone apps and tools, stay tuned to iOShacker.com.