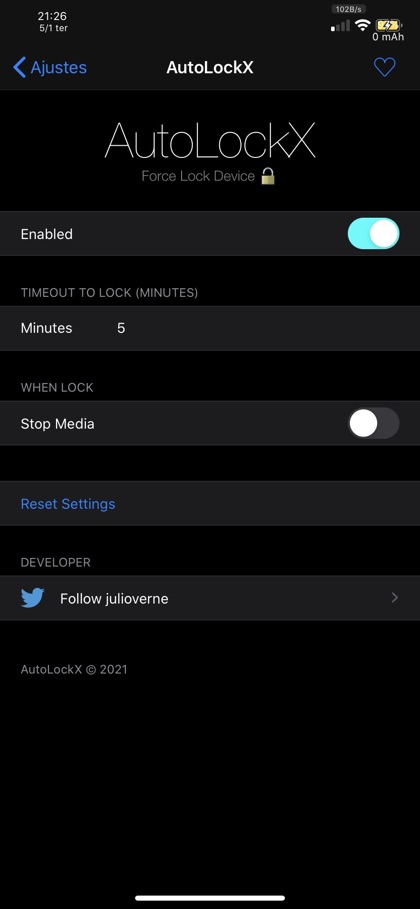 Newly released AutoLockX tweak makes it possible for iPhone users to prevent certain iOS apps from overriding their device's Auto-Lock feature. With this tweak you can not only make sure that you get the maximum running time from your iPhone's battery but also protect your data privacy.
Your iPhone has an Auto-Lock function, which can automatically lock your device after a specified time if the device is not interacted with during that time. Users can choose any auto-lock time from 30 Seconds to Never. You can change iPhone Auto-Lock settings from Display & Brightness settings.
While you can set Auto-Lock timer according to your preference some apps such as those that play media and many games can override the Auto-Lock timer of iPhone.
With AutoLockX tweak installed you can configure the tweak to set an automatic lock timer. You can enter your desired auto-lock time in minutes and your device will auto-lock as that time runs out while the iPhone is in idle state and was not interacted with during this time.
This will work for all apps regardless if they have an auto-lock override or not, unlike the default auto-lock function that respects apps that request to disable auto-lock timer.
With this hack jailbreak users can also specify whether their iPhone should stop playing media such as music or video from playing after the device has locked.
While it might be tempting for you to set a short auto-lock time in order to increase iPhone's battery life and boost privacy, it is recommended that you set a longer time so you don't end up in a situation where your iPhone locks when you are reading a longer text or watching a short video.
You can download the AutoLockX tweak from Cydia or your favorite package manager for free. The tweak is available on developer's repo (https://julioverne.github.io/) and supports iOS 13.
Disclosure: iOSHacker may receive a commission if you purchase products through our affiliate links. For more visit our privacy policy page.