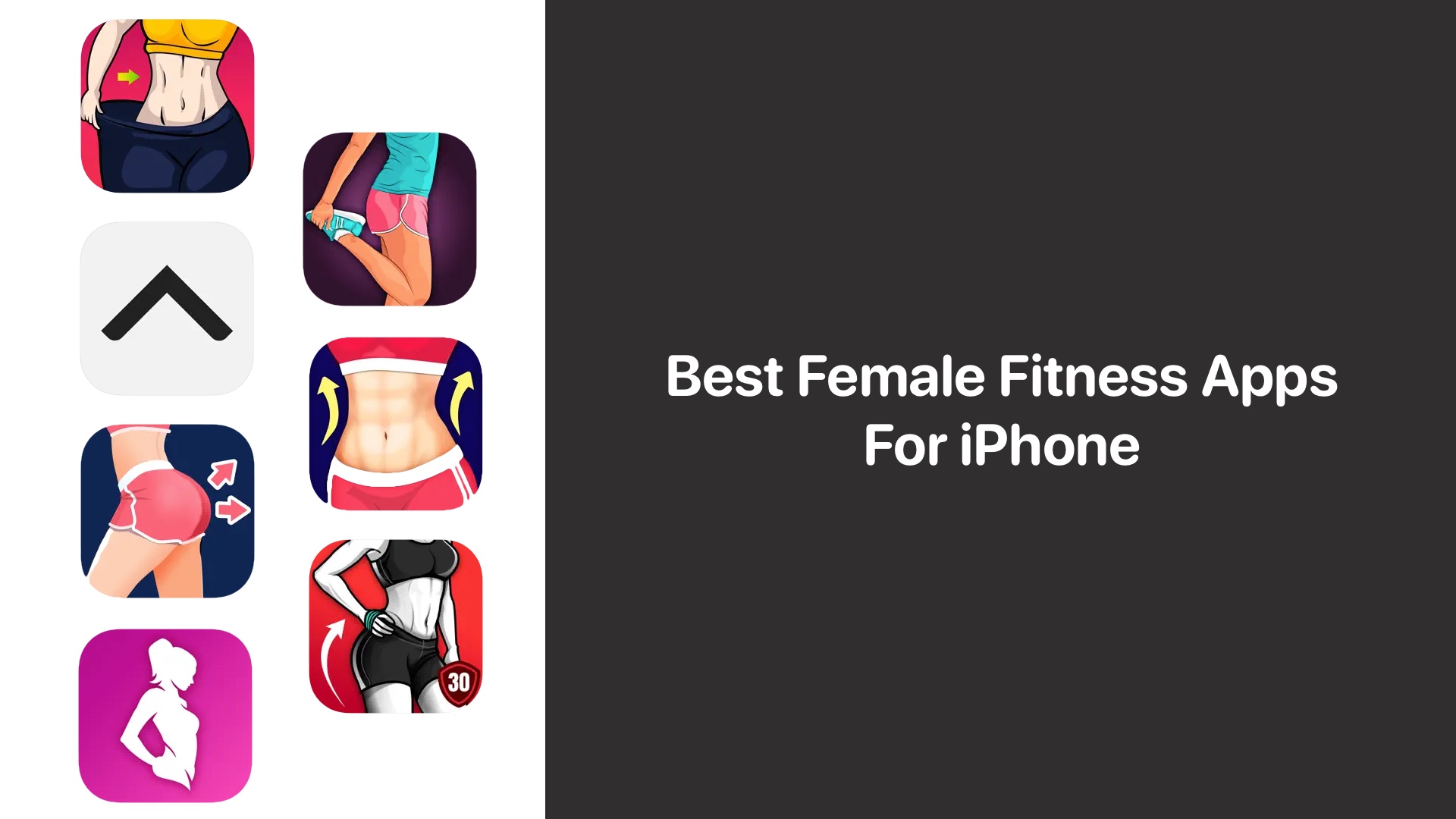 With the best fitness apps for women, you can access workouts and stay in shape. Instead of paying gym membership fees, why not download one of the best exercise apps?
A healthy lifestyle is always within reach, and there are apps that include gym equipment that make it even easier. However, choosing an app that meets your goals and fits your workout preferences can be challenging.
In this article, we will walk you through the best work apps for women's weight loss.
Best Free Workout App for Women
When combined with the right app – or apps – your iPhone can be a helpful tool when you are on the quest to lose weight, improve your fitness, eat healthier, or reduce stress.
Here's our list of fitness apps that will help you stay healthy and fit no matter what your schedule is.
1. FitHer: Workout for Women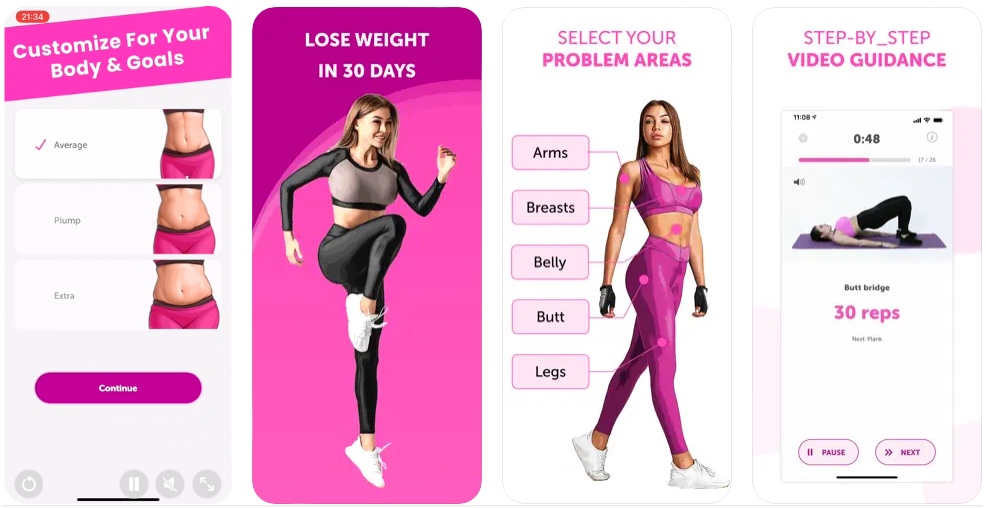 FitHer App provides the best workouts for building muscles, losing weight, getting leaner, and achieving your goals.
Using the app, you can generate a personalized workout plan based on your fitness level, goals, and physical condition. Designed by top coaches, the 30-day program in the app helps you lose weight faster. The training program you follow is designed to make you sweat in less than 20 minutes. If you stay committed to the program, you will see dramatic results.
The fitness tracking app also allows you to track your weight and transformation after each workout session. There are also meal plans including keto, vegetarian and gluten-free. To keep you motivated there are also different achievements that make your weight loss journey enjoyable.
Download FitHer: Workout for Women from the App Store today
2. Female Fitness, Women Workout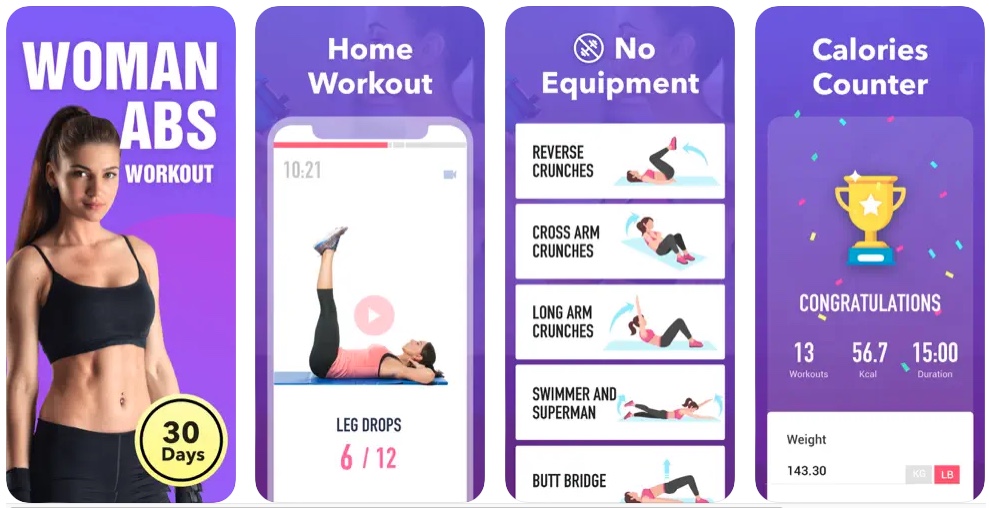 You can't flatten your belly with basic crunches. The abs are among the hardest parts of the body to train. You need a professional and scientific core muscle workout to tone your abs.
Female Fitness, Women Workout is a systematic 30-day workout plan that helps you exercise every day. As a result of doing these exercises, you can burn calories, tone your stomach and slim your waistline.
It will only take 30 days for your abs to change shape.
You can use animations and video guides to ensure you use the proper form for each exercise and achieve optimum results. With the app, exercise can be done anywhere, without equipment, so you can start working out anytime.
Download Female Fitness, Women Workout from the App Store today
3. Fitness for women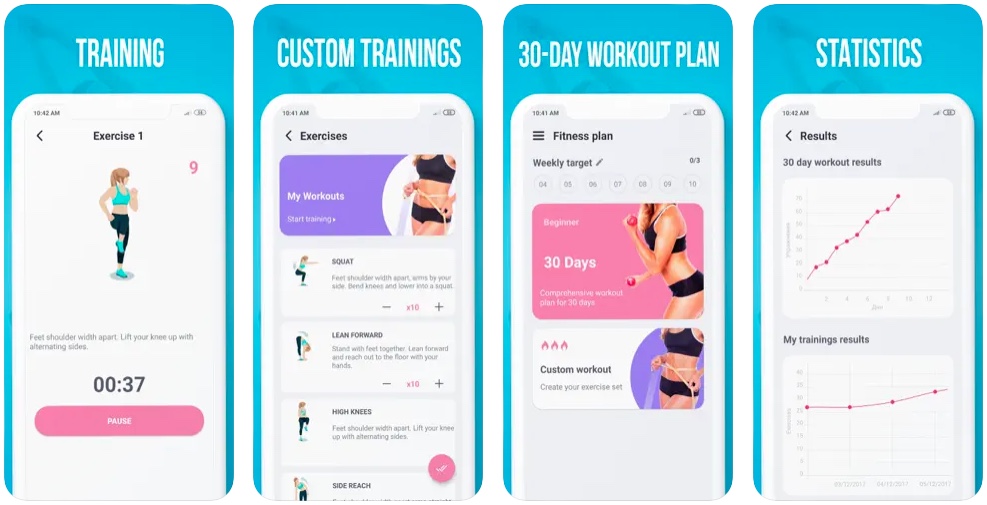 Like the above-mentioned apps, Fitness for Women also offers a 30-day workout plan, along with exercises that can be customized based on your needs. Your Abs, Buttocks, and legs will be toned and even more attractive as you follow the training plan.
You will find that the load within the app increases daily, so you stay motivated and exercise regularly. The exercises are specifically designed for the home and can be performed by anyone, anytime, and anywhere. 3 different levels (beginner, intermediate, and advanced) will provide you with a noticeable improvement in your body shape.
Furthermore, the statistics section makes it easy for you to see your progress, and reminders help you stay on top of your training schedule and make you even more disciplined.
Download Fitness for women from the App Store today
4. Female Fitness – Fit at Home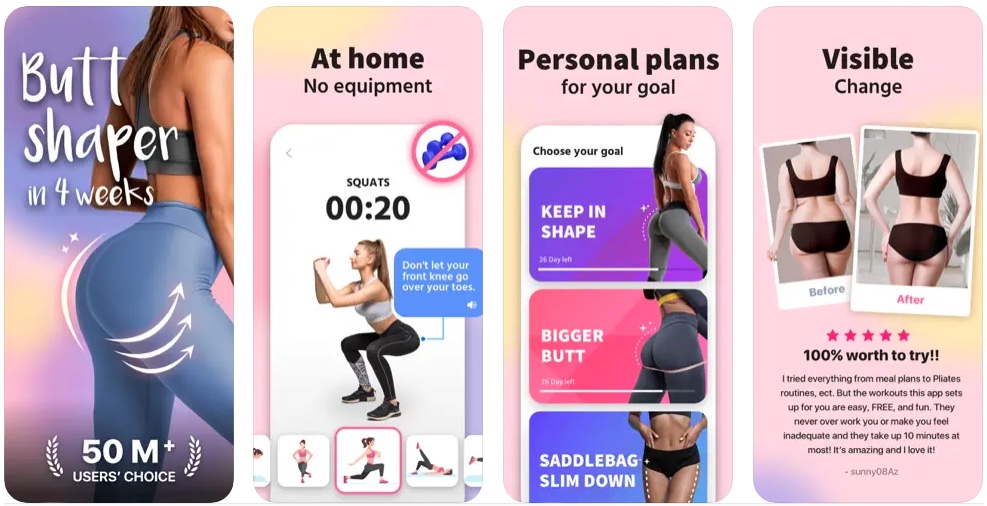 Have you been putting off training your legs and butt until next summer? With Female Fitness, make yourself proud right now by starting to feel the positive changes in your body after just a few weeks!
The app offers you a new training method: a 30-day systematic exercise program – it's more effective but requires less equipment and has fewer restrictions. There are different hips workout available in the app, and all of the hip workouts are popular and professional.
The program can be completed at home or anywhere, at any time. It only takes 10 minutes a day.
This app offers more than just private coaching. There are animations and videos to guide you through each exercise. After a few weeks of following the workouts, you will notice a change in the shape of your butt and legs.
Download Female Fitness – Fit at Home from the App Store today
5. Workout for Women: Fit at Home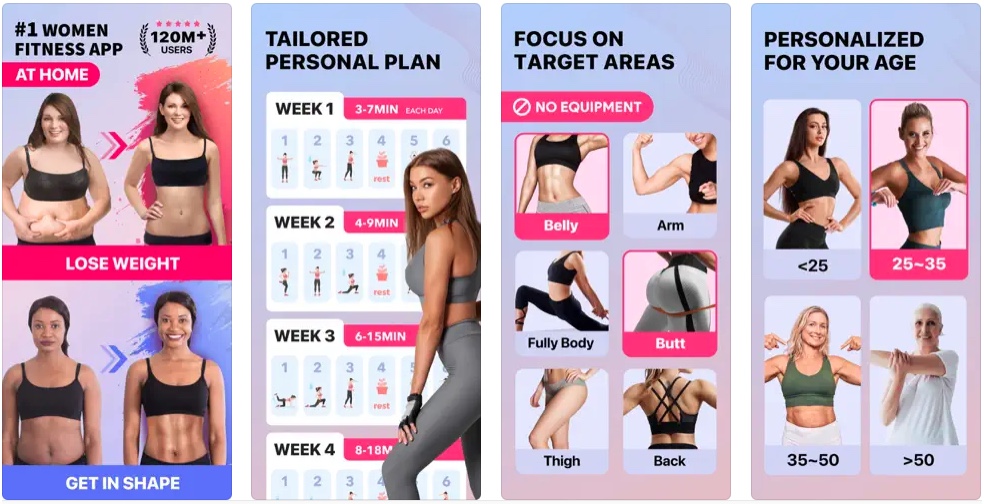 This app is your ultimate online exercise guide to living a healthier lifestyle if you are a busy woman who cannot fit exercise into your schedule.
Workout for Women offers short yet effective sessions that don't require any equipment or gym settings. No matter how busy you are, you can use these exercises to burn fat, lose weight, and stay fit.
The modules include easy-to-follow instructions so you can exercise anywhere and anytime. It also supports offline downloads for workout sessions, which makes the app even more convenient.
You will get a variety of workouts every day, as skilled trainers create a new one every day. The Pilates method can also be tailored to particular problem areas or workout styles, including Yoga. Additionally, Apple Health integration allows users to track workouts, calories, and weight.
Download Workout for Women: Fit at Home from the App Store today
6. Yoga-Go: Yoga for Weight Loss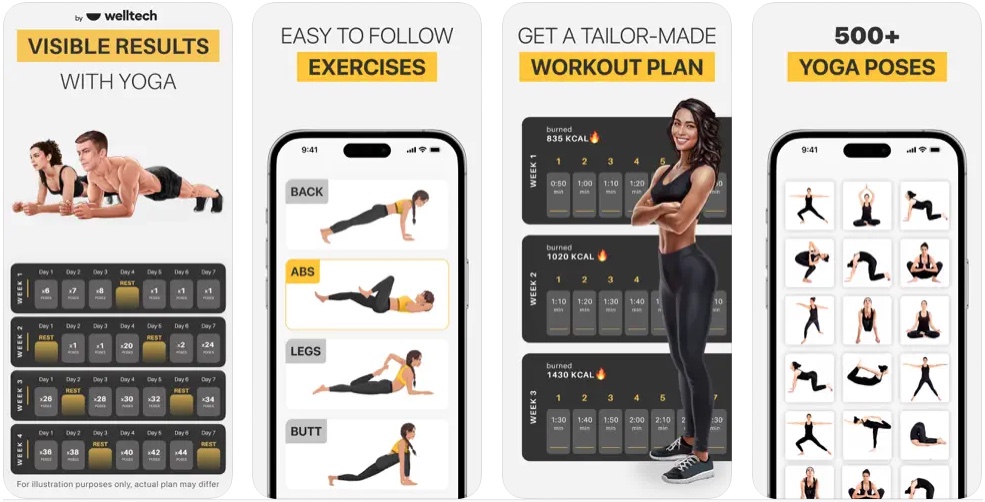 You can achieve balance in your body and mind through yoga. Yoga-Go helps you achieve a fit body, a relaxed mind, and a harmonious life.
Yoga-Go is a yoga app that gives beginners personalized yoga and Pilates routines. You can follow simple routines at home wherever you are and reap the benefits of everyday yoga.
You can burn up to 200 calories in just seven to thirty minutes with Yoga-Go workouts and exercises focused on weight control, figure sculpting, and mind and body health. The app allows you to track workout time, overall progress, and calories burnt.
Besides getting a toned and strong figure, you can also keep your Yoga friends up-to-date on your progress and results.
Download Yoga-Go: Yoga for Weight Loss from the App Store today
7. Lose Weight in 30 Days – Women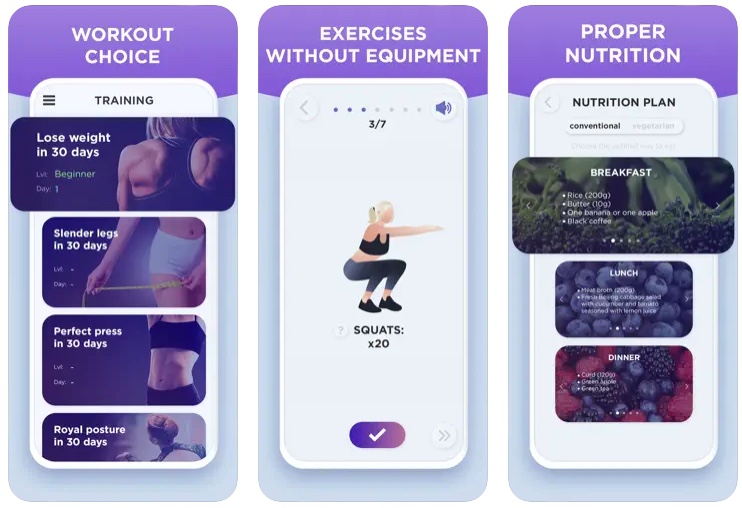 With a workout plan at home and a diet, you can lose weight in 30 days. This application features exercises that will assist you in losing fat and weight from your abdomen and other problem areas.
Each workout targets the most problematic areas for women and girls: you can find exercises for abs, exercises for buttocks, exercises for waistlines, etc. You can easily do the exercises at home because they are selected in a way that makes them convenient for you.
You can also monitor your weight loss in 30 days by tracking your progress. Within 30 days, you will lose excess weight and tighten up your body if you follow the instructions.
Download Lose Weight in 30 Days – Women from the App Store today
Final Words
So, that's our list of women weight loss apps. In case we missed out on something, please let us know in the comments section. With this information in hand, we can curate a more accurate list and help our readers discover some hidden gems.