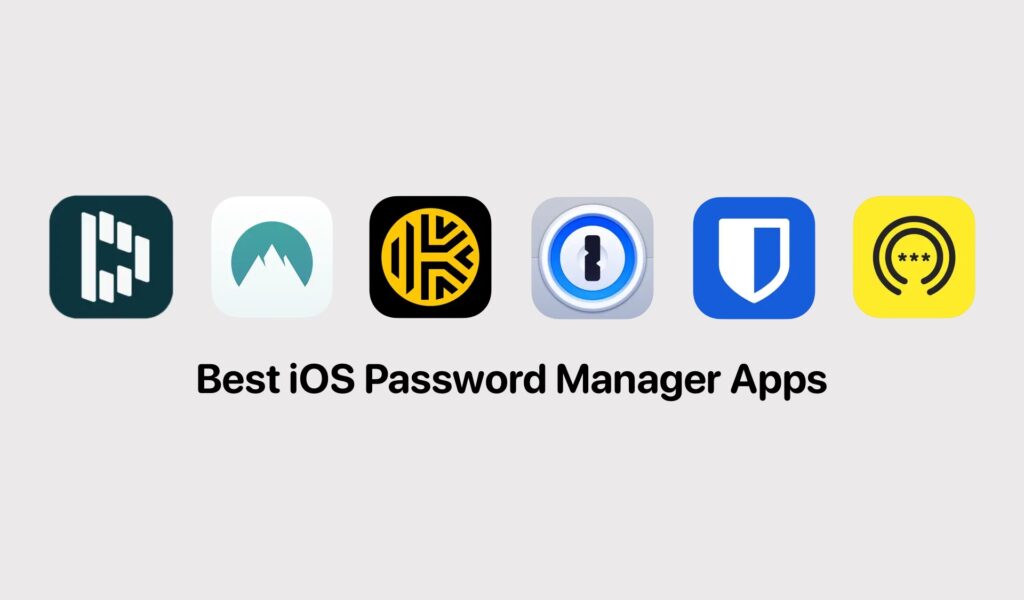 In this article, we discuss the best password manager apps for 2023, ensuring that you can navigate the digital world with confidence and ease.
In today's fast-paced digital landscape, the way we live and interact has undergone a dramatic transformation.
With social media profiles, email accounts, banking, and even grocery shopping moving to the digital realm, keeping track of passwords has become a modern-day challenge. It's like trying to juggle a dozen balls in the air simultaneously – a daunting task that often leaves us fumbling and frustrated.
But fret not, because the solution to this modern conundrum lies in the palm of your hand – iOS password manager apps. These apps are the secret weapon you need to regain control, boost security, and simplify your digital life.
Password Perfection: Discover the Best Apps to Store All Passwords
In the age of cyber threats and data breaches, the need to safeguard your digital identity has never been more crucial. Whether you're an iPhone aficionado or an iPad enthusiast, your passwords deserve the best guardians.
Let's discuss the best password manager apps available:
1. NordPass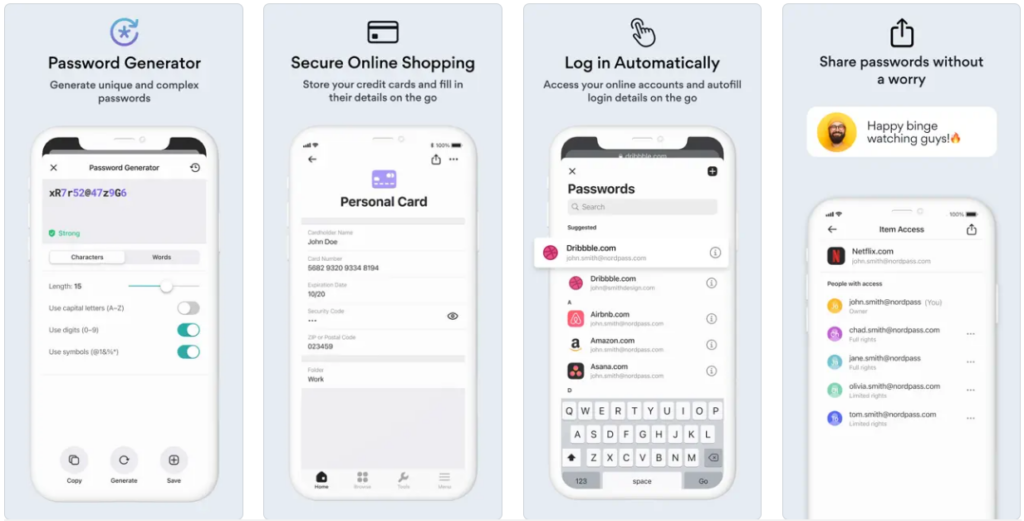 NordPass, a user-friendly iOS password manager app, is known for its robust security features and intuitive interface. With NordPass, you can securely store passkeys, access them effortlessly, and even share them with a single click. One of the best password manager apps, it works seamlessly across all your devices and ecosystems.
NordPass is the brainchild of the digital security experts behind NordVPN, a world-leading VPN service. It's designed to make your online life smoother and more secure. Advanced encryption algorithms join forces with practical features to simplify password management like never before. It's no wonder it's rated by PCMag as the best for simple password management.
You can securely store your passwords in its encrypted vault, saving you from the headache of trying to remember them all. No more typing login details manually – NordPass auto-fills them for you. But it doesn't stop there. You can even save your credit card details securely and have them automatically filled in at online checkouts, making online shopping a breeze.
2. Passwarden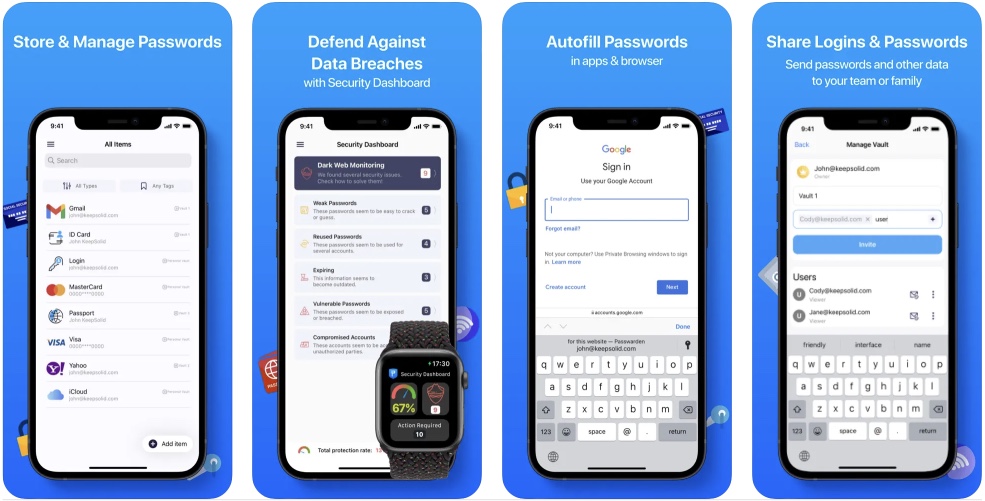 With the Passwarden app for iPhone and iPad, you get all the essential features necessary for a password manager on the iPhone. From features like auto-fill, the ability to generate strong passwords, multi-device access to passwords, and more, this app has got you covered in all fronts.
Passwarden also offers a really handy feature called Password Strength Meter, which enables users to check the strength of their passwords so that they can keep their accounts secure. It also lets you know if you have used the same password on multiple accounts, which is helpful for preventing the hacking of all accounts at once.
Passwarden monitors the dark web for leaked passwords and immediately lets you know if it finds one of your passwords leaked online. Other features of this app include encrypted storage, secure data sharing, data migration, offline mode, and more.
You can download the Passwarden app for iPhone, iPad, and Mac here for free.
3. Keeper Password Manager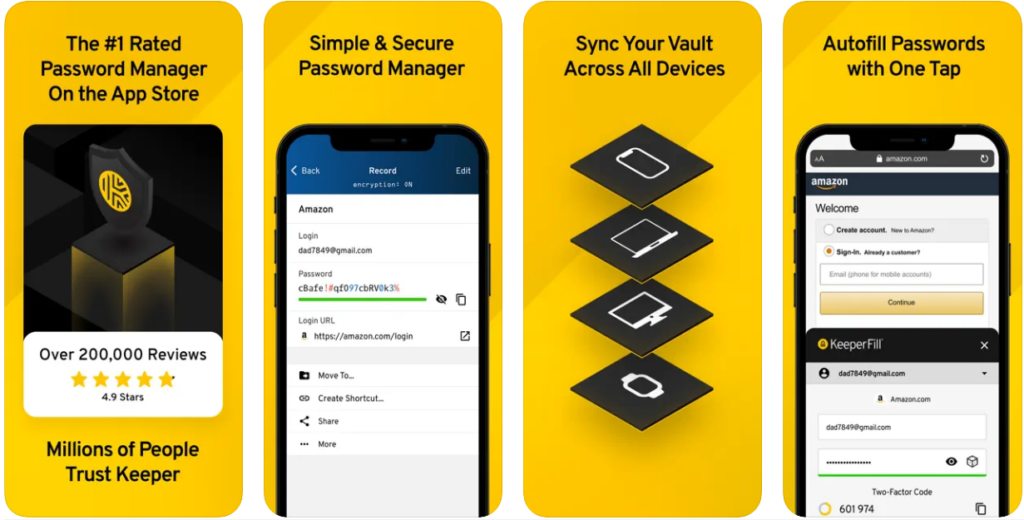 Keeper Password Manager is a powerhouse when it comes to securing your passwords, making it one of the best password manager apps. Offering a safe haven for your passkeys, accessible across all your devices and ecosystems, the password manager app for iPhone ensures convenience and safety.
With Keeper, you can bid farewell to the never-ending struggle of memorizing passwords and revel in the simplicity of secure access and autofill capabilities. It's designed to make your online life worry-free, thanks to the collaboration of digital security experts behind the renowned NordVPN.
It can automatically generate strong passwords, storing them securely in a digital vault. Your vault is accessible from any device, and Keeper's powerful encryption ensures that your passwords and sensitive information remain impervious to data breaches, ransomware, and cyberattacks.
Moreover, this app's flexibility extends to the unlimited storage of passwords, confidential files, payment cards, and more in your encrypted digital vault. The app comes with subscription-based model, which starts from $3.99 per month.
Download Keeper Password Manager now.
4. 1Password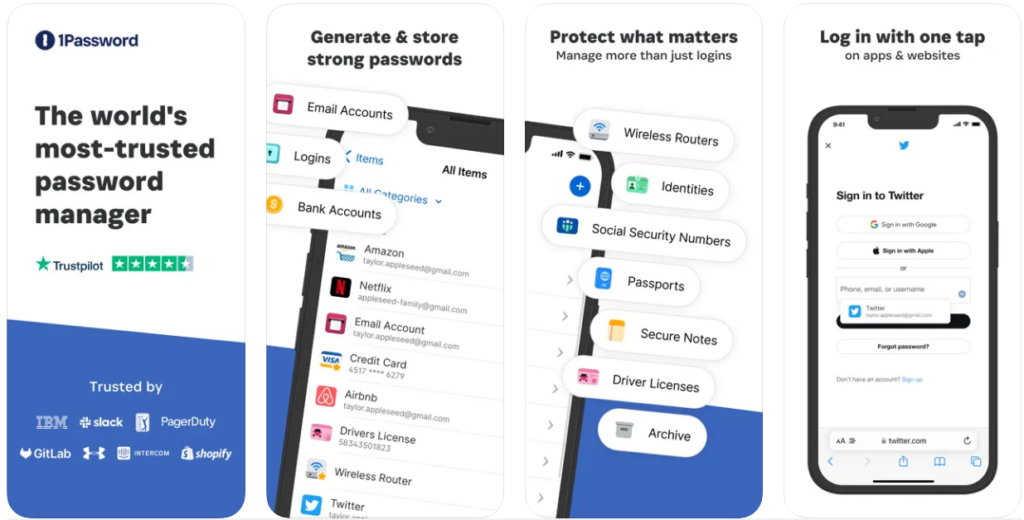 1Password is a long-time favorite iPad password manager app among iOS users. Its easy-to-use interface and secure password storage make it a strong contender and one of the best password manager apps. With its latest iOS 17 update, 1Password has introduced Passkey support, allowing you to go passwordless and experience a new level of security and convenience.
It remembers all your passwords and safeguards them behind a single Master Password that only you know. You can bid farewell to the hassle of memorizing complex codes because 1Password can effortlessly generate strong, unique passwords for all your online accounts.
What's more, 1Password doesn't stop at passwords. It's the ultimate organizer for your digital life. You can securely store a wide range of information in various categories, from logins and credit cards to personal notes, driver's licenses, and passports. Whether it's financial details or important documents, 1Password keeps them safe and easily accessible.
The best part? You can unlock the app quickly and securely using Face ID or Touch ID, and it automatically locks to safeguard your data if your device is lost or stolen.
5. Dashlane Password Manager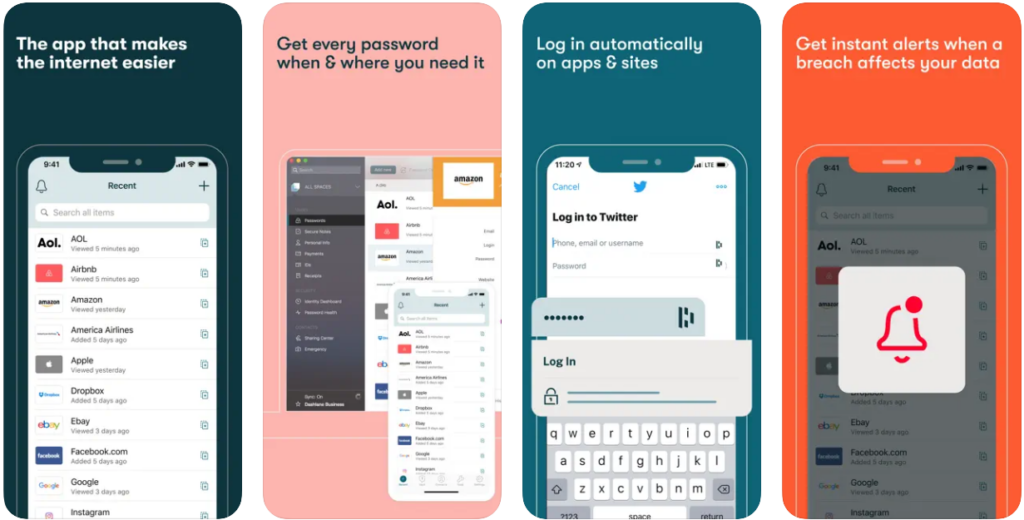 Dashlane offers an all-in-one solution for password management. It's more than an app to store all passwords. It also has a built-in VPN for added security when browsing on public networks.
One of the best password manager apps, its ability to store an unlimited number of passwords securely is its winning feature. Whether you're on your phone, tablet, or computer, you can access your passwords seamlessly across all your devices. Dashlane takes the hassle out of creating strong passwords with its Password Generator, ensuring that your credentials are robust and hacker-resistant.
With a single click, you can update your passwords, enhancing your security effortlessly. Plus, Dashlane allows you to share passwords safely, making collaboration and teamwork a breeze without compromising security.
Plus, Dashlane's convenience extends to automatic logins. It auto-fills the correct username and password for your apps and websites. You can even login with a simple look or tap using Face ID or Touch ID for added convenience.
Download Dashlane Password Manager now.
6. Norton Password Manager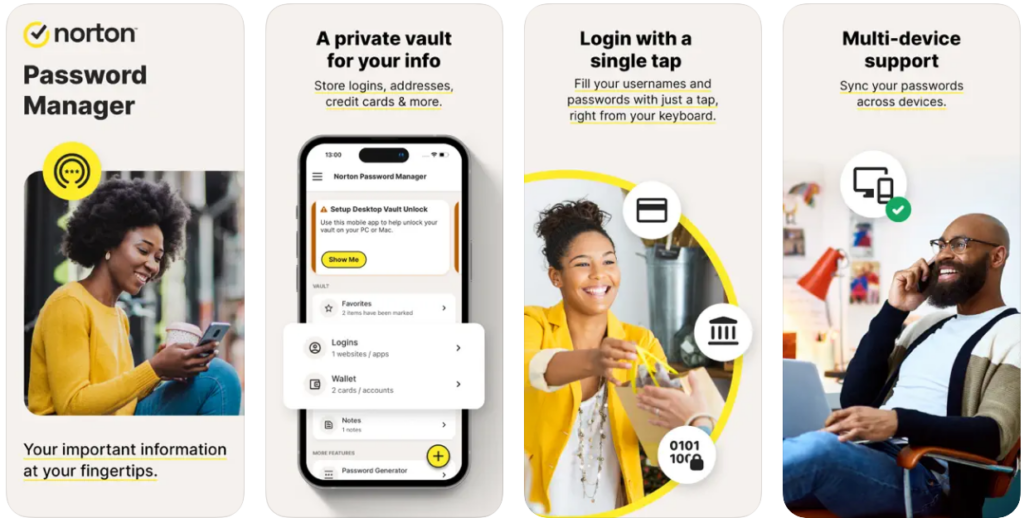 Known for its cybersecurity expertise, the Norton iOS password manager app provides robust protection. It helps you create strong passwords and stores them securely. Additionally, your passwords are securely stored in an online vault, making logging into websites and apps a breeze.
Security is paramount, and Norton Password Manager takes it seriously. Your data is encrypted using zero-knowledge encryption, and only you have control over access to your password vault. Even Norton cannot access it, making it nearly impenetrable to cybercriminals and hacking attempts. You can also enhance security further with two-factor authentication, adding an extra layer of protection to your valuable information. Thus making Norton Password Manager one of the best password manager apps available in the app store.
For added convenience, Norton Password Manager supports biometric unlock features such as Apple's Touch ID and Face ID. This means you can access your vault without typing in your password, making the process faster and more secure.
Download Norton Password Manager now.
7. Bitwarden Password Manage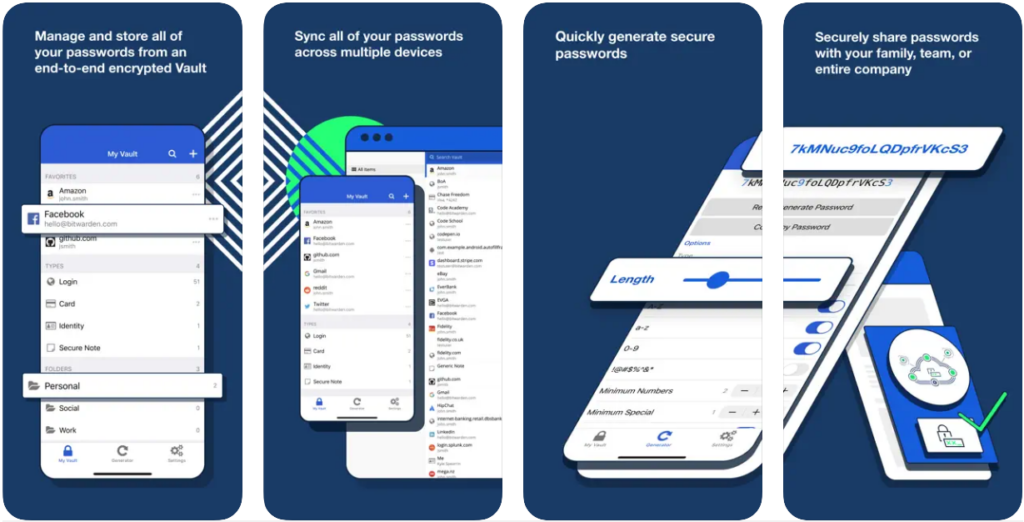 Bitwarden is an open-source password manager app for iPhone, making it a transparent and trustworthy choice. With Bitwarden, you can effortlessly manage, store, and secure unlimited passwords across unlimited devices. This means you can access your passwords from anywhere, whether you're on your computer, smartphone, or tablet.
What makes it one of the best password manager apps is its built-in password generator. It can generate strong, unique, and random passwords based on security requirements for every website you frequent. This not only saves you the hassle of coming up with secure passwords but also ensures that your online accounts are well-protected against potential breaches.
Bitwarden goes a step further with Bitwarden Send, a feature that allows you to quickly transmit encrypted information, including files and plaintext, directly to anyone. This feature ensures that your sensitive data remains private and secure, even when sharing it with others. Moreover, passwords stored in Bitwarden are protected with advanced end-to-end encryption, using AES-256 bit encryption, salted hashtag, and PBKDF2 SHA-256.
Download Bitwarden Password Manage now.
Conclusion
The days of trying to memorize a laundry list of passwords or resorting to insecure, easily guessable combinations are behind us. The convenience of our digital lives should be matched by the strength of our defenses. That's where iPhone and iPad password manager apps come in.
These best password manager apps are not just your digital keyring, they are your fortress, your guardian, and your ally in the ever-evolving world of cybersecurity. They take the stress out of the equation, ensuring your passwords are not only secure but also easily accessible whenever you need them.
More apps for iPhone:
Disclosure: iOSHacker may receive a commission if you purchase products through our affiliate links. For more visit our privacy policy page.