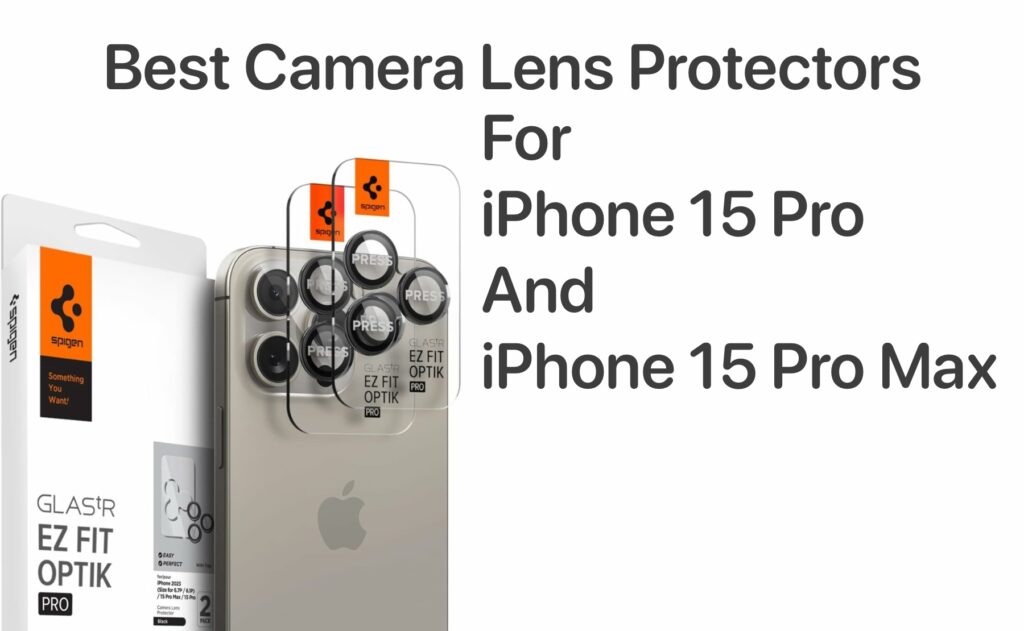 In this article, we have gathered a list of the best camera lens protectors for the iPhone 15 Pro and iPhone 15 Pro Max that you can buy right now. These camera lens protectors protect your iPhone's large camera lenses from scratches and breaking.
So, you've just upgraded to the iPhone 15 Pro Max, the smartphone equivalent of carrying around a small photography studio in your pocket. Congratulations! But let's be real for a moment – no matter how careful you are, it's only a matter of time before your camera lens becomes a magnet for fingerprints, smudges, and mysterious scratches.
Fear not, intrepid iPhone photographer, because we're about to dive into the world of lens protectors that will keep your prized camera glass as clean and clear as your Instagram feed. Let's dive into the world of lens protectors that will make your iPhone's camera sing, "I can see clearly now, the smudges are gone!"
The Best Camera Lens Protectors for iPhone 15 Pro Max
Whether you're dodging the perils of purse clutter or fumbling for your phone in a dimly lit restaurant, fear not, for we've got your back covered with some fantastic options that will keep your camera crystal clear without sacrificing style in the process!
Get ready to say goodbye to accidental pocket debris and hello to flawless photos with the best iPhone 15 Pro Max protectors!
Note: All of the camera lens protectors featured in this article are compatible with both iPhone 15 Pro and iPhone 15 Pro Max.
1. TORRAS Camera Lens Protector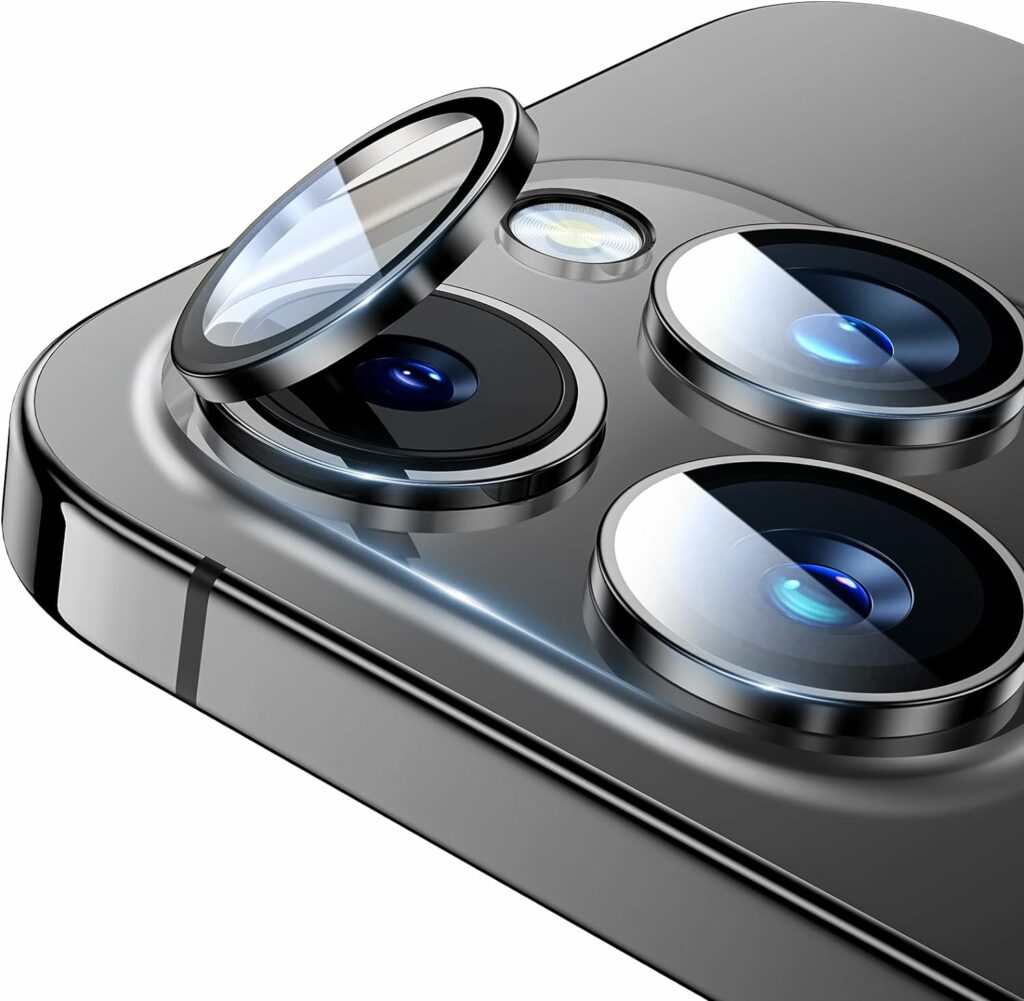 Crafted from CGS aerospace-specific 9H+ glass, it's like a reinforced shield for your lens. This protector has aced the tough SGS MIL-STD-810H military standard test, giving you unbeatable protection against daily wear and impacts. Your cherished phone camera lens now gets military-grade defense.
When you're on your photographic journey, the first step is capturing those beautiful memories. This lens protector ensures your photos stay true to their essence with high transparency and premium optical materials. Thanks to cutting-edge ultra-transparent liquid crystal technology, it achieves over 98% transparency, maximizing your camera's performance.
Experience the pinnacle of precision with this iPhone 15 Pro/Pro Max camera lens protector. Using advanced adhesive technology, it forms an unbreakable bond with your lens, sealing out dust and mist. Unlike traditional protectors, it won't let foreign objects disrupt your photos, solving those pesky photography issues.
Buy TORRAS Camera Lens Protector for $19.99 here.
2. QHOHQ 3 Pack Camera Lens Protector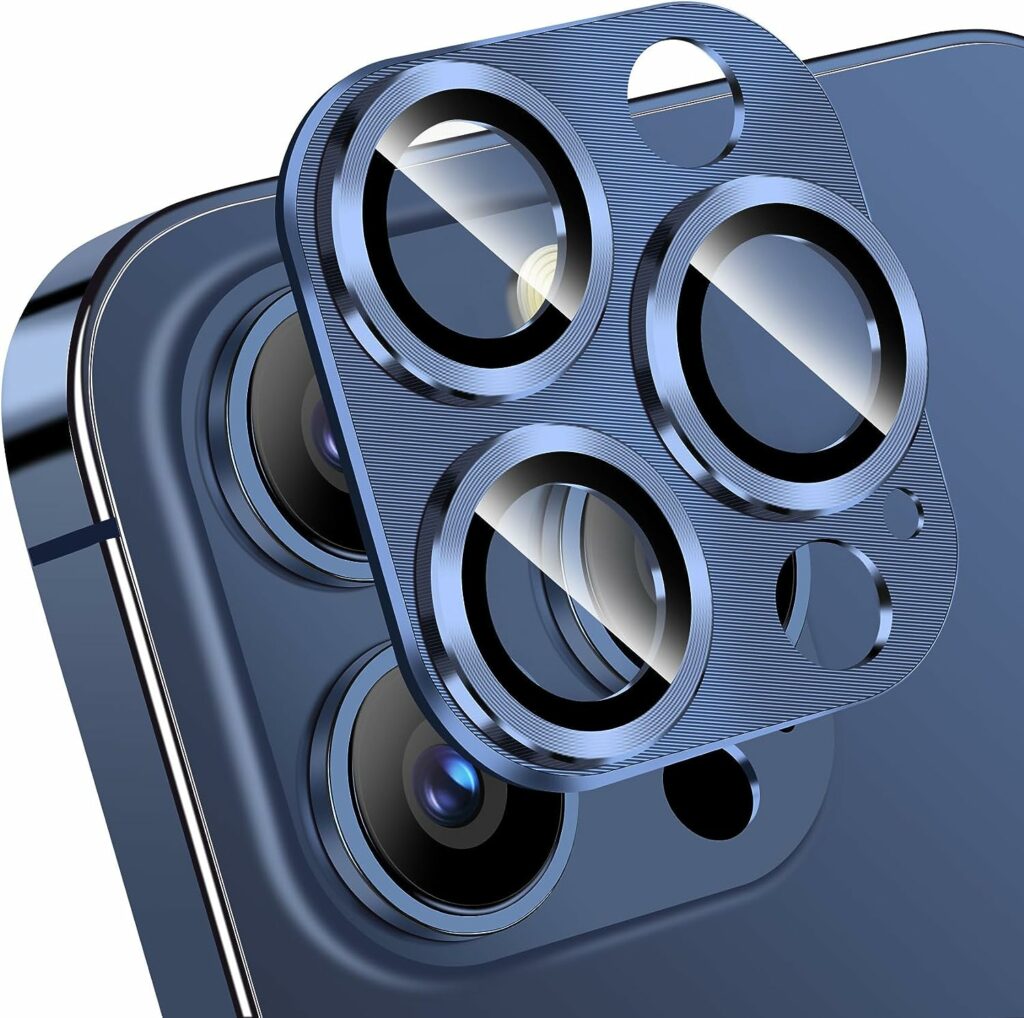 This camera protector is built with high-quality adhesive imported from South Korea and is now in its 4th generation integrated version. This upgrade alone gives it ten times the super-strong adsorption capacity, ensuring that the camera cover stays firmly in place. The precise cutout and full-fit design guarantee a seamless fit with the lens, maintaining the phone's original aesthetics.
Crafted from top-grade aerospace-grade zinc alloy and electroplated sapphire glass, the protector is both thin and durable. Its full-coverage edge design provides 360-degree protection against scratches and lens damage.
The 2.5D rounded corner design not only feels smooth to the touch but also prevents any scratches. Thanks to the Nano dual-layer circular seal, it's waterproof, dustproof, and fingerprint-proof, ensuring your lens stays clear, even in humid conditions.
Moreover, this camera lens protector incorporates AR (Augmented Reality) transparency technology, preserving high-definition image quality. Plus, it comes with a "flash hole" night shooting function that eliminates glare and reflections when taking pictures at night.
Buy QHOHQ 3 Pack Camera Lens Protector for $9.96 here.
3. Ailun 3-Pack Camera Lens Protector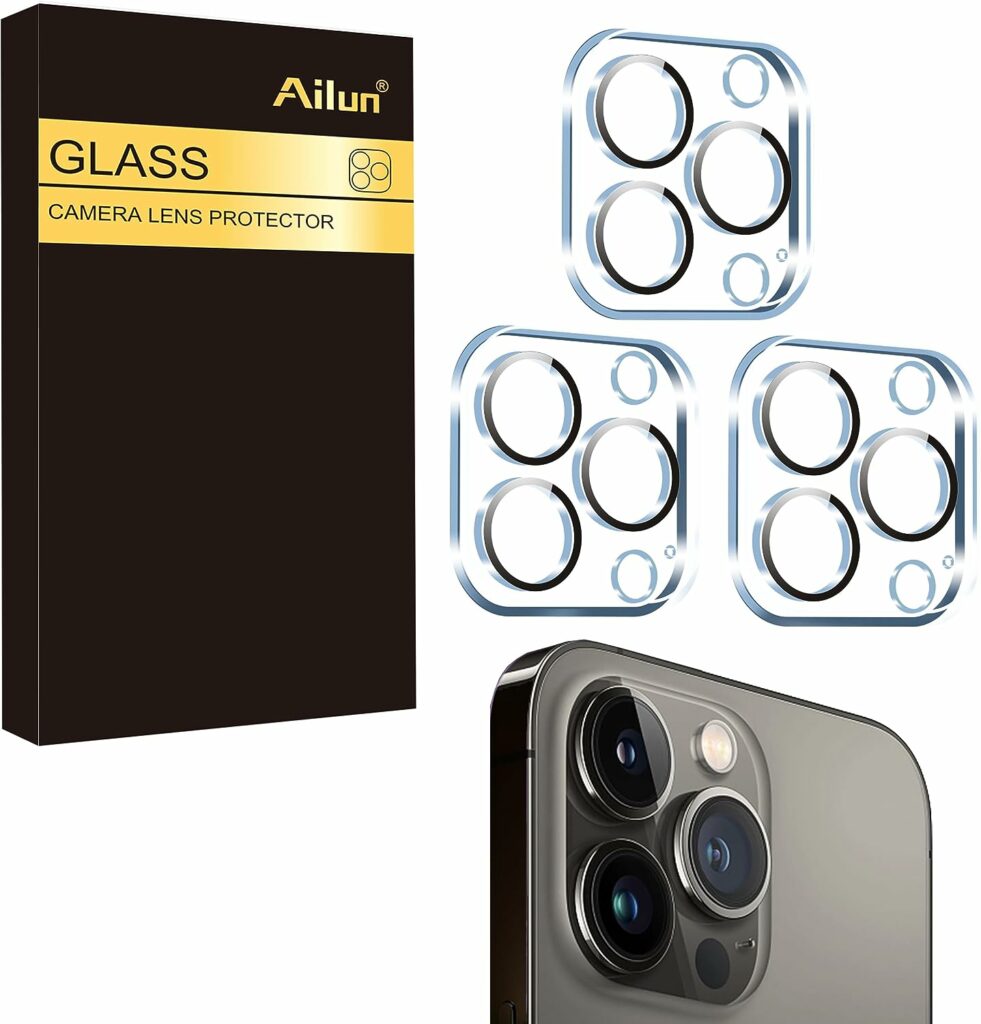 This protector offers maximum defense against scratches, scrapes, and bumps, ensuring your camera lens stays in pristine condition.
What sets this protector apart is its seamless integration of augmented reality technology. With excellent light transmittance and night shooting capabilities, there's no need to worry about flash-hole positioning. Your photos and videos will retain their original quality even when you're shooting in low-light conditions.
The lens protector also features a high-definition clear hydrophobic and oleophobic screen coating, which keeps your lens free from sweat and oil residue, including fingerprints.
Crafted with precision, this protector is 100% brand new and made from exquisitely polished, ultra-thin 0.1mm tempered glass. It's the perfect safeguard for your iPhone 15 Pro/15 Pro Max camera lens.
Buy Ailun 3 Pack Camera Lens Protector for $6.98 here.
4. YWXTW Camera Lens Protector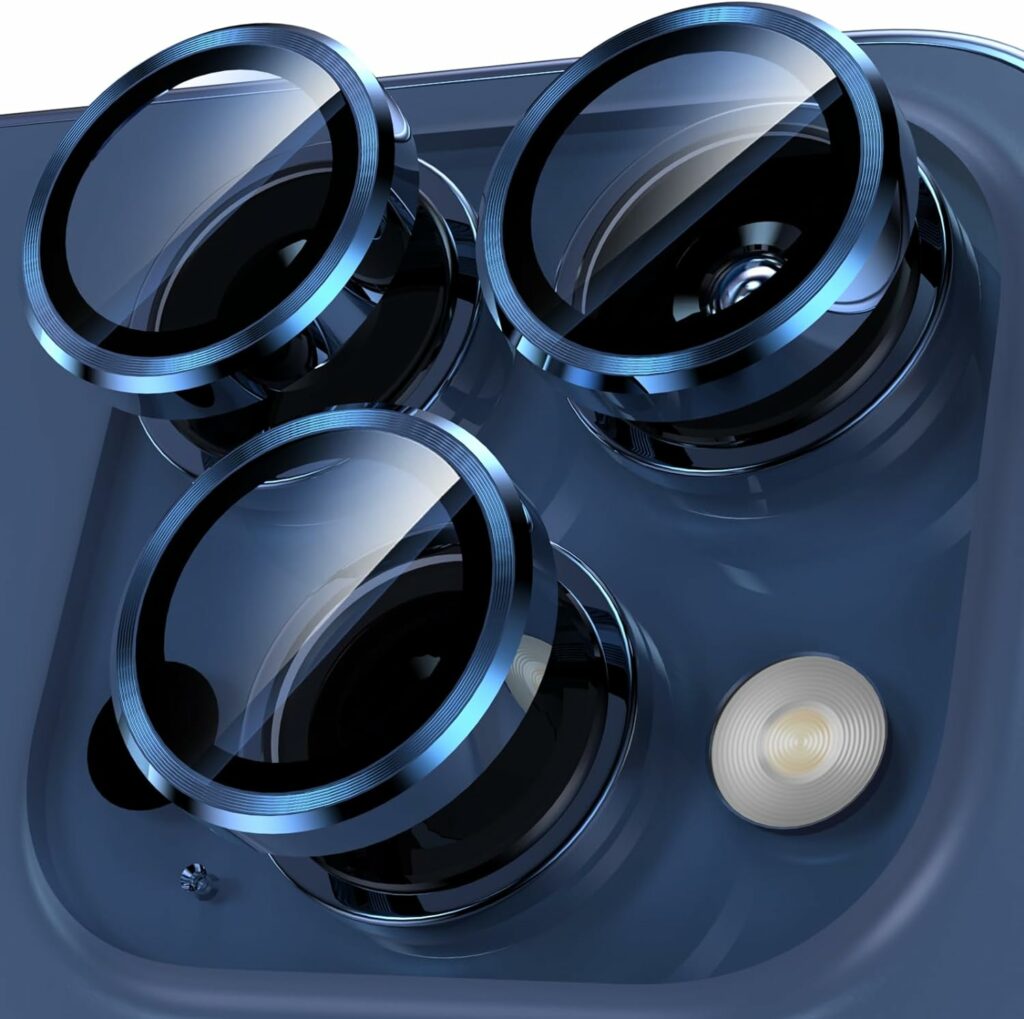 This lens protector offers full coverage, seamlessly blending in with your phone's original camera. It's practically invisible once installed. You can choose a color that matches your phone or go for something different. It fits snugly with most iPhone 15 Pro/Pro Max cases, preserving your phone's original beauty.
Thanks to 12 layers of chemically enhanced electroplated sapphire 9H tempered glass, your lens stays intact even in the face of super-strong impacts. Hard rocks won't leave a scratch. Say goodbye to accidental drops and bumps and hello to peace of mind. Plus, the 3rd-gen oleophobic tech keeps those fingerprints at bay, ensuring a clean lens.
What about those photos and videos? With super anti-reflection glass, you're getting a whopping 98% light transmittance and exceptional color reproduction. Your images and videos will be top-notch, even in low-light situations – no more pesky glare. Your iPhone's superpixels are perfectly restored, ensuring an original shooting experience.
Buy YWXTW Camera Lens Protector for $9.99 here.
5. Spigen Camera Lens Screen Protector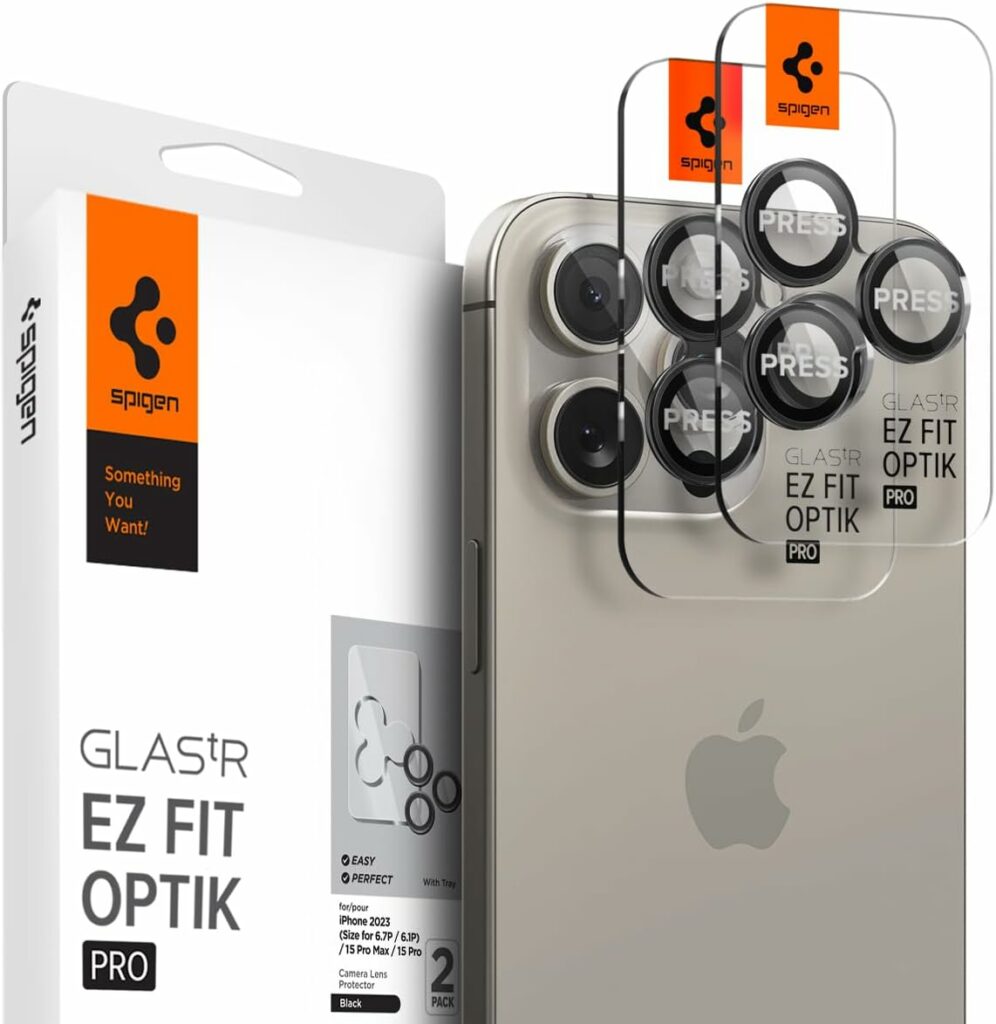 Looking for a top-notch way to protect your iPhone's precious camera lens? Look no further!
Ever heard of 9H tempered glass? Well, it's the real deal when it comes to durability. And guess what? Spigen anti-scratch lens protectors for iPhone 15 Pro Max are made from it, so your lenses stay safe from scratches and scuffs.
But that's not all! Spigen has made installation a breeze with the EZ Fit tray. No more fumbling around trying to get it just right. Plus, the company has thrown in not one but two lens protectors and a cleaning set. Your lenses will thank you for this TLC.
Worried about compatibility? Don't be! Spigen's lens protectors are designed to play nicely with all Spigen iPhone 15 Pro Max cases and iPhone 15 Pro cases.
Buy Spigen Camera Lens Screen Protector for $15.99 here.
6. UniqueMe Camera Lens Protector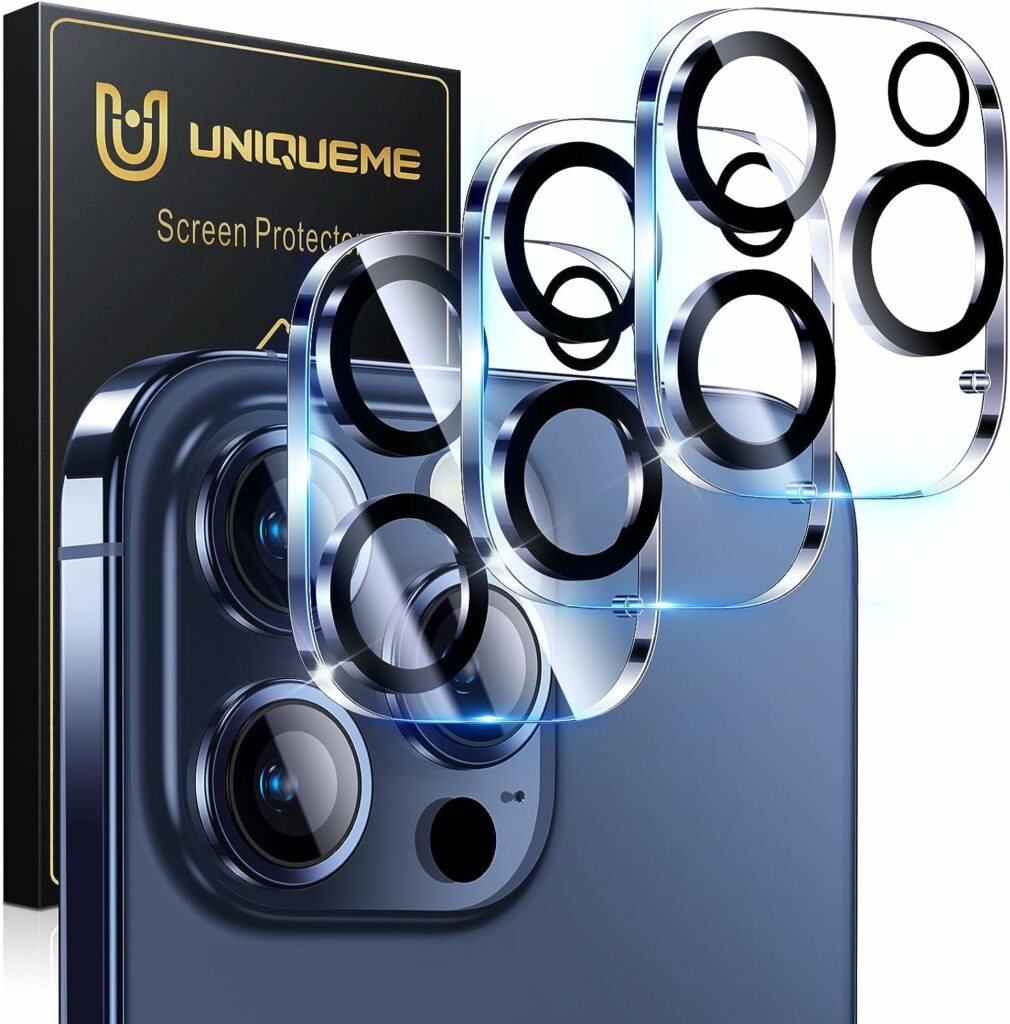 UniqueMe camera lens protector offers top-notch protection for your iPhone 15 Pro or 15 Pro Max camera lens. It's the 4th-generation integrated version with some cool upgrades, like an anti-glare Aperture and an Electroplated Sapphire Super Hard AF film camera protector screen. Fancy, right?
But here's the real magic: the high transmittance sapphire material with AR anti-reflection tech. This means your protector maintains transparency and clarity, ensuring your iPhone snaps those original, stunning shots.
Thanks to strong adsorption technology, this protector helps keep your phone from slipping and sliding. Plus, it's sleek and slim, adding just 0.2mm thickness, so your iPhone 15 Pro's camera lens stays as original as ever.
Buy UniqueMe Camera Lens Protector for $8.99 here.
7. Hoerrye Camera Lens Protector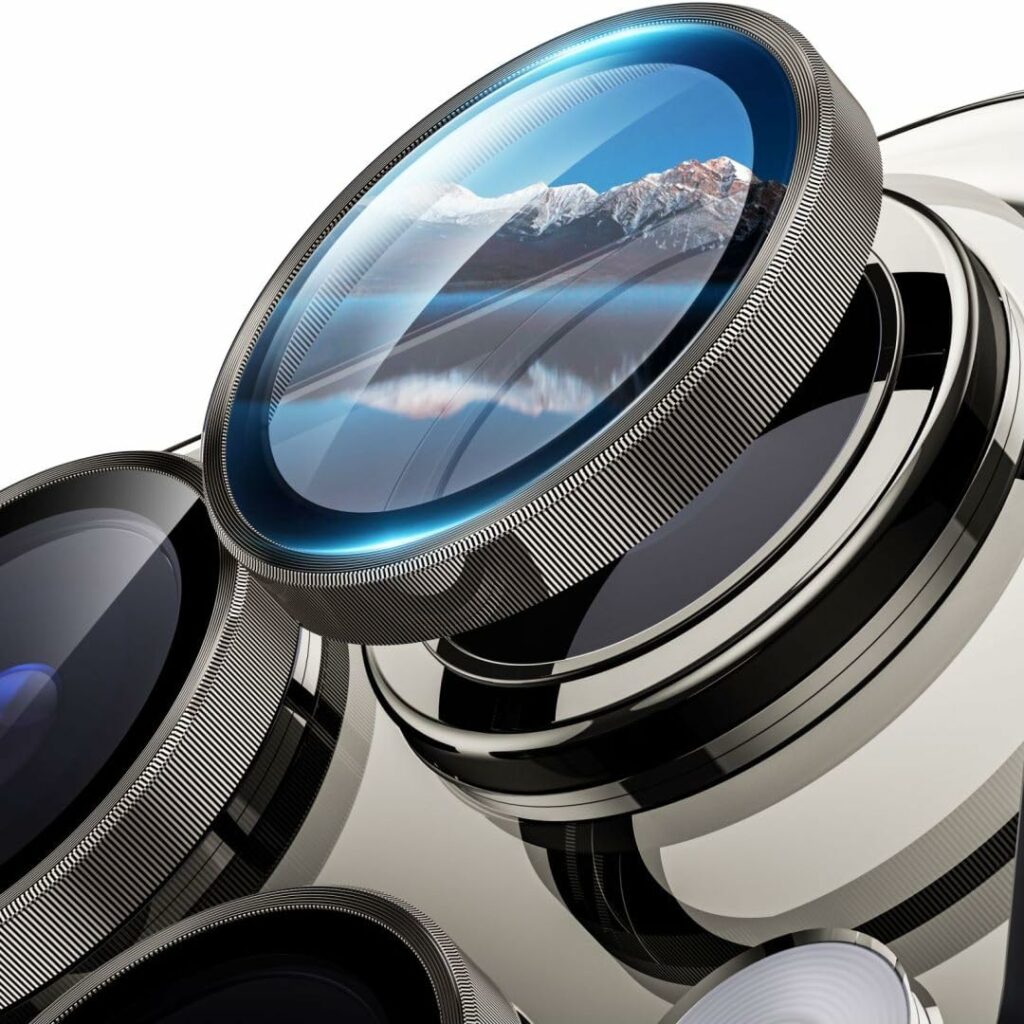 This lens protector offers a perfect 1:1 fit, preserving your iPhone 15 Pro's original aesthetics. Whether you want a matching color or a unique look, Hoerrye has options for you. Crafted from space-grade titanium alloy and 9H tempered glass, it's both durable and lightweight.
The Hoerrye camera lens protector is designed exclusively for iPhone 15 Pro and iPhone 15 Pro Max. With every purchase, you'll receive 3 camera lens protectors plus 1 replacement, an alcohol wipe, a dust sticker, a removal tool, and clear installation instructions tailored to your iPhone 15 Pro.
With 99.99% transparency, the protector won't compromise your iPhone 15 Pro's pixel quality. Thanks to the reliable RTV glue, it securely adheres to your device, ensuring it won't fall off or leave any residue for at least 3 years.
Buy Hoerrye Camera Lens Protector for $12.99 here.
8. Jeluse 3X2 Pack Camera Lens Protector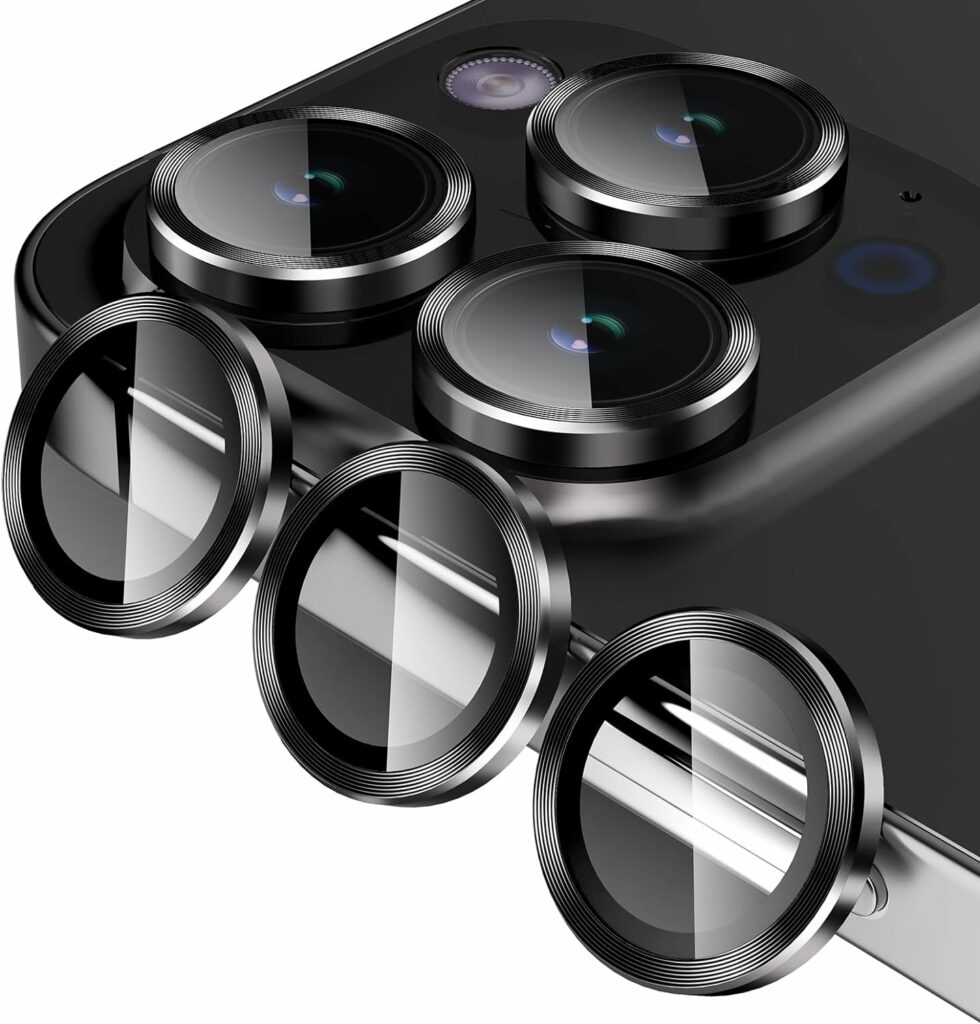 This high-tech camera shield is crafted from aviation-grade aluminum and features 9H sapphire tempered glass. It's built to withstand significant impacts and drops, offering your phone robust defense against external forces. Plus, the seal ring design ensures protection from water, oil, and dust.
Worried about installation hassles? Say goodbye to them! The kit includes an alignment tool, and the detachable stick makes it easy to change the lens cover to suit your style. The independent lens cover design incorporates AR anti-reflection technology, enhancing light transmission to prevent fogging and overexposed flash in your photos and videos, ensuring you always get the best quality.
This camera lens protector is slim yet sturdy, with a 1:1 mold design that guarantees full coverage for your iPhone 15 Pro Max or iPhone 15 Pro lenses. It's incredibly lightweight, adding only 0.12mm to your phone's thickness after installation
Buy Jeluse 3X2 Pack Camera Lens Protector for $12.99 here.
To Conclude
When it comes to safeguarding your precious smartphone's camera lens, investing in the best iPhone 15 Pro camera lens protectors is a no-brainer. These little accessories offer big protection, ensuring that your device's camera remains scratch-free and ready to capture stunning moments at any time.
So, go ahead and pick the one that suits your style and needs best because, with these protectors, your iPhone's camera lens will stay crystal clear, allowing you to snap photos and shoot videos without worry in the world.
Disclosure: iOSHacker may receive a commission if you purchase products through our affiliate links. For more visit our privacy policy page.