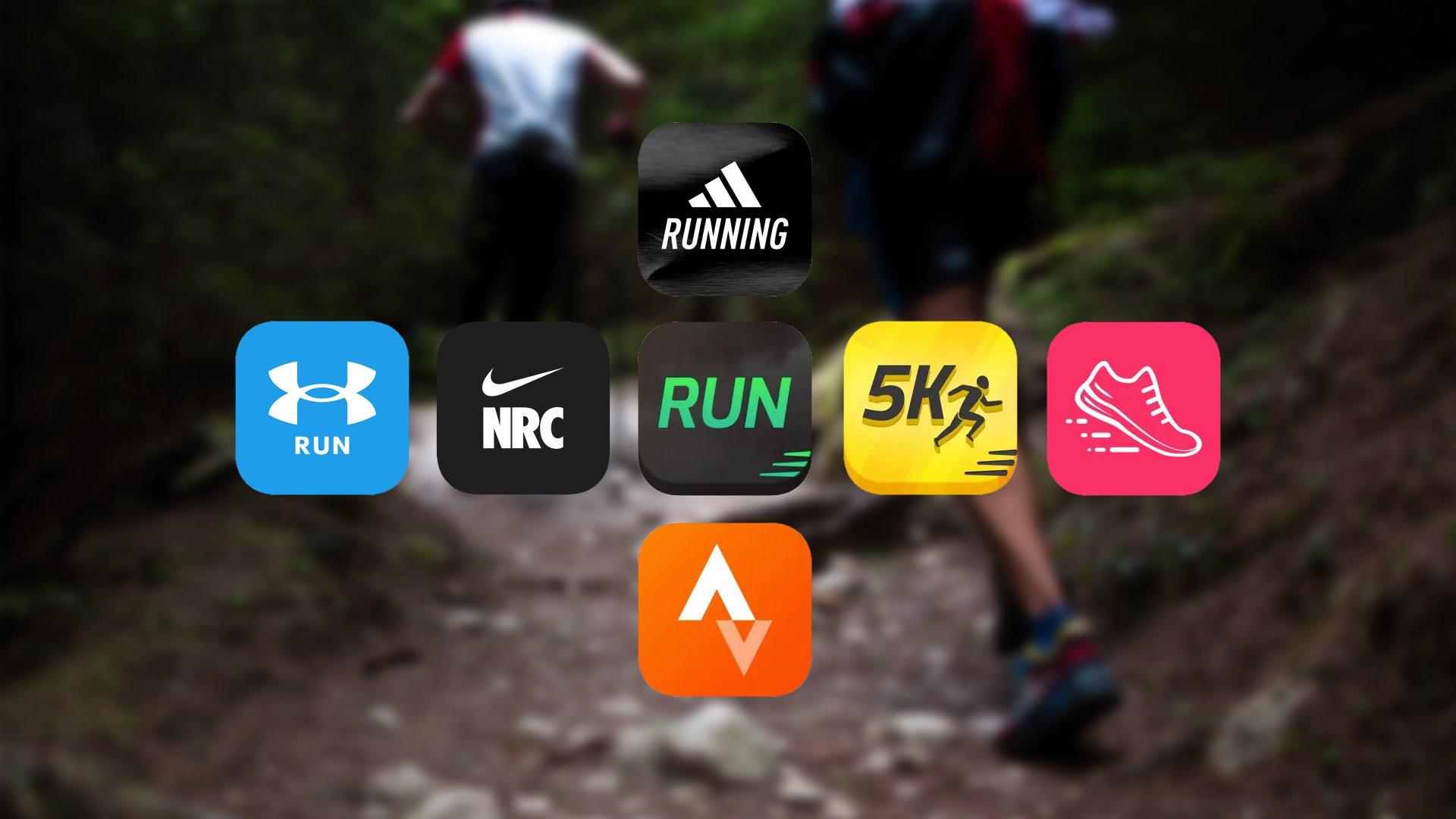 Here you will find the best running apps for iPhone and Apple Watch. These apps offer training plans, coaching, access to running data, and more to enhance your running experience.
Are you ready to lace up your running shoes and take your fitness journey to the next level with your trusty iPhone and Apple Watch by your side? In a world where technology meets athleticism, these sleek, innovative devices are more than just status symbols – they're your secret weapon for turning every run into an exhilarating adventure. From tracking your pace to choosing the perfect playlist, the best running apps for Apple Watch and iPhone are the ultimate sidekicks for every stride.
In this article, we're about to embark on a virtual run through the digital landscape as we unveil the crème de la crème of running apps designed exclusively for Apple enthusiasts. So, let's sync up, strap in, and sprint straight into the realm of the best running apps for iPhone in 2024.
It's time to make your workouts smarter, your goals within reach, and your running experience exceptional!
Best Running Apps For iPhone And Apple Watch
Here are the best running apps for iPhone and Apple Watch that you can download on your devices.
1. Nike Run Club: Running Coach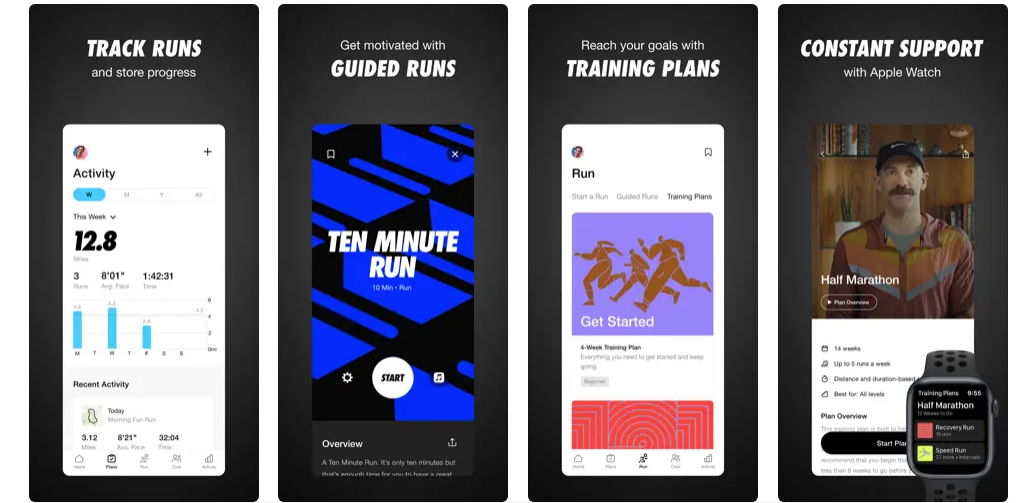 From 5k to 10k, or even tackling a half marathon, your fitness aspirations begin with the right guidance and motivation. Nike Run Club offers expert Training Plans that can turn your running dreams into reality. Let the app be your virtual coach, helping you pace yourself and reach those milestones.
Not in the mood for a structured plan? No problem! The Guided Runs, led by NRC running coaches, are your ticket to a motivating workout. Whether on the treadmill or hitting the great outdoors, you'll never run alone. Eliud Kipchoge and other Nike legends will keep you company, pushing you to your limits. You can even track runs on an iPhone without an Apple Watch.
The Nike Run Club app is your personal mile counter, running coach, and wellness advisor all rolled into one. Keep tabs on your speed, distance, GPS route, elevation, and heart rate. Sync up with your Apple Watch or other supported devices for constant support and data tracking.
Install Nike Run Club: Running Coach from the App Store now!
2. Map My Run by Under Armour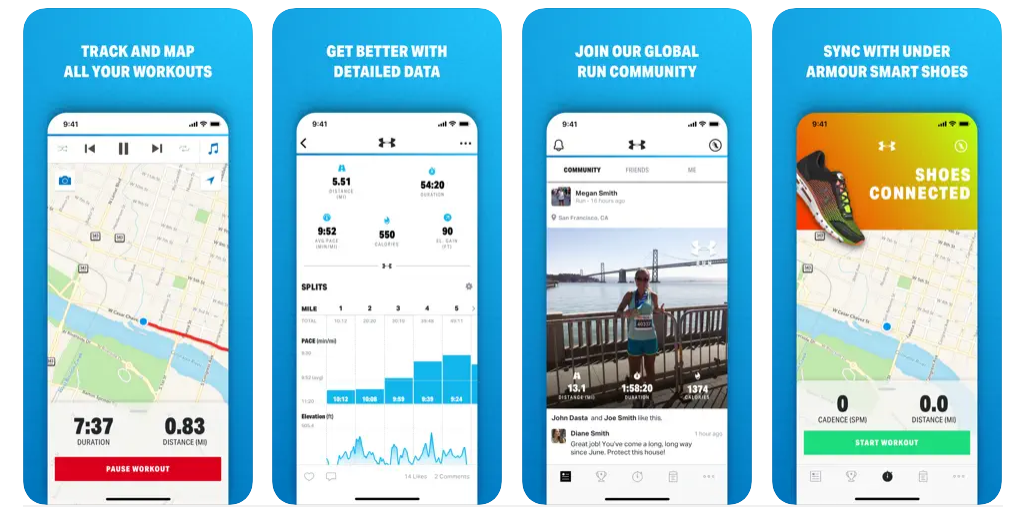 With over 60 million athletes in the community, you're joining a massive movement of health and fitness enthusiasts. Map My Run by Under Armour offers customizable Training Plans and personalized coaching tips that make running feel like a breeze. And guess what? If you're a Garmin user, you're in for a treat with personalized Form Coaching tips just for you!
Track your runs directly from your Apple Watch and get real-time updates on your progress through visuals, haptics, and audio cues. Connect your Under Armour-connected shoes and wearable devices for a premium experience, more data, and precise route tracking. Sync seamlessly with other apps and wearables like Apple Health, Apple Watch, and Garmin.
Map My Run logs over 600+ activities, from cycling and walking to gym workouts, cross-training, yoga, and beyond. Get real-time audio coaching on GPS-tracked runs, with customizable voice feedback on pace, distance, and elevation. Connect with 400+ devices to keep all your data in one organized place.
Install Map My Run by Under Armour from the App Store now!
3. Running Trainer: Tracker&Coach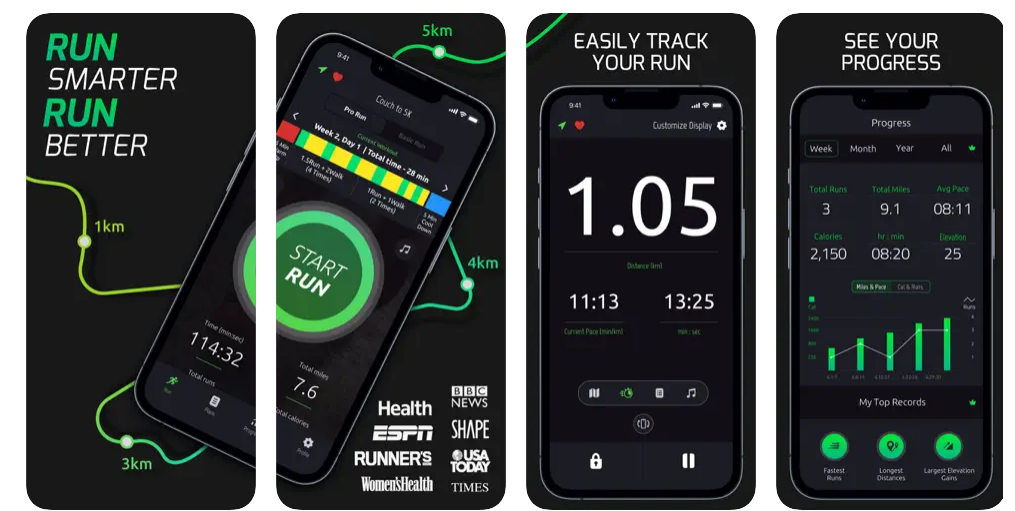 Meet your new running companion: the Running Trainer: Tracker & Coach app. This isn't just any running app—it's the most accurate one on the market, and it's wrapped up in the sleekest and most user-friendly interface you've ever seen.
Let's talk features. This app boasts the most accurate distance and time tracking, so you know your stats are on point. It keeps tabs on your average and current pace because, let's face it, progress is in the details. Running GPS with maps and predefined routes? Check. Calories burned? You got it. Time and speed splits? Absolutely. It even dives into your heart rate and effort zones, giving you a holistic view of your performance.
But we haven't even mentioned the customizable voice feedback. Imagine having your own personal cheerleader, pushing you when you need it most. And, of course, your favorite tunes are seamlessly integrated. Plus, for all Apple Health enthusiasts, it plays nice with your heart rate and calculates those burned calories, syncing everything seamlessly.
Install Running Trainer: Tracker&Coach from the App Store now!
4. Strava: Run, Bike, Hike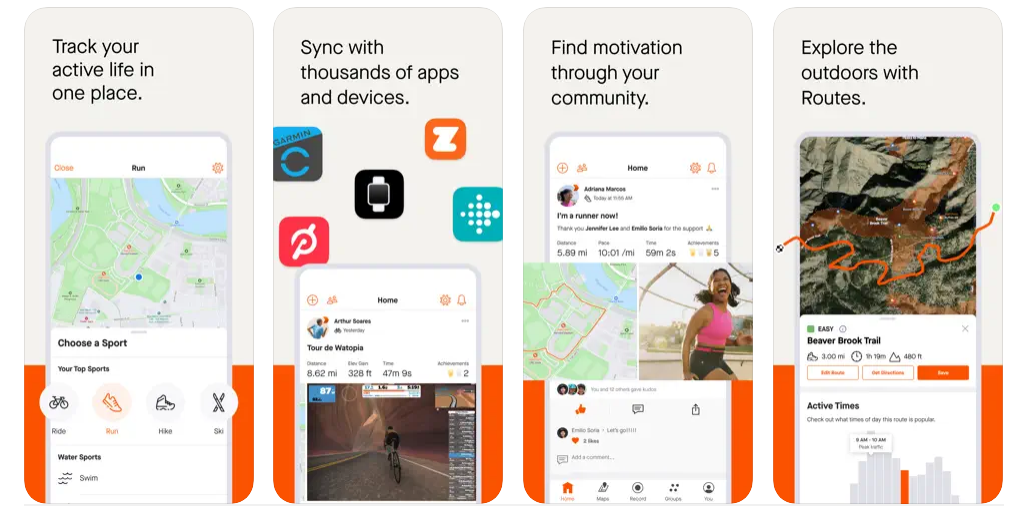 The beauty of Strava: Run, Bike, Hike lies in its versatility. It's not just for runners or cyclists; it's for everyone who moves. Record your runs, bike rides, hikes, yoga sessions, and over 30 other activities—all in one place. Strava becomes the epicenter of your movement, your home base for staying active.
Strava's Routes tool recommends popular paths based on your preferences, and you can craft your adventure. Speaking of community, this iPhone running tracker app is all about celebrating movement together. Cheer on your friends, connect with like-minded individuals, and build a network that motivates you to push your limits.
Strava isn't just a passive tracker; it's your coach, helping you train smarter. Dive into your Training Log to analyze your progress and witness your improvements over time. And when you're out and about, Strava adds an extra layer of safety—share your real-time location with loved ones for peace of mind.
Install Strava: Run, Bike, Hike from the App Store now!
5. Run With Hal – Training Plans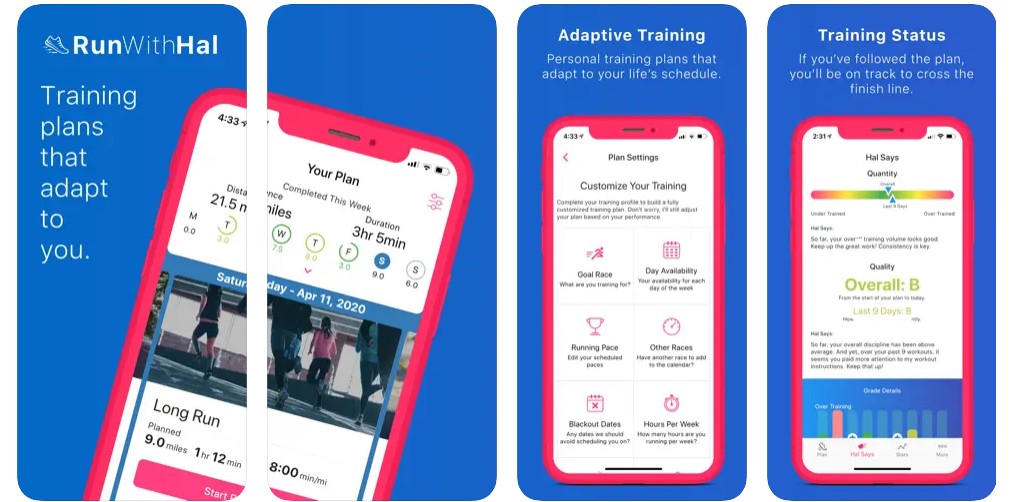 Hal is here to help you conquer anything from a 5K to a full-blown marathon or whip you into shape through the power of running. Here's the beauty of it: Run With Hal – Training Plans doesn't just hand you a generic plan. No sir! This iPhone running app carefully selects the perfect plan for you, considering your goals and experience. Then, like a running wizard, it weaves together a personalized schedule. The plan isn't set in stone; it's a flexible masterpiece that adapts to changes in your schedule, fitness levels, and goals.
The app can work around those days when life gets in the way (hello, vacations!) and seamlessly incorporate additional events you've eagerly signed up for. Finish one plan, and guess what? You get to pick your next goal, and Hal whips up a brand-spanking new plan just for you.
Your workouts won't be vague instructions. Oh no, Hal gets specific. He tells you exactly how fast and how far to run. Plus, he's not shy with the daily tips – little nuggets of wisdom to guide you towards your goals and impart some serious running knowledge.
Install Run With Hal – Training Plans from the App Store now!
6. Adidas Running: Walk & Run App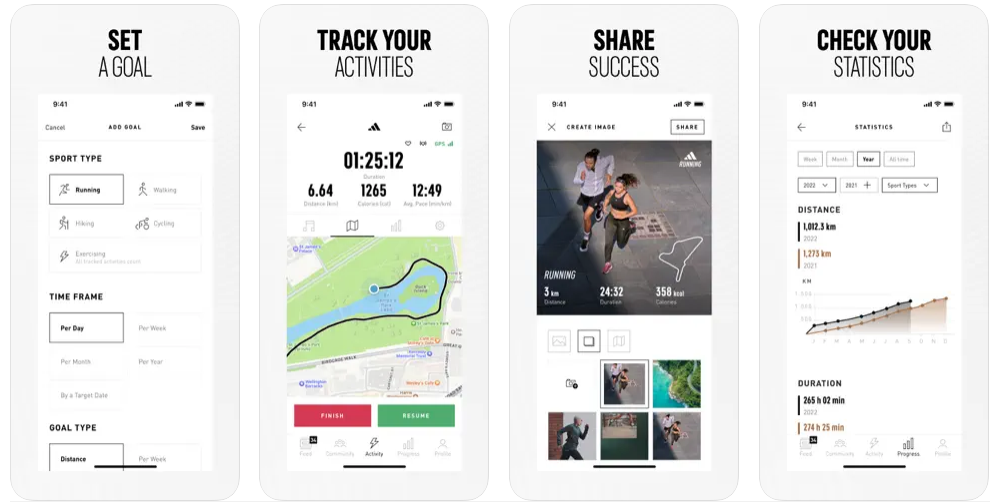 Ready to take your workouts to the next level? Meet your new fitness BFF – the Adidas Running app! This isn't just any run tracker; it's a complete health and fitness powerhouse.
Download the Adidas Running app now, and you'll be joining a community of over 170 million people who've made it their go-to fitness companion. It's not just about logging miles; it's about challenges and virtual races that keep you on your toes! Whether you're into running, hiking, cycling, or even going out with some yoga, this run training app for iPhone is tailor-made for you.
And here's the cool part – it's not just about the sweat sessions. Track your walking distance, monitor those exercise routines, and keep tabs on your weight loss journey – it's your all-in-one tracker. Watch those stats skyrocket in minutes, miles, and calories burned as you crush your fitness goals.
Install Adidas Running: Walk & Run App from the App Store now!
7. Couch to 5K Runner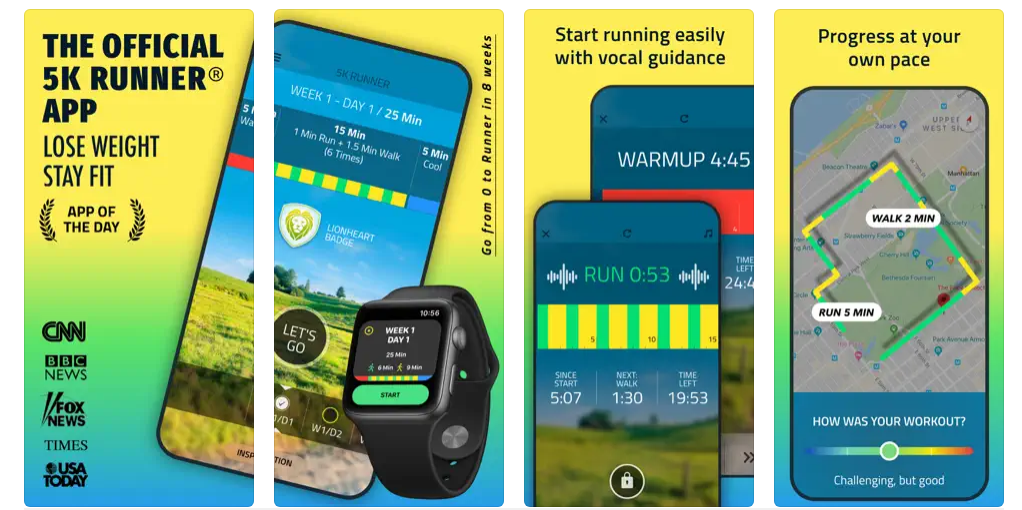 Looking to kickstart your running journey and go from couch potato to 5K conqueror? Look no further than the Couch to 5K Runner iPhone Running App. It's your ultimate running companion, and guess what? All its fantastic features are fully enabled, and no annoying ads distract you from your workout.
So, what's in store with this one of the best free-running apps on iPhone? Well, it's all about gradual progress. You'll be guided through alternating walk and run intervals, perfect for beginners. Over 8 weeks, the run segments will gradually increase, ensuring you build up your stamina comfortably.
And the best part? You won't be doing this alone. A friendly human coach will be right in your ears, telling you exactly when to switch between walking and running while letting you enjoy your favorite tunes. You can even control your music through the app or your headphones.
Install Couch to 5K Runner from the App Store now!
Run, Run, Run!
With the right app in your pocket, every step becomes an adventure, every mile a triumph, and every run an opportunity to discover your inner athlete. These best running apps for iPhone have redefined the way we run, making it not just a physical exercise but a journey of self-discovery, empowerment, and the pursuit of new horizons.
So, hit the road, track, or trail, and let your iPhone and Apple Watch be the compass that guides you toward your running dreams.
Disclosure: iOSHacker may receive a commission if you purchase products through our affiliate links. For more visit our privacy policy page.