Are you tired of constantly searching for a charger when your iPhone 15 Pro Max is on the brink of losing power? We've all been there, desperately clinging to those last few percentage points of battery life.
But fear not, because, in today's world, there's a solution that not only keeps your iPhone juiced up but also provides some much-needed protection – battery pack cases for iPhone 15 Pro Max!
We've scoured the market to bring you the ultimate guide to the best battery cases for iPhone 15 Pro Max. Whether you're a power-hungry multitasker or someone who forgets to charge their phone overnight, we've got you covered.
Best Battery Cases For iPhone 15 Pro Max
Join us as we delve into the world of cutting-edge battery cases that will keep your device charged, your day stress-free, and your Instagram stories rolling!
1. JBUBN Battery Case
We get it, your iPhone is your lifeline, and keeping it powered up is a top priority. That's where the JBUBN Battery Case steps in with a whopping 9000mAh battery that's certified by CE, FC, and RoHs. What does that mean for you? It means you can charge your iPhone safely and completely, without worrying about battery issues.
With the JBUBN Battery Case, you can bid farewell to those low-battery anxiety moments. You'll enjoy more talk time, uninterrupted music, endless movie marathons, and endless web surfing. Whether you're on a long flight, stuck in meetings, or exploring a new city, this iPhone 15 Pro Max case with a built-in battery is the best travel and work companion you could ask for.
And the exciting part? It's incredibly easy to use. Just slide your iPhone into the case, push it to the bottom, and long-press the back button for 3 seconds. Voila! Your phone is securely snug, and the charging begins. Worried about how much juice is left? No problem! Click the back indicator lights for 3 seconds to check your power status
Buy the JBUBN Battery Case for $39.82 here.
2. BOVSRT Battery Case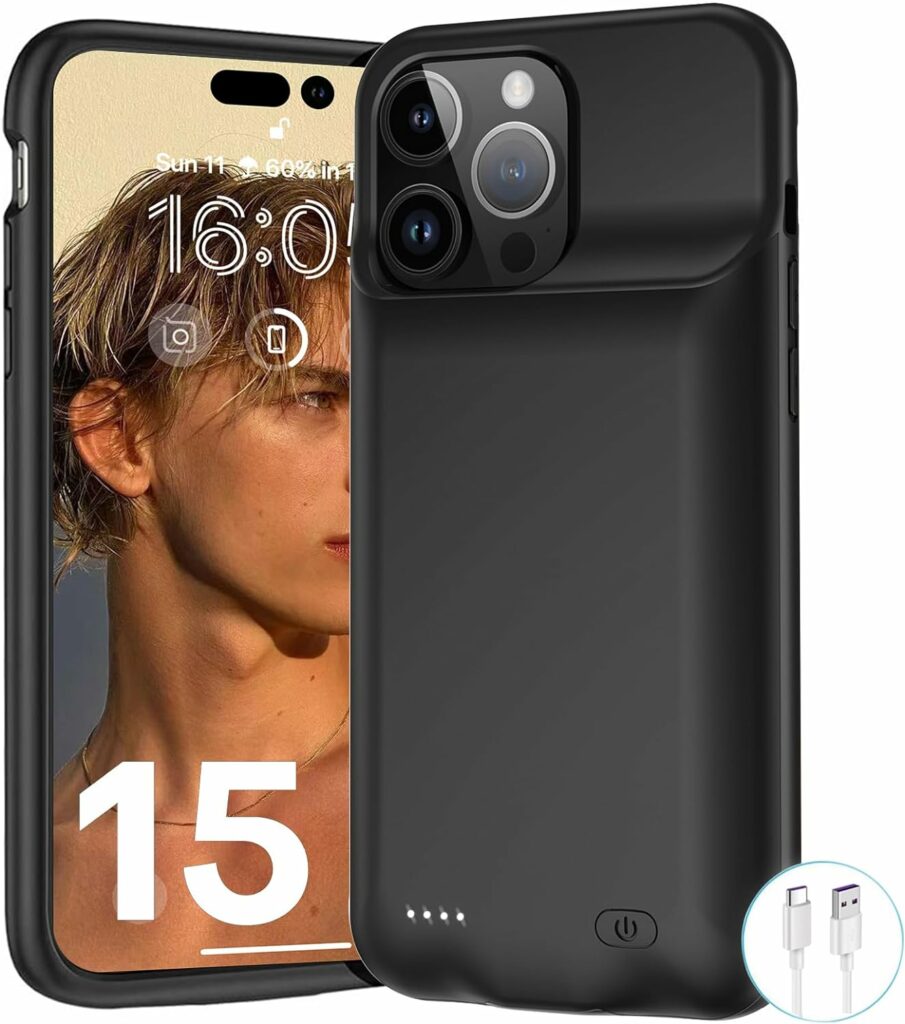 The BOVSRT Battery Case for your iPhone 15 Pro Max is your ultimate power solution on the go. Imagine having 150% extra power right at your fingertips with the built-in 9000mAh lithium-ion battery. This iPhone fast charging battery case for iPhone 15 Pro Max not only supercharges your device but also doubles up as a robust protective case, shielding your precious device from the daily onslaught of scratches and wear and tear.
The ultra-slim, uni-body design of the BOVSRT Battery Case makes it a breeze to install and carry. The brand has crafted it with elastic, soft materials and a full-edge design, ensuring your iPhone 15 Pro Max stays shielded from scratches, shocks, fingerprints, and all the daily rough and tumble.
And when it comes to knowing how much juice you have left, just glance at the power level indicator LED lights. A quick 3-second button press will start or stop charging, and those 4 LED battery level indicators will keep you informed.
Buy the BOVSRT Battery Case for $47.87 here.
3. ZEROLEMON Battery Case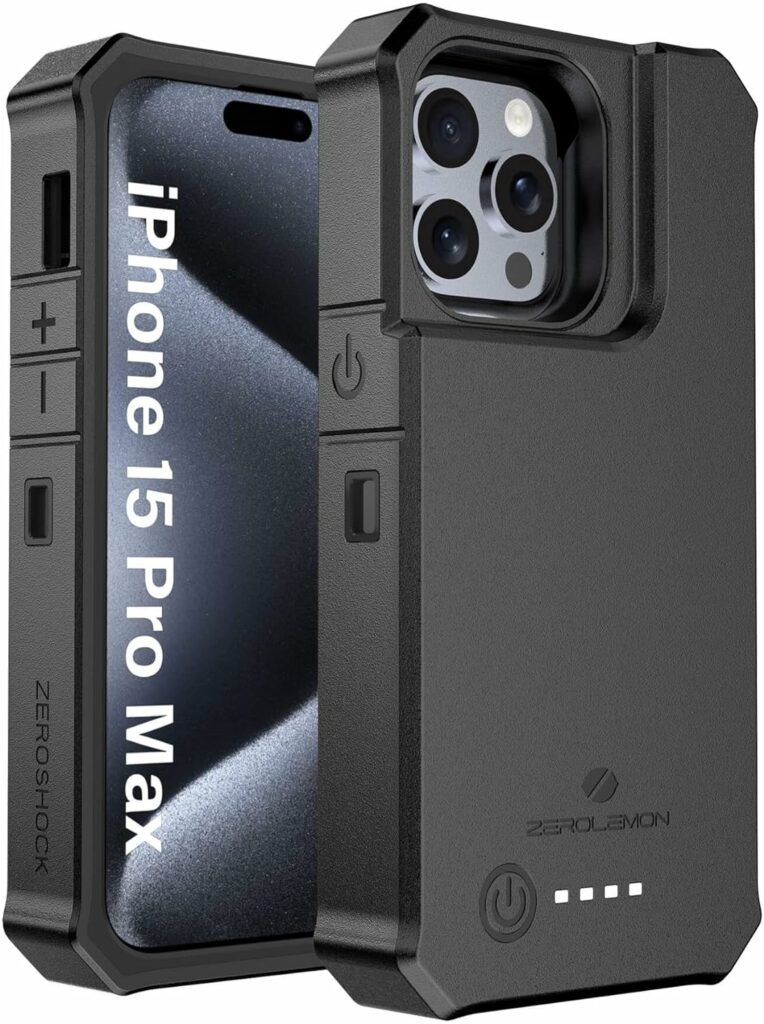 The ZEROLEMON Battery Case is the heavy-duty companion your iPhone 15 Pro Max has been waiting for. This powerhouse of a case is here to make sure your phone never runs out of juice, but it's not for the faint-hearted.
First things first, those two UL-certified 5,000mAh Li-polymer battery cells packed inside this case are no joke. They can provide your iPhone 15 Pro Max 6.7-inch with over 1.5 times the charge it needs to survive a grueling day.
Here's a pro tip: Pop your iPhone 15 Pro Max into this case, and you can fast charge it from 0% to 80% in about one hour using an Apple 20W USB C power adapter and the USB C to C cable that comes with your phone. Quick and convenient, right? The ZEROLEMON rugged case isn't just about power; it's also about keeping your precious iPhone safe from scratches and the daily grind. It offers full-edge protection, so you can flaunt your phone without worrying about nicks and dings.
Buy the ZEROLEMON Battery Case for $59.99 here.
4. Alpatronix Wireless Battery Case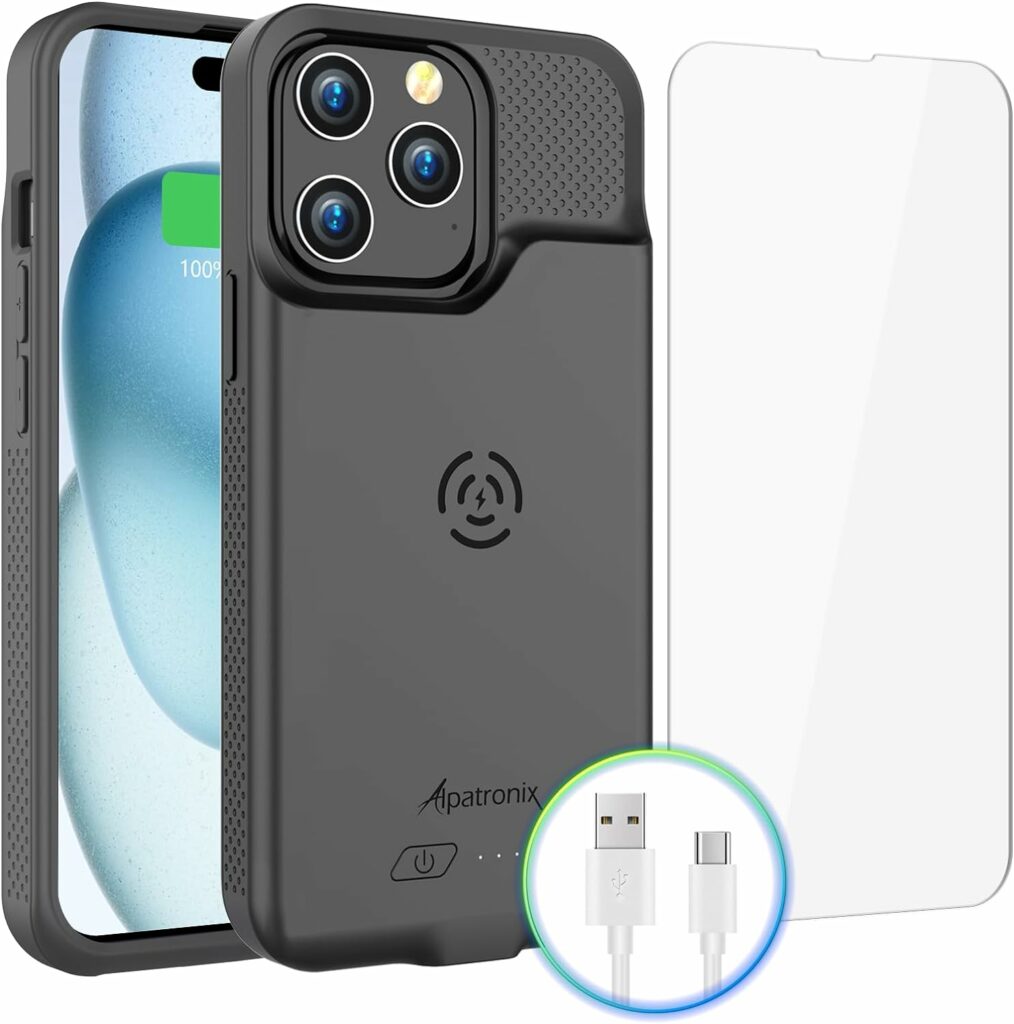 If you're tired of constantly hunting for an outlet to charge your iPhone, the Alpatronix BX15pro max battery case is about to become your new best friend. This case packs a powerful UL-tested battery, ensuring you get a reliable charge every single time.
What's really cool is that this battery case has an original connector, so it's compatible with all your iPhone functions. You can even rock your wireless headphones while your phone is snug in the case. And don't worry about compatibility – the certified chip ensures it plays nice with your iPhone 15 Pro Max/15 Plus, iOS 17, and older versions, and yes, even Apple Pay is on the guest list.
But it's not just about the charge. Alpatronix cares about your iPhone's safety too. The case comes with raised bezels and an included tempered glass screen protector, offering full front and surface protection.
Buy the Alpatronix Wireless Battery Case for $54.95 here.
5. NEWDERY Battery Case
Worried about airport regulations? Fear not! The NEWDERY Battery Case has earned its stripes with CE, FC, and RoHS certifications, making it plane-friendly and hassle-free during your travels.
This charging marvel comes with a built-in magnetic module, allowing you to embrace the wireless revolution. Quick and convenient charging is at your fingertips, whether you prefer a wireless charger or the mighty MagSafe charger. Plus, you can simultaneously charge both your iPhone 15 Pro Max and the case using a USB-C cable, ensuring you're always ready to roll.
Installation has never been smoother or safer. The NEWDERY case is designed for ease and security, making it a breeze to carry wherever life takes you. And here's a nifty feature: power level indicator LED lights. Just press the button for 3 seconds to kickstart or halt the charging action. The 4 LED battery level indicators keep you in the know about your power status, ensuring you're never caught off guard.
Buy NEWDERY Battery Case for $49.99 here.
6. GIN FOXI 15W Fast Charging Battery Case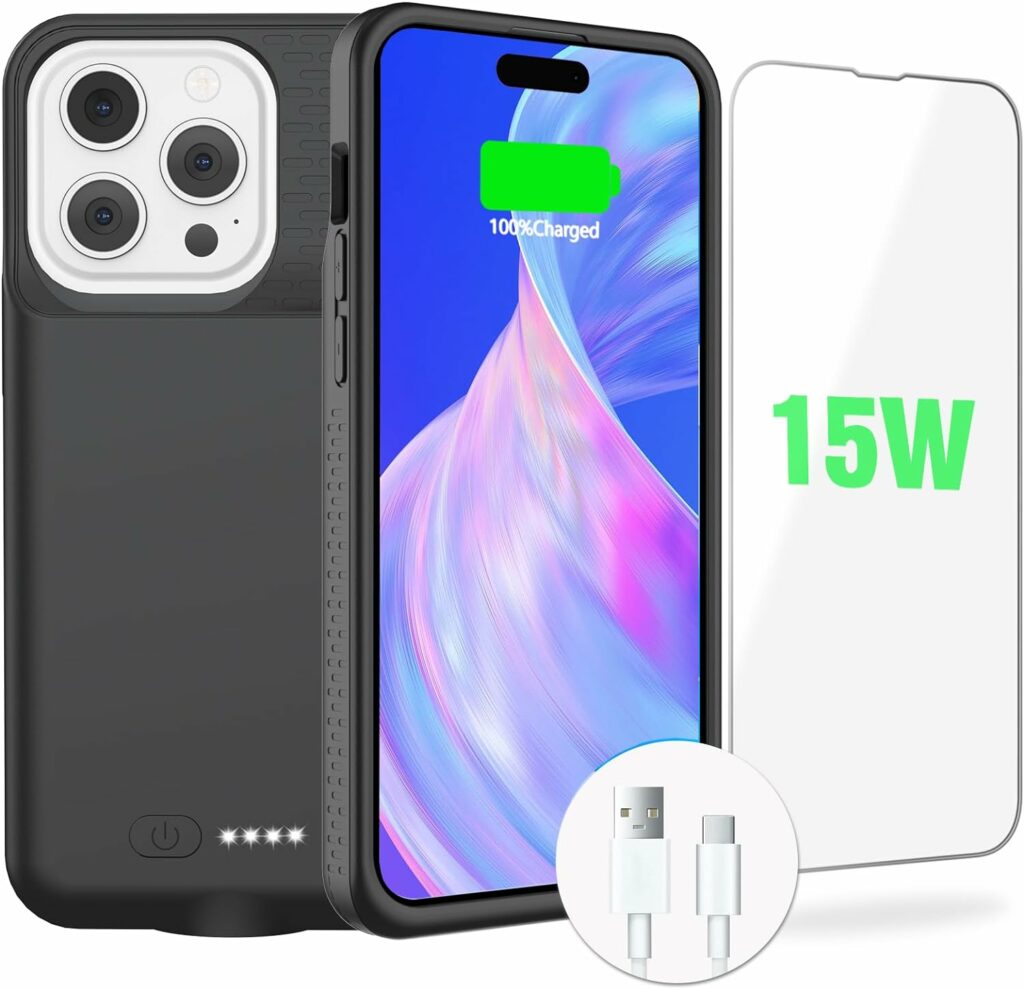 With a super-fast 15W power and a whopping 3A of amps, GIN FOXI 15W Fast Charging Battery Case can take your iPhone from 0% to 55% in just about 30 minutes. That's faster than you can finish your morning coffee! Tested 30000 times in insertion and withdrawal, it gives you peace of mind and easy access to the Type-C port. The high-precision encryption chip ensures a safe and swift charge without any annoying pop-ups.
Crafted from advanced original iPhone materials using the latest welding technology, this battery case is built to withstand the test of time. It boasts more than 1000+ charging cycles, outlasting other battery cases in terms of durability. The upgraded buttons add a touch of finesse, responding to your commands with impressive sensitivity.
Certified by CE, FC, and RoHS, the inner smart security chip provides 10 heavy security protections. Say goodbye to worries about short-circuiting, overheating, or overcharging. The raised bezels and hard-shell backplate offer 360° full protection, ensuring your iPhone stays as safe as Fort Knox.
Did we mention it's travel-friendly? The lightweight ultra-slim design fits perfectly in your hand or pocket, making it ideal for on-the-go charging.
Buy GIN FOXI 15W Fast Charging Battery Case for $39.99 here.
The Bottom Line
In a world where staying connected is non-negotiable, the search for the perfect battery case becomes a quest for uninterrupted adventures and seamless conversations. As we bid farewell to this roundup of the best iPhone 15 Pro Max cases with battery pack, we're left with more than just a list of gadgets; we have a passport to a world where low battery anxiety is a distant memory. From sleek designs to powerhouse capacities, these cases are not just accessories—they're the unsung heroes of our digital lives.
So, as you embark on your journey armed with one of these iPhone 15 Pro Max with Qi rechargeable battery cases, may your phone stay charged, your experiences stay memorable, and may you revel in the freedom of a device that's always ready for the next chapter in your story.
Charge on, and let the adventures continue!