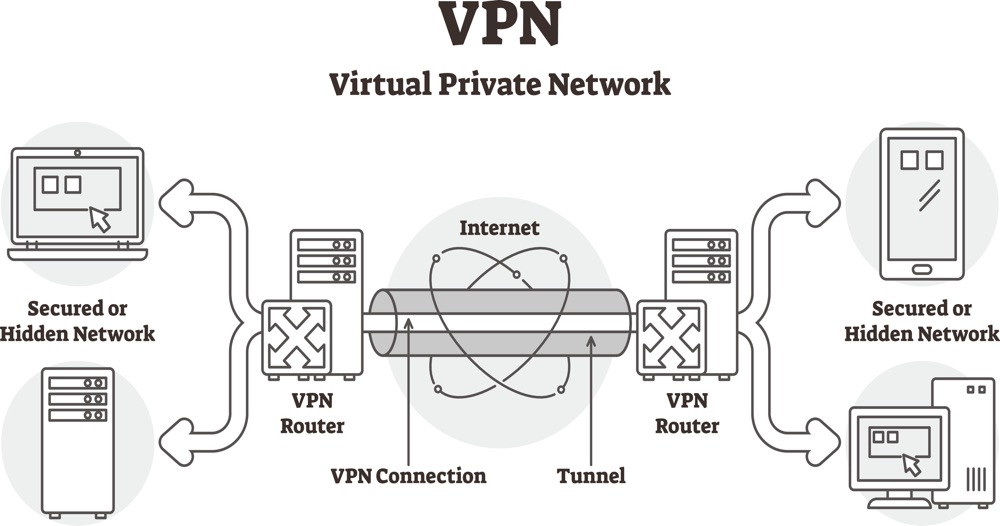 The world is very wired indeed, especially now that the internet connects virtually all parts of the globe 24/7. People are no longer bound to desktop workstations or even laptop devices since they could go online anytime and anywhere they wish with the use of mobile devices. But with all these internet exchanges, issues regarding security and privacy abound. Thus, experts now promote the use of extra layers of online protection such as VPNs, even for mobile gadgets—including iPhones.
A VPN, or virtual private network, is used to route internet activity through a secure and encrypted connection. You can download a VPN app on your Mac and iPhone and start using it after easy setup. This secure encryption serves to prevent other online users from seeing what you're doing while you're surfing the internet or accessing apps. What's more, a VPN also secures where you're doing it from as well. 
Is A VPN Advisable For iPhone Users?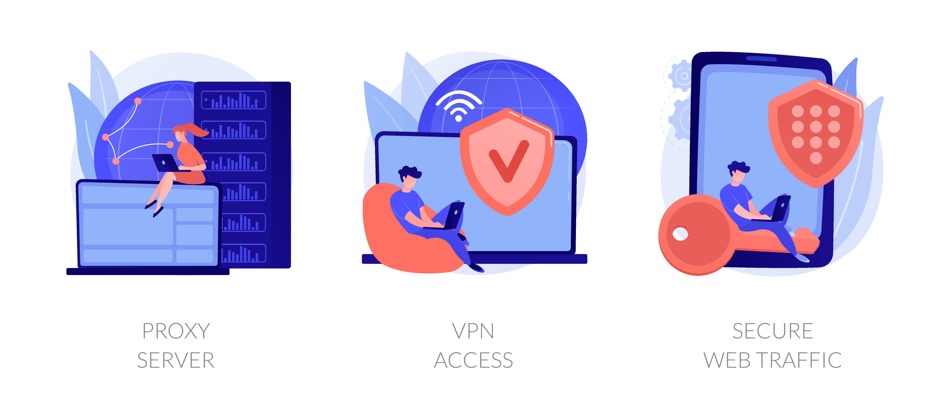 Since a VPN can provide an extra sense of security and privacy, not only can it be used on your iPhone, but it's highly recommended. Here's why:
Secure Internet Connection
While VPNs are vital to use on laptops and home Wi-Fi networks, having the safety of a secure internet connection on your phone is even more relevant. Think about all the times you walk into a shop, café, or library, even a friend's house, and the first thing you do is connect to the Wi-Fi. Sure, their free internet can be useful, and it's right there at your disposal already. But did you ever think about the fact that it's not secure? Even if you have to use a password to access their networks, security isn't guaranteed in such set-ups.
Setting up a secure VPN, however, can protect your precious Apple gadget from hackers who can easily guess those passwords while you're taking advantage of free internet on your phone. This keeps your surfing and information secure.
Protects Privacy
A mobile VPN will also protect your privacy from prying eyes like Google or other websites that track your browsing habits. If you've attempted to use a private browser to protect your information, this can be a step in the right direction.
But a VPN will provide the most privacy and safety of information. When using one, you're always utilizing a private browsing mode instead of having to remember to open up a private browser each time you want to scroll through the internet aimlessly. A VPN automatically protects your privacy that way.
Unblocked Internet Access
Perhaps the main attraction of having a VPN for iPhone users is the way it lets them gain access to areas they normally can't. Not many people might know this fact, but just because one website is accessible in several parts of the world doesn't mean it's automatically accessible all over the world.
And these websites aren't even the controversial, polarizing, highly political, or pornographic ones. Sometimes, even seemingly harmless websites like a pet store shop or a company website could be run with certain access limitations, often based on geographical areas. Simply put, if you're not in the same region as that website, then your access could be blocked.
Sometimes, access is blocked by certain Wi-Fi networks to protect their constituents. For example, this type of limited access is typically used by some schools that limit their students' access to particular sites. Sometimes, even country governments could block specific websites from the entire nation's access to protect their national security interests. If you happen to travel in these countries, you'll also be subjected to the same limitation.
Thus, a VPN can guide you around those censorships regardless of who put them in place. VPNs both hide and encrypt your internet traffic, which allows you to unblock virtually any website that your school, work, or government may be blocking.
Stay Anonymous When Shopping
Many travelers, or shoppers in general, will turn to the internet to look for airfare, hotels, car rentals, or other sites that require you to input a lot of personal data. But what about a data breach? What if these websites were hacked, and the data stored in them are hacked?
With a VPN, you can shop for all of these things without giving up your privacy. Just turn it on before you indulge. Just make sure when setting up your VPN that you put the high privacy settings on, including anti-tracking modes, to ensure you truly remain private and anonymous online.
Sorting Lemons For Apple Devices
Now that you've decided a mobile VPN is needed for your iPhone, the next step is to research the different VPN services available for users like you.
There are websites out there that will do the majority of the work for you. One example is www.invpn.com, where they do a comparative analysis of what's out there. Their site does the basic research for you and provides a list of their top choices and why they made those choices. They would sometimes forward their recommendations, but it's still up to you to make the final decision based on your specific surfing needs.
Of course, not all VPNs were created equally. But there are certain things to look out for if you're just getting started using one for your iPhone. Here are the top VPN essential characteristics to check out:
Platform Availability
Even though hybrid apps now exist, some VPNs run exclusively on specific platforms only. See if it's available for Windows or macOS only, which means they won't run on Android or iOS. Check if they also have browser extensions.
Number Of Connections
Most VPN subscriptions would offer one basic connection for your laptop or desktop and another for a mobile connection. But some offer more than five connections at the same time, meaning five different devices could run it at once.
Number Of Servers
The servers are often location-based, and you could choose any area to connect to with your iPhone. Depending on the VPN and your plan, you could access around 100 servers or even more than 1,000 servers. Some VPNs even offer more than 5,000 servers. Thus, when you can't access one, you have hundreds or thousands more to choose from and connect.
Plans And Pricing
People would regularly opt for free plans, which is fine. Many VPNs offer such set-ups. You could check out some free services worth downloading to begin. But for those who want to beef up their internet security access, they can shop around via the free trial systems of some VPNs, get a feel of their interface, then subscribe to the paid plans.
Monthly paid plans could start as low as USD$2-4 per month, while some could go as high as USD$8-12. You could avail of bigger discounts when you choose quarterly or yearly subscriptions. Some VPNs don't offer free trials, though, and engage customers to jump to the paid plans already.
What To Consider When Choosing VPNs For iPhone
Most VPNs are all great for general use, but know that there are also dedicated IP VPNs. A dedicated IP VPN is an IP address that's only used by one person, as opposed to a generic VPN server which will provide an IP address shared among many different users.
When choosing which VPN service to use on your iPhone, there are some questions you'll want to consider:
Is the connection secure?
The best VPN providers will use at least 256-bit encryption. But regardless if you avail of a free plan or a paid one, you'll want to be sure if it has some level of protection. Note that many free services offer very low levels of protection, the reason why smart surfers subscribe to paid plans.
Does the VPN provider log your activity?
When privacy is what you're seeking, it's pretty obvious that you'll want to make sure the provider you go through doesn't keep a log of your activity. Some VPNs do, and some don't. Always read their fine print. If the VPN service you choose has a 'no logs policy' in their terms, you'll know the server is trustworthy because they're committed to guarding your privacy–hence not logging and saving your data.
How fast is the connection?
Connection speed might not make a huge difference to you, but speed is always a deciding factor for many. This is the reason why VPNs list how many servers they provide. The more servers are provided, the more speed you will have. And more countries hosting many servers will provide a larger network, guaranteeing better speeds and a more stable connection.
Are there any usage caps?
To attract new customers, many paid subscription VPNs will offer a free tier to begin with, but they cap the time of its use. For example, some free VPNs could offer 500MB on a daily basis for free, while others give first-timers 1GB of access data. When these freebies are used up, netizens could wait for the time reset to replenish the free data access. Some VPNs that offer free trials will not have a freebie reset and will redirect you to try one of their paid plans. The usage caps will now depend on the plan you purchase; some offer unlimited data access while others have varying data limits.
Key Factors To Remember About VPNs
Knowing what to look for in a VPN will be very important when you begin searching for different servers available to you. Check for the following factors:
Having 24/7 customer service availability is crucial since you're dealing with technology that correlates directly to your safety and privacy.
Bulletproof security via encryption protocol and 256-bit (or higher) keys means little to no chance of anyone decrypting your data.
A user-friendly interface is more important than one may think. When downloading a VPN service to your iPhone, it should not only be nice to look at but easy to use as well.
Do You Need A VPN For Your iPhone?
Some people may truly believe they don't need a VPN, while others think otherwise. Here are some reasons why you would want to look for one of the best VPN servers for iPhones and install it immediately:
You Utilize Public Wi-Fi
Using public Wi-Fi or even Wi-Fi hotspots while you're in any public space puts your data at risk. Other people, hackers especially, who connect to that same Wi-Fi or hotspot could have the ability to steal your information. Even if you think you're in a secure spot like a coffee shop that provides its own internet access exclusively for customers, hackers could still swoop in and invade your privacy while having innocent coffee.
You're An Avid Traveler
If you travel a lot, especially outside the country, not only is your data at risk, but many sites will be blocked due to censorship restrictions. As mentioned, some countries might not be that democratic when it comes to international internet access, so they put up firewalls and block certain social media apps or websites.
In addition, public places frequented by travelers could also be ripe for small-time hackers bent on identity theft or financial theft. Airports, transportation terminals, and similar places often offer free public Wi-Fi for tourists and travelers alike. But again, such publicly accessible connections could be prone to hacking.
You Care About Privacy
Even if you don't use public Wi-Fi or travel as much, there's still the matter of privacy. Many people don't worry about someone watching their online presence because they believe they have nothing to hide. Even if that's the case, there's always the risk of giving up your privacy because other people are peeking into your internet history and stealing your information. Innocent activities such as online shopping or online donations could be potential gateways to stealing your data.
Safer Connectivity Is Key
VPNs for a home, work, or business computer can be highly beneficial, given the world's circumstances. Since the world has become accustomed to using smartphones at all times, people often forget just how much information can be taken from them when doing basic internet browsing.
It's safe to say that many people might be surfing the web on their phones far more often than their computers these days. Because of this, netizens should have a VPN on their phone to ensure their privacy and security.
Don't let your phone be a weak spot. Instead, search for viable VPN services for your iPhone, and begin protecting yourself and your information.
Disclosure: iOSHacker may receive a commission if you purchase products through our affiliate links. For more visit our privacy policy page.