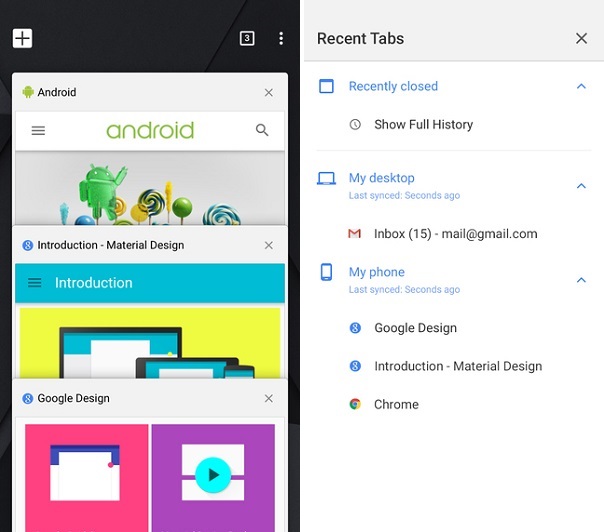 Google Chrome browser for iOS just got a massive update that brings a bunch of new features to the app. The most notable change this update brings is visual as it brings Google's new material design to the browser. The material design that has already debuted in several other Google apps looks just as good on Chrome. The redesign can be seen in almost every part of the Chrome browser including tabs, menus, Google Now etc. The new look according to Google's change log brings "bold graphics, fluid motion, and tactile surfaces". The design is available on both iPhone and iPad devices.
Another major new feature this feature brings is the Handoff support. This means now Chrome fully supports iOS's amazing Handoff functionality, which allows users to continue working on their Mac right from where they left on their iOS device. The support is not limited to desktop version of Chrome only as it will work with any default browser.
In this update Chrome has finally got full support for iOS 8 as well as the larger iPhones, including the iPhone 6 and iPhone 6 Plus. There are many stability improvements and bug fixes as well.
You can download Chrome for iOS web browser on your iPhone, iPad or iPod touch for free using the link below.