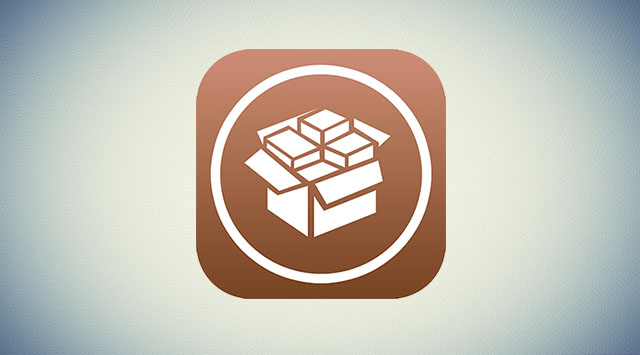 iOS 8 jailbreak has been out for a while now and almost all popular tweaks have been updated to support it. In addition to older tweaks getting updated there's a wide range of new releases that we saw over the past few months. These releases contain some amazing gems that every iPhone, iPad and iPod touch user should try on their device.
To help you find the best and must have iOS 8 Cydia tweaks available for download we have created this list that contains some of our most favorite hacks. They make the life of iOS users easier and makes it more fun for them to use their devices.
Below you can find some great recommendations for what you should have on your device. If you are someone who has jailbreaked his or her iPhone or iPad for the first time then this list can also act as a fantastic starting point. So without any further ado lets get into the business of listing the 50 must have Cydia tweaks for iOS 8 that everyone should download in 2015.
Also read: 50 Must Have Cydia Tweaks for iOS 9 You Should Download in 2016
1. Auxo 3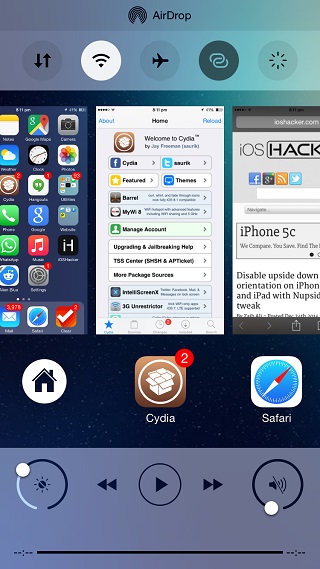 Auxo 3 is certainly one of the most high profile Cydia tweaks ever released. It is a multipurpose hack that combines the Control Center and the App Switcher in a single interface. In addition to that it also has some really nice feature that makes it convenient for users to switch between apps, return to the homescreen and more. You can learn more about Auxo 3 in our detailed post. It is available for $2.99.
2. Asos
Asos is a tweak that specializes in privacy as it adds passcode and Touch ID protection to specific apps. So if you want to protect private apps from other people then you can activate this tweak for them. Once you have done that no one without the password or your fingerprints will be able to access those applications. Asos costs $0.99 in Cydia. Learn more about Asos tweak here.
3. AnyDrop 3
AnyDrop 3 tweak makes iOS's AirDrop feature what it should have been. It allows users to share files with other users via Bluetooth. The best thing about it is you can share file system files with other people using this tweak as it features a built-in file explorer with root level access. It is available in Cydia for $2.49. Learn about AnyDrop 3 in detail here.
4. Browser Changer
The name of this tweak is pretty self explanatory. It allows users to set a third-party web browser such as Chrome as their default browser. This means all the outside links will automatically launch your specified browser instead of opening Safari. It is available for free.
5. Badgomizer
As someone who always has loads of pending notifications I can say badges are among the most notable aspects of my device's homescreen. While you can't get rid of them altogether, why not make them suit your taste with Badgomizer. This tweak allows users to customize the icon badges in iOS 8 letting them change color, shape, position, size and more. You can get it from Cydia for $1.49.
6. Camrix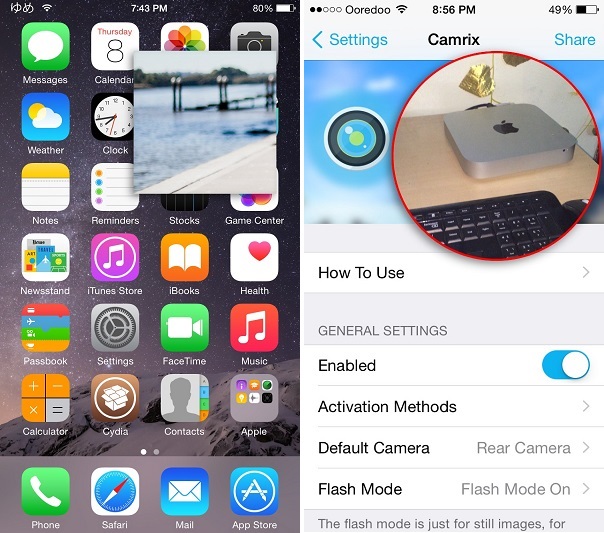 Camrix lets you take photos from anywhere without even launching the Camera application. Unlike other tweaks of its kind it even shows you the preview in an overlay on the screen. You can assign any Activator gesture or action to this tweak. Learn more about Camrix here. It is available for $1.99.
7. CameraTweak 3 (iOS 8)
CameraTweak 3 (iOS 8) is a must have for people who care about the photos and videos they take with the iPhone. It offers features like ability to change resolution of photos, separate focal point from exposure, ISO settings, shutter speed and more. More information on CameraTweak 3 is available on our detailed post. It costs $1.49.
8. CameraModes
CameraModes is yet another Camera related tweak that makes user's life better. It allows you to hide Camera modes that you don't use, which makes switching between modes much easier. You can get it for free.
9. Confero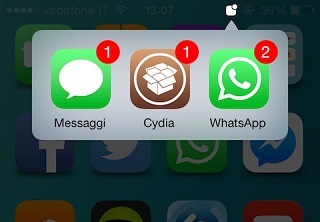 Confero manages all your pending notifications by putting them in a folder accessible through the status bar. You can dismiss them right from the folder, launch the app they belong to and add Touch ID protection to it. Confero costs $1.50. More information on Confero tweak here.
10. CCSettings
CCSettings is a classic that every jailbreaker should have installed on their device. It enables users to add, remove and rearrange Setting toggles in Control Center. You can get it for free.
11. ConvoPics
ConvoPics brings iPhone 6 Plus's feature of showing profile pictures in Messages app's conversation list page to smaller models, showing how ridiculous Apple is to not include it in all devices. You can get it from Cydia for free.
12. Centrum (iPad)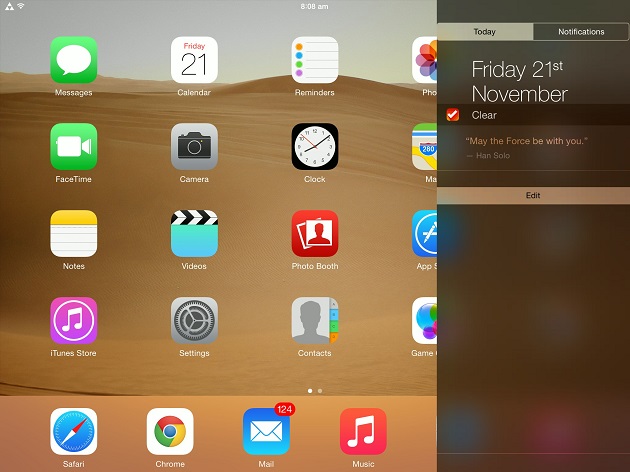 Centrum brings iPad closer to the Mac by replacing the usual notification center with the one that is inspired with OS X's notification center. With Centrum you get the NC on the side and can access it by swiping from right side of the screen. While the overall look is same as that of iOS the tweak does have a very noticeable affect on the notification center's overall look. It costs $0.99.
12. Carpe Diem
Carpe Diem is a cleverly designed tweak that allows users to put any notification center widget to the Reachability's blank area. After installing it all you have to do is go to the tweak's Settings page and select the widget that you want to show in Reachability mode. You can choose widgets from both stock and third-party apps. Carpe Diem is available in Cydia for $0.99. ReachWeather is another interesting tweak that you can try.
13. CallBar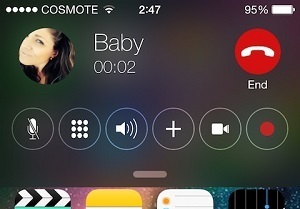 CallBar is a tweak that brings the Phone app to all parts of iOS complete with features like accessing the contacts list, initiating a call, accessing call log, dialer, voicemail and more. You can perform all these functions right from the CallBar without even launching the Phone app. This hack great for multitasking while you are on a call. You can download it from Cydia for $3.99.
14.  CacheClearer
CacheClearer lets you temporarily gain storage space that is used by apps to store their data temporarily. With CacheClearer you can not only gain disk space but also reset apps to their original state. CacheClearer is available in Ryan Petrich's repo (http://rpetri.ch/repo) for free. More information is available here.
15. Cobalia
iOS 8 features a bar in the App Switcher that displays recent and favorite contacts. While this bar is useful to some users other find it unnecessary. You can use this space for something that suits you more with the help of Cobalia, which lets you add toggles to this space. Learn more about Cobalia here. Its available for free.
16. DoubleCut
DoubleCut allows you to enter your email address by double tapping the '@' button, saving you time and effort since you don't have to write the whole thing. You can write your email address in DoubleCut's preferences and insert it anywhere you like in just two taps. DoubleCut is available for free.
17. DetailedBatteryUsage
iOS 8 has a hidden battery usage page that contains details that are out of reach for normal users. DetailedBatteryUsage unlocks and shows details like usage graph, battery drain, active and background usage and more. You can get it from Cydia for free. More details here.
18. Eclipse 2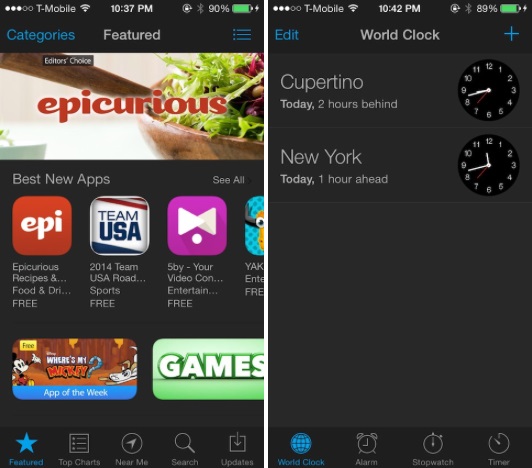 Eclipse 2 adds the missing dark mode to iOS making it possible for users to have a completely different look on their devices. Eclipse not only affects the stock apps and different aspects of iOS but it also adds a dark mode to third-party applications. Apart from black you also get to choose background colors and more. Eclipse 2 costs $0.99.
19. EqualizerEverywhere
Unlike iTunes, iOS does not feature a built-in equalizer. For those of you who really care about the sound the EqualizerEverywhere adds this feature to jailbroken devices. The Equalizer is added to the control center, which means it is accessible from all parts of the operating system. You can get it for $3 from Cydia.
20. FailSafe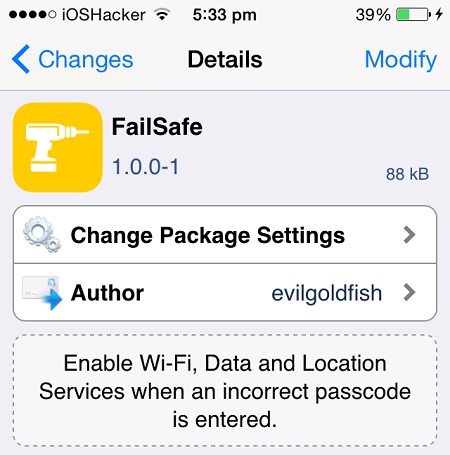 FailSafe is a security tweak that automatically enables system settings like WiFi, Location Services and cellular data when someone tries to unlock your device by entering a wrong passcode. This tweak is helpful if you lose your device with these settings off and want to locate it using Find My iPhone. It is available for free in http://evanpetousis.me/repo/ repo.
21. F.lux
F.lux is a must have for people who like to read or browse the web on their iPhone or iPad at night time. It automatically warms up the screen colors at night. This not only makes it convenient to use the device but is also good for the eyes. F.lux is available in Cydia for free.
22. GuestMode
GuestMode lets you share your device with other people while keeping your private data and apps secure. You can invoke guest mode with an Activator gesture or by typing a specific passcode. Once GuestMode is activated other users will be able to use the device normally, without getting access to parts of iOS that you have locked. It is a great tweak and a must have for those who share their device with friends often. GuestMode costs $0.99.
23. HideMe8
HideMe8 (iOS 8) lets users hide different elements from Control Center, lockscreen, Notification Center and the SpringBoard making it possible for the users to personalize their device and get rid of features and buttons they don't need. You can get it from Cydia for $2. A lite version is also available for free.
24. HandyKey
If you are an iPhone 6 Plus owner who find it difficult to type with one hand then HandyKey can help. It adds the iPhone 5s size keyboard to the device and then aligns it to either left or right side so you can type using one hand. You can swipe with two fingers to switch modes in this keyboard. HandyKey is available in Cydia for $0.99.
25. iCleaner Pro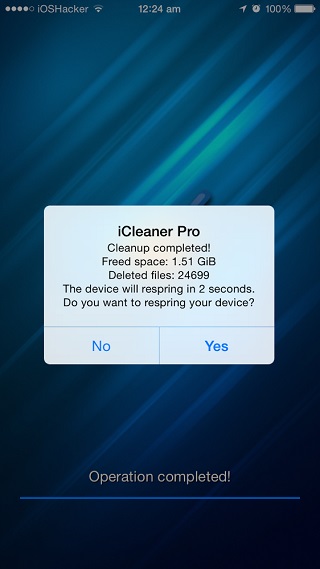 iCleaner Pro is one of the best maintenance tool available in Cydia today. It allows users to free up storage space by deleting unnecessary files. It clears space by deleting files from Messages, Safari, Apps, OTA Software updates, Cydia files, unused dependencies and other temporary files. iCleaner Pro is very effective and is capable of clearing significant amount of disk space over going over 1GB. You can get if for free.
26. iAppLock
iAppLock lets you put a password or combination lock on certain apps so no one can access them without your permission. It is great for protecting apps like Facebook, Snapchat, Mail, Messages, Photos and more. You can get it for free. You will need to purchase a license to unlock all features.
27. IfFound² (iOS 8)
IfFound puts emergency contact information on the lockscreen that is accessible through the on-screen button. This info can help the person who finds your device to call you and return the device. The hack even puts the call button on the lockscreen so anyone can call you without even unlocking the device. IfFound is available for $0.99.
28. Ignition iOS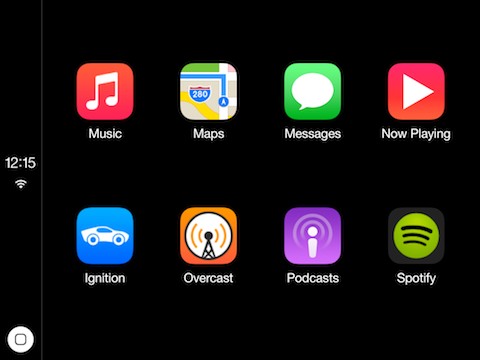 Ignition iOS is an app for iPad and iPhones that turns these devices into a full-fledge standalone Apple CarPlay panel, complete with features like Phone, Music, Spotify, Siri, Contacts, Messages, Maps and more. You can get it for free from Cydia.
29. KeyCommands
If you use a physical Bluetooth keyboard with your iPhone or iPad then you will love KeyCommands. This tweak enables users to add custom key shortcuts to perform different tasks. It integrates with Activator to let you create actions that are performed when you press a combination of keys on the keyboard. Example includes copy, paste, switching apps and more. KeyCommands costs $1.99.
30. Locus
Locus tweak allows users to turn location services on in selected apps only while keeping it disabled rest of the time. This helps in saving battery and gives you more control over an important iOS feature. Locus is a free tweak.
31. LockGlyph
Lockglyph brings the super cool animation that appears when you authorize Apple Pay using your Touch ID fingerprint to the lockscreen. The animation is display whenever you use Touch ID to unlock your iPhone or iPad. LockGlyph is available for free.
32. NoTouchCancelReply
When you are typing a reply using the quick reply feature of iOS 8 it is very likely that you end up dismissing the quick reply screen by tapping the empty blurry space present between the banner and the keyboard. NotTouchCancelReply fixes that by removing this annoyance. You can get it for free.
33. NotificationKeeper
With NotificationKeeper you can set different settings for notifications based on their type. This tweak cleverly uses keywords so if a notification contains a certain keyword it will not be blocked even when Do Not Disturb is enabled. You can also disable DND mode in certain apps of your choice. Learn more about this tweak here. It is available for $0.99.
34. NoRecentlyDeleted
iOS 8 brought an annoying feature in Photos app that stores deleted photos for 30 days before completely removing them from your device. NoRecentlyDeleted fixes that by removing this feature. You can get this tweak for free.
35. Protean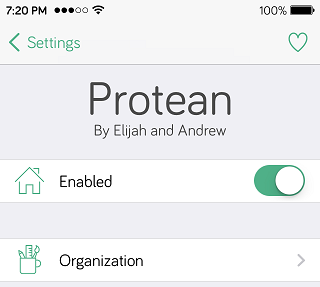 With Protean you can add, remove and modify items in the status bar and customize it according to your liking. You also get to rearrange items in the status bar. Protean is a paid tweak that costs $1.99. Learn more about its features here.
36. PrefDelete
PrefDelete lets users delete installed tweaks by uninstalling them directly from the settings app. With this hack you don't have to open Cydia to uninstall the hack as you can simply tap and hold on its preference cell and then hit the delete button to get rid of it. It is available for free.
37. ReachApp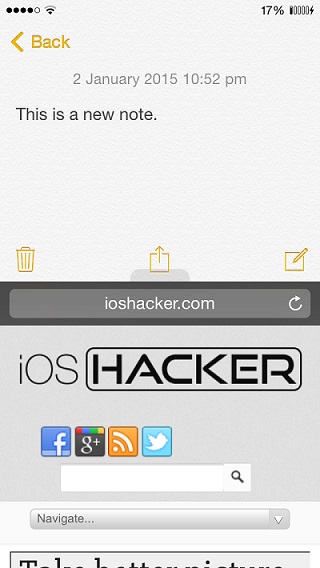 ReachApp brings split screen multitasking to iOS enabling users to use two apps at the same time. Both apps in ReachApp are fully useful and you can resize each app's visibility area by dragging the grey line. ReachApp is available for free.
38. SwipeSelection
SwipeSelection is one of our favorite tweaks. It makes moving the typing cursor easier by letting you move it by swiping on the keyboard keys. SwipeSelection is available for free while a pro feature is also downloadable with premium features.
39. Safe Alarm Pro
Safe Alarm Pro is a the ultimate tweak for Clock app's Alarm section. With this you can use sleep button to stop alarm, swipe to delete alarm, toggle all alarms off, open alarm section right from Control Center and more. It is available for $0.99.
40. Springtomize 3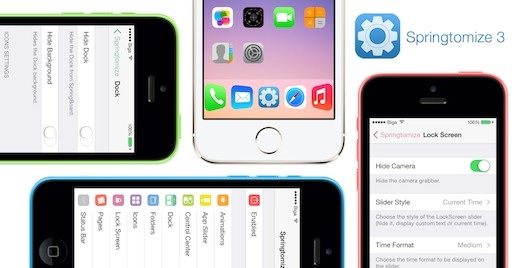 Springtmize 3 is perhaps the most powerful tweak ever released. It lets users make tons of changes to different areas of their devices including animations, homescreen, lockscreen, Control Center, Notification Center, icons, folders, dock, status bar etc. You can get if from Cydia for $2.99.
41. ShowCase
ShowCase shows lowercase letters on the keyboard buttons when shift key is off. This is different from the stock behavior of the keyboard in which letters don't change at all. You can get it for free.
42. Safari Uploader 8
Safari Uploader 8 adds the missing feature to iOS Safari allowing users to upload files, photos and videos to any website right from the mobile browser. It is available for free.
43. TypingPrivacy
With TypingPrivacy you can hide typing indicator that shows up on other person's screen, block read reports and more. You can get it for $0.99.
44. Tage
Tage is a nice tweak that brings multitasknig gestures to iOS 8. With Tage yon return to the homescreen or launch App Switcher by swiping up, switch between apps by swiping, lock device with a gesture, bring an action menu with power options with swipe down gesture and more. It costs $1.99.
45. TinyBar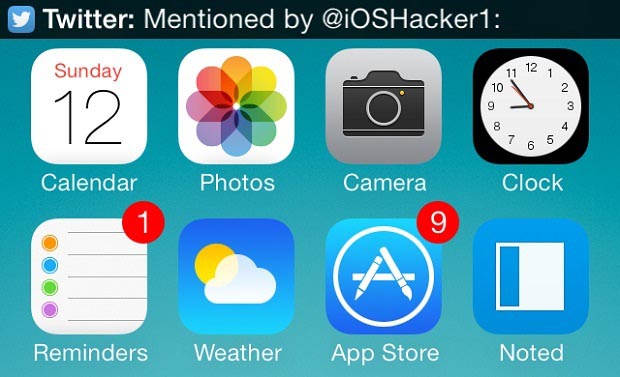 TinyBar replaces the obnoxiously large notification banners with tiny banners that are limited to the status bar. This tweak is inspired by Android's notifications and looks pretty good. TinyBar is available as a free download.
46. TetherMe for iOS 8+
TetherMe enables native tethering on your iPhone and also adds the ability for you to share data from a VPN. You can also share a WiFi connection from your iPhone with a USB device. There are more features that make this tweak worthy of its $4.99 price tag.
47. UpScale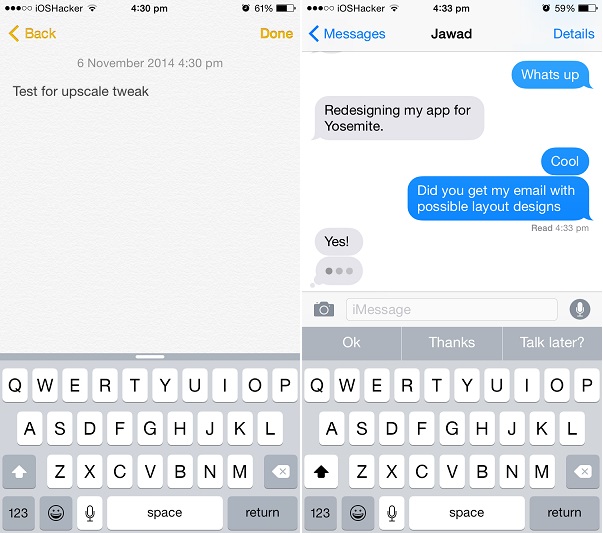 UpScale allows you to change the resolution of your iOS device, making it possible for iPhone 5 and iPhone 5s users to have iPhone 6's resolution. iPhone 6 users can get iPhone 6 Plus resolution as well. Since it natively changes the resolution the affect is seen in all parts of iOS and even third-party apps. UpScale is a free tweak.
48. UpNext
With UpNext you can queue songs in the Music app, specify a song to be played next and more. It also includes a notification center widget that lets you view your song queue from anywhere on iOS. UpNext is available for $1.49.
49. VirtualHome
With VirtualHome you can emulate the home button by tapping twice on the Touch ID sensor. With this hack you don't have to press the home button in order to return to the homescreen. It costs $1.49.
50. Wallmart
Wallmart tweak automatically changes the wallpaper every time you unlock your device, perform an Activator gesture or after a user specified time. You can use default images or choose any album with this tweak. Wallmart is a free hack.