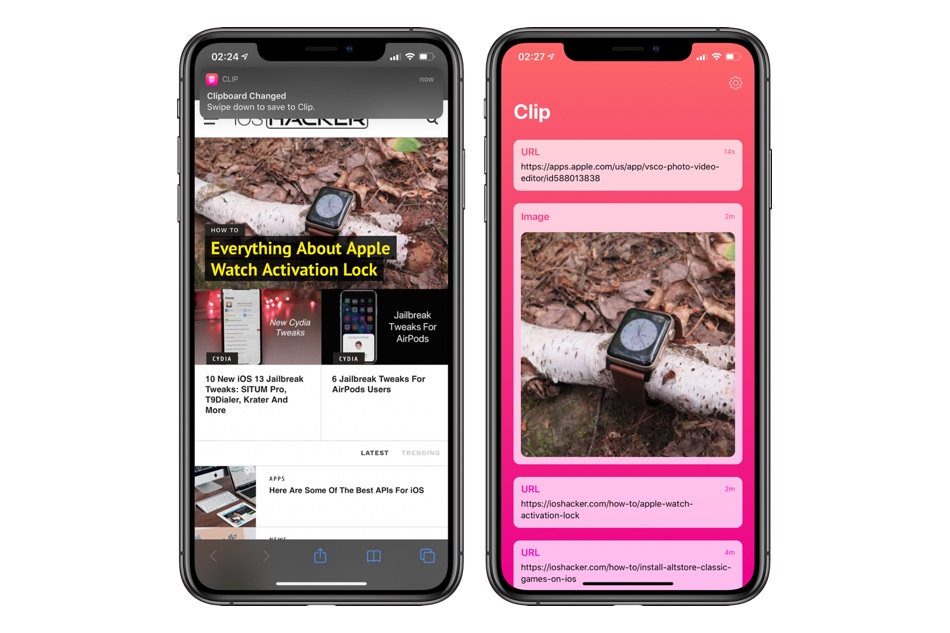 If you have ever used a clipboard manager app from App Store on your iOS device, then you would know about their limitations. These apps require to be running in the background to remain functional. This is a limitation that is imposed by the operating system and it reduces the usefulness of these apps.
A new app simply called Clip by Riley Testut has been released in the AltStore. The app has been developed by the same developer who gave us AltStore hence its release on the AltStore shouldn't come as a surprise.
With Clip app you can copy multiple items successively using iPhone's copy function. All the items (up to 100) that you copy are saved on the Clip app and can be viewed by opening the app any time. This app greatly expands the capability of the clipboard feature on iOS.
The main reason why Clip is released through the AltStore and not the App Store is because it bypasses the limitation imposed by Apple, and is capable of monitoring what's copied to iPhone or iPad's clipboard continuously in the background, without requiring user to manually run the app every now and then. This makes it different from other Clipboard Manager apps that are available through the App Store.
As you copy text, URL or image it is always copied to the Clip app without interruption. Once you have copied multiple items to the clipboard you can then visit the Clip app to find all of them in one place ready to be copied, deleted or shared.
Although it does not require the device to be jailbroken it does work like a jailbreak tweak, which makes it even more fun to use.
With Clip you can customize the the number of copied items that are stored at once. You can choose between 10, 25, 50 or 100 items.
A great feature of the Clip app gives users opportunity to choose whether they want to copy what they just copied to iPhone's clipboard to the Clip app. A banner is displayed to users asking them to swipe down to save to Clip. You can ignore this banner if you don't want an item to be saved to Clip and only to iOS's built-in clipboard function. Alternatively, you can swipe down on it to also copy the item to Clip.
Another useful feature of the Clip app, which is actually an iOS/macOS feature lets you quickly copy items from your Mac to Clip running on iPhone or iPad. This happens thanks to macOS Universal clipboard feature. Whenever you copy an item such as text or image on your Mac, a notification will appear on your iPhone asking whether you want to copy that item to Clip. This can be very useful if you want to copy multiple items from your Mac to your iPhone or iPad.
Speaking about future versions Clip's developer says in the future versions the app he plans to add a keyboard extension feature that will give users quick access to their clippings.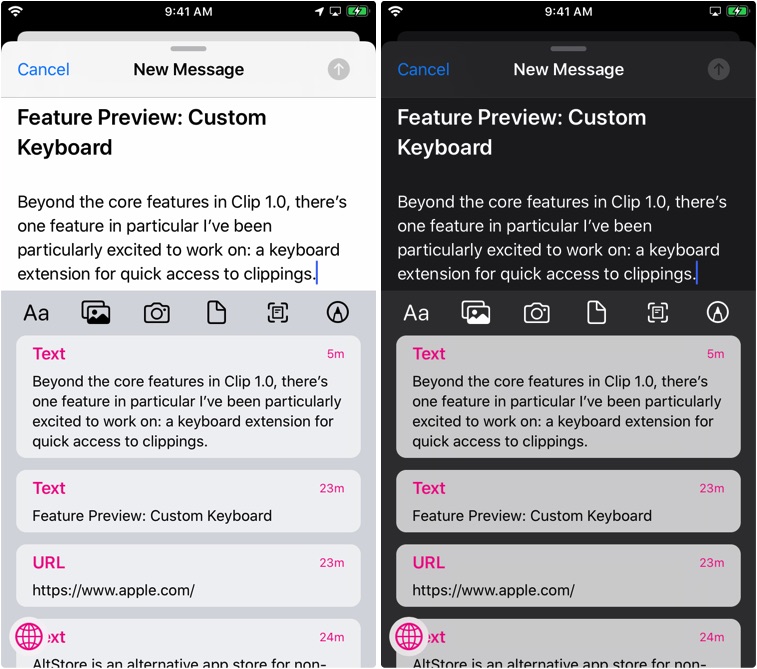 You can download the Clip app from the AltStore for free. It does not require a jailbreak and can be installed on all devices. You first need to install AltStore on iOS through your Mac or Windows PC. Once AltStore is up and running you can download Clip.