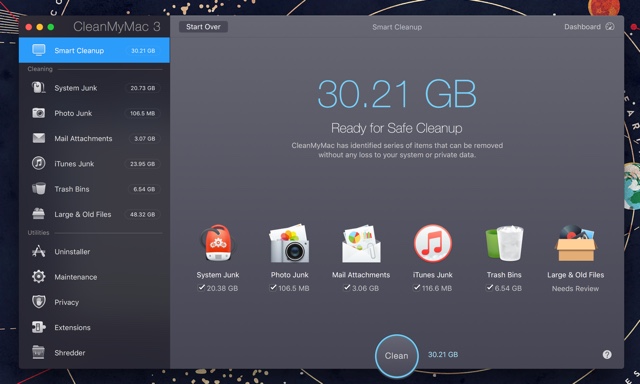 If you have a Mac that is running out of available disk space, managing data can be a very hard thing to do. Things get worse when you have deleted everything you could but still don't get the sufficient space back. Now normally we would recommend that you get a decent external hard drive to store data, however that should always be the last resort. Before you invest in an external hard drive there is a super useful Mac app, which can potentially allow you to free up GBs of disk space in a few minutes.
CleanMyMac gets back wasted disk space by removing old and useless system files that are stored on your computer. It also gets rid of old iTunes junk, mail attachments, extra app binaries, broken app data and more. At first I was skeptical of CleanMyMac's claim of getting back around 62GB of disk space on average from all the Macs that have used this app. So I tried it on my 256GB MacBook Pro that I have been using since September 2015. To my surprise the app freed up around 30GB of disk space that was simply not available to me. Considering the hard drive's total capacity is 256GB out of which 170GB was consumed, getting back 30GB is quite an impressive feat.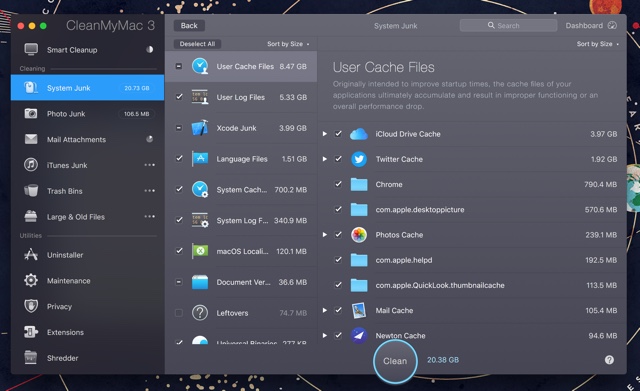 The app is pretty similar to the popular iCleaner Pro app for jailbroken devices, that also deletes useless system files in order to free up space for the user. CleanMyMac will not only let you have more disk space, but will also increase Mac's overall performance, as it will be removing system trash that usually causes your computer to perform slower.
In addition to its scanning and deleting ability CleanMyMac app also offers a number of other features such as ability for users to delete personal files by reviewing them. This gives the users power to only delete files that are useless to them. The app also adds a nice uninstall feature that lets you delete apps you no longer use properly.
CleanMyMac app is available at a price of $31.96, which seems like a big price however if you are struggling with disk space on your Mac, making this investment might actually be worth it. Download CleanMyMac here.