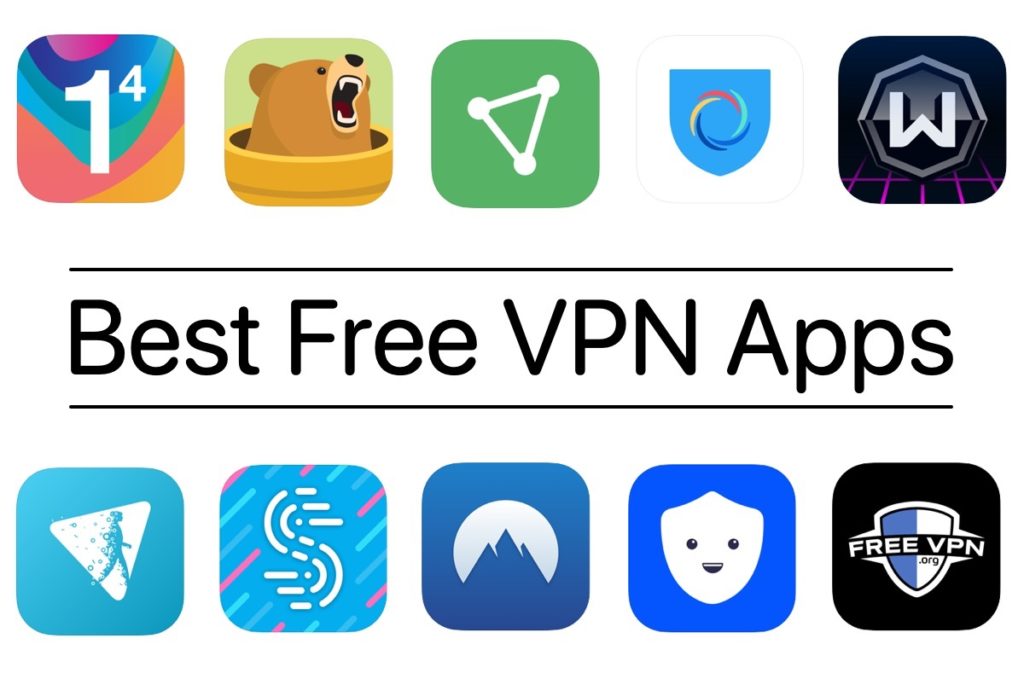 In this article, we have shared the best free VPN apps for iPhones that are a must-download. All of the VPN apps featured here can be downloaded and used for free without a subscription.
In today's world, it is absolutely essential to take advantage of a VPN. A VPN is used to protect your personal and data privacy while also giving users access to websites and streaming services that are blocked in their country.
There are countless free VPN apps for iPhones that are available for download in the App Store. However, choosing the right VPN isn't as simple as downloading the first option from the App Store search results.
Most iPhone VPN apps and services are paid to use. Meaning even though you can download them on your device for free you are required to pay a monthly subscription to use them.
There's no issue with paying for a good VPN however if you're looking for a free option. But there are many free-to-use iPhone VPN apps to consider as well.
And that is exactly what we are going to share with you in this article. We have tested all of these iPhone VPN apps and can confirm that they are actually free to use.
Most of them do offer a premium subscription option however users are not really required to buy it, especially if you are not a heavy user.
If you are OK with GBs of free VPN bandwidth every 30 days without compromising your data privacy, then keep reading.
The best thing about all of these VPN services is that you can download their VPN apps on multiple platforms and use them on all of your devices including iOS, iPadOS, macOS, Windows, and more.
Why use a VPN
Still, confused about what a VPN is and whether you need to use it? Or are you confused about the legality of using a VPN? This is answered in our next section.
There is an overwhelming amount of users who still believe that a VPN can only be used for illegal purposes. However, this is far from the truth. There are countless legitimate uses of VPN that clearly outweigh its negative uses.
Here are some uses of iPhone VPN apps that you should know about.
A VPN can be used by people who want to remain anonymous while browsing the Internet. VPN can protect such users from the prying eyes of government agencies as well as hackers who are always looking to steal their data. Many professionals worldwide who work on sensitive projects and sensitive sites must use a VPN.
VPN can also be useful for people who are looking to stay secure when working from home. With the VPN they can securely access their work website and email servers without the risk of compromising their data.
Users should use a VPN when they're using a public Wi-Fi network. By taking advantage of VPN, users can safely browse the Internet and open personal accounts without the risk of hacking and stealing their data.
Using iPhone VPN apps you can access certain websites, streaming services, and more even if they are blocked in your region. You can access Netflix TV shows and movies that may not be available in your country. Services like Hulu and others also become accessible.
There are many other uses of VPN that may not necessarily apply to you. For example, many government agencies and big corporations also use VPN services to protect their own data and employee privacy.
We also recommended using VPN in our video guide on how to make iPhone secure and keep hackers away. Watch our videos for valuable iPhone security tips here.
Is using VPN legal?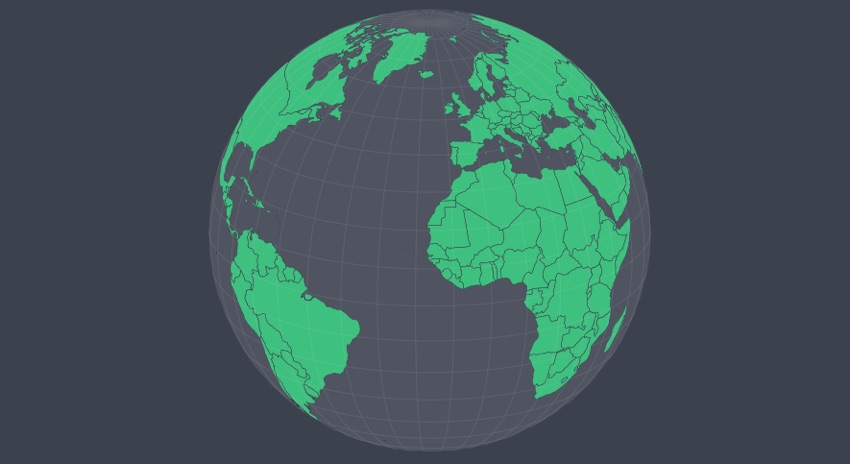 One of the most common questions that we get from iPhone and iPad users about VPNs is whether using a VPN is legal. Or is using VPN illegal? Well, the answer isn't as simple as we would like it to be.
In all Western countries such as the United States, United Kingdom, Canada, and All of Europe, etc it is absolutely legal to use a VPN on iPhone. The same is the case with most of Asia, Africa, Australia, and South America. However, what you do with the VPN may be legal or illegal.
Having said that there are a few countries that make it illegal to use a VPN for their citizens and in their territory. This famously includes China and Russia. Other countries that ban the use of VPNs include Turkey, UAE, Iran, Iraq, Oman, and Belarus.
Best Free VPN Apps for iPhone and iPad
Here are some of iPhone's best free VPN apps that are free to use. You can download these VPN apps and use their VPN service without a subscription. Read on to learn about how to download them and how much free VPN bandwidth you can expect to get from them.
1. NordVPN – Free 30-day unlimited trial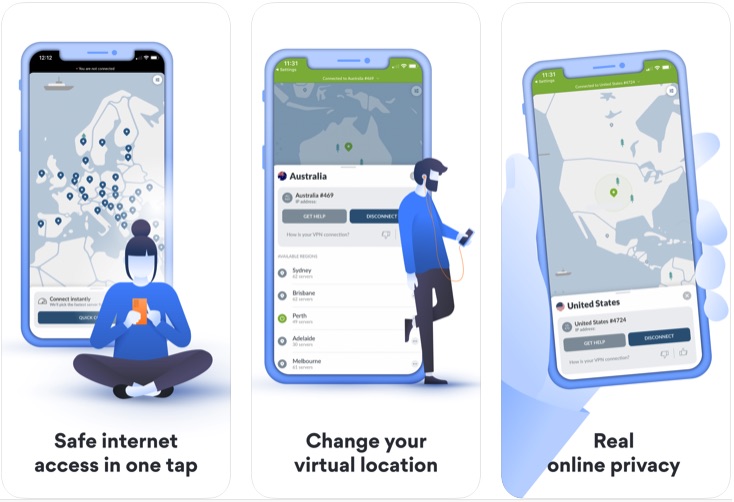 NordVPN does not offer a long-term free-to-use tier, however, it does come with a 1-month free trial. The trial is long enough for someone who wants to take advantage of a VPN service temporarily, such as during travel.
Since it is not a 'free-to-use VPN' in a traditional sense and is a trial, you get the best available features in your trial period with no limitations.
This includes access to over 5,000 servers, ad and malware blockers, and unlimited bandwidth for the whole month. According to Vpnpro article, NordVPN is a great provider to use on video streaming services like Netflix, Hulu, Amazon Prime, BBC iPlayer, and more.
You can download the NordVPN app and start your trial today. However, be sure to cancel your subscription from iCloud if you don't want to be charged after 30 days.
You can download the NordVPN app from the App Store here.
2. 1.1.1.1: Faster Internet – 10GB free bandwidth per month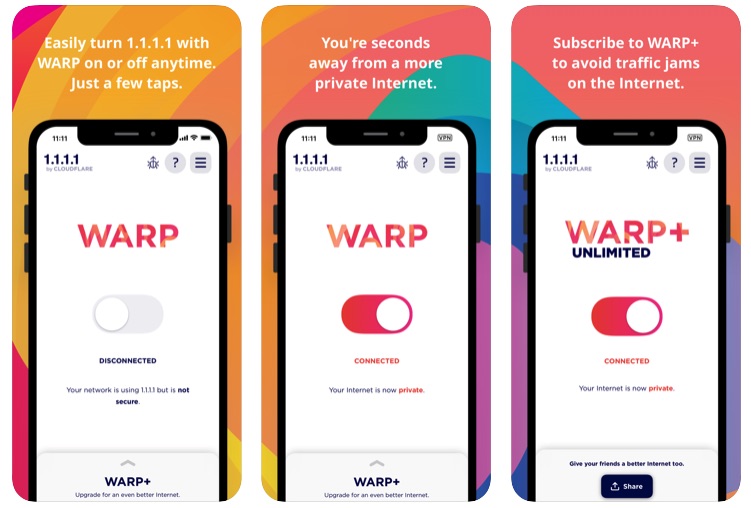 This is the free iPhone VPN I personally use and I have zero complaints about it. You get a whopping 10GB of data each month that you can use with the WARP+ service.
You can earn more data by referring your friends to the service with each referral winning you an extra 1GB.
Once connected with your free VPN bandwidth you can use it to visit blocked websites, browse the web anonymously, and keep your data secure.
1.1.1.1: Faster Internet takes extra measures and follows all the right protocols to make sure your data is protected as it leaves your iPhone and reaches its destination.
However, this app is not limited to giving you access to blocked sites as it also takes advantage of CloudFlare's network.
You can rest assured that once you have installed this app your data is secured from all security threats including malware, phishing, hacking, etc.
The app promises fast Internet by taking advantage of Cloudflare data. It uses that data to let you skip past Internet traffic jams.
You can download 1.1.1.1: Faster Internet app on your iPhone or iPad for free. Download it here.
3. TunnelBear: Secure VPN & Wifi – 500MB free VPN data every month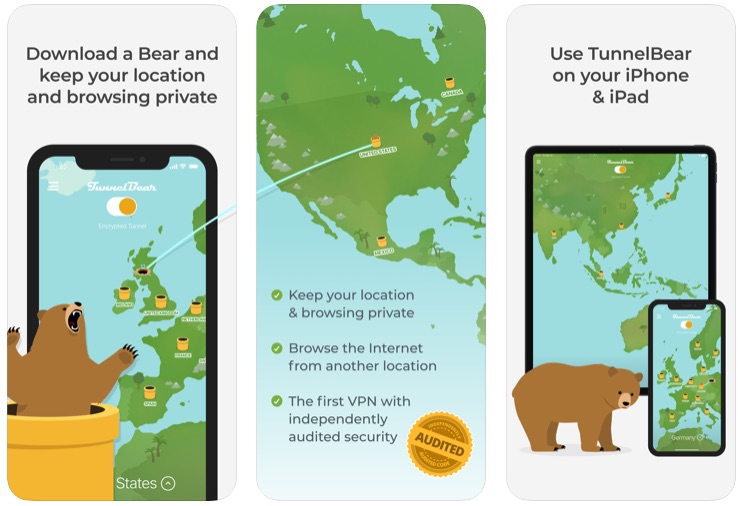 TunnelBear is one of the best iPhone VPN apps out there. It has a beautiful design, a wide range of server locations to choose from, and guarantees to keep your data secured.
The service's security has been audited independently, which should give you peace of mind when using it.
With the TunnelBear app you get 500MB of free data every month. However the best thing about this app is that this free VPN bandwidth accumulates, so if you don't use it this month you get 1GB next month.
Even on the free tier, TunnelBear offers all the essential features to its users from fast speeds to the ability to switch a wide range of server locations.
You can download TunnelBear and take advantage of its free-to-use VPN service from the App Store here.
4. VPN Service by VeePN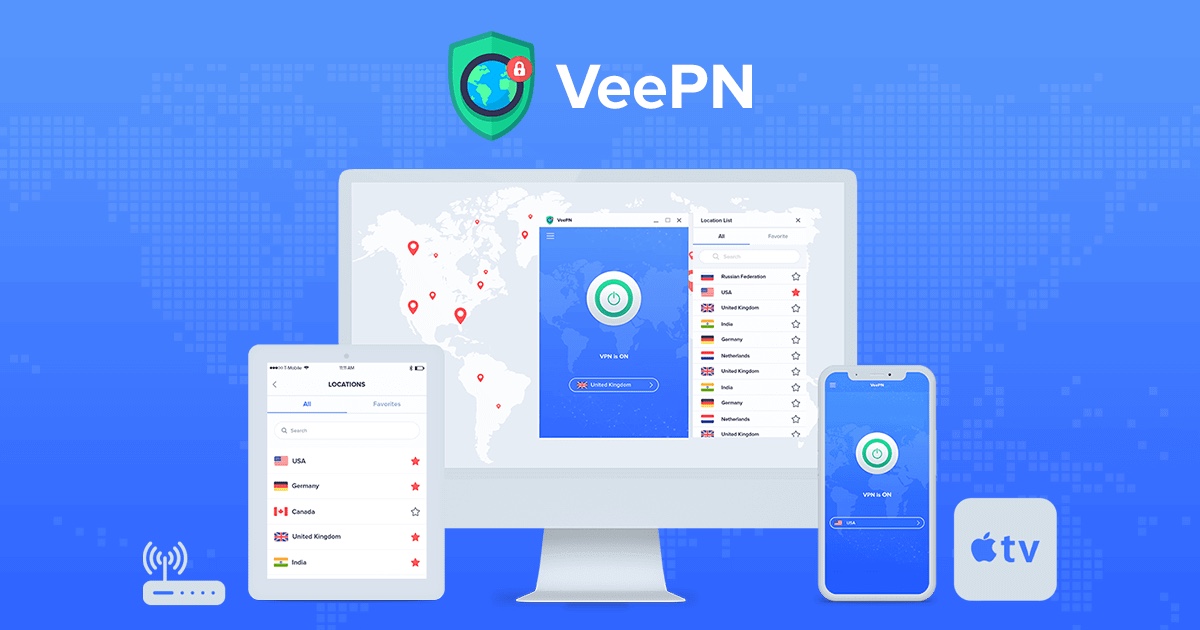 VeePN is a Virtual Private Network (VPN) service that provides users with a secure and private online experience. One of its main features is Double VPN, which encrypts the user's internet traffic twice, providing an extra layer of security. Another important feature is KillSwitch, which automatically disconnects the user from the internet if the VPN connection is lost, ensuring that their online activities remain private.
Additionally, VeePN has NetGuard, which blocks all internet traffic that is not routed through the VPN, preventing accidental data leaks. With this VPN iOS, users can also access geo-restricted content and websites, stream without buffering, and browse the web anonymously. Overall, VeePN is a reliable and user-friendly VPN service that prioritizes its users' privacy and security through its advanced features.
You can download VeePN app from the App Store here.
5. ProtonVPN – Fast & Secure VPN – Unlimited VPN data
ProtonVPN is one of the safest iPad and iPhone VPN apps you can download in 2021. This service boasts amazing privacy, speeds, and bandwidth that are only rivaled by a few.
With PureVPN you get unlimited free VPN bandwidth on iPhone and iPad. Yes, you read that right. This service offers you unlimited free VPN bandwidth with no caps, without requiring you to buy a subscription.
While ProtonVPN VPN also has a premium service for those who want to pay, free users get unlimited bandwidth and are only limited by locations they can use.
The free plan only offers three server locations including US, Japan, and Holland. Another limitation is that on the free tier, you cannot use PureVPN to stream or download torrents.
And that's where limitations end and possibilities begin. You can use PureVPN to stream videos, download content, access blocked websites, access restricted Netflix content, and more.
You can download PureVPN app from the App Store where it is available for free. Download PureVPN.
6. Windscribe VPN – 10GB per month free
I first heard about Windscribe when researching this article and I was thoroughly surprised by what this VPN service has to offer.
Not only do get users free to use VPN with 10GB data every month but users can also tweet to the company to get an additional 5GB free.
However free-to-use VPN data isn't the only attractive thing about this service.
You are also getting amazing features like Torrenting, the ability to watch video content that may not be available in your country, multi-platform support, built-in ad blocker, no logs policy, and the list goes on.
Unlike many other free-to-use VPN services mentioned in this free VPNs list, Windscribe allows users to switch to 10 countries on the free tier.
You can download Windscribe VPN app on your iPhone or iPad from the App Store.
7. Hotspot Shield – 500MB per day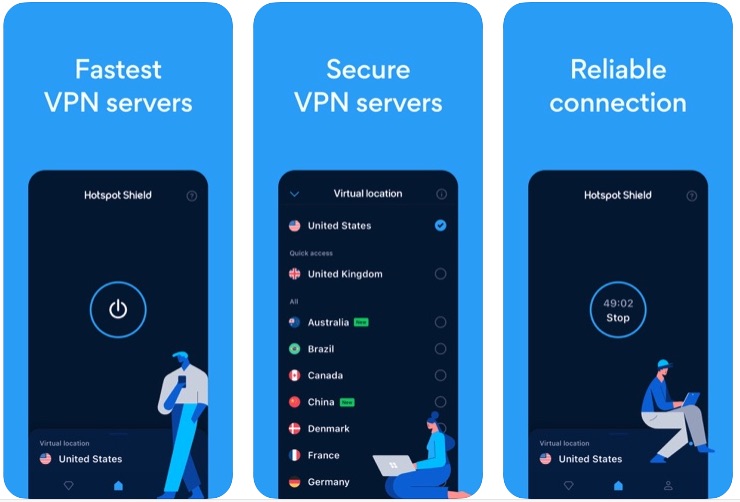 Hotspot Shield is one of the oldest names in the VPN industry and it lives up to its established reputation. With Hotspot Shield you get a generous 500MB per day free-to-use VPN for iPhone and iPad.
In addition to the 500MB per day (or 15000MB per month!) you also get 256-bit AES encryption, an ad-blocker, the ability to watch region-locked YouTube videos, and multi-platform support.
There are some limitations on the free tier, such as you are limited to the US server only and cannot switch to other locations.
However, it makes up for the shortcomings with an easy-to-use interface and fast speeds.
You can download Hotspot Shield on your iPhone or iPad from App Store here.
8. hide.me – 2GB per month free VPN data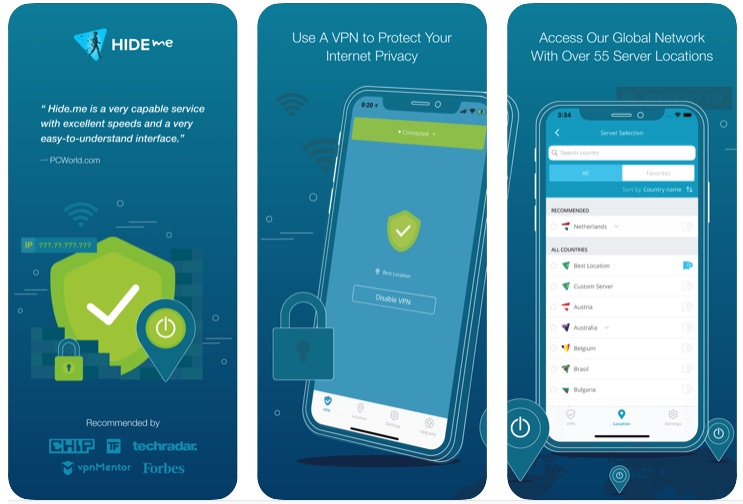 When it comes to free VPN data per month hide.me is on the lower side with only 2GB of free VPN per month. However, this is a perfect VPN for those who want to use a VPN for browsing purposes.
You can quickly activate hide.me directly from your device's Notification Center, which makes it the most convenient option.
Features of this VPN include auto server location selection, multi-location support on the free tier, an anonymous IP address for maximum protection, and more.
You can download hide.me VPN from the App Store here.
9. Speedify Fast & Reliable VPN – 1GB per month for free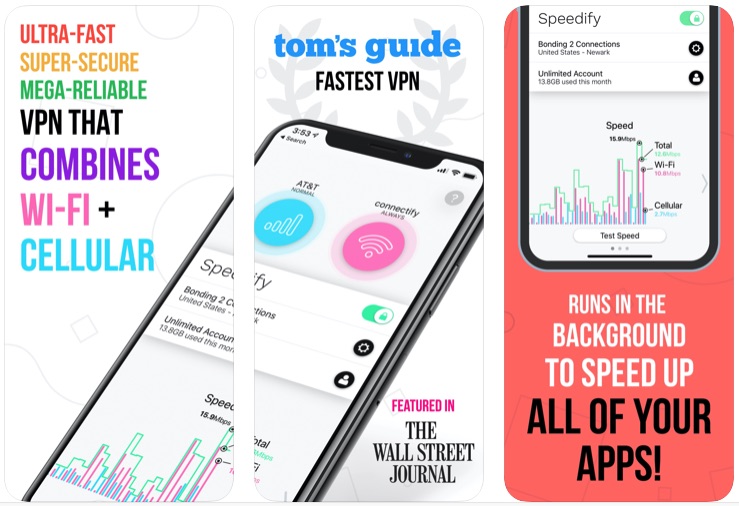 Speedify is free to use VPN app that focuses on speed and reliability. It leverages both Wi-Fi and Cellular Internet to provide you with the best speeds.
The only thing lacking in this otherwise great VPN app for iPhone is a low free-to-use bandwidth at just 1GB per month.
However, it also gives you the perfect opportunity to test the service and decide whether you want to go for the paid version.
Speedify is available in the App Store for iPhone and iPad here.
10. Betternet VPN Proxy – Free unlimited VPN data for life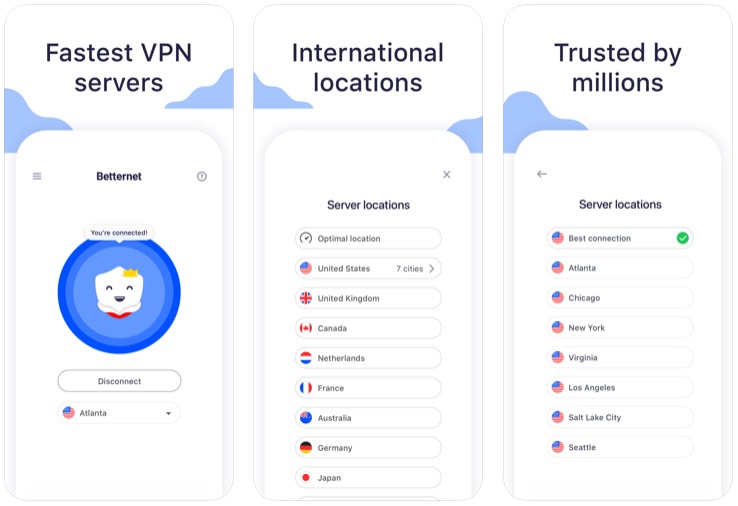 If you are looking for a free forever VPN app for iPhone, then Betternet VPN Proxy might be a good option for you. It is free because it uses ads, which might discourage some people from using it. However, if you're fine with that, then it is a great option for casual users.
It offers free unlimited VPN bandwidth for life and it does not require you to buy a subscription before using it.
Users also get to take advantage of its clean and simple user interface, no-log policy, the option to try premium features free for 7 days, no registration or login, and more.
You can also switch to multiple locations and use it to access services like Netflix, YouTube, and other services with region-locked content.
You can download the Betternet VPN Proxy app from the App Store here.
11. Free VPN by FreeVPN.org – Free unlimited VPN bandwidth for life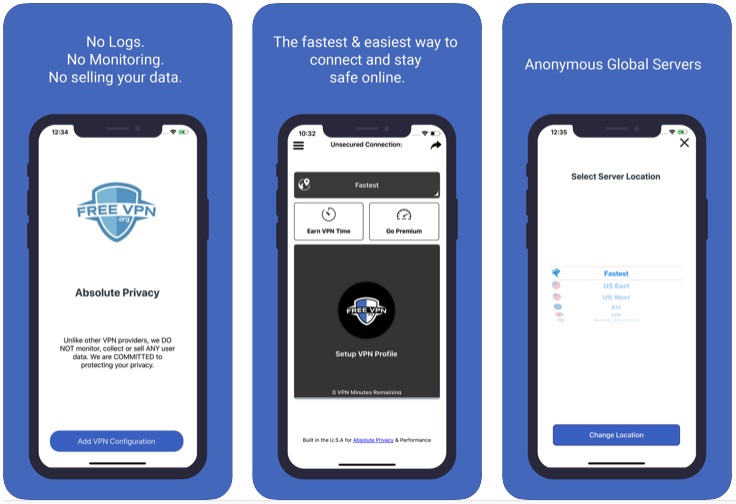 With Free VPN by FreeVPN.org you get a safe and private VPN for iPhone and iPad. The developers of this VPN say they don't sell or store your data, which is a major plus.
With Free VPN you get 100% unlimited VPN data for a lifetime. The best features of this free-to-use iPhone VPN include no registration or login, encrypted traffic, anonymous browsing, hidden personal IP, and more.
The free VPN app is available for both iPhone and iPad in the App Store for free. Download Free VPN here.
So what are you waiting for? Give one of these amazing best free VPN app for iPhone and iPad a try, and share your thoughts with us and others in the comments below.