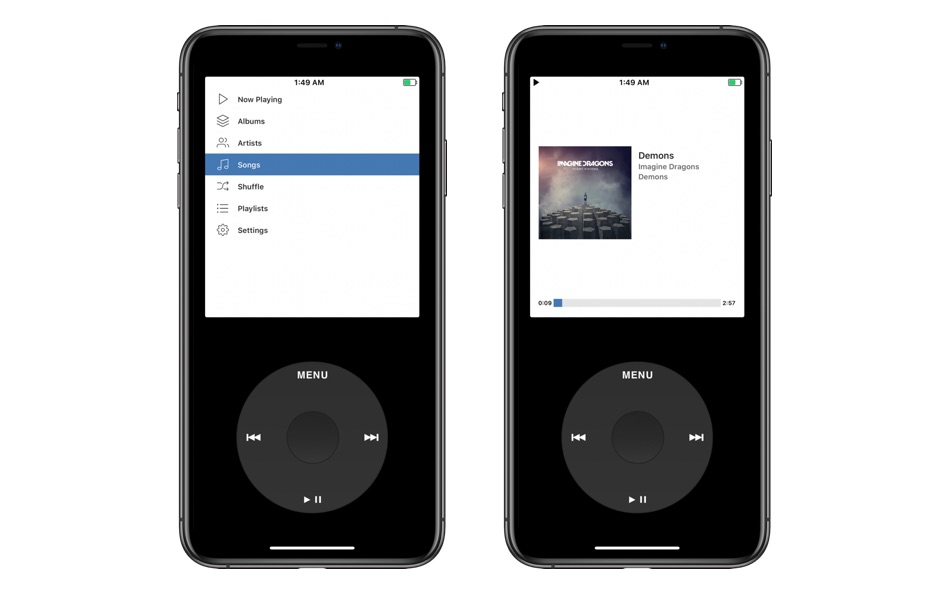 A new app called Rewound turns any iPhone into a classic Click-wheel iPod. The app brings back memories from the mid-2000s, an era just before iPhone when devices like iPod video and iPod nano used to rule the world. The Rewound app plays on the nostalgia for iconic iPod interface, giving users the same interface and fully functional click-wheel based controls.
Although Rewound app is an iPod Classic Simulator for the iPhone, it also functions as a full-fledge music player, enabling users to enjoy their music from their Music library and in a future update – Spotify.
The way Rewound's developer has been able to get his app approved is as clever as the app's design. When you download the app you don't get the familiar looking click-wheel interface, instead you get weird looking on screen buttons.
Even the App Store preview images for the app don't show or mention the iPod. However once the app is running you get the option to download 'Themes' from Twitter or Weibo. As soon as you click on this option you are able to download iPod themes to the Rewound app, which make the music app look very similar to the iPod classic.
While you can download Rewound on any iPhone, the app looks the best on a non-home button iPhone such as an iPhone X or later, especially if you use it on an OLED device. The true blacks of the OLED coupled with the black iPod theme really makes it look like you are holding an actual iPod classic.
You can download Rewound app for free from the App Store. It works with iOS 10 or later.
Disclosure: iOSHacker may receive a commission if you purchase products through our affiliate links. For more visit our privacy policy page.