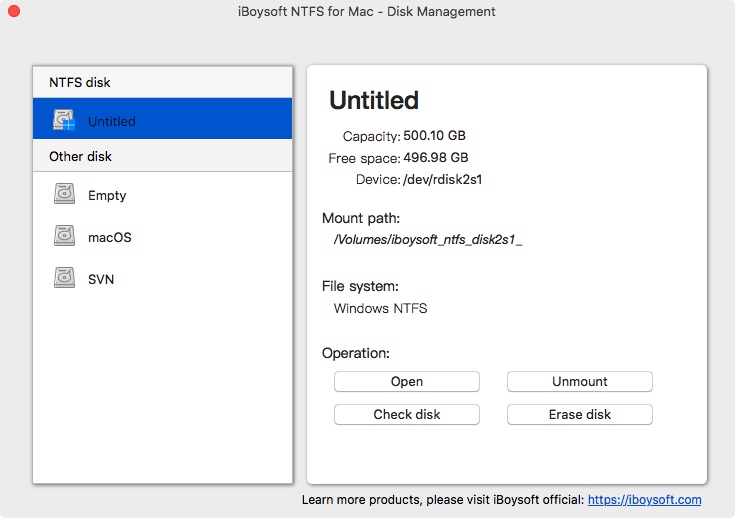 If you're someone who deals with both Windows and Mac machines on a regular basis, then you would know how frustrating it is to attach a NTFS format external hard drive only to find out it offers a very limited functionality.
macOS offers partial support for Windows NTFS drive format, which means Mac can only read files in NTFS drives. What they cannot do is edit, write, rename or delete files stored on an NTFS drive.
NTFS support is limited in macOS due to copyright and licensing issues. Due to this a NTFS drive will only appear as read only on a Mac machine.
While macOS does not offer full support for NTFS drives, the iBoysoft NTFS for Mac makes it possible for Mac users to do this in the most easy and convenient way.
With iBoysoft NTFS for Mac users can mount NTFS external drives on their Mac in read-write mode. This gives users full ability to not only read and copy files from an NTFS format drive but also make changes to its content. In addition to that users can perform all of Mac's usual features like AirDrop, File Sync, Time Machine backups etc on the mounted NTFS drive.
The iBoysoft NTFS for Mac v3.8 software works with macOS Big Sur and macOS Monterey, and features support for both Intel based Macs as well as Apple Silicon M1 Macs.
iBoysoft NTFS for Mac is a small non-intrusive piece of software that resides in the menu bar of your Mac. You can use it to quickly mount and unmount NTFS drives on your Mac. Once a NTFS drive has been mounted it works with both Finder and Disk Utility. You will even see its icon on the desktop, which gives you quick access to drive's content.
While macOS can read NTFS drives on its own, what makes this NTFS for Mac software useful is that it enables write privileges as well. So users can write on the NTFS drive and perform tasks like copy new files to the drive, delete files that are already stored on the drive, rename files and edit documents. The NTFS drives are mounted as physical volume and not a virtual one.
The full read and write control over Windows NTFS opens doors for users to manage their NTFS drives on Mac with ease.
Microsoft NTFS for Mac by iBoysoft supports external hard drives from well known brands like Samsung, Seagate, Western Digital and others. However it is not limited to external hard drives only as users can also use it to get full read-write access to NTFS formatted SSDs and Thumb Drives.
This tool can also help you in formatting your NTFS drive on Mac, something that is not possible in macOS's Disk Utility. The Disk Utility tool does not offer NTFS File System, however with NTFS for Mac users get to format their disk to NTFS file system on Mac, and use the newly formatted drive on Windows.
On top of that NTFS for Mac mounts Windows Boot Camp partition with full read-write privileges. This means you can exchange files between the Windows and Mac partitions.
Using iBoysoft's NTFS for Mac tool is easy, simply download and install it on your Mac. Then restart your Mac. After this you can start using the tool and all of its features.
You can download iBoysoft NTFS for Mac for free from the official website here. The full license for the tool is available for $19.95.