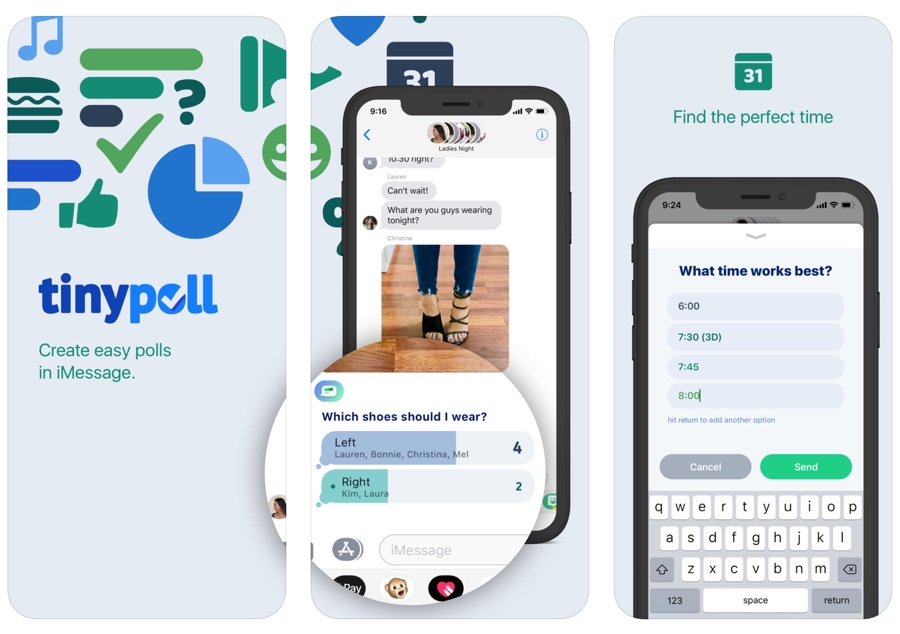 If you are confused about something and want to ask your friends, or if your friends are looking for quick and democratic way to decide where you guys are going to eat in an iMessage discussion, then TinyPoll iMessage app is for you.
With this app you can quickly create a multiple choice poll and get everyone's opinion right in the iMessage app. Creating a poll and sending it to an iMessage group is simple, just tap on the app's icon from iMessage app drawer, tap on 'Start a poll', type in the question and multiple options and hit the Send button.
Once a poll has been sent, your friends will be able to tap on the options and choose their preferred answer. You can see live results on which options are more popular and who has voted for what.
The app is available for free and allows users to create and send 1 poll per day. The free poll will allow 3 options, however you can upgrade your account and get unlimited polls and up to 5 options on each poll. Your friends don't need to have TinyPoll installed in order to participate in your polls, which is great. Friends who don't have the app installed or are using iMessage on Mac can vote on TinyPoll's website by clicking on the link.
The paid account for TinyPoll costs $1.99 per year. You can download the TinyPoll iMessage app from the App Store, where it is available for free.
Disclosure: iOSHacker may receive a commission if you purchase products through our affiliate links. For more visit our privacy policy page.