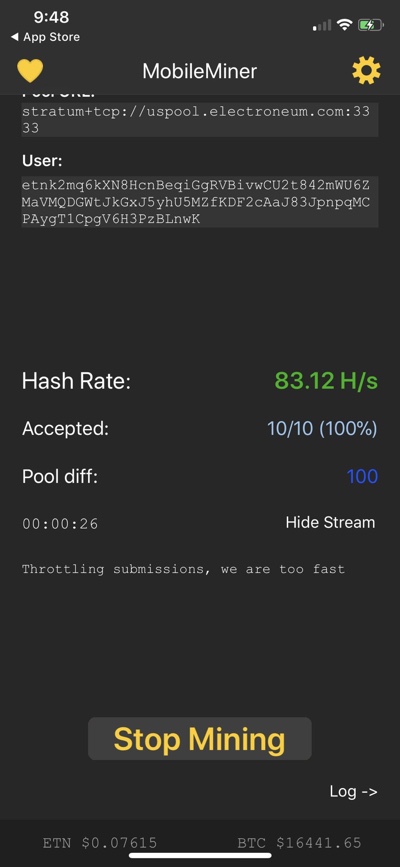 If you are looking to get into the cryptocurrency game but don't want to spend money on it just yet, then there's an another way to earn it. Developer Elias Limneos has released an app called MobileMiner for iPhone, iPad and iPod touch that allows users to mine cryptocurrency on their mobile devices.
With this application you can mine Electroneum or Monero using the CPU power of your iPhone or iPad. The app is not available on the App Store for obvious reasons, however you can download the MobileMiner IPA and use Cydia Impactor tool to sideload it on your device. Sideloading is a simple enough process in which you connect your iPhone to computer, launch Cydia Impactor, drag and drop the .IPA file on it and enter your Apple ID details.
Once you launch the application you will see the 'Start Mining' button, which instantly lets you start mining Electroneum or Monero currency on your device.
MobileMiner cryptocurrency mining app offers a number of options and configurations that you can use to modify how it mines on your device. The app also lets you quickly see live currency rates.
MobileMiner for iOS https://t.co/Jf5Wu0jpC4 https://t.co/ZWqiU5CmMs

— Elias Limneos (@limneos) December 21, 2017
Before you install the app on your iPhone or iPad, you should keep in mind that the app is very power hungry. It can keep running in the background and use 100% of your iOS device's CPU power without getting throttled by iOS. This will negatively impact your device's performance and will cause wear on its battery. And its not like you can have MobileMiner running in the background and continue using your iPhone like you normally do. It will drain your battery completely in just 3 hours.
You can download Cydia Impactor here. MobileMiner app's IPA can be downloaded from here.
Interested in Ethereum or Bitcoin? Read these posts: