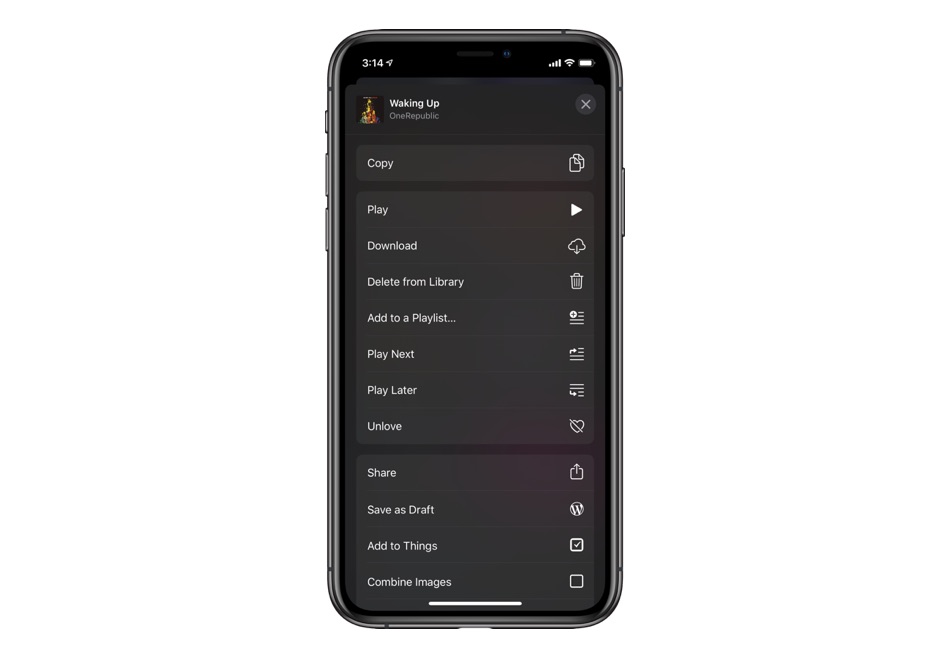 iOS 13 adds a new Music app menu in the Music app that enables users to perform various actions on songs in their library. The new menu sheet gives access to multiple music related actions in one place, making it more convenient for users to perform these tasks inside the Music app.
The new Music app menu can be accessed by pressure tapping or long pressing on any song, album or playlist. Once the menu appears users get quick access to a variety of options including copy, play, download, delete from library, add to a playlist, play next, play later and love/unlove. The best thing about this new menu is that it puts all of these options in one place, as previously users had to look for them in different places.
In addition to music app related options mentioned above, this new Music menu also gives options like Share and actions related to third-party apps installed on the device, which may or may not be useful. If they are not, you can remove these actions by tapping on the 'Edit Actions' option from the bottom of the menu and turn off their toggle.
From the same menu you can also place some of the options in your 'Favorites' section by tapping on the green '+' button. These will appear at the top of the menu like the Copy option in the screenshot shared above.
iOS 13 brings many new changes to the stock Music app including the dark mode, time synced lyrics feature, Up Next features and a different way to access Shuffle and Repeat buttons and more. The software update is currently in beta and will be released for everyone in the fall.