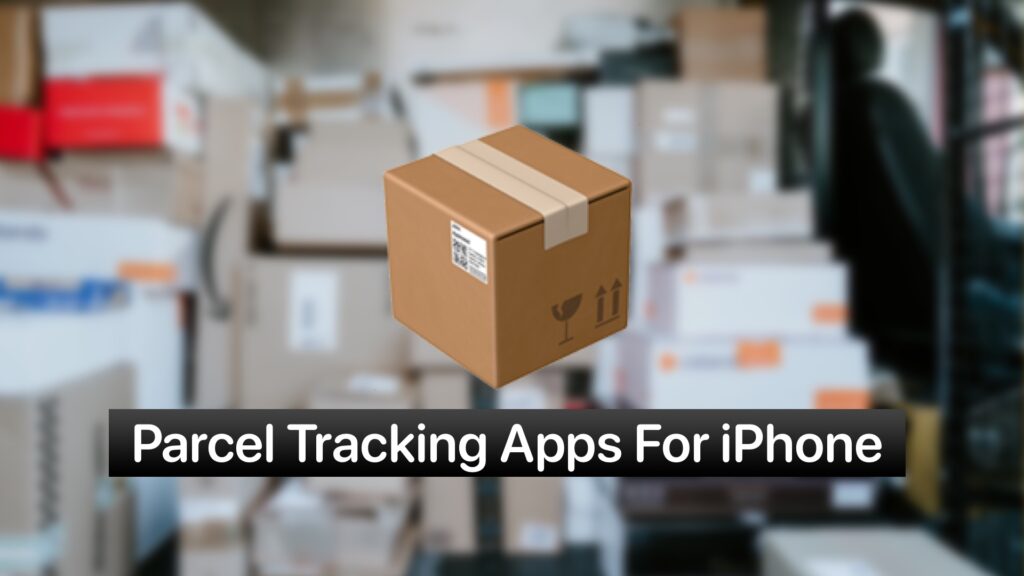 After online shopping, most people wait desperately for their package to arrive. But often they stay in the dark as to when would they receive the package, or if they would be home when it arrives?
To avoid inconveniences, package tracking apps help you locate all your expected packages. Whether it's a unique antique piece you ordered online, or a new book you can't wait to dive into, these apps keep tabs on it so you can answer the doorbell.
Best Package Tracking Apps For iPhone in 2022
Here's the list of top 10 package delivery tracking apps you can download on your iPhone and iPad. Many of these apps are also available on the Mac.
1. Deliveries: A Package Tracker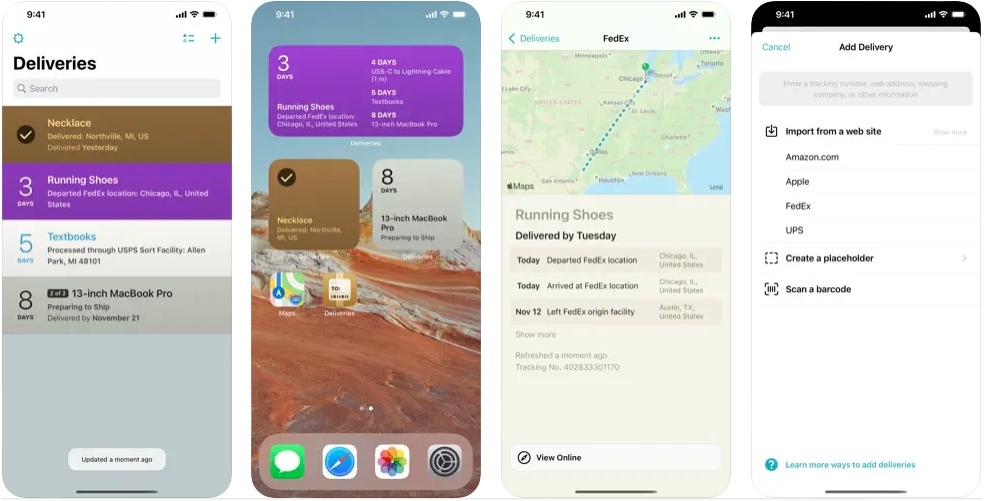 Deliveries Package Tracker makes the process of transporting your goods safely to you in the most efficient manner. The app supports numerous services, including FedEx, UPS, Canada Post, US Postal Service, DHL, TNT, and many others.
On top of that, you can also track orders via Google Maps from different services like Amazon and Apple, even before the shipment of your orders.
To make it even more convenient for you, Deliveries also add predictable delivery dates to your calendar. Plus, a Notification Center widget allows you to check your packages without going to the app.
Here are some other features that the app offers:
Key Features:
Supports linking with various carriers and almost every language across the world
Notifies the orders shipment, current location of the package, and shipment process to help you identify the estimated delivery time
Includes updated in-app features
Sync deliveries across various Apple devices
Keeps you away from disturbance by not showing ads
Allows you to quickly enter your orders into the system
You can also subscribe and unlock all premium features across all your Apple devices. Either pay 99 cents per month or $4.99 yearly through the App Store.
Download the Deliveries: a package tracker App on iPhone or iPad for free here.
2. 17TRACK Package Tracker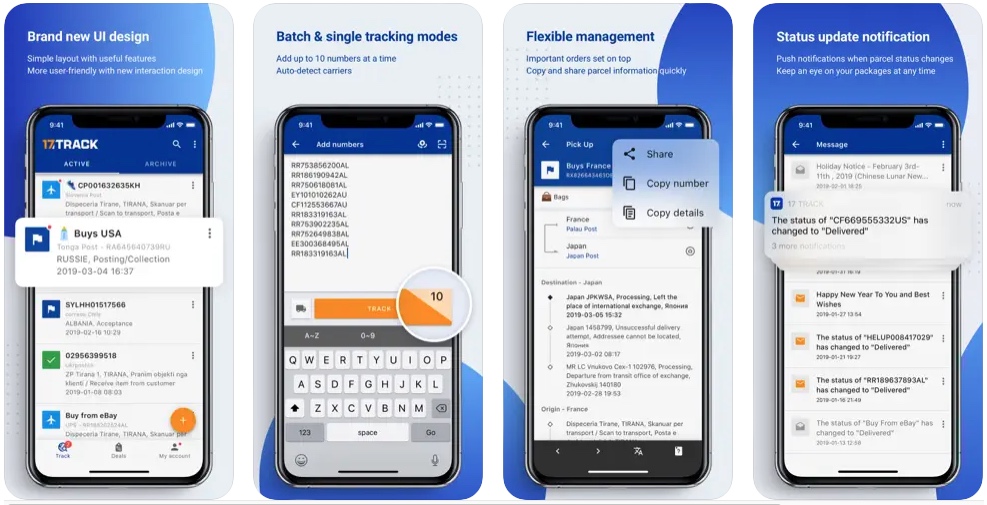 17TRACK is one of the best package tracker platforms that allows shopping enthusiasts to track their packages conveniently.
The application supports links with various delivery companies worldwide to give online shoppers an ultimate shopping experience.
17TRACK supports over 700 carriers around the world, including postal carriers: China post, China EMS, USPS, La Poste, Correos Spain, etc.; international express carriers: DHL, FedEx, UPS, TNT, Yodel, DPD, Hermes, Toll, Aramex, SPSR, DPEX, SDA, etc.
Key Features:
Quick and efficient tracking
Auto-detect carriers
Option to track multiple carriers and batch numbers
Custom widget for home screen
Data synchronization among different devices
Categories to your tracking numbers
Supports over 30 interface languages
Supports multilingual translation for tracking information
You can get an auto-renewal subscription for $2.99 per month to get a 100 tracking quota or a premium subscription for $4.99 per month to unlock multiple device synchronization and other features.
Download the 17Track Package Tracker here for free on all your Apple devices.
3. OneTracker – Package Tracker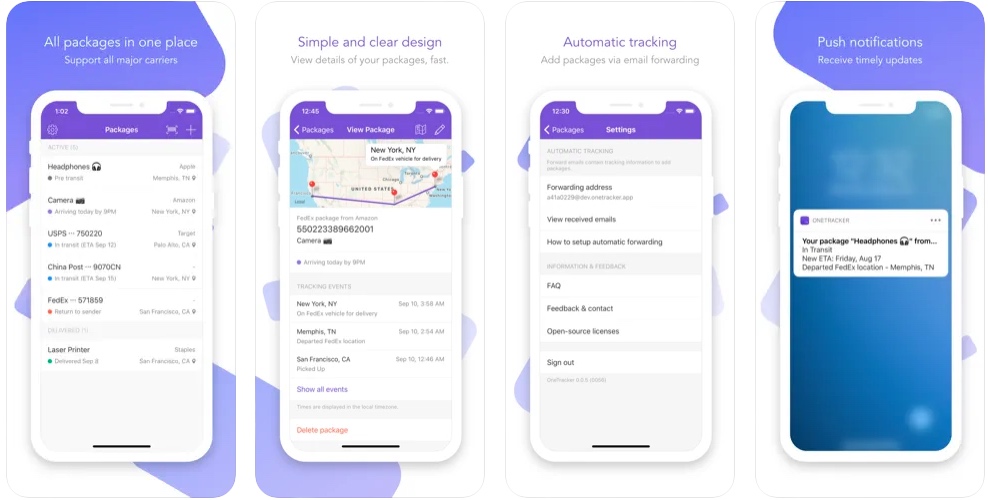 OneTracker is a simple, speedy, and automate-able multi-carrier universal package tracking app with free, unlimited push notifications, email forwarding, and other outclass features.
The app supports the following major carriers, including USPS, UPS, FedEx, DHL Express, China Post, China Post EMS, Canada Post, Amazon Logistics, and many other carriers globally.
Key Features:
From this app you can:
Categorize packages in one place.
Receive quick and free notifications.
Add packages quickly with a barcode scanner and automatic clipboard detection.
View your tracking information conveniently with an optional map view.
Sync your data across devices.
Get a premium upgrade for just $4.99 per month to unlock amazing features.
Download OneTracker – Package Tracker here for free.
4. EasyTrack – Parcel tracker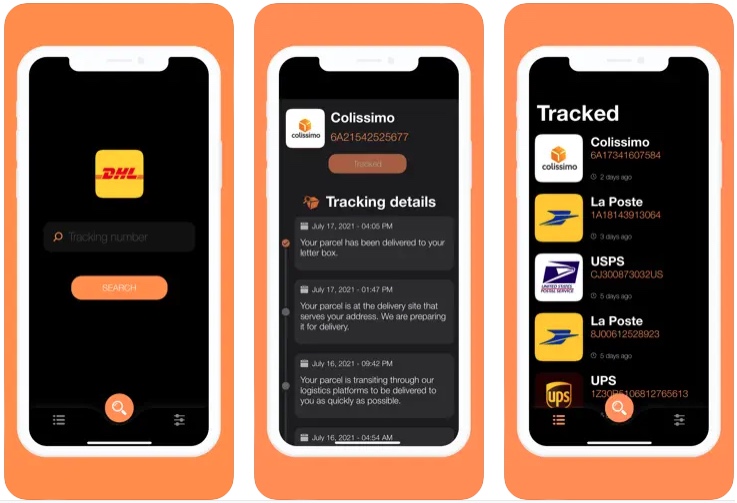 As the name suggests, EasyTrack App makes it possible to make your shopping deliveries easily trackable free of cost.
This free app spontaneously detects the carrier based on your package number among numerable carriers and logistics, such as UPS, DHL, USPS, and FedEx.
You can track parcels anytime and anywhere and find out when they will arrive at their destination.
Key Features:
This app allows you to
Detect automatic carrier
Add your packages to your favorites
Receive automatic notifications of parcel updates
Use landscape mode
Download EasyTrack – Parcel tracker here for free on your iPhone, iPad, or Apple Watch.
5. AfterShip Package Tracker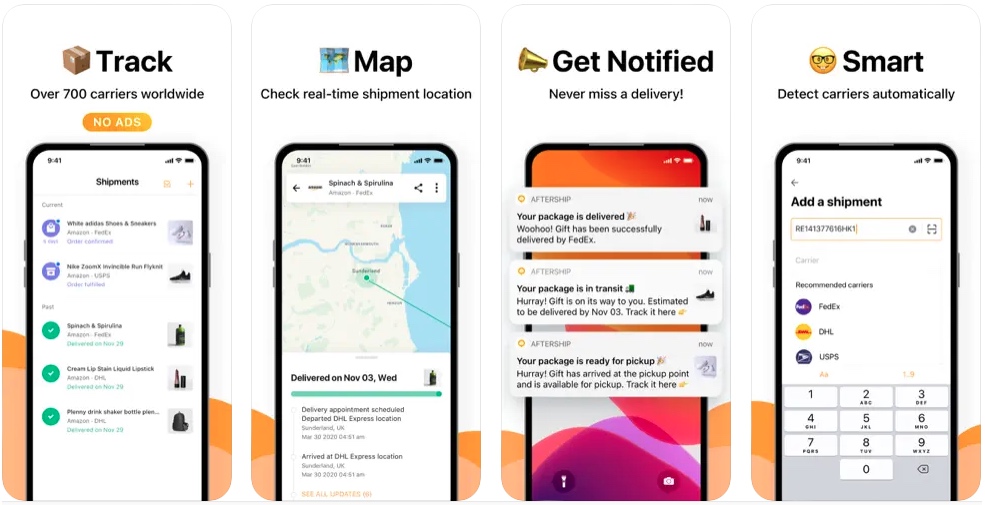 AfterShip is an all-in-one package tracking app that allows you to keep whereabouts track of your online order. With the AfterShip package tracker app, you can locate all your online orders and shipments.
The app allows you to use their shipment tracker for all deliveries with various local carriers such as the Post, UPS, DHL, FedEx, USPS, DPD, etc. Know when your parcel is expected, check the delivery status from Amazon shipping, AliExpress eBay, and others only with a few clicks.
Key Features:
Free shipment tracking
Free push notifications
No ads
Auto-detect courier with the shipping label
Conveniently copy and paste the tracking number of orders
Easy-to-share tracking links with the order tracker
Gmail sync
Download AfterShip Package Tracker from the Apple store for free.
6. ParcelTrack – Package Tracker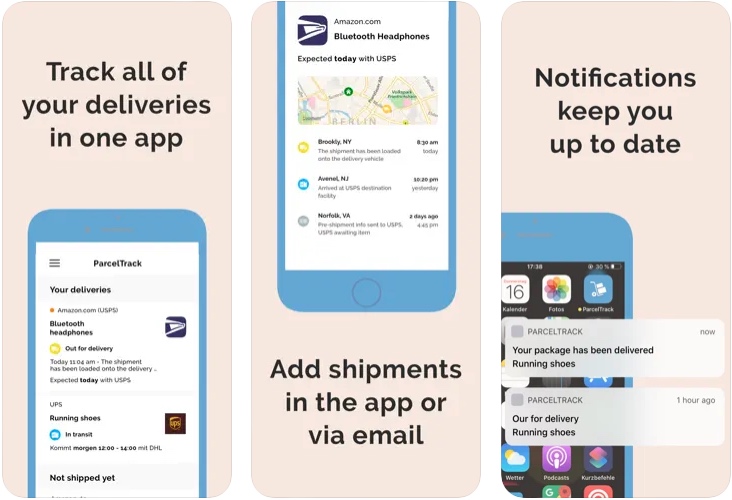 ParcelTrack is yet another App for iPhone users to track all packages and shipments. The app so far provides delivery forecasts for different logistics, including DHL, DPD, FedEx, and UPS.
Further, this single app integrates all of your consignments from more than 50 delivery services and sends you updated Push-Notifications about your delivery status. It also includes an in-app inbox, which makes it even more accessible to track your packages.
Key Features:
sends free push notifications, so you know when your package is being delivered.
Keep track of the delivery van via GPS in real-time.
Automatic carrier detection
Store all delivered packages in your Archive which gives you an overview of all your delivered shipments.
Organize your push notifications according to your preferences.
Synchronize between on all of your iOS devices.
You can enjoy ParcelTracks premium features to make your shipment tracking even better. Get a monthly subscription for only 2.99 USD to make an in-app purchase.
Download ParcelTracks here for free on your Apple devices.
7. Packages – Track Your Parcels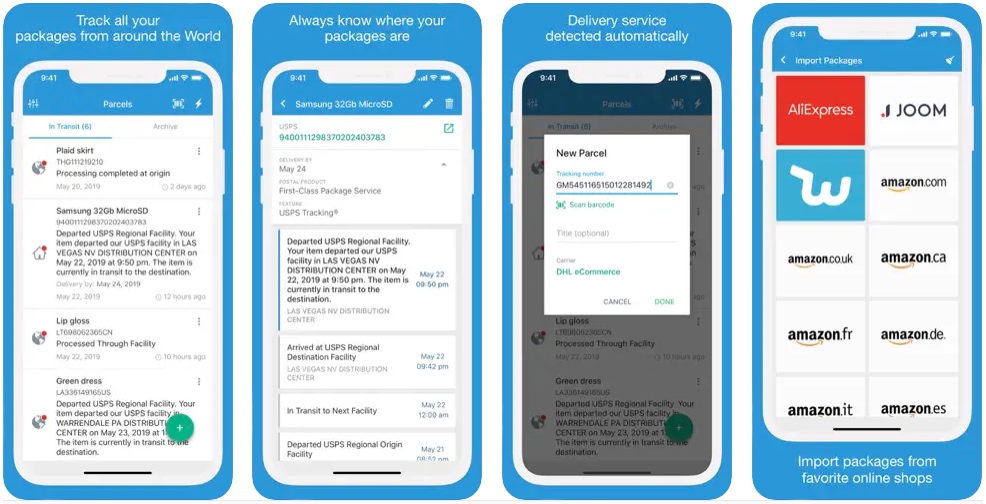 With Packages in your iPhone, you don't need to enter the tracking numbers manually because the app allows you to import tracking numbers with the title of purchased goods.
The app is a serious time saver and incredibly easy to use, you can see the Estimated Date of Delivery for registered parcels in the app.
Track and import all your packages directly from Aliexpress, Lazada, Amazon, Wish, eBay, Joom, Gearbest, Banggood, and ASOS. Plus, track any courier, or Logistics Company, such as UPS, FedEx, YunExpress, DHT Express, Wish Post, Hermes, and Panasia in one place.
Key Features:
Track an unlimited number of items
No registration required
Minimum taps to track the new package
The app is ad-supported.
You can purchase Premium auto-renewing yearly or monthly subscriptions to disable ads, remove parcel tracking limits, and support app development for only 3.99 USD.
Download Packages – Track Your Parcels here for free.
8. Package Tracker – FastTracking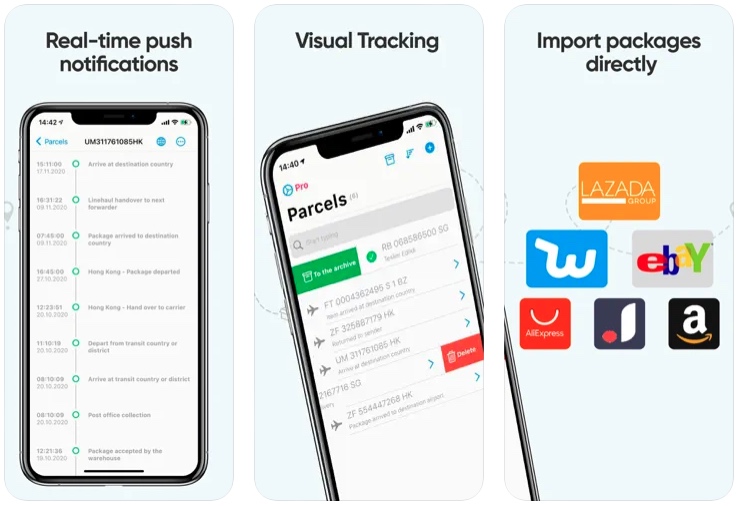 For Apple users, Package Tracker is another delivery tracker app that allows you to track your orders in one place.
You can seamlessly track more than 700 carriers worldwide. All you are required to do is enter the shipping number manually, and the app will automatically detect the updated info on the shipper and parcel status.
Key Features:
Add a tracking number to find your parcel's location and movement history.
Receive notifications about a parcel's movement.
Sort and filter parcels.
FastTrack PREMIUM
Upgrade to FastTrack Premium for a first-class experience.
You can subscribe to a weekly package for $2.99 or a monthly package for $19.99 to unlock premium features.
Download Package Tracker – FastTracking here for free on your iPhone or iPad.
9. Package Tracker: Track Parcels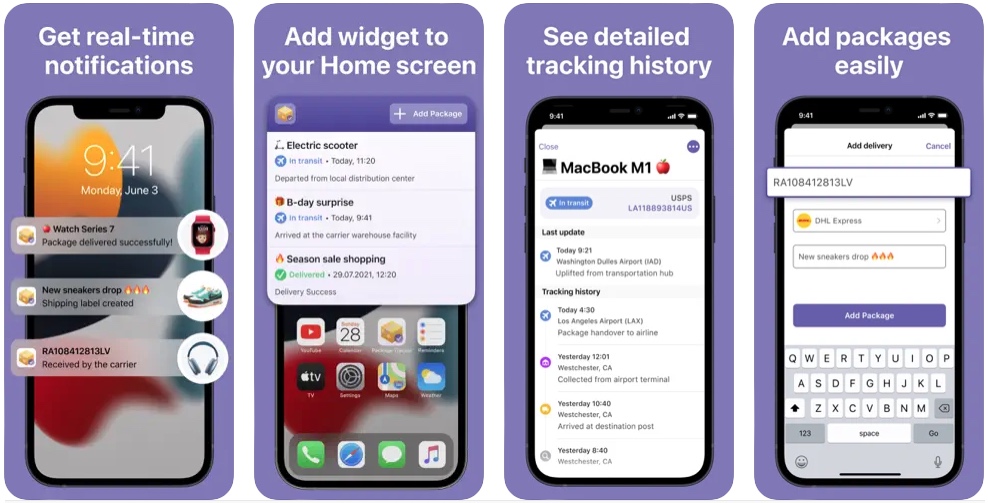 Package Tracker is an ideal app for all online shoppers that allows tracking shipments by only adding the tracking number.
With this application, you can access both local and international postal and delivery services tracking information. The app supports the services of FedEx, DHL, UPS, USPS, DPD, TNT, GLS, UK Mail, China Post, OnTrac, and several others.
Key Features:
Add a memo for every tracking number
Get a push notification when delivery status updates
Quick adding tracking number
Save archive for all delivered packages
Track unlimited parcels and multiple carriers
View details about your current package status and location
Subscribe weekly for $9.99, monthly for $19.99, or yearly in $29.99 packages to unlock premium features and unlimited tracking access.
Install-Package Tracker: Track Parcels here for free.
10. Parcelee – Package Tracker App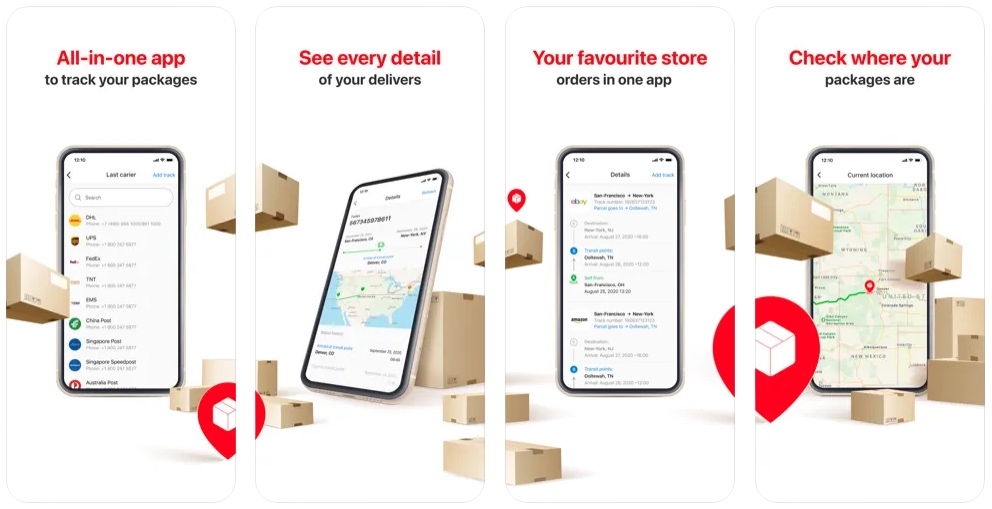 Parcelee is another all-in-one package and order tracker app for online shoppers. The app allows you to promptly access tracking information for over 600 delivery services including UPS, FedEx, DHL, USPS, TNT, LaserShip, Aramex, OnTrac, China Post, SingPost, and many other postal services.
You can easily and simply locate your delivery on the map and manage your deliveries according to your ease. This app includes the most current information on your domestic and international packages and parcels.
Key Features:
Speedy shipment tracking via parcel's unique identifier
Auto-detect courier
An option to save numerous tracking numbers and receive updates on each of the shipment's statuses in a real-time mode
Easy copy/paste tracking number
No ads
You can use premium features by subscribing weekly package for $6.99, monthly for $19.99, and yearly for just $44.99.
Download Parcelee – Package Tracker App here for free.
The Bottom Line
All the above-mentioned reliable parcel tracking apps provide an great opportunity for Apple users to perform international package tracking for numerous shipments. So, keep shopping online while tracking your parcels easily!
What was your last online purchase? Let us know in the comments section.