In this list, we have featured some of the best Ad Blocker Apps for iPhone, iPad, and Mac that you can download and use on your devices. These multi-platform apps enable users to make the internet distraction-free by blocking annoying ads and popups.
Tired of those pesky ads popping up on your iPhone, iPad, and Mac screens like uninvited party crashers? Well, guess what, you're not alone! In the wild world of the digital age, it's like advertisers have forgotten the meaning of personal space.
But fear not, fellow digital denizens, because, in this glorious year of 2023, we've got the ultimate lineup of ad blocker apps that are here to save your sanity and your screen space.
Best Ad Blocker Apps For iOS And Mac
There are the best ad blocker apps for iOS and macOS that you can download and use in 2023.
1. 1Blocker – Ad Blocker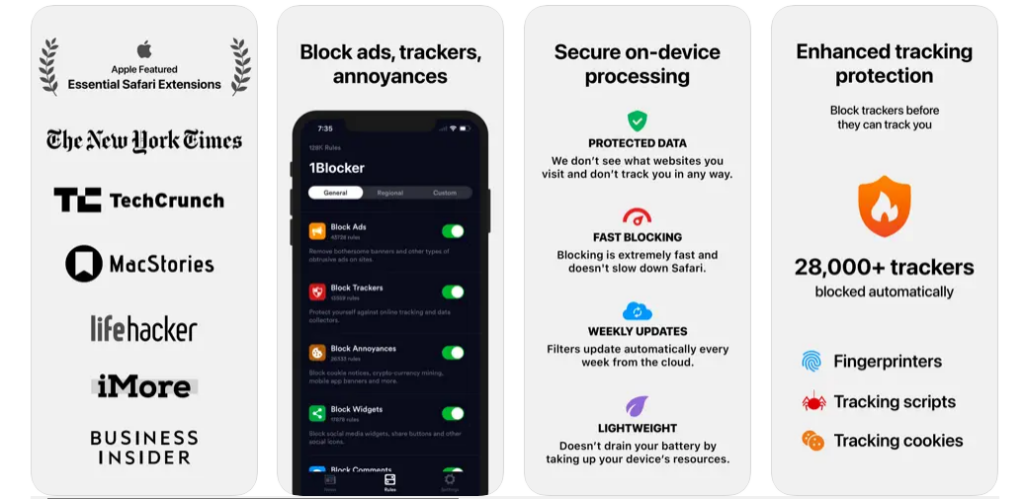 Tired of intrusive ads, sneaky trackers, and bothersome elements cluttering your online experience? Look no further than 1Blocker, the solution that empowers you to take control of your web interactions. With 1Blocker, you can browse the internet securely, undistracted by unwanted elements.
1Blocker boasts intuitive usability. A couple of simple toggles are all it takes to activate ad and tracker blocking. Regular cloud updates for the integrated filters occur seamlessly, eliminating any need for manual intervention. Setting it up is a breeze, and once configured, you can conveniently forget about it, assured that it's diligently at work.
The speed of blocking is remarkable, as 1Blocker intelligently leverages Safari's built-in capabilities. This iPhone ad blockers app exclusively supplies filters to Safari, leaving webpages untouched. This strategic approach amplifies efficiency, with Safari preemptively identifying and blocking undesired content. As a result, site loading speeds are enhanced by an impressive 2-5 times.
Install 1Blocker – Ad Blocker from the App Store now.
2. AdGuard — adblock&privacy 
Bid farewell to a myriad of advertisements within Safari. Wave goodbye to bothersome banners, intrusive pop-ups, and disruptive video ads. You have the freedom to whitelist your preferred websites or employ the manual blocking tool to discreetly remove specific elements from any given page.
In a digital landscape filled with relentless trackers that meticulously monitor each of your clicks, AdGuard steps in with an array of filters meticulously designed to counter trackers and web analytics. Rest assured that your personal data remains truly private.
Experience Safari's browsing speed skyrocket by up to fourfold with AdGuard. By eliminating copious amounts of digital clutter, this ad blocker for iPad and iPhone empowers you to navigate the online realm with unprecedented swiftness.
Install AdGuard — adblock&privacy from the App Store today.
3. AdBlock Pro: Safari Ad Blocker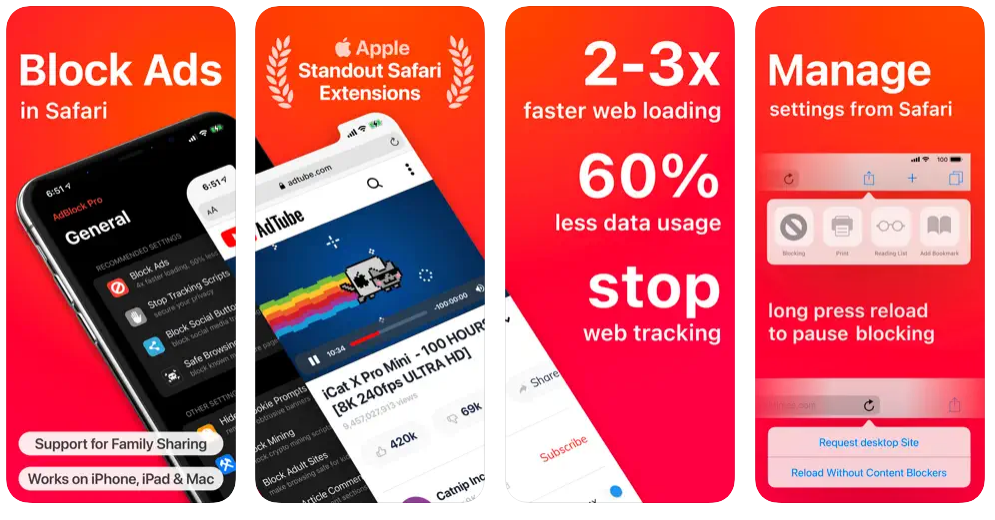 AdBlock Pro: Safari Ad Blocker is a powerful and user-friendly application designed to enhance your web browsing experience by eliminating unwanted advertisements and improving page loading times. With its advanced features and seamless integration with Safari, this app provides an ad-free browsing experience for users.
You can block various types of ads, including banner ads, pop-ups, video ads, and overlay ads, ensuring a clutter-free browsing environment and Tailor your ad-blocking preferences by creating custom filters. Choose which types of ads to block or allow based on your browsing needs.
By blocking ads and unnecessary content, AdBlock Pro accelerates page loading times, reducing data consumption and optimizing your browsing experience.
Install AdBlock Pro: Safari Ad Blocker from the App Store today.
4. Norton Ad Blocker 
Wave goodbye to those pesky ads on your phone! Let's be real, online ads can be such a buzzkill, especially when you're just trying to scroll through stuff on your phone. But guess what? We've got the perfect solution for you: Norton Ad Blocker! Yep, the same folks who brought you the awesome Norton Security have come up with this nifty app that does all sorts of cool things:
First things first, this one of the top-notch Mac ad blocker apps helps you kick those annoying ads and sneaky online trackers to the curb while you're cruising the Web. No more interruptions – you're in control now. Plus, it turbocharges your content loading speed, so you can get to the good stuff quicker.
With Norton Ad Blocker, your browsing experience gets a major boost without all that ad clutter dragging you down. Your phone's battery life gets a breather too – so you can keep on scrolling, chatting, and snapping pics without worrying about the next charge.
Install Norton Ad Blocker from the App Store today.
5. Blokada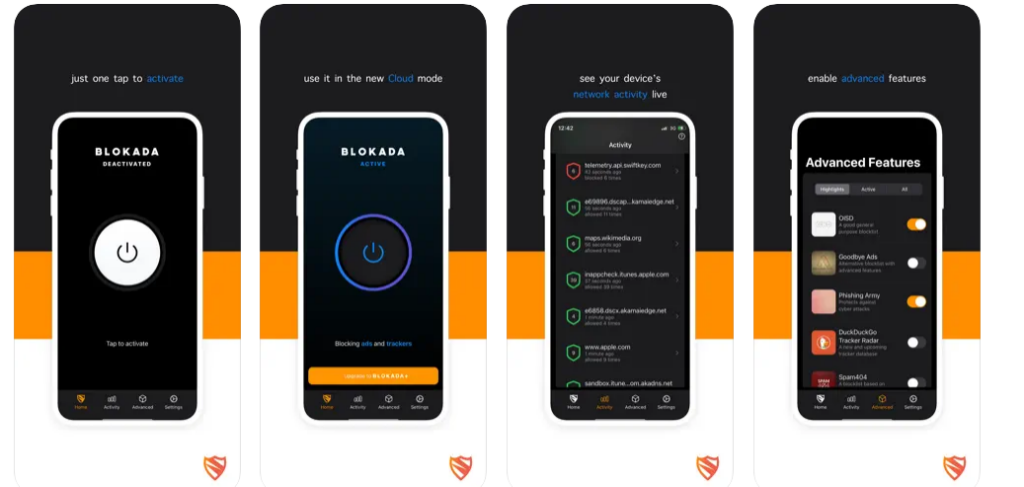 Elevate your experience with Blokada Plus, which not only encrypts all your data traffic using our expansive global VPN network, but also enhances your online privacy, fortifying your internet connection against potential cyber threats and malicious actors.
This Safari ad blocker app seamlessly extends its ad-blocking capabilities to all web browsers and installed applications, effectively thwarting sites that disseminate malicious content, viruses, and fraudulent websites. With DNS-based interception tailored for modern browsers and apps, coupled with a swift and dependable VPN, your privacy is preserved and your data is encrypted to ensure a secure online journey.
Install Blokada from the App Store today.
6. Total Adblock – Ad Blocker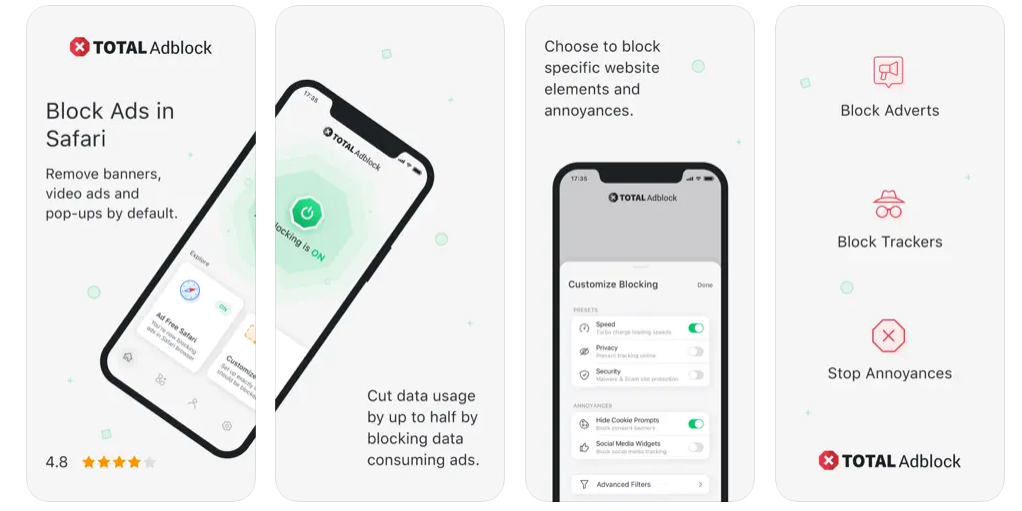 Experience browsing like never before with Total Adblock – your ultimate solution for eradicating unwanted ads and pesky pop-ups on your iOS device. Utilizing cutting-edge technology, Total Adblock guarantees a seamless and swift browsing journey by effectively intercepting all forms of advertisements, from banners to video ads.
Total Adblock isn't just about enhancing your browsing speed; it's a tool that conserves your data usage and extends your device's battery life. By erasing ads and other undesired content, you can browse with heightened efficiency while staying mindful of your data plan.
This best ad blocker for iPad free user-friendly tool offers preconfigured ad-blocking settings that cater to your preferences: whether it's optimizing for speed, bolstering privacy, or silencing annoyances. Additionally, Total Adblock features an Allow list, empowering you to designate trusted websites and even permit ads for those you wish to support – all conveniently managed through exceptions.
Install Total Adblock – Ad Blocker from the App Store today.
7. Ad Block One: Tube Ad Blocker
Ad Block One for Safari offers an effective solution to eliminate the irritation caused by incessant online advertisements. Experience accelerated webpage loading times while also bolstering your online security.
Bid farewell to disruptive video, pop-up, interstitial, and banner ads that disrupt your browsing experience and tailor your ad-blocking preferences effortlessly by allowing ads on websites you wish to endorse.
Witness the remarkable swiftness with which websites load when relieved from the burden of unwelcome ads. Embrace the benefits of Ad Block One today, free of charge, and relish in these transformative advantages.
Install Ad Block One: Tube Ad Blocker from the App Store today.
To Conclude
In the ever-evolving landscape of digital advertising, finding the right ad blocker app for your Apple devices has become crucial. The ad blockers for iPhone mentioned above offer a diverse range of features, catering to different user preferences and needs.
Whether it's about enhancing your browsing experience, boosting device performance, or maintaining online privacy, these best free iOS ad blocker are undoubtedly valuable additions to your digital toolkit. By effectively curbing intrusive ads and pop-ups, these apps empower users to reclaim control over their online interactions, ultimately fostering a more seamless and enjoyable online journey.