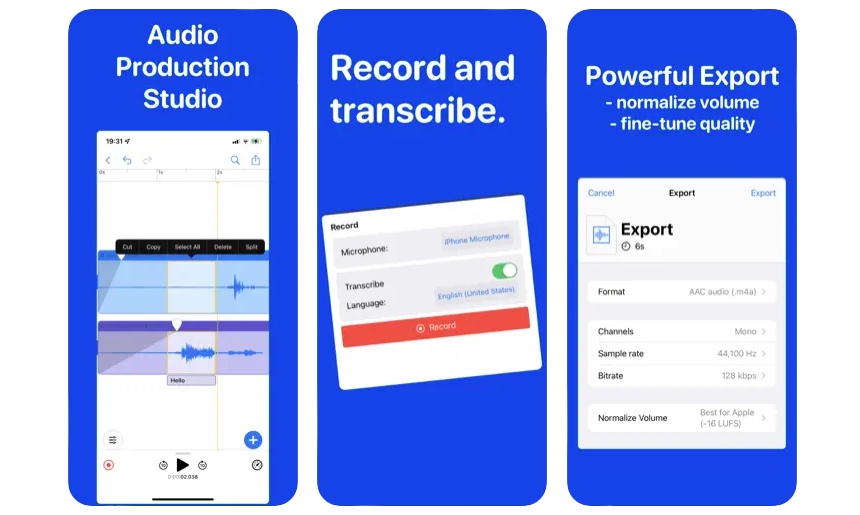 Pompom is an app for podcasters who are looking for a multi-platform application that can help them with various podcast production related tasks and make their life easy.
Pompom app, which is available on iPhone, iPad and Mac is basically a production studio app with all the features you need to record, edit and publish your podcasts.
The best thing about this app is that it offers desktop class features that are available on its Mac version on both iPhone and iPad. This means you can essentially run your whole podcast production right on your iOS device and export professional quality podcasts on the go.
What's great about Pompom app is that it is suitable for both beginners and pros who can use it to produce studio quality podcasts right from the Apple device of their choice.
With Pompom app you get access to various podcasting features like multi-track audio recording and editing, free transcription, ability to edit transcribed audio with its built-in text editor and more. It even offers built-in one-click audio enhancements that let you enhance your recorded audio with more ease.
Using this app you can also create shareable videos featuring your audio clips. You can use this app to add audio effects to your recordings, add podcast metadata and chapter markers and export your recorded podcasts in lossless audio format.
Other features of Pompom app include ability to find long pauses in audio, find background noise and search transcribed recordings.
You can download the Pompom app on your iPhone, iPad or Mac from the App Store, where it is available as a free download. While the app is free to download it does offers monthly subscription at $11.99.
Disclosure: iOSHacker may receive a commission if you purchase products through our affiliate links. For more visit our privacy policy page.