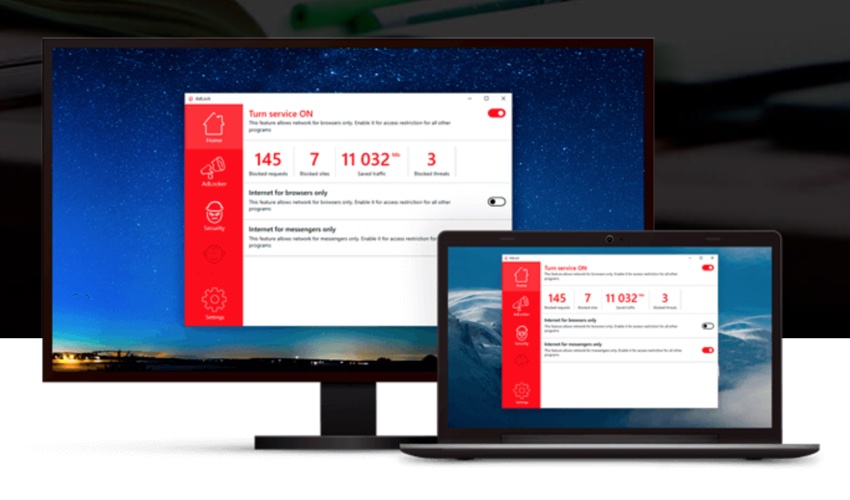 As necessary as ads are for a website to stay funded banner, pop up and video advertisements are the biggest annoyance for the users. Nowadays ads have expanded from websites to desktop games, applications and even videos. While most ads such as the ones served on this website are fine (although we would like to reduce their number) many ads on different sites and apps can pose external threats and destroy user experience.
Thankfully with AdLock you can block all sorts of annoying ads including pop ups, text ads, banners, video ads. And yes, it will block those annoying YouTube ads that appear before and during the videos. This ad block for Windows works on all modern browsers so no matter if you use Google Chrome, Mozilla Firefox or Microsoft Edge you will be protected.
AdLock's magic does not stop at web browsers though, as it can also protect your computer from intrusive advertisements found in applications like Skype, uTorrent, KMPlayer and more.
Since ads are a big reason websites load slow, by blocking them your favorite websites will load a lot faster and your internet will seem pretty fast.
This ad block tool goes a step further and warns you of any suspicious websites before you click on them. It will tell you if the site you are about to enter serves malware. In addition to that it can also protect your personal data from spyware and phishing attempts in which attackers try to extract your username, password and credit card information by displaying a fake login page.
Currently AdLock is available on Windows and Android. The Windows version of the tool works on Windows 7, 8 and 10.
You can try this ad blocker for PC from their official website where it is available for free as it comes with a 14 day free trial. If you are satisfied with the tool you can opt to buy a whole year's license for your computer at a price of $22. A lifetime license is also available for $55.