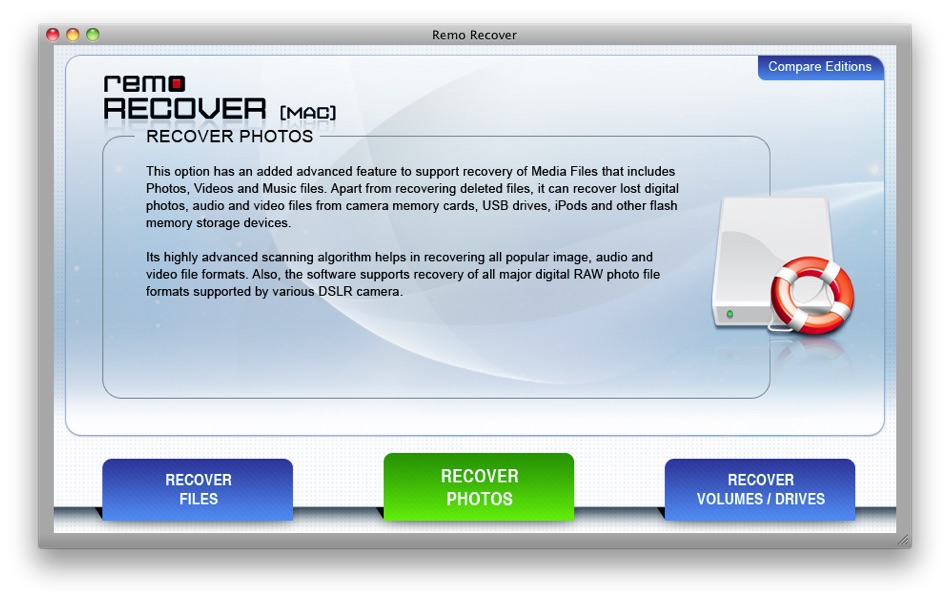 One of the worst things that can happen to a Mac user is losing data that wasn't backed up. While Macs are very reliable when it comes to data storage all computers are vulnerable to glitches. When such a glitch occurs the user ends up permanently losing valuable data that may include but is not limited to documents, photos, videos, music, files and more.
Remo Recover (Mac) software gives users powerful yet easy to use data recovery solution that can enable them to get back the data that they thought was gone forever. This tool offers Mac data recovery where data loss occurred due to a wide range of problems. This includes file deletion, files deleted from Mac Trash, accidental re-installation of macOS, reformatted volumes, re-partitioned volumes as well as lost volumes.
What makes Remo Recover (Mac) different from other similar tools is the fact that it is easy to use, making it suitable for most users out there. You don't need to be a software engineer to perform Mac data recovery with this tool.
This software employs two deep scanning algorithms to find and recover files that are missing from the Mac as a result of a glitch or accidental loss. When searching for files it can identify various file types on the basis of their unique signatures giving users more control while performing data recovery. This makes the data recovery process fast as you can specifically search for a certain file type. A great feature of this tool lets users preview the files that have been recovered before they are restored.
It has many features that are designed to make Mac data recovery process easy and convenient for the users. In addition to file previews users also have the option to pause, save and result recovery sessions. This allows users to scan and then resume the data recovery process without having to rescan the drive. You can even see your data in read only mode, which makes sure no further damage is done to the lost data.
Also read: How To Access iCloud Photos And Fix iCloud Photos Not Downloading
While you can use it to recover files from any type of hard drive, Remo Recovery (Mac)'s data recovery capabilities are not limited to internal Mac storage as it can also be used to recover data from any external storage device. This includes any USB external drives, external hard drives, memory sticks, memory cards etc. Multiple partition types including HFS+, HSFX, FAT16 and FAT32 are supported.
How To Use Remo Recover (Mac) To Recover Your Files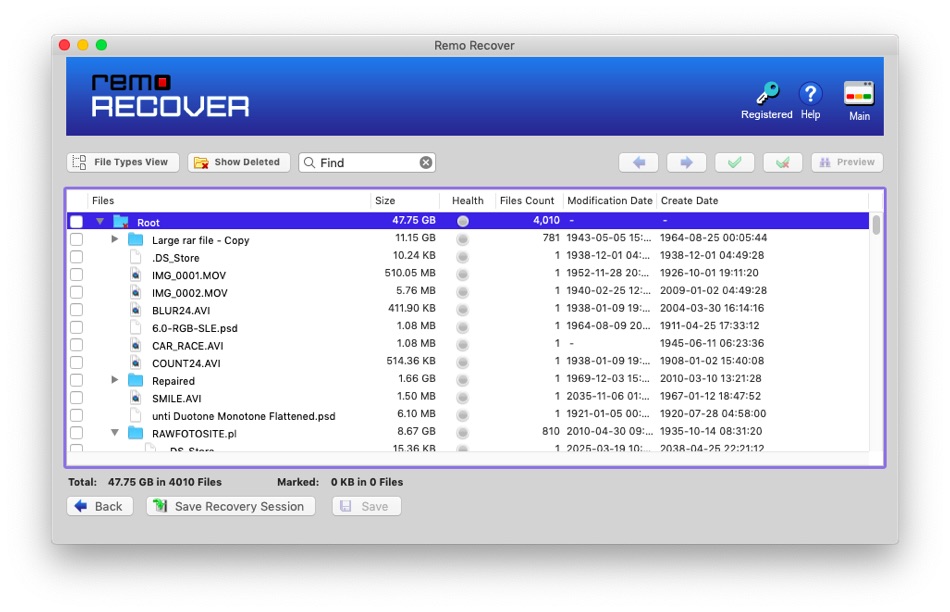 Recovering photos with Remo photo recovery Mac software is quite simple, you can do so by following the simple steps below.
Launch the Remo Recover on your Mac and click on the Recover Photos option.
Now choose between Recover Deleted Photos or Recover Lost Photos option.
From the next screen click on the drive that you want recover photos from.
Choose the file types that you want to recover and then click on the start option.
Once the scanning has completed you will see all the lost photos that have been discovered by the tool.
You can preview the photos and recover them by specifying a location on your Mac.
Remo Recover (Mac) comes in 3 editions that are designed with different types of users in mind. You can go fo the basic version that will allow you to recover deleted and lost files from Mac OS Extended.
The Media Edition of the tool will also let you recover media files like photos, audio, videos and RAW photos.
Lastly the Remo Recovery (Mac) Pro Edition lets you do all the things that are possible with the basic and media editions of the tool. On top of that you also get enhanced support to recover files from volumes not getting mount-d, re-formatted or those that have been deleted.
You can start to recover data using Remo software by getting its full license. Remo Recovery (Mac)'s basic version is available for $59.97, Media version for $69.97 and Pro edition for $179.97.