iOS 11 upgrades have been running smooth for most users however for many upgrading their iPhone or iPad, it has been a bumpy ride. While upgrading to iOS 11 through the over-the-air and iTunes methods users have reported getting iPhone and iPad breakdowns. Users have been reporting a variety of issues including their device getting stuck at the Apple logo, black screen of death and reboot loop.
Getting these errors can be nightmarish for users, as it can result in loss of data if backups are not present. Some even have to go to Apple as the problem just won't go away. The PhoneRescue tool aims to solve these problems for the users allowing them to successfully upgrade their iOS devices to the latest iOS 11 release in no time.
With just click of a button you can solve the issues looming over your iPhone or iPad. You can take your device out of boot loop or Apple logo screen by simply connecting it to your computer and running the PhoneRescue tool.
The best thing about the PhoneRescue tool is that it can solve these iOS 11 update issues while saving the data stored on the device. So unlike many recovery methods out there, that involve factory resetting your iPhone, you can rest assured that when PhoneRescue brings your iPhone back to life your precious data will still be intact.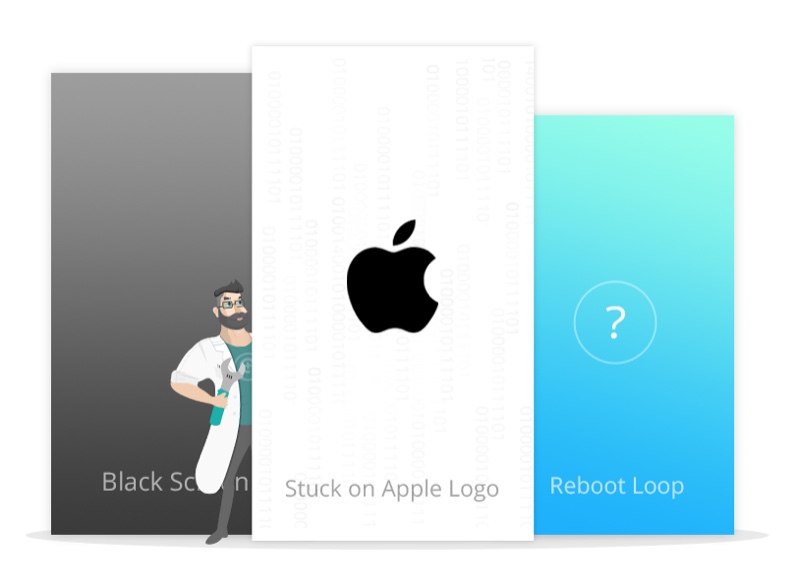 Using PhoneRescue to solve iOS issues is pretty easy. All you have to do is connect your iPhone or iPad to the computer and launch PhoneRescue. Then click on the iOS Repair Tool option, then choose the mode you want to use depending on your problem. Follow the on-screen instructions until you reach the end of the process and your device is recovered.
PhoneRescue can not only bring your device to life but it will also help you recover your seemingly lost data. This tool is capable of retrieving valuable data from iTunes and iCloud Backups in just a few clicks. This includes all types of content including photos, videos, contacts, music, calendar, notes, messages, call logs and more. So this tool will be useful during the iOS 11 update and after it.
You can download the PhoneRescue tool for free. It is available for both Windows and macOS platforms. A full single license is available for $49.99.