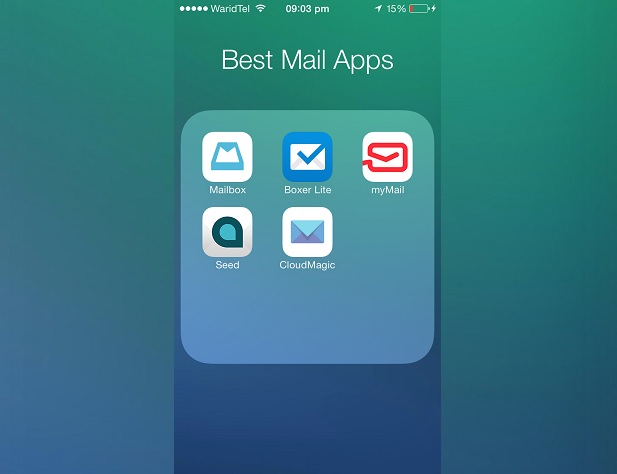 In the post PC era mail has become even more important than it ever was. People are using email on their iPhone for all sorts of things which includes communicating with others, reminding themselves of tasks or just sharing photos and thoughts quickly with friends and family. As email grows and becomes more personal there are many apps for iPhone that are redefining the experience.
So what are the best mail apps available for iPhone? In this post we will list a few out of many mail apps available in the App Store that deserve to be called the 'best mail apps for iPhone'. Let's begin!
CloudMagic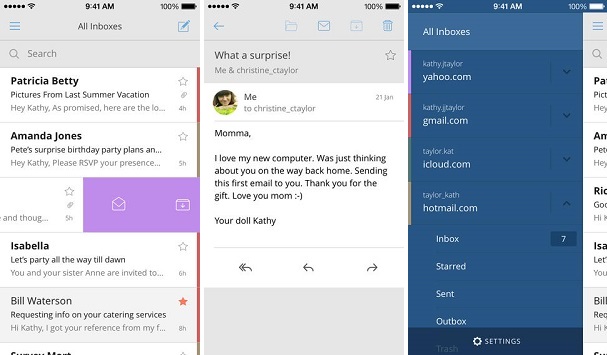 The Cloud Magic app for iPhone is a simple yet powerful app for managing multiple email accounts at one place. With its fast account switching and 'All Inboxes' feature you can send or receive emails from different accounts without much effort. CloudMagic supports all major email services and has a search feature that will find anything no matter how many emails you have in your inboxes. Some of its notable features include notifications, reminders, passcode lock, swipe based gestures and more. It is available for iPhone and iPod touch for free.
Boxer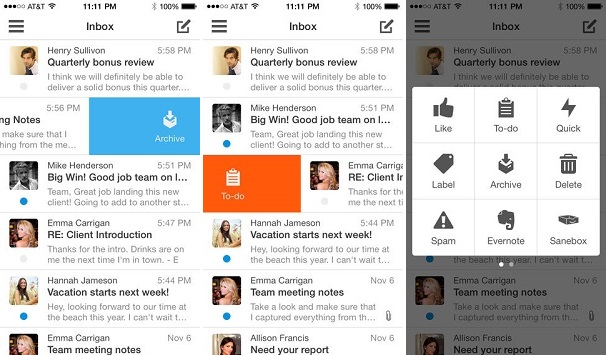 Boxer is a mail app that focuses on helping you get things done. The app heavily relies on gestures making it easier for users to perform certain tasks quickly that include archiving, deleting and marking messages as spam. This app supports all major email services and IMAP accounts. Features of Boxer app for iPhone include push notifications, calendar and Evernote integration, support for Gmail labels, To-Do lists, 'Likes' for messages, profile pictures and much more. Just like CloudMagic app it also has Passcode feature that secures emails with a password. Boxer is available for $0.99. There is a lite version as well that is available for free with a few less features.
Mailbox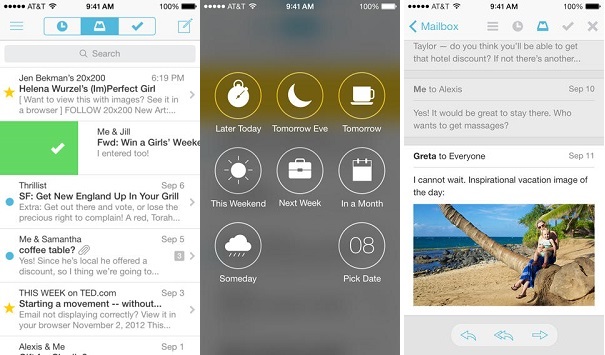 Mailbox app for iPhone provides a similar experience as Boxer app. It also relies heavily on gestures and getting things done. It has a fast, clean, and minimalistic interface that makes using the app a pleasing experience. Mailbox app is only available for Gmail right now, which is a con for those who use other services. Mailbox encourages users to achieve zero inbox and makes it easier for them to achieve this task. Users can prioritize their messages and make the app remind them in a later time. It is available for free and supports iPhone, iPad and iPod touch.
myMail
The myMail app for iPhone as we have detailed before features a fresh look and animations that make using this app a delight. It supports all major mail services, multiple account support, avatars, push notifications, quite time and more. The app also has a really powerful search feature that allows users to search through their multiple inboxes. The pane based navigation and account switching makes using the app pretty convenient. It is available for free and supports iPhone, iPad and iPod touch.
Seed Mail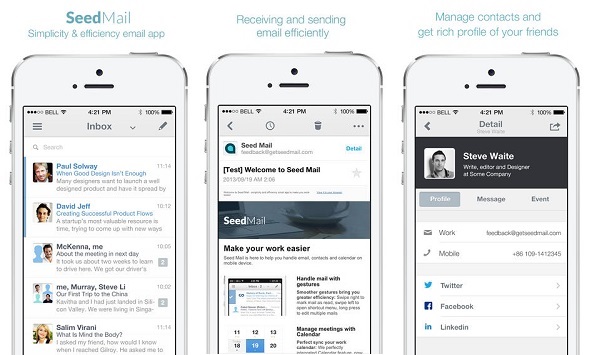 The Seed Mail for iPhone is an email client that has been designed for performance. The app features integration for stock Calendar and Contact apps that allows users to manage their schedules and meetings easily. Seed Mail supports multiple accounts and features like push notifications, voice mail, scheduling, Dropbox and Evernote integration, passcode lock support and more. Seed Mail app is available for free.
Honorary mentions: