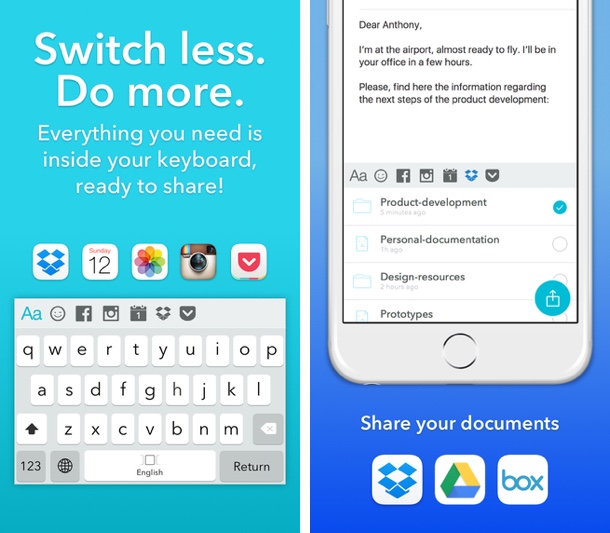 If you share a lot while chatting to friends over the messaging app of your choice or when writing emails, then we have got the perfect keyboard for you. The Thingthing Keyboard can make your life convenient by making it easier for you to share documents, pictures, links as well as calendar items with friends, without ever leaving the app you are currently using. Once you have downloaded and enabled Thingthing keyboard, you can connect it with different apps such as Facebook, Instagram, Photos, Calendar, Dropbox, Box, Google Drive, Pocket etc.
Once the keyboard is connected with apps you want to share content from, you can simply tap on that app's icon and select the image or document you want to send across. Thingthing displays the items you can share based on the selected app. Once you tap on the item you want to share, the keyboard will copy it to your clipboard, which you can then paste in the typing area before hitting send.
So what exactly can you share using Thingthing keyboard? A wide range of things that depends on how many apps or services you have connected with Thingthing. You can attach files and folders from storage apps like Dropbox, Box and Google Drive. You can also quickly share images from official Instagram, Facebook as well as Photos app. As mentioned earlier, Thingthing shows the content right in the keyboard area letting you to choose the image or document you want to share. Instead of inserting itself, it copies the item to your clipboard that you can simply paste using the usual iOS copy/paste mechanism.
In addition to letting you share images, files and documents quickly the Thingthing Keyboard also integrates with the stock Calendar, making it possible for you to share your appointments with friends over messages or email a lot easier.
Also read: How to install or remove third-party iOS 8 keyboard on iPhone or iPad the right way
The main focus of this keyboard is to let you do things while requiring less effort from your end and save time. It does that quite nicely with its unique approach.
You can download the Thingthing Keyboard from the App Store for free. It works with all iOS devices running iOS 8.1 or above.