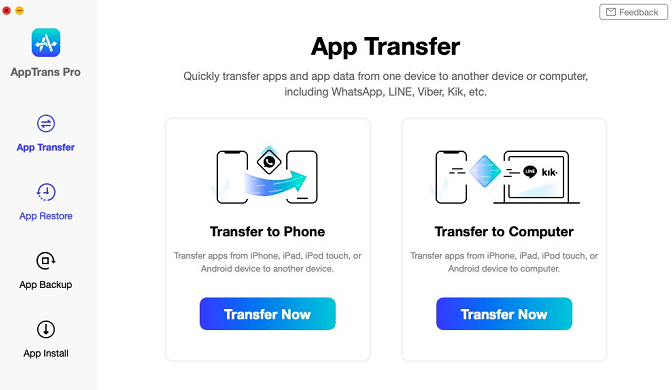 Recently a family member of mine wanted to transfer WhatsApp data from Android to iPhone. While rest of the data transfer had gone smoothly she could not figure out how she can securely transfer her WhatsApp chat that included chats, attachments and other data from her old Android phone to her new iPhone 12 Pro.
When she asked me for help I figured it would take me a few moments and after a few taps I will be able to initiate the seemingly straightforward process. Little did I know currently there's no official and simple way of transferring WhatsApp data from Android to iPhone and vice versa. In fact you have to rely on third-party tools to perform this task.
After giving up on finding an official method to transfer WhatsApp data, I stumbled upon AppTrans app. This powerful Mac and Windows application allows iPhone users to easily transfer their Android data to their new Apple device. The best thing about this tool is that it works the other way around as well, so if you're transferring from an iPhone to Android you can use AppTrans to move your apps and app data.
After finding AppTrans moving WhatsApp data from Android to iPhone was an easy enough task. This application can not only transfer WhatsApp data between devices, but it is also capable of restoring WhatsApp data to iPhone that is stored on Google Drive.
AppTrans WhatsApp transfer feature does not erase WhatsApp data that is on the new device. Instead it merges previous data with new WhatsApp data so you don't lose your WhatsApp chats and attachments that have been received on your new device in the meantime.
While the focus of this post is on WhatsApp transfers, AppTrans can be used to transfer all apps and app data from Android to iPhone with ease.
Transferring WhatsApp Data From Android to iPhone
In this step by step guide we will show you how you can use this amazing app to safely and securely move your data between your old Android and new iOS device. So let's get started.
Step 1: Launch AppTrans and select App Transfer – Transfer to Phone option.
Step 2: Now connect your iPhone to your computer with a Lightning cable. Also connect your Android smartphone with computer using a USB cable.
Step 3: After both devices have been recognized by AppTrans click on the Transfer Now button.
Step 4: From the next screen make sure you select WhatsApp option and then click on Next button.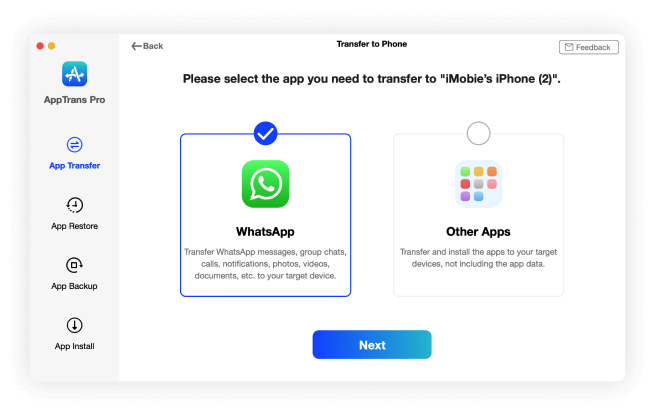 Step 5: Now on your Android device launch WhatsApp app and tap on the menu button. Then go to Settings -> Chats -> Chat Backup and tap on Back Up button.
Step 6: After performing the steps mentioned in previous step click on Next button from AppTrans app.
Step 7: Now on your Android device you will receive a popup asking if you want to remove the official WhatsApp app and install WhatsApp Custom Version, which is used to extract data.
Step 8: After WhatsApp Custom Version has been installed by AppTrans, on your Android device to to Settings -> App Info -> WhatsApp -> Permissions -> Storage and enable the toggle to give the app access to phone's storage.
Step 9: Now launch WhatsApp Custom Version on your Android device and log into your WhatsApp account. Then tap on the Restore button.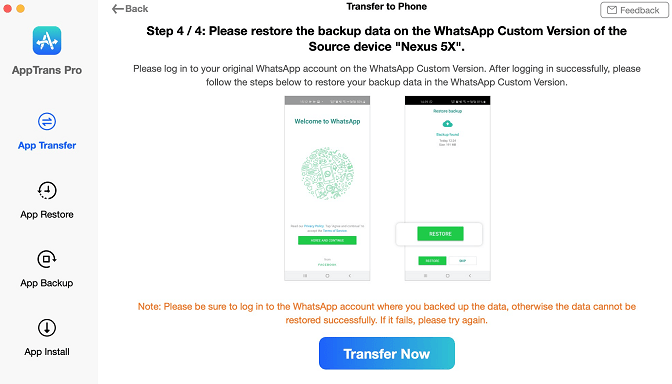 Step 10: Next click on the Transfer Now button on AppTrans. Now the application will start transferring WhatsApp messages from Android to iPhone. This process could take some time depending on the amount of data your are transferring.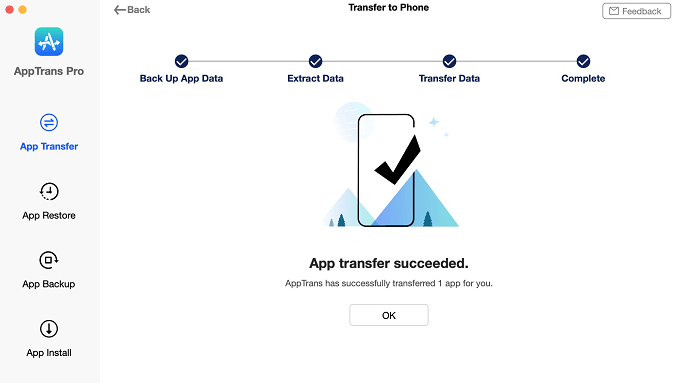 After the process is complete you will see "App transfer succeeded" message on AppTrans. At this point you can unplug your iPhone and start using WhatsApp on your iPhone.
In addition to transferring WhatsApp data from device to device, you can also restore WhatsApp data from Google Drive to your new iPhone. Detailed instructions on how to restore WhatsApp from Google Drive to iPhone are mentioned here
There you go folks, this is how you can use AppTrans to securely transfer your WhatsApp chats, attachments, photos and videos from an Android smartphone to an iPhone.
You can download AppTrans tool for Windows or Mac from its official website here. While you can download it for free to unlock all features and software updates you can buy AppTrans for a pricing starts from $25.99.