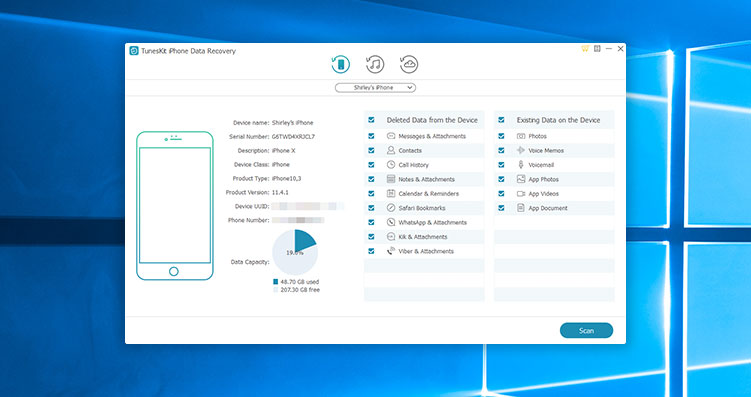 In this digital day and age losing your data can be a nightmare. As with most iPhone users out there our work and personal lives depend on the data stored on our iOS devices, and losing that data can have major repercussions for many. However there are instances when things go beyond our control and we do end up losing our device or being in scenarios when a nasty hack ends up deleting our data from our devices.
In those situations there's not much a layman user can do, and sadly apart from simple backup solutions Apple has not provided solid ways of data recovery for iPhone users, since you can only restore your data on another device before you can access it. That's where powerful third-party tools like TunesKit iPhone Data Recovery software come in. The iPhone Data Recovery tool for Windows makes it possible for iPhone, iPad and iPod touch users to easily recover their seemingly lost data through various ways. With this handy tool you can recover your lost data directly from iOS device, an iTunes backup and even from iCloud backup. The tool is easy, simple and fast, and is known to do the job reliably.
With TunesKit iPhone Data Recovery tool you can scan the previously created iTunes and iCloud backups for your device and preview data. Once you have have found what you are looking for you can quickly select and recover individual files, without even having to restore the said backup on another iPhone. So for example if you are looking for a few photos that were stored on your lost device and you have its iTunes or iCloud backup saved, you can select this backup and scan it through TunesKit iPhone Data recovery.
Once it has been scanned you will get a list of photos and other content that is stored inside that backup. You can then select the files that you want to recover and then easily recover the selective files from it. This type of selective recovery is not limited to photos only as can be seen in the extensive list of content that can be recovered with this method.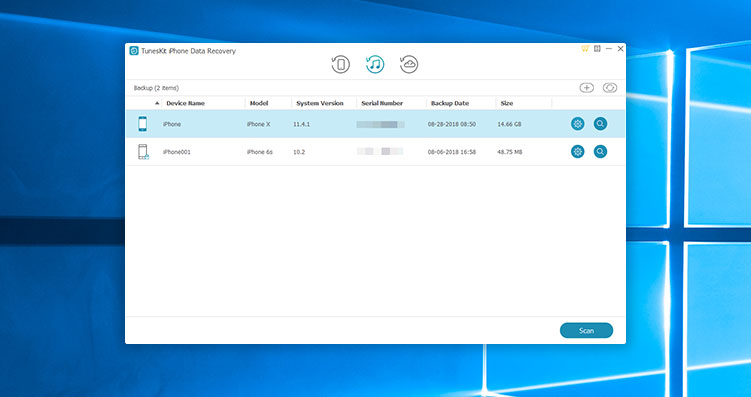 This iPhone data recovery software for Windows is not limited to recovering files that are stored in the iPhone backup, as it can also be used to recover files that have been accidentally deleted by the user.
In addition to that you can recover iPhone data that was lost while iOS upgrade failure, password lock, iOS system crash, virus and hacking, device damage, improper operation, hardware damage and more.
So what type of data can be stored using the TunesKit iPhone Data Recovery software for Windows? Well the list is quite extensive, and is as follows.
Photos
Videos
WhatsApp Data
SMS
Call Logs
Notes
Calendars
Bookmarks
Voice Memos
Reminders
Mails
App data such as photos and videos
Safari data
WhatsApp data
Viber data
Kik data
And more…
The tool comes with 3 smart recovery modes that are designed for different data recovery scenarios. You can recover any file that was deleted accidentally by plugging your iPhone to your computer and running the tool. However for instances when you no longer have a functioning device or it has gotten stolen you can use data recovery solutions that rely on previously created iTunes and iCloud backups.
The TunesKit iPhone Data Recovery software for Windows supports all modern iOS devices out there including but not limited to iPhone XS Max, iPhone XS, iPhone XR, iPhone X, iPhone 8 Plus, iPhone 7, iPad Pros, iPod touch etc. It also works with iOS 12 as well as older iOS versions, so you don't have to worry about compatibility issues whatsoever.
Using this tool is very simple, just launch the tool and select the suitable recovery mode by clicking on the appropriate button from the top. Once you have clicked the recovery method of your choice you will be shown instructions on how to proceed further for data recovery.
You can learn how to use TunesKit iPhone Data Recovery software in the step by step tutorial below.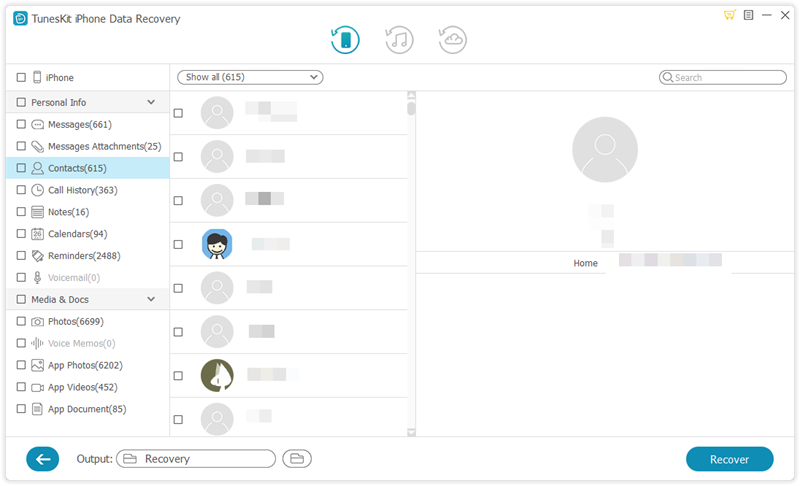 Connect your iPhone or iPad to your computer and launch TunesKit iPhone Data Recovery.
Select Recovery from iOS as recovery mode and then click on the 'Scan' button.
Once the scan is complete you will see a list of content that you can preview. Click on the content you want to see and look at the previews.
After you have selected the content that you want to recover simply click on the 'Recover' button.
TunesKit iPhone Data Recovery for Windows is available as a free trial, which gives users the opportunity to test the tool before they decide on making the full purchase. If you do decide to upgrade to full version, then you can buy it at a discounted price of $49.95.