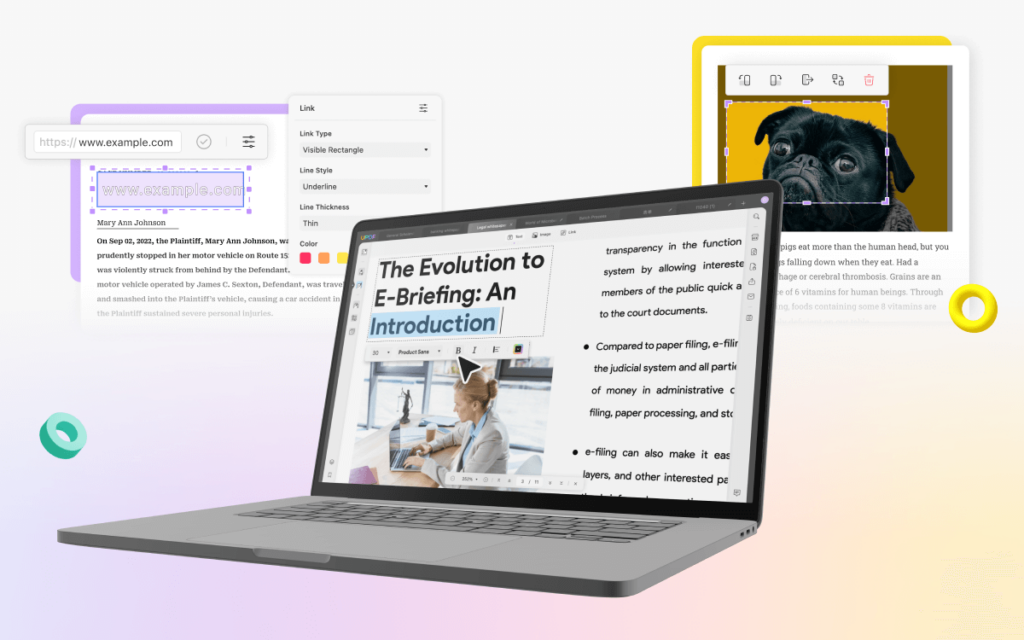 No matter if you are a student or professional, chances are you deal with PDFs in your daily life on a regular basis. Both Mac and iOS offer limited PDF reading and editing features, however, if you want to deal with PDFs at a professional level, then you need a third-party tool like UPDF installed on your devices.
UPDF is a professional PDF editor that makes it easier for users to view, edit, annotate, convert, and organize PDFs. The tool features a beautiful-looking design that turns the boring task of viewing PDFs a lot less dull.
UPDF tool is a multi-platform PDF editor that has separate and dedicated apps for Mac, Windows, iOS, and Android platforms. Perhaps the best thing about UPDF is that you can use it on all of these platforms with just a single license.
This PDF Editor is packed with features and offers all the functionality you could possibly need or expect from a professional PDF reader. Most of UPDF's features are available on both desktop and mobile apps, however, some more advanced features are only limited to Mac and Windows.
UPDF is a paid app, however you can get a 53% discount over the regular pricing by using our link here.
UPDF PDF Editor: Key Features
Here are the features that you can take advantage of with UPDF PDF Editor for Mac and iOS.
View and Read PDF
UPDF offers a great PDF viewing experience to its users. One feature that I particularly like is its ability to let users choose which page layout they want to view their PDF document in. From its toolbar users can choose to view a PDF document in a single-page view, two-page view, scrolling, or two-page scrolling. This makes it incredibly easy to view large and small PDF files while also giving users full control over its interface.
For easier viewing UPDF also offers dark mode and the ability for users to change the background color of their PDF documents to different colors of their choice.
Other useful features of UPDF include the ability to add bookmarks, a search feature, a multi-tab view, a slideshow feature, and more.
Editing PDFs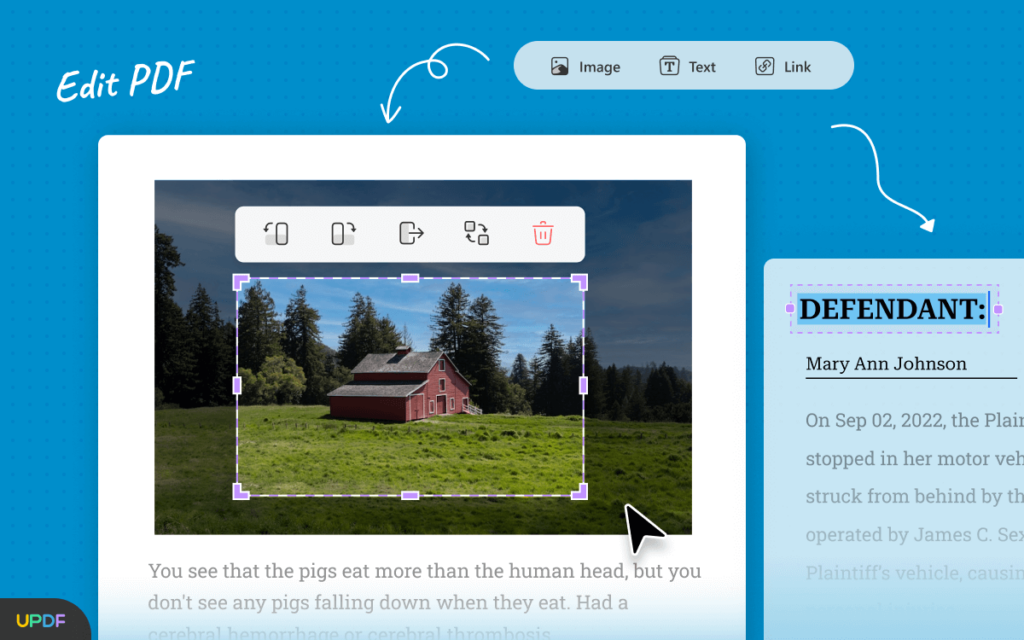 UPDF offers some powerful PDF editing features that are enough to make edits to a PDF document. This includes the ability to edit texts, images, and links in PDFs.
The watermark feature allows users to add watermarks to PDF documents while they can also insert headers and footers to all pages of a document with just a few clicks. You can also add web links to text and customize the link's appearance.
You can also edit images in your PDF documents, and perform actions like adding and removing images in PDF, cropping, extracting, deleting, and replacing. Users also get the ability to add background colors to their PDF documents.
Annotation features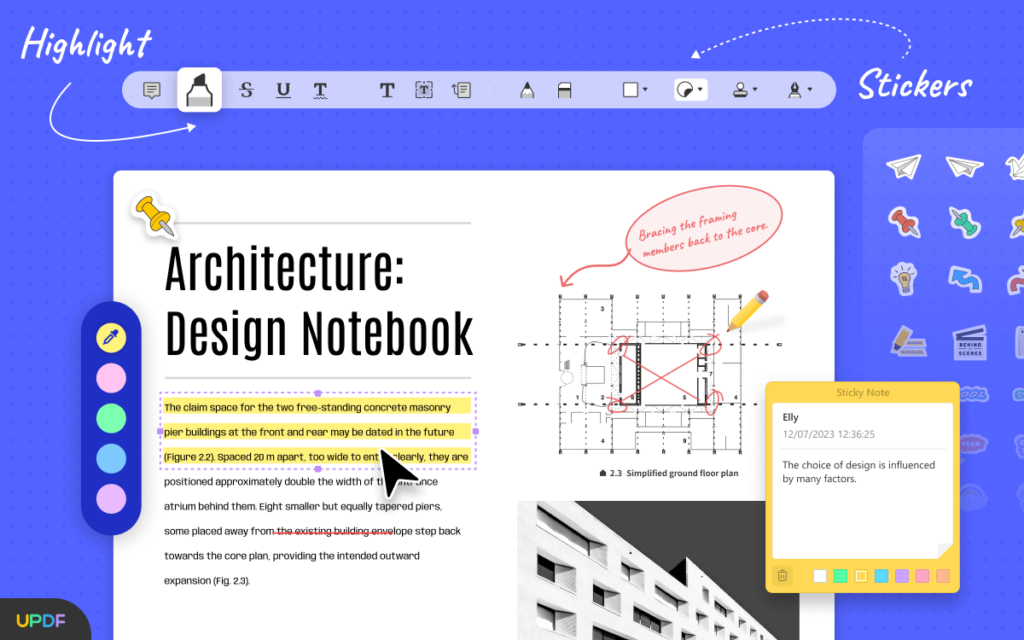 Annotating PDFs is an important task that we regularly perform. UPDF has some nice annotation features that make it the perfect tool for this purpose. Using this tool you can annotate PDF documents and perform actions like underlining and highlighting text. You can also add text boxes with your comments and suggestions when reviewing PDF drafts by others. Want to add sticky notes to your PDFs? UPDF has got you covered.
The built-in stamps and stickers features enable users to add over 100 fun stamps and stickers to their PDF documents. You can also insert different shapes such as arrows, lines, rectangles, and ovals into your documents.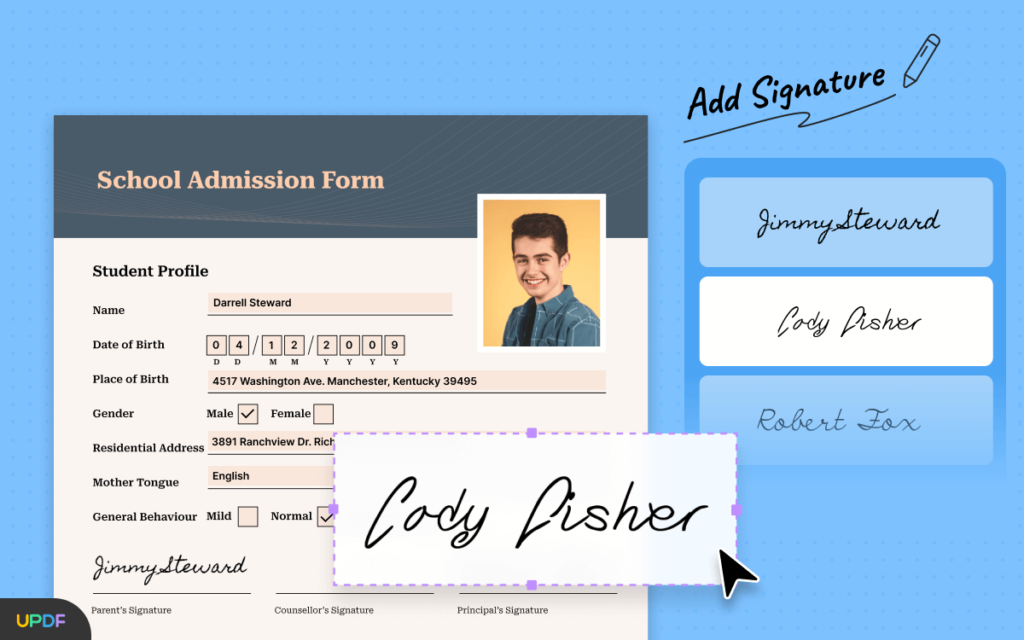 One of the most important things that users use a PDF tool for is for signing PDF documents. This feature is also available to users, who can either draw a handwritten signature or type in their electronic signature on any PDF file. You can also move your signatures around the document and place them where needed.
Converting PDFs into different formats
If you have ever tried to convert a PDF into a Word document, then you would know how frustrating this seemingly simple task can be. Thankfully UPDF has a built-in PDF conversion tool that allows users to perform PDF conversions like PDF to Word, PDF to Excel, PDF to CSV, and PDF to PowerPoint. That's not it, as you can also convert your PDF files into JPEG, PNG, BMP, GIF, and TIFF formats.
Plain Text and Rich Text Formats are also supported by UPDF, allowing you to convert PDF to Text and PDF to RTF. Other supported conversions include PDF to HTML and PDF to XML.
Turn scanned documents into PDF with OCR
With UPDF you can convert scanned documents into PDFs quickly. Just scan a paper document and instantly convert it into searchable and editable PDFs. You can also convert images into PDF and share them with others.
UPDF boasts some powerful OCR features (available on Apple Silicone Macs and Windows) that can convert text from 38 different languages. Once a scanned page has been converted into a PDF you can easily extract textual information from it and perform searches to find specific text in the document. Not just that, but you also get the ability to copy and paste text found in documents scanned through OCR.
Other useful features of UPDF
Encrypt PDF
UPDF PDF Editor comes with security features that enable users to encrypt their PDF documents and add password protection to them. Users can also set permission passwords and open passwords to their sensitive documents.
Organize PDF documents
You can use UPDF tool to make various changes to your PDF documents. This includes tasks like reordering pages, inserting pages into an existing PDF document, splitting pages, extracting pages, replacing pages, deleting pages from within a document, and rotating pages.
Combine Multiple PDFs into One
A very useful feature of this tool enables users to combine multiple PDF files into a single PDF document. This is great for creating a new PDF and organizing your files.
Fill out forms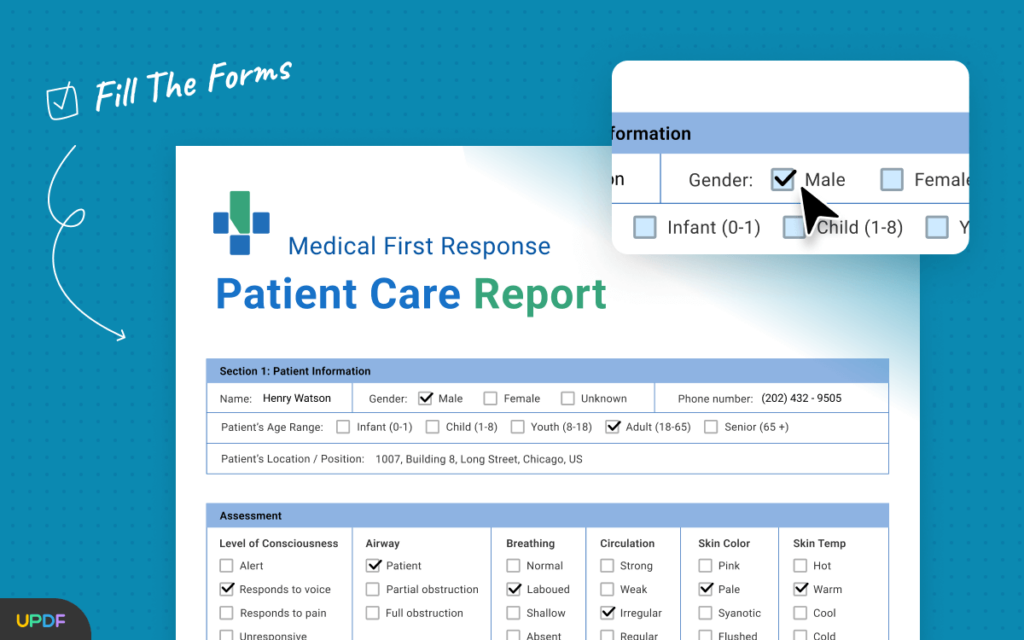 Got a PDF form to fill out? You can use UPDF to quickly fill out any PDF forms you like, and export them.
UPDF vs. Adobe Acrobat
So how does UPDF compare to Abobe Acrobat? Here's a detailed comparison table provided by UPDF that compares UPDF with Adobe Acrobat.

Pricing and availability
You can download the UPDF app on your Mac and Windows from its official website. UPDF for iPhone and UPDF for Android are available in the App Store and Google Play Store respectively.
As for pricing, the UPDF PDF Editor costs $49.99 per year. You can also buy a one-time license of the tool that costs $99.99.
You can get a limited-time discount by using this link, which will give you a discount and reduce the price of the yearly license from $49.99 to just $23.99. Similarly, the price of the perpetual license is reduced from $99.99 to just $46.99.